Whether you're looking to find a new push notification service or are one of the many now looking to migrate away from Parse Push this could help. We take a look at the best push notification services for mobile apps. We are deliberately not just taking the obvious push notification providers, but review the more established alongside some cool players less well known. With any mobile app, push notification services right is critical to drive ongoing engagement and success of your app. Research shows a huge link between the recency and how frequently an app is used and its monetization.
Push Notification Services are one of the best ways to keep users interested and engaged. Push notification services have come on a lot in recent years. The degree of personalized content you can now push at users is staggering. But as the saying goes, with power comes responsibility. Push notification services have to be used carefully and not fall foul of overly enthusiastic marketing departments. A push campaign that's too noisy will drive folk from your app, either making them "unallow" push notification services or worse triggering uninstalls.
Here are 5 suggestions on how to get the best out of your Push Notification Services.
Why do Push Notification Services work?
Well two reasons.
First, they can be highly targeted. Many push notification services allow detailed segmentation based on demographic, behavioral or location based targeting. So the information being pushed to the app user can be highly relevant. Offering a special discount coupon triggered by i-beacons – delivering an offer right at the moment the potential customer passes a competitor's retail outlet, for example.  It can also use cleverly configured analytics to predict when a user's loyalty could be slipping. Catching them early, bringing them back into the app is shown to have a huge impact on retention. Minimizing app attrition is one of the biggest challenges mobile apps face, so even small reductions can deliver huge value.
Aberdeen Group's research shows that mobile apps using a precision push notification service can drive a 20% rise in customer engagement.
The second reason why push notification services work is they are 100% permission based. The challenge, of course, is to get push notification services enabled at first install.  But get this part right and you'll be in a great position further down the track. Some say as little as 30% of apps are installed with push notification services enabled. But when push notes are on they're telling you they're receptive to push notification messages and they'll stay receptive, particularly if you keep push notes highly targeted.
So what are the best push notification services for mobile apps out there?
Before you chose which is right for your mobile app project, its important to know which analytics packages the push notification services integrate with. In our top 8 we've picked those with a broad suite of analytics integrations, the likes of  Flurry, Adobe Analytics, Amplitude, Mixpanel, Localytics and of course Google Analytics.
Kumulos Push – Best Push Notification Services
Kumulos Push is the only Push Notification Service that is purpose built for Mobile App Development Companies. As such it has a range of features that are specifically designed to help make App Developers lives easier, and help them get more apps that they build on monthly retainer. It doesn't aim to be as full featured as the specialist stand-alone systems. What it is, is a push notification service that offers a good balance between ease of use, functionality and price. It gives the choice of using it stand alone with an existing mobile backend platform, or already integrated within the Kumulos mBaaS platform. Either option also lets you give your mobile app clients access to their own push notification dashboard that allows them to run their own push campaigns and measure the results.
There is also the option of an automated monthly report. This is typically offered by Mobile App Development Agencies to their clients as a service on monthly retainer.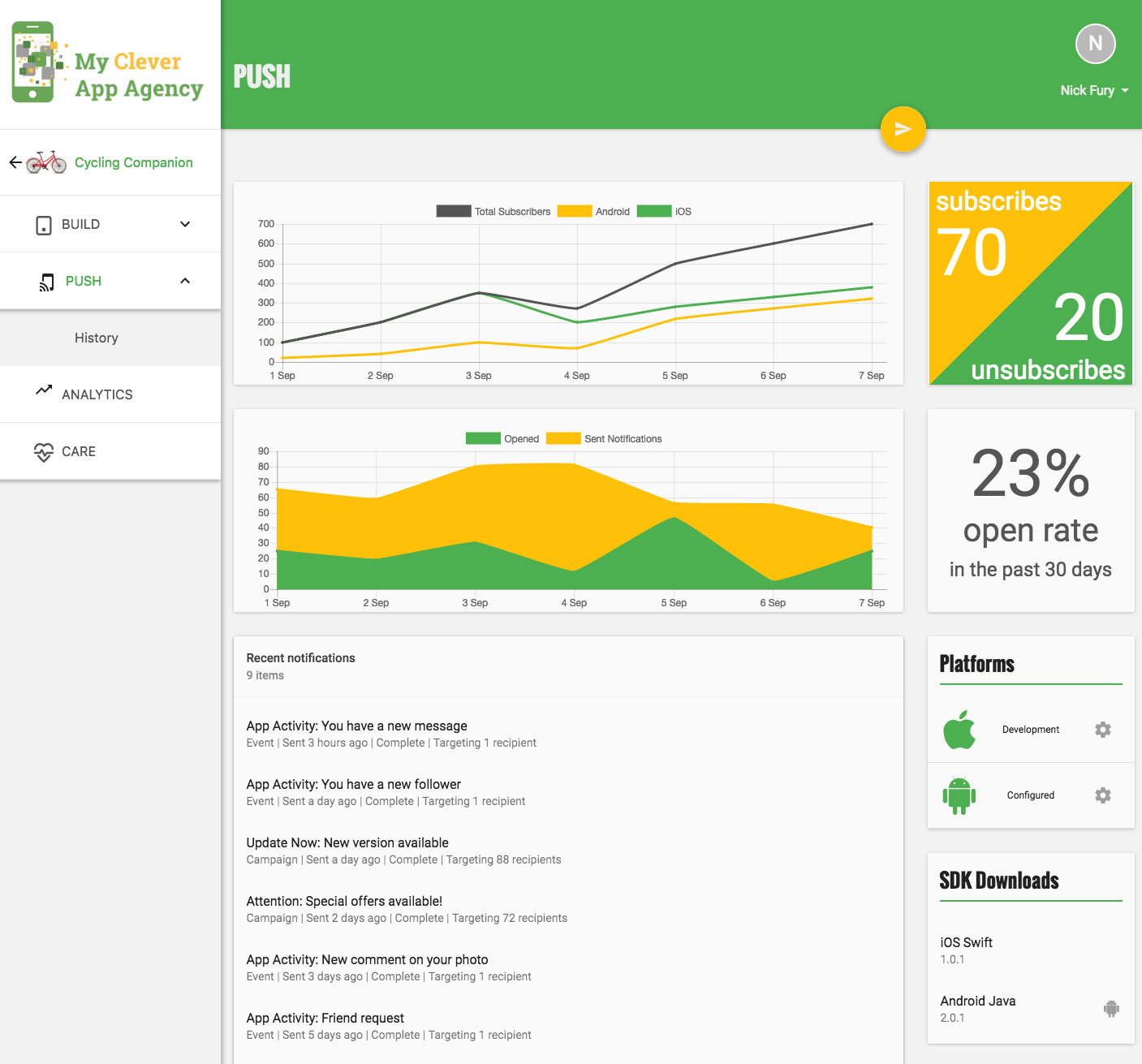 Pricing
This is one place that Kumulos Push scores highly. Fixed monthly pricing fits well with mobile app developer offering Push Notification as a Service to their customers. Its quota free. $25 a month gives you unlimited numbers of push notification messages and unlimited numbers of devices connected to the service. It also has a 60 day free trial period.
Carnival – Best Push Notification Services
Carnival seem to offer one of the best balanced push notification services. It caters for the needs of developers and the marketing team that will be running the push notification campaigns. Too often push notification services are bias towards developer's needs, so it's good to see Carnival getting the balance right.
The things they are doing with push notification services is very very interesting, rich messaging in particular is cool.

Their push notification service offers rich messaging, pretty granular audience segmentation, message automation that includes time-zone (and language) settings and narrow geo-fencing targeting and user behavior analytics that can be automated and sent directly to your inbox.
Push Notification Pricing
This looks to be a closely guarded secret so best to email them if you want a demo or to find out if your project can afford them.
Catapush – Best Push Notification Services
Catapush's push notification services could be an interesting option if you want to include reliable push and SMS into your mobile app projects. They are the only Push Notification platform with a proprietary XMPP IP channel for delivery. They offer SDK's for Android and iOS. It has a RESTful API. That said it does offer some interesting features. For example, delivery status tracking and failover to SMS when the app user has lost data connectivity. This gives the option to send an SMS using the standard protocol even if the app isn't currently installed on the phone. Pretty useful if you're trying to win back lost app users. That said, not sure how this fits with permission based push notes and how invasive this would feel to the user, so best used sparingly.
As for analytics, this isn't integrated but accessed through an API. The stats appear to be very centered around note delivery, so less useful to analyze and drive more granular campaigns.
Push Notification Pricing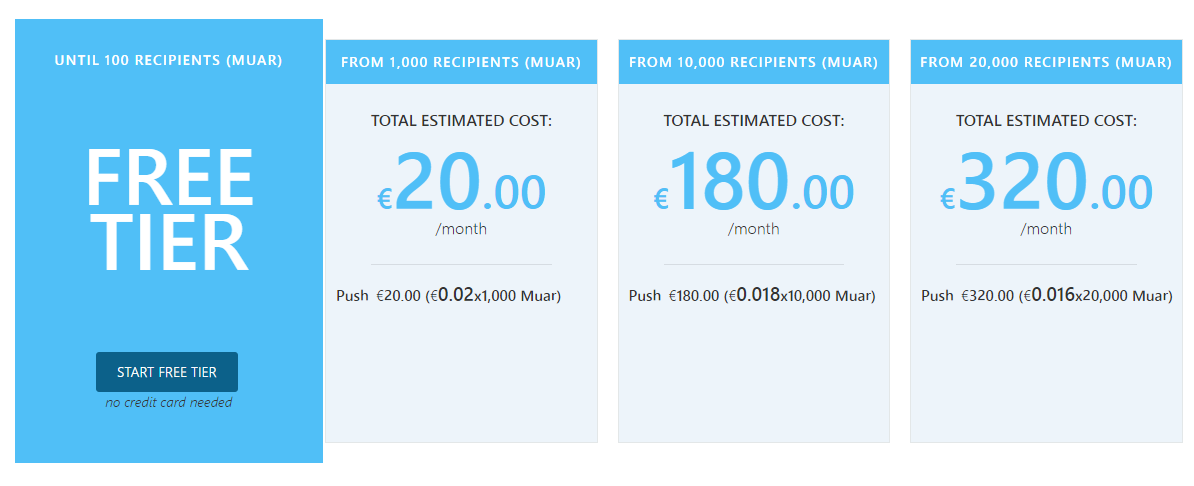 There's no free in-use tier with Catapush's Push Notification Service. Pricing is in Euros for this Italian based company, there is no US $ pricing.  Entry price is €29/month (plus purchase tax) for up to 2,500 subscribers. For that you get to send an unlimited number of push messages. More information on their pricing page.
You'll need to ask them about pricing for the SMS service.
Streethawk – Best Push Notification Services
StreetHawk's Push Notification Services have  good platform coverage iOS, Android, Phonegap, Xamarin, Corona, Telerik, Titanium. They say, and it seems to make sense, that if apps don't use deferred deep linking properly it can lose 70% of its users day 3 from the first install. So StreetHawk put a lot of emphasis on this within their "Growth Offering". But their real strength comes in their "Engage" offering. It offers impressive features around segmentation and lifecycle management, highly configurable push notification services and rich in app content. Their iBeacon and geo-fencing functionality is also worth a close look. Possibilities here to keep app users engaged makes streekhawk a very interesting push notification platform.
StreetHawk lets you focus effort on the most valuable app users with some interesting "viral analytics" and some pretty cool engagement automation tools.
Churn within any app is inevitable, but if you can use push to help reduce churn, particularly among your most valuable app users, or use it to increase use frequency of less engaged app users then its value will be immense. StreetHawk has real strengths here.

Push Notification Pricing
StreetHawk's push notification pricing is one of the more complicated plan structures out there. They set their pricing out based on what you are trying to achieve. Best just to browse streethawks price page for yourself to see if it's for you.
Urban Airship – Best Push Notification Services
Urban Airship goes beyond what you'd typically describe as a Push Notification Service. It positions itself as a mobile engagement platform offering an impressive array of features including of course push notification, but also a very user friendly message center, fine grain segmentation configuration and location technology including beacons, geo-fencing, location history and location targeting.
This makes Urban Airship a pretty powerful in app marketing automation platform that allows highly targeted (if done right highly relevant) real time customer experience. Also the message configuration settings help prevent spamming the app user with too many push notes.
The analytics package is pretty impressive too. It can give a real insight into what activities, push, in app messages or whatever, are driving the desired behavior. Knowledge is power after all, but its how you use it that counts, of course.
Push Notification Pricing
In terms of plan pricing, Urban Airship keep their Push Notification Services a secret. That's rarely a good sign.  If you need to know the price, you probably can't afford it.
PushWoosh – Best Push Notification Services
PushWoosh positions its push notification services more at the development community. Highly configurable, loads of great features, but not that friendly out the box, compared with other push notification services. But it comes with a big user community of mobile app developers so your not going to be short of programmers to help you out.
With a technical solution you won't be surprised to hear that there is a huge list of platforms and formats that PushWoosh works with – it covers 19 platforms in all. By far the most comprehensive of any Push Notification Service platform. Android, Blackberry 5-7, 10, Windows Phone & 8, Nokia Asha, Amazon, OS X, Chrome, Safari, WordPress, Cordova (phonegap), unity, Adobe Air, Marmalade, Corona, Appcelerator Titanium, Xamarin, PhoneGap build and Trigger.io
Push Notification Pricing
Pricing looks decent also with a good free tier, albeit only allowing very limited functionality. But at $49 a month used well it should more than cover its cost.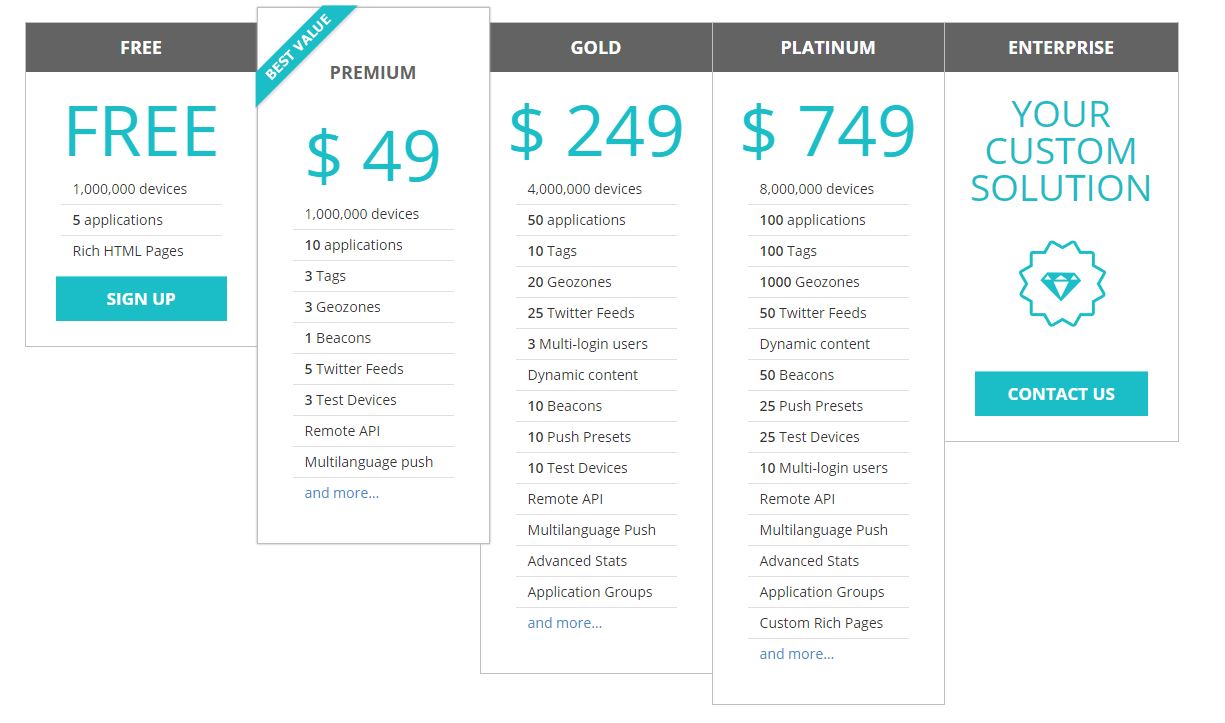 Xtify – Best Push Notification Services
Always tempting to discount push notification services once their bought by a tech monolith. Xtify was absorbed by IBM (Push.io was bought out by Oracle and merged with their Marketing Cloud offering a while back also). What you lose in access and engagement with the software company you gain in security and the fact that if you go for Xtify (or Push.io) you can be pretty sure the push notification services will be around in a few years. With other providers there's always the risk that you have to replace your push notification services if they go out of business.
Xtify offers the standard set of SDK's, and one of the few offering it for Blackberry. It allows you to target either simple or rich text html push notifications. It also offers a "persistent" notification inbox, which is pretty neat. So messages stay visible until they are read or deleted. It also offers a scheduler that can be configured on time-zone and location. It's also one of the few that lets you integrate with any existing CRM data, so gives a more complete view of customer's full contact history regardless of medium.
Push Notification Pricing
So it's from IBM so it's not going to be the cheapest option for push notification services. It's not easy to find out pricing, which probably tells you what you need to know in terms of cost.
Quick Blox  – Best Push Notification Services
Quick Blox gives you coverage of iOS, Android, JavaScript, Blackberry as well as for WordPress, Phonegap and php platforms. It also offers a Restful API.
It offers the choice of a shared cloud or dedicated instance. The cloud instance is pretty fast to get going. It offers simple drag and drop configuration to get the SDK into your app code as well as copy past credentials from the QuickBlox dashboard.

Push Notification  Pricing
Its free tier gives you 20,000 monthly active users and unlimited numbers of push notes. That said it throttles those to 20 per second. So could be OK for retail location based apps maybe where instant volume isn't critical, but for a high volume app where you're wanting to push out large numbers of push notes all at once it can get pricey. You could be looking at pricing in the range of $49/month to $219 per month for the shared cloud option. Up to $2,399/month if you need more than 500,000 monthly users.
Appoxee – Best Push Notification Services
Appoxee is now integrated within the Teradata Marketing Applications offering. Its push notification service is part of a comprehensive range of mobile marketing tools which includes Campaign Builder, Push Messages, In-App Messages, Personalization,  as well a smart algorithm that learns the best time to send the push note based on past user engagement.
They offer SKD's for the usual platforms iOS, Android and offer an iOS Thin Push option.
It offers some interesting in-App plugins, including an Inbox/newsfeed option that behaves as if it's an inbox within the app. Messages will be more persistent and less likely to get missed with this plugin.

Push Notification Pricing
They offer 3 plan types, Starter, Pro and Enterprise. The Starter plan is pretty limited in what it gives you, with a pretty basic push and in app messaging service. Automation, custom inbox, personalization and deep linking are only available if you take the Pro Plan. Whereas the algorithm that learns when is the best time to send, is only on the top tier Enterprise plan. Go to their website for to find out more on their pricing.
Looking to Migrate from Parse?
If you are one of the many that's now faced with moving their Parse mBaaS to another service check out the Welcome Terms that Kumulos is offering Parse Developers.
More Reading around Push Notification Services
This blog from Waracle has another great review of push notification services that's worth a look.
It's all well and good having a great push notification service running in your app, but if you're not clear about how you use it, its going to do little for you. This is a good read if you're looking to improve app engagement from your push notification services.