This series articles "Cracking the Recurring Revenue Conundrum," along with a number of other articles we have written on the subject of App Recurring Revenue, should give you some ideas on how to start building a strong recurring revenue platform to underpin the growth of your mobile app business. Every business owner knows that any business built on a app recurring revenue model is plain and simple a better business to have. A more stable business. A better match of income to fixed running costs. But it's one thing knowing how things should be, it's another making it happen. Especially when the day to day feels like your running hard, just to stand still.
App Recurring Revenue. How to sleep at night and grow your business with confidence
For business owners, sure money's important. But the need is probably more basic. It's about sleeping at night. It's about removing the anxiety of how to make pay-roll. Or when to add an extra head to the team, move the business up a gear and let it grow faster, but not over-stretch and put the business at risk.
At Kumulos, we talk to lots and lots of mobile app development businesses and of course they get why Recurring Revenue is important. It's not rocket science after all. Get some regular money flowing into your business, take the edge of meeting monthly costs – and ultimately get to a position where the company doesn't rely on winning a new app build project to make pay-roll.  Nice place to be. Right!
But change can be tough. Here we'll answer how to take the first confident steps to building a better more sustainable mobile app business, and how you can build on those initial steps to move your business away from relying just on winning mobile projects. So you sleep at night, get the breathing space to grow confidently AND give yourself a business that's worth 8-10 times more when you decide to sell up.
The App Life Cycle
So you build apps as a business. Your set up to really focus on just one or two key stages of the App's life. Probably the first 3-4 months of what's typically a 2-3 year life of the average app.
What you need to do is look at the income potential of the app across its entire life cycle, not just the Create and Build phase.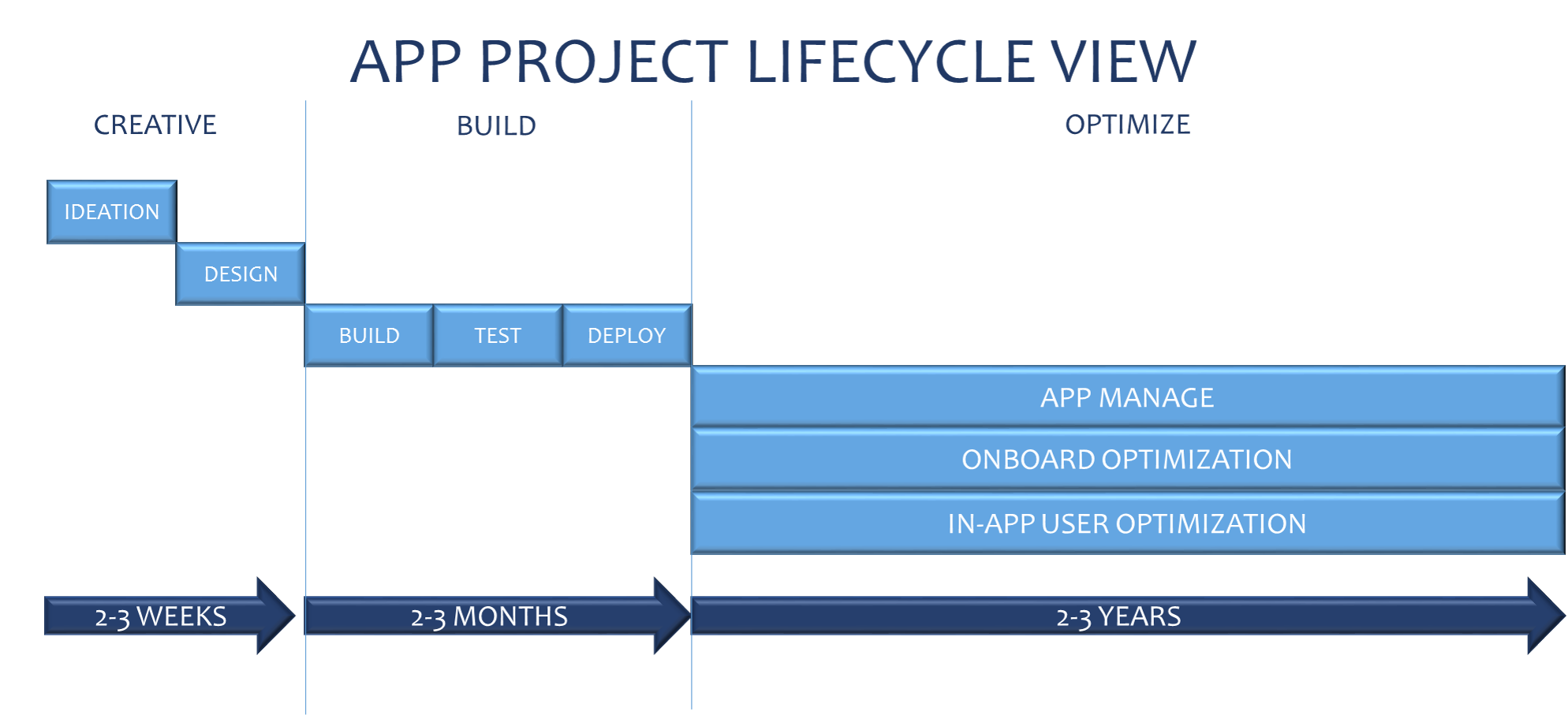 Here we map the typical life-cycle of the app into 3 distinct phases.
Creative – This is a mix of the ideation phase, which is the conceptualization of the app itself, what it does, who it's for and how the app will work and flow. It also includes the UX/UI design phase, what the app will look like, screen design, how the app will flow and the rest. We see this on average takes 2-3 weeks to get to a point where you have the concept of the app defined, wire frames agreed and app visuals defined.
Build – We see the average mobile app build taking between 2-3 months to complete.  This is pretty much what you'd expect this phase to include. Building the requirements spec, coding the App itself, delivering the App Minimum Viable Product (MVP), building this into the backend infrastructure to host the data for your app, installing the analytics, testing and deploying it into the app store.
Optimize – This covers the post launch activities. We see the average enterprise mobile app lifecycle is about 2-3 years so this phase offers a huge earning opportunity for Mobile App Agencies to build recurring revenue and be positioned for future app upgrades.  This phase is a combination of support and optimization. For support (we call it here App Manage), this would include charging for the data hosting, file hosting of media used by the app or created by users, minor bug fixed, infrastructure and database management, along with probably advance payment of block hours for some development time to do minor enhancements to existing features.  Under optimization, this is usually split into two different forms. Onboarding Optimization – where programs are run to drive new downloaders. Programs such App Store Optimization to make sure you give the app the best chance of being found by the right folks when they search in store. The second Optimization step is optimizing the in app experience for users. Knowing how the app is being used and what areas of the app are popular will mean you can focus down on the Recency and Frequency of the app use to build highly engaged (and profitable) customers. This would include analyzing the app usage data and running programs such as A/B testing to drive up app engagement.
Having services that help your clients beyond App Deploy extends your earnings from the app project from just a few months to cover the entire multi-year life of the app.
Sounds simple and we are going to show you how it's actually easy to do.
Business Ready?
So a few things you need to deal with up front.
Skill sets – Your business is geared up to sell and deliver projects. You're now looking to offer services that support the success of the app once its launched. That sounds like a very different skill set. Doesn't it. Well, yeh. Your right. But we've found that you don't need to turn your business on its head and hire a whole new team to deliver this. You can get going with this, see the monthly income build, and then when you're ready build out a team to deliver much deeper, more involved offerings around the marketing the app and growing engagement of users within the app.
Avoid the afterthought- Explain and sell these services as in integrated part of your agency offering. So post-build services like App Management and Optimization are just part of how you do it.
Sold in at the start and positioned as one of the reasons why App Publishers work with you helps differentiate you from the competition.
"Because you support your customers from the ideation of the app, all the way through to how to Grow and Engage with app users. You don't just build awesome apps, you work with them once they are live to continue to improve and optimize how the app performs."
So you stand out (win more app development projects) AND you position up front that your services extend along the full life of the app.
Start slow – Keep it simple and start slow. Don't dive in right away promising you'll make their app a success. Show your customers the value you can add with a few (very simple) services and once both of you are comfortable then up-sell your offerings (and increase the fee you charge for those services).  Get them used to paying a small amount a month then suggest other areas where you can help.
 Summing Up Part 1
So to sum up, we have discussed why building a recurring revenue base for your App Agency is important. We've covered some of the foundation steps that you need to think about particularly around mapping your services to the full life-cycle of the app, not just the Ideation, Design, Build, Test and Deploy phases. We have also covered how this extends your earning window from just a few months (of the Create and Build Phase) to multiple years. This sets the scene to help us go a bit deeper and cover how successful mobile app agencies go about building and delivering monthly recurring revenue.
In Part 2 we will cover
Productization of your services,
How to extend your earnings beyond the build phase
How to align these to the 5 most important questions your clients will have, once you launch their app.
A working example of how to build and entry level service to get you rolling
What sub-services you could include and what would typically be out of scope
How to progress this from entry level to higher value (and higher margin) service offerings
This approach will mean you'll not only make more money, but you'll build a bond with your customers that difficult for them to break,  so its you they you rely on for all their future mobile app needs.