Creating effective and compelling Push Notification Campaigns has never been more important. It's a huge challenge for App Publishers to build a strong and highly engaged user base for their app. And you, as their mobile app adviser, are in the perfect position to help them with this challenge. This blog shows 7 steps to help you build awesome push notification campaigns for your clients and a highly engaged user base for their app.
App Stores are now reaching saturation in terms of the numbers of apps that are available. With millions of apps now available to download, and hundreds of thousands of new apps being launched every month, keeping app users engaged with your client's apps has never been harder. As a mobile agency you have a great opportunity to help optimize the performance of your client's apps, after launch, so users aren't tempted away. You need to think about new ways to retain app users and continually re-engage the existing audience, if you are to deliver a positive Return on the Investment for the money your clients have spent with you. It's also the best way to build a long and strong customer relationship.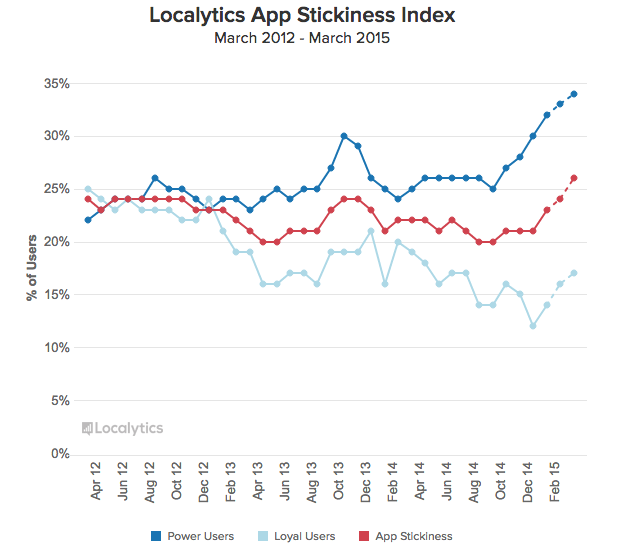 As this graph from recent blog by Clearbridge Mobile illustrates, it's getting harder and harder to retain loyal users. The key challenge for any app owner is to find every way possible to drive up App Engagement or ,as they call it here, App Stickiness.  As an app development agency, app engagement is a key consideration in terms of how you deliver more value for clients. One of the best ways to achieve this goal, is to develop a push campaign for your client's app project. Today we're exploring how to start your first push notification campaign.
What are Push Notification Campaigns?
Push notification campaigns are a great way to help your mobile app agency deliver increased value for clients. In their simplest form, push messages are short notifications that can be programmed to appear on the app users home screen, whether the app is on the home screen or back-grounded on the device.
Push messages can be delivered in two different ways. Firstly, programmed to appear based on the app user's behavior or specific information they have asked to receive: they have unpurchased items in their shopping cart, they haven't fore-grounded the app in a while or a requested alert, like a bad weather warning.  The second delivery method is segmented push notification campaigns. These are typically where someone decides to send a message to all or just a select group of app users – say offering a coupon discount for their service or a re-engagement campaign giving an incentive to app users who haven't used the service in a while.
From here this blog focuses mostly on segmented push notification campaigns. This is one of the best services you can offer your clients to get their app on retainer with you. The closer you stay to your clients, once their app is launched, the more chance you have of picking up follow on work from them. And the more retainer income you can build for your business, the easier it is to plan and manage. It's the classic Win/Win. Your clients win, because you are helping them with one of their biggest challenges – growing  frequency of app use and building a highly engaged user base. You win by building a better business. A business built on a strong recurring revenue from clients. And, as a result, a business that's worth many times more, should you come to sell.
1) Adopt a data driven philosophy
Delivering successful push notification campaigns for your app clients can be tricky. In today's lightning paced mobile world, the key to success lies in the data. Your client's push notification campaigns chances of success will depend on your ability as mobile agency to form a distinct set of campaign KPI's, Your main goal is to focus on deploying tactics to deliver those KPI's and your ability to refine these techniques over time, based on the data and analytics. If you're not obsessing over the numbers, chances are your clients push messaging campaign (and the app itself) will be doomed to fail.
You can analyze app open rates, but this will only provide part of the overall picture. If you're deploying a sales promotion for your client, or a discount code, you need to actually understand the impact the campaign is having on sales. Using the right analytics and best fit push messaging solution will provide all of the data you need. This means you need to think about creating certain conversion points within your app in order to measure the influence of your push campaign on sales activity. You should send a report, at least once per month, to present to your app clients and demonstrate on an ongoing basis how you intend to bolster future push messaging performance.
2) Segment your audience
The world of mobile app marketing is a seriously competitive place. The only way to execute successful push notification campaigns is to establish a highly focused approach when communicating with app users. Using a standardized, one size fits all mode of delivery will likely result in the failure of the campaign. The only way to solve this problem is to use a push messaging platform that enables you to segment your audience based on previous push interactions, personal characteristics and buyer behavior. Think very carefully about how you can organize each of your push messaging users into distinct buckets. Each segment should share similar traits and characteristics which will in turn help you to develop a more personalized approach. Understanding who your app users are will help you to deliver push messages that cause them to interact with your client's app, convert and generate new revenue streams (or boost existing ones).
If you're client is selling a particular product, think about targeting previous customers who have already displayed tangible buying signals with a new, yet highly relevant offer. Your client's app users will appreciate the attention to detail and will give you a higher probability of achieving a conversion or sale. If you want to target app users who are early in the buying cycle and who have not yet completed a purchase, think about sending them discount codes and other incentives to complete their first transaction. Push messaging is all about building trust with app users and understanding the tactics and techniques that will increase their probability of a sale. You can go much deeper than this approach in terms of segmentation, but generally speaking, segmenting your first push messaging campaign into users who have not already bought, and users who have made a purchase, will enable you to develop a sensible approach when executing your campaign.
3) Develop KPI's & a strong call to action
Before you even think about executing your first agency campaign, you need to start with the end in mind. We've already discussed the importance of using conversion points to measure the effectiveness of your push notification campaigns, but first you'll need to think about developing a strong call to action that actively enables your app client to hit their KPI's. Choosing the correct KPI's is also vitally important. You'll need a set of numeric goals that you can measure over time to demonstrate that you're doing a good job in return for your monthly retainer. Measuring open rates, abandonment rates and contribution to sales/inquiries will give you a rough starting point. Once you've established what you're trying to do, you need to think of a compelling call to action that encourages app users to convert.
Push messaging is all about context and timing. If you want to create a compelling call to action, you'll need to think about these factors very carefully. So if you're working with an app client to deploy a push campaign around a specific promotion or deal, you need to clearly explain to the app user what they need to do in order to receive the discount or special offer. You'll also need to consider the actual sales process itself, and make sure there are no hiccups in your app UI that prevent users from making a purchase or accessing a specific offer. Think carefully about how you articulate (in a concise manner) what the app user needs to do and what the next steps in the process are. Create a sense of urgency (only available for the next 24 hours), convey your actual value proposition (get 50% off if you order now) and then deliver the right call to action (Swipe left to take advantage of this incredible offer!).
You'll need to think about the character limit and formatting style for each push message and work carefully within the associated constraints. If you deliver content that is relevant to the right segment of your push audience, with the right call to action, you'll greatly increase your chances of delivering a successful campaign for your client. Make sure, when you setup your campaign (especially if you're using deep links), to direct app users to the right landing page. If you've offered them a specific deal for a specific product or service, make sure that the app user is delivered to the right page. Failure to get this right will send abandonment rates through the roof and is unlikely to impress your client. Be clear, use compelling and actionable messaging, and make sure the app user is delivered to the right landing page.
4) Make sure you get frequency and timing right
When is the best time to deploy push notification campaigns? Answer: not in the middle of the night when your client's app users are liable to be sleeping. How often should you deploy push messaging campaigns on behalf of your client? Answer: enough so as to provide an engaging experience likely to stimulate sales activity, but not so much that you turn them off and they delete the app. Essentially, frequency and timing are two of the most vital factors to consider when planning a push messaging campaign. When you send push messages to app users, the message will often be accompanied by (depending on the user's individual phone settings) a vibration or ringtone. This is a very easy way of ensuring app users delete your client's app or opt out of future campaigns. If you're deploying messages across multiple international locations, you'll need a solution that ensures each user does not receive a message at the wrong time. Consider time differences across territories and work out how this impacts your plans. You should also consider seasonality, time of year and holidays so that you can avoid inappropriate messages being delivered at the wrong times, and increase your probability of a conversion or sale by using seasonal messaging. Creating offers for Halloween, summer holidays or the festive season can be an awesome way to grab the app user's attention.
Considering frequency of push deployment is also critical for success. Overloading the app user with too many messages in any given time frame will result in app deletions and future campaign opt-outs. How to define frequency is a separate consideration and will depend entirely upon the type of business your app client is operating. If it's a news app, users might expect to receive 5 or 6 messages in one day. If this works for your client's campaign, then great, keep doing it. If it proves (based on the data and analytics) to upset your users, then stop doing it. This means applying some common sense and a painstakingly pragmatic approach to push. However, if your app client's business is retail, it's unlikely the end app user will expect to see half a dozen messages each day. When it comes to the hard sell, less is generally more. The reality is, if at any stage you're unsure about the frequency of deployment, the chances are you're already verging on push overload. Think about this very carefully and apply the right amount of throttle control at the right times.
5) Provide an easy way to opt-in and opt-out
Providing an opt-out clause is absolutely essential if you're to maintain the trust of each app user. There's nothing worse than bombarding app users with content that don't add any real value to their experience with your client's brand or business. Any decent push messaging platform with come with a solution that enables app users to opt-out with ease (assuming they've had a bad experience) so you should consider the right platform carefully (we'll come onto this part later).
There are essentially two key points during the app onboarding process at which you should provide an opt-in message. The app user will be asked if they'd like to opt-in to future push messages when they first download the app. They'll also be notified with an opt-in message the first time they download the app. The key aspect to consider with a push opt-in, is how to build trust with your user. The best way to build trust is to be honest, open and transparent with your messaging. If you want to increase opt-in rates, you'll need to convey why push messages will add value to their app experience. The first step in the process is to create a set of realistic expectations in the app users mind, the second step is to ensure that you consistently deliver against these expectations.
6) Rigorous split testing
Good mobile app marketing, much like any other marketing activity, is all about pragmatism, rigorous process and discipline. We've already highlighted the importance of adopting a data driven mindset, and developing a decent split testing process requires serious attention to detail and commitment to analytics. When refining your push campaign, you'll need to focus on interpreting the data, rather than making decisions based on subjective, anecdotal evidence. If you've never run a split test before, the process is relatively simple. You start off with a campaign hypothesis. This means developing a targeted approach for a specific audience segment, with two variations, and working out which variation of your hypothesis works best. The first version of your message is referred to as the 'control' and each adapted version of your original message is referred to as a 'variation'. You can test which messaging techniques and tactics work best by analyzing the data and understanding which variations of your approach are liable to result in conversions and sales for your client.
7) Use the right push notification campaign provider
Finding the right provider for your push notification campaigns is essential. There are a whole bunch of push platforms you can choose from, and selecting the right provider will mean researching which platform is most likely to fill the marketing objectives of your client. Each platform will possess a unique feature set so it's worth trialing each platform and judging it on its own merits to see what works for you. The best way to do this is to draw up a mobile marketing plan for your client and discuss each platform in turn based on the value that it can add to your campaign.
Here at Kumulos, we're working with mobile app agencies across the world helping them deliver highly targeted push campaigns that add value to their clients and app users. If you're interested in what we have to offer, then check this out.
Conclusion
So there you have it, if you're a mobile app agency looking to execute push notification campaigns for your clients, you'll now understand how to create your first messaging campaign in seven easy steps and how to make sure that you drive app user engagement. It all comes down to having a data-driven mentality, segmenting your client's app audience based on buying behaviors and characteristics, developing clear KPI's and a compelling call to action. You'll also need to consider the frequency and timing of message deployment, provide a simple opt-in/opt-out mechanism, adopt a disciplined split testing process and find the right push notification provider.