Generating more downloads and attracting new users to your app can be (and generally is) an expensive business. It's estimated that a 5% decrease in mobile app abandonment rates can actually increase overall app profitability from as little as 5% to as much as 95% (Bain and Company). While decreasing app abandonment rates can greatly improve profitability, it costs approximately 700% more to acquire a new mobile app user than to stimulate retention with existing users. If you're running a mobile app development agency, it's essential that you represent the best commercial and technical interests of your clients. Their success is your success and the best way to maximize the chances of a successful outcome is to focus on mobile app user retention.
Before we go further, here's a great panel discussion on some of the issues that we'll be writing about:
When it comes to developing mobile apps for your clients, your contribution won't end when you deliver them their app. The days of being able to "drop-ship" an app to a client and walk away are over. Clients now expect you to be with them for the long haul, helping them make their app a success. They expect you to be their mobile marketing adviser. With any client's app you have to ask yourself the question: how sticky is the app? In the same way that digital marketers are concerned with the engagement levels of blog content, videos and reviews (and a multitude of other types of content), app clients are concerned with one fundamental consideration: are my app users coming back for more? So serious mobile agencies are going beyond the design and development of great mobile apps. They are focused on how to leverage more value from those apps on behalf of your clients'. To do that they are increasingly thinking about how to measure retention.
Getting serious with mobile app retention
There's a bunch of different ways to measure the retention performance of your clients mobile apps. Getting started with mobile app retention is all about understanding the needs of your app client, and each approach will possess its own merits and shortfalls in terms of selecting the right retention methodology. But the important thing is to focus on what matters. Bringing in new users at the top of the funnel via marketing efforts is totally superfluous if the bucket itself is full of holes and the UX of the app sucks. Mobile app retention is all about fixing the bucket, and making sure that the overall UX of your client's app is adding genuine value to the experience of the user. So always start with the end in mind. It's all too easy (and costly) bringing users in via paid channels, but getting them to hang around is a different ball game.
The purpose of mobile app user retention
The goal for each of your app clients is to convert each new app user into a paying customer or loyal advocate (depending on the industry sector and purpose of the app). Your job, as a mobile app agency owner, is to help take your clients on that journey. To to this it's important to keep the purpose of what you're trying to do clear: focus primarily on retaining the people you've already attracted and learn how to drive more engagement and revenue for your clients.


Here's a short article to give you some ideas on how to improve app engagement.
This will help you to grow a profitable app development agency, built around mobile apps that produce tangible results for your clients.
If your client's mobile app is churning too many users after a single use, you have a serious problem, purely due to the cost of attracting new users vs. the cost of retaining existing app users. This comes back to the leaky bucket analogy, because the economics of filling the bucket in order to patch it up are incredibly costly and damaging to your client's commercial welfare. This is why the economics of mobile app marketing will always favor retention over acquisition.  So with this in mind, consider very carefully how and where you invest your clients technical and commercial resources and always keep the end in mind: what does success look like? This is a difficult question to answer, but when it comes to industry benchmarks for mobile app retention, there are some guidelines, which will be covered later in the article. Based on the fact that you can only optimize what you already measure selecting the right retention methodology is the first step in the process.
Each mobile app client will view the science of retention from a slightly different perspective. If you're developing a mobile game, you'll live and die by the retention performance of the software on day one. If it sucks first time round post launch, you probably won't get another chance to fix it. On the other hand, if your client has a B2B app where take-up will be slower, you might need to think about starting to track retention at a much later date, maybe month eighteen. The better you can understand their app, their commercial goals and the journey each of their users take through the app, the better positioned you'll be to nurture it to success.  In order to choose the right mobile app retention methodology to use, you'll need to understand which options are available. This is where snapshot retention comes in.
What is snapshot retention for mobile app users?
Snapshot retention is a specific method of measuring the retention rates of mobile app users. It refers to a retention methodology that's based on a snapshot of time of mobile app user activity. This is one of the best places to start if you're trying to figure out the easiest and most basic way to measure retention rates for your app clients. Start off thinking about your client's business goals and what they want to achieve. If the launch of the app is being run in parallel with an expensive marketing campaign, and the goal is to generate paying customers quickly, you'll need to snapshot different time periods. The first day will be essential, but it won't provide the full picture and help to identify if the app is sticky. This may only become clear after several days or weeks (or possibly months and years), so it's essential that you work out the best way to measure each snapshot of app user retention in terms of time. But what matters, is that when you've decided on the right time frame, you'll end up with one very concise way to express mobile app user retention as a single metric (or ratio).
The MAU vs DAU ratio for mobile app user retention
The MAU vs DAU ratio is a great example of a snapshot metric, whereby the DAU's and MAU's are simply the number of unique mobile app users who engaged with your client's mobile software during a specific time period. A DAU, or daily active user, measures the number of unique app users in any given one day time period (often you'll be referring to the performance of your client's app for the previous day). An MAU, or monthly active user, measures the total volume of unique mobile app users, who are active in any given month or thirty day timeframe. This will typically be a rolling thirty-day time window whereby you can glean performance insight not just by each calendar month, but also by a fixed or 'windowed' thirty-day time period.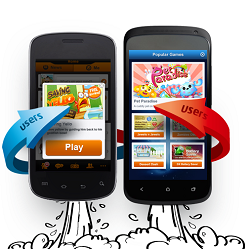 Once you have your MAU vs DAU metrics for a given timeframe, calculating mobile app retention rate is just a simple process of developing a ratio of DAU's to MAU's. Instinctively, when it comes to working with your app clients, this should represent the proportion of monthly app users that are active on a single day. Clearly, when it comes to enhancing the performance of your client's app, the job is to increase the ratio, ensuring that you maximize the proportion of MAU's who are liable to actively interact with their mobile app on a single day. Once you have the data, you'll be in a position to make recommendations in terms of changes that can be made to the app, in order to cause a greater proportion of users to interact with the software on a regular basis. You can also update your push notifications or proximity marketing strategy. What you're striving to achieve, is a ratio of one, because this means that every single mobile app user who engaged with the app in the last month, is active again on any chosen day.
Again, getting this part right will depend on the type of app your client has. Different apps will have different DAU/MAU benchmarks. It's all to do with what the expected frequency of use should be. If it's an app that is to do with something the user will do every day, then you'd expect the engaged user to be using the app daily. A diet tracking app for example. If it's an app that you'd expect less frequent use, a restaurant booking app, then monthly may be the expected use frequency. It's about setting the right benchmark use for the individual app. Irrespective, it's essential to continually track the DAU/MAU ratio, to make sure its getting better and not worse. A falling ratio is a good lead indicator that things need addressing.  Rule of thumb, for most mobile apps, 0.20 DAU/MAU is considered to represent decent level of engagement. So generally speaking, if 20% of MAU's are interacting with the app on a daily basis, this is good. Another option is to consider using a DOD (or 'day over day') retention metric.
What is day-over-day (DOD) retention for measuring mobile app performance?
DOD retention is much like the MAU/DAU ratio, but provides a detailed snapshot metric. With DOD retention analysis of mobile app user behavior, you simply establish the ratio of the app users who are active today and yesterday, relative to the number of app users who were only active yesterday. This retention measurement ratio symbolizes the proportion of users who are liable to use your client's app regularly in a short timeframe. In order to calculate this ratio, you establish the number of users who were active yesterday and today, and divide by the total number of users who were only active yesterday.
The constraints and limitations of snapshot retention for measuring mobile app performance
Helping your clients succeed and nurturing their apps to success, it's going to be important establishing a mechanism for measuring mobile app users. Some of the methods detailed in this blog post represent a good starting position and will increase your client's chances of success in mobile. As always, your ability to track the right data points will depend on your ability to garner the right information, and this means having a robust analytics platform. You must always ensure that this has been considered at the front end of your client's project. You need to think about developing a clear and concise series of KPI's and understand in detail how snapshot retention can bolster performance over time. But snapshot retention metrics are relatively simple in their nature, and do possess certain drawbacks and constraints:
These techniques will determine all mobile app users who are active only during a certain snapshot, regardless of when their first touch point was with your clients app
This provides very little or no distinction between mobile app users who are completely new to the software, and habitual mobile app users who could be considered as advocates or evangelists.
Determining the cause of why specific data patterns appear in the analytics can be extremely difficult and understanding how to improve mobile app performance and knowing what to do can be ever harder.
That said, having the data that helps you build insight into how the app is performing at least arms you to ask the right questions and dig for the solutions.
How to avoid an unhealthy DAU/MAU ratio
So you've spent months, designing, developing, testing and polishing your client's mobile app and it's now ready for launch. You've established your KPI's and key measures of success. You've also integrated an analytics package that enables you to track mobile app retention performance. Now what?
The classic mistake to make when launching a new mobile app for your client is to focus on creating a bloated MAU ratio. If you accompany the launch of the app with an integrated marketing campaign, you'll likely see a huge spike in activity in the first day or two after launch. Adopting this type of 'Hollywood or bust' approach, whereby you rely solely on the success of an initial marketing flurry, is liable to result in failure and an unhappy app client.  Getting this process right requires time and making sure you know when to bring new users in at the top of the funnel. The best time to bring new users in at the top of the funnel, is when you know that your bucket is fixed, and you've maximized the probability that the greatest number of users possible will use the mobile app on a regular basis.
The problem is that all too often, an impressive MAU metric is viewed as being a positive thing. What tends to happen, is that users who were acquired as part of a 'Hollywood or bust' style marketing campaign, will possess a significantly higher churn rate than other mobile users. The fact of the matter is your client does need a large MAU metric. Your client wants the type of mobile app user who isn't just a passer by. Your client wants the type of app user who discovers the software and sticks around because the features contained within the app are delivering something of value to them. The net effect of this type of marketing approach, is usually a weak DAU/MAU metric and the key to solving this problem lies in relentless and pragmatic approach to measuring and refining the onboarding and in-app experience. What's more, an initial burst of marketing activity will impact the MAU metric within the first thirty days, but it wont explain what's actually happened or why. So a good MAU metric on its own is a vanity measure and one that offers very little insight into whether the app is succeeding or not.
Conclusion
In conclusion, the best way to approach this problem on behalf of your app clients is to tread a careful line between mobile app user acquisition and retention. Yes, you need to bring users into the app in order to test if the bucket has holes, and this involves marketing be it paid or organic. But the trick here is not to over invest in marketing that is ultimately the equivalent of pouring water in a bucket full of holes. You need to pour in just enough water, without over investing; in order to get the right data to inform how you fix the UX issues associated with your client's app.
If you're a mobile app agency looking to bolster the retention performance of your client's mobile app (or apps), Kumulos can help. Our Mobile App Agency Platform comes with integrated app Analytics to let you measure engagement and Push Notifications & In-App Messaging to manage engagement programs. This lets you offer your clients App Engagement Services that helps drive the right outcome for your clients and get apps on retainer, so you build reliable recurring revenue streams for your business.
We don't care whether you're building native apps on iOS and Android, or using your preferred hybrid platform, or a low-code / no-code platform, you can use Kumulos to help you deliver greater commercial success. We partner with a range of technology providers so you can have it your way.
You can start your free trial today to learn more. And, why not take a look at who uses Kumulos?
MAU vs. DAU AND MORE
OK, so we've told you about MAU vs. DAU, but what about when you have MORE questions about mobile app development? No worries – we're here to help. Check out the 20 questions you need answers to – before you build your client's mobile app.