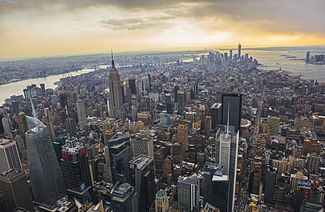 The Big Apple! Home of the Yankees (Yes –
and also the Mets – we're not trying to pick a fight here), the glittering lights of Broadway and, of course, the ubiquitous pizza slice.
New York has never had any problems with catching people's attention – whether it's all the tourists crowding into Times Square, or, in our case, a number of hard working app agencies who are looking to change the world one app at a time.
In 2015, we singled out some of the best app companies based in the US North East for recognition. We were all set to do the same this year, but after seeing all the awesome work coming out of NYC alone, we wanted to narrow our focus a bit and showcase some of (at least in our eyes) the rock star app development agencies based there.
So grab a slice of pizza and – if you were planning to do anything else for the next few minutes FUGGEDABOUTIT! Take a gander at our picks (in alphabetical order) for the top app development companies in NYC.
APPETIZER MOBILE
Appetizer Mobile bills themselves as a full service digital agency, and they mean it in every sense of the word. Led by CEO Jordan Edelson, a Forbes 30 under 30 entrepreneur, Appetizer develops for both web and mobile across platforms including iPhone, Android, Unity, Windows, WordPress, HTML, and Xamarin. In addition, they also develop 2D and 3D games, as well as creating applications for next generation technology and devices like the Occulus Rift, Samsung Gear, Apple Watch and Apple TV.  Besides development, their services include social media consulting, marketing and search engine & app store optimization. Entertainment, sports and music are some of their chief clients, with names like the NBA, Epic Records, and Universal Music Group, along with artists like Lady Gaga and 50 Cent.
Here's a trailer for one of their games, Portalball, the world's first augmented reality sci-fi baseball game.
You can keep up with Appetizer Mobile on Twitter.
APPLICO
Founded in 2009 by CEO Alex Moazed with nothing more than three credit cards and an idea, Applico has since launched over 350 apps for clients including Disney, DirectTV and HP.  Applico bills itself as the world's first Platform Innovation company. Their core service is Platform Design – or BCaaS – "Business Creation as a Service".  Platform design involves working with their clients to figure out which platform is right for them and how it can best be exploited. They've detailed this process in a book, Modern Monopolies, authored by Moazed and Applico Head of Platform, Nicholas Johnson. Of course, as their business name implies, Applico also develops across multiple platforms including Windows Phone, iPhone and Android as well as Phonegap and Xamarin. We wrote about Applico in our Best North East US App Agencies article in 2015, but wanted to point out that since then, Applico Exec Johnson has become the World's first Pokemon Go master.
Keep up with Applico on Twitter.
APPPARTNER
AppPartner is unashamedly Brooklyn based. Their headquarters, located in the heart of the Brooklyn Tech Triangle, gives them access to some of the most talented designers and developers in the world. As they say on their web site, "We believe in doing the job right – and that means doing the job in Brooklyn."  Lead by co-CEOs Drew Johnson and Justin Le Clair, AppPartner offers end-to-end mobile services for both iOS and Android platforms including consulting, branding, coding, testing and post launch optimization. They serve clients from all over the globe, such as B&H, Weightwatchers, AP and esurance.
You can follow AppPartner on Twitter.
DOM AND TOM
Founded by brothers Thomas and Dominic Tancredi, Dom and Tom is world class mobile dev shop with offices in New York, Chicago and Los Angeles. If that wasn't enough, their logo is a twin headed robot (Editorial disclaimer: We like robots). They work in any language, on any platform for both mobile and web. Dom and Tom employ a user-centric process to help achieve their customer's business goals. With over 250+ projects under their belt, from small startups to Fortune 500 companies, and clients like Hearst, Priceline and Citibank, the team at Dom and Tom can handle any app on any platform all the way from inception to deployment and beyond,
Follow Dom and Tom on Twitter.
FIVE AGENCY
Another Brooklyn area firm, Five Agency is hard at work designing the next generation of mobile apps. Originally founded in Croatia by CEO Luka Abrus, where they still have a European office, Five handles big name clients on both sides of the Atlantic, including Squarespace, Rhapsody, Microsoft and MTV. Their development team experience ranges from native mobile (iOS, Android, Windows Phone) to web development with Ruby-on-Rails and Java.
Follow Five on Twitter.
MAJESTYK APPS
Majestyk likes to say that they don't have clients or customers – they have partners. They offer big agency results with boutique-style relationships. As with the other agencies on our list, Majestyk offers full stack design and development on just about any platform for both mobile and web. Beyond development, Majestyk's catalogue includes pre-development services like discovery & ideation, competitive analysis and fundraising, all the way to post-development support such as content and integrated marketing strategies. Lead by founder Sean O'Shea, Majestykapp counts companies like Pepsi, IBM and Cognitoys among its partners.
Here's a short clip of the Majestyk Apps team presenting their prize winning app at the IBM Watson Mobile Developer Challenge.
Follow Majestykapp on Twitter.
Tendigi
Another one of our Brooklyn based Best NYC App Agencies (must be something in the pizza there), Tendigi is a first generation app development company founded in 2009 by former Apple QA Engineer Jeff Soto. Tendigi develops for a full range of mobile, wearable and desktop platforms. Their services include hardware prototyping, front-end web development, server-side (backend) development, embedded system design and – in keeping with founder Soto's previous career – quality assurance testing. Since we highlighted them in our Best US North East App Agency list in 2015, they've added an impressive list of clients like Viacom, Comedy Central, the Home Depot and Ford.
Follow Tendigi on Twitter.
TWO BULLS
We highlighted Two Bulls in our earlier article on the Top US North East App Agencies and we're more than delighted to award them a spot in our first Top NYC Agency list. It's not hard to see why – if you're looking to develop an app that pushes the boundaries of what's possible, these are the guys to go to. Founded by college pals James Kane and Noah Harlan in 2009, Two Bulls maintains a global presence with additional offices in Melbourne and Berlin. Besides mobile apps, they also develop desktop apps, apps for Augmented Reality and provide platform development and support for IoT devices. One of their specialized services is app store submission optimization, which helps ensure that app store metadata is validated properly so the app submission process goes as smoothly as possible.
Follow Two Bulls on Twitter.
Top App Development Companies New York City – Your Turn
With so many great agencies creating awesome apps all over the New York City area, it was hard to narrow our list of top companies down. What do you think? Feel free to leave a comment below or drop us a line on Twitter.
If you found this article helpful or interesting (hopefully both), check out our other Top App Agency lists for Texas, Washington, DC, San Francisco, Boston, Los Angeles or the US Mid West.