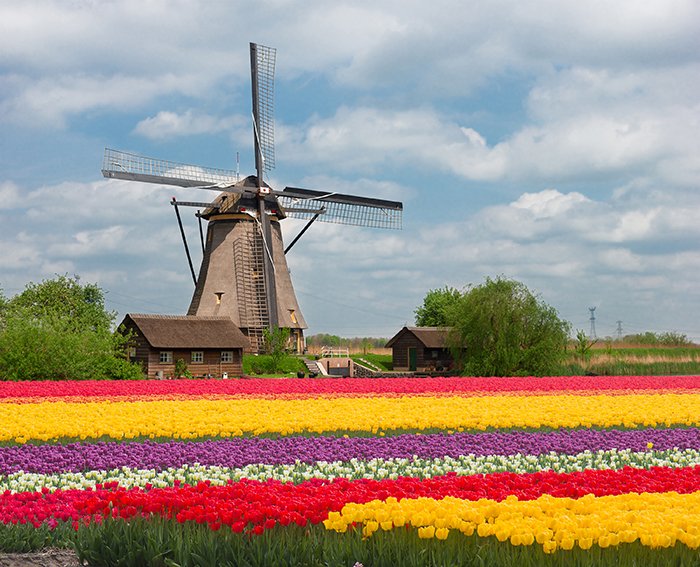 Widely known for tulips, stunning canals and "relaxing" coffeeshops, the Netherlands is also a country with a thriving tech scene, and home to some highly-renowned app agencies.
Often named alongside London and Berlin as a flourishing start-up hub, the capital city of Amsterdam is a fabulous place to do business. However, the country's fast and efficient transport links mean that great agencies thrive across the land, with some choosing historic Den Haag or futuristic Rotterdam as their base.
With a wide selection of agencies across the country, all with unique attitudes and focuses, Holland is a great place to go looking for help with your next app project. (Geographical trivia: Holland is a region in the Netherlands.We're still talking about the same country.) 
Ready? Grab that cup of "coffee" and let's take a look at some of our picks for the top app development companies in the Netherlands
YipYip
Based in modern Rotterdam and led by two Tim's, Tim Nooteboom and Tim Pelgrim, YipYip develops for both iOS and Android and has a strong track record in apps, games and websites.
YipYip's portfolio is varied and inspiring. It includes work for holiday group TUI, and the development of a "Rotterdam Pas" app for the agency's home city.
As well as working on client projects, YipYip embark on their own technical endeavours, giving their employees plenty of opportunities to develop their own concepts and ideas. Those staff also benefit from an informal work environment, complete with unlimited fresh coffee and a "spectacular" daily lunch! YipYip's Twitter feed seems to suggest this is a rather inspiring place to work.
Follow YipYip on Twitter.
AppFellas
AppFellas specialise in creating "app based businesses" from "proof of concept to finished product." They work on all mobile platforms as well as "traditional" web, and have experience of VR apps.
Led by Michael Bevz, their completed work is impressive and includes some innovative apps, such as PartyWithALocal, which boasts 150,000 members.
Anyone looking for an agency who can help with app development over the full project lifecycle would do well to check them out. They're based a stone's throw from the water in northern Amsterdam.
Follow AppFellas on Twitter. 
Fenêtre
Fenêtre, headed by CEO Eric Kruis, has been established for over a decade and delivers a wide-range of services to a variety of companies, including some household names. As well as developing for a range of platforms including iOS and Android, the company also provides consultancy and IT services, and has partnerships with the likes of Microsoft and Oracle.
Based in Den Haag, the home of the Dutch parliament, Fenêtre serves customers in a wide range of business sectors, from government and non-profit to sports and recreation. Among their portfolio, you'll likely recognise names such as Tias and Allianz.
Fenêtre has a well-established record of corporate social responsibility, spanning donations, special initiatives, and discounts for certain organisations.
Follow Fenêtre on Twitter.
2CoolMonkeys
2CoolMonkeys is a company name nobody's likely to forget! The company is based in Utrecht – a picturesque university town that's just a short journey away from Amsterdam.
Specialising in web apps, smart dashboards and big data, 2CoolMonkeys has built up an incredible client list spanning everything from large government departments to household-name brands. Adidas, Philips and McDonalds are just three examples.
2CoolMonkeys is a full-service agency, with a best-practice ethos that will help you move from initial concept to Minimum Viable Product quickly and smoothly.
Follow 2CoolMonkeys on Twitter. 
e-sites
E-sites specialises in digital projects for the health, sports and retail industries. The agency is located across two sites, in Breda and Eindhoven.
Winners of several recent accolades including Lovie and Spin awards in 2016, e-sites has a solid reputation and a varied portfolio to share. If you've ever interacted with Subway or SPAR in the Netherlands, then you may have already encountered apps from this agency.
E-sites has taken the time to create a highly detailed website, which illustrates exactly how the team work with new clients, so prospective customers can find out exactly what to expect.
Follow e-sites on Twitter.
Citrus
Fruitily  named Citrus is an agency near Tilburg, a short drive from Eindhoven. The team develops apps for Android and iOS, and desktop apps also.
Citrus is clearly an agency very focussed on its people. Checking out the team page online is a must – take a close look at the staff images for several seconds and you'll see what we mean!
Citrus' portfolio is particularly strong on education-related apps, with projects on show for companies including Andriessen and Facet Exam Systems.
Follow Citrus on Twitter.
Fish on Fire
Fish on Fire is definitely another name designed around being easy to remember! This is a well-established app agency, around since 2008, with big-name clients on the books that include KLM and Tata Steel.
Fish on Fire has a main headquarters in Amsterdam and another office further north in Alkmaar. The agency boasts a team of 17, including Managing Director Aziez Soekha, and a track record of over 275 completed mobile apps.
Digitalisma
Located right next to the stunning De Biesbosch national park, the staff at Digitalisma must have plenty of natural beauty to inspire them in their work!
This agency develops for both Android and iOS. Their portfolio includes apps such as Pokeradar – a companion to Pokemon Go, downloaded over 800,000 times, and Proactive, a corporate expense management app.
Likening themselves to a film studio in their approach, Digitalisma have a friendly air to accompany their strong professional record.
Follow Digitalisma on Facebook.
Moqod
Moqod embraces the Internet of Things (IoT) as well as now more traditional web and mobile apps.
Fronted by co-founders Sergey Kopanev and Slava Todavchich, This agency is based in Amsterdam but boasts clients worldwide. Example projects shown online include Just Listen, a radio streaming app, and a US Apple TV app for cable news channel Newsmax.
Moqod has a "from sketch to store" ethos for app development, and has experts working on a diverse range of platforms, including Apple Watch and Android Wear.
Follow Moqod on Twitter. 
Top Netherlands App Development Companies
Those are our picks for the cream of the app crop in the Netherlands. How did we do? Did we miss any of your favorites? Leave a comment below or reach out to us on Twitter to let us know!