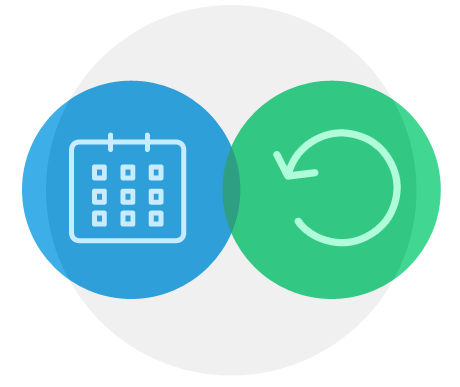 Monthly recurring revenue is an essential component of any app development business. Not only is it an essential way to manage your cashflow by being able to rely on money coming in each month it also has a huge impact on how much your business is worth when you come to sell.
Simply put, if you're trying to sell your company, the buyer will want to understand your company's ratio of one off project income to monthly recurring revenue. In other words, if 90% of your income is from one-time app development projects, the chances are this will be seen as risky by a potential buyer or investor. An investor will want to see an app development studio with a positive cash flow and healthy ratio of recurring to fixed revenue in order to minimise potential commercial risk. Your app development business should be scalable, solid, dynamic and robust enough to endure periods when new app development projects are hard to come by.
Monthly recurring revenue can be used to monetise hosting and support services for your app development business and give a linear perspective to your cash flow. As your app development business grows, the monthly volume of fixed recurring revenue will increase every time you engage a new customer. If you're not already doing this, you should be charging a one-time fee for your app development services and an ongoing monthly fee for hosting, maintenance and support services. You should also be recording the time you and your staff allocate to projects so you can sift out the ones that are profitable, but that's a different blog.
The entire notion of monthly recurring revenue started with magazines and has since spread to everything from window cleaning to video games, from Netflix to internet provision, and of course, mobile backend as a service technologies.
Kumulos, is no different. We use a monthly subscription model because it provides us with a solid and scalable business, so you can be assured your apps are always looked after in the future. In addition, it enables us to bill app developers for the API requests that are actually used and with no minimum contract tie-in. If you're building a business on the sale of app development services, you should apply this logic and work on a business model that facilitates both types of revenue.
Why monthly recurring revenue?
As an app developer, on the most basic level, you're selling a service. As apps are a small (normally) and (in relative terms) uncomplicated services, the feeling can be that the easiest way to make money is to keep churning out apps, charging a one-time fee and then only really going back to the app when there's a reported problem or the customer wants an upgrade. In a perfect world, this would indeed be the easiest way to ensure good profit turnover, but as we all know, the world is far from perfect. Apps break, customers will make impossible demands and arranging constant one time fee transactions can be extremely time consuming, with a higher potential for incorrectly charging your clients for your services.
This is especially a problem if you are a commission based studio, taking jobs from third parties. After your initial fee, how do you effectively manage things like tech support and adding features? If you're also hosting your client's apps (which many commission based studios do), how do you go about charging them for that use of space in a fair way?
These are problems that the subscription style monthly recurring revenue model can fix.
Many successful service based companies and app development studios use monthly subscription fees or service level agreements (SLAs) for their clients. After the initial app development fee, the client pays per month for the hosting space, app maintenance and technical support that means the app can continue working properly. Our system at Kumulos is much the same with our mobile backend as a service technology. Clients pay a subscription that varies depending on API resource consumption along with "add-on" services such as App Store Optimization, Analytics, Push Notifications or a host of other features.
The benefits for the business are numerous, the most obvious being a predictable and regular income. As each client is subscribed, we know exactly how many clients we have and just how much they are paying per month. This allows us to see just how much we look to be making, how much we'll have left after overheads, how much we can bank and also how much we potentially have in case of unforeseen disaster. If we know how long team members attributed to each project and know the cost, we can work out which projects are profitable and which projects will force you to lose your shirt (and your sanity).
This is an important thing to consider, especially for small developers who are just starting out. If your revenue stream is unpredictable, one major technology break or loss of data can potentially sink your ship before it saile. Something else to consider is that your customer numbers are not as likely to fluctuate using subscriptions. In tough and uncertain economic times such as what we've had the past few years, many people cut any new spending, especially if they consider it extraneous. This causes a problem for the single selling business because it becomes increasingly difficult to attract new customers, who are essentially their one and only way to make money.
Subscription helps to avoid this for two reasons. One; it helps to promote customer loyalty. If you're providing an ongoing service that the customer finds useful and is happy with, they are more likely to keep using it, especially if they have already factored in your monthly fee into their own overheads. Two; even if you are not attracting new customers, you still have a reliable revenue stream coming from your existing customers. On top of this, with the aforementioned loyalty creation, customers are more likely to accept rises in price, or to buy add-ons to their subscription to enhance their service.
Another benefit to the monthly subscription is that the barrier of entry is much lower. For example, if you're a small app development studio with a tight budget, a recurring subscription of $12.50 a month is a much less daunting price than say a $150 yearly subscription, or a $300 single purchase of a service or software.
It's the same mindset for your customers. In addition, the monthly subscription is something that is easy to drop in and out of. So not only is the prospect of joining a service much less daunting financially, there is also the peace of mind that comes with the knowledge that if it isn't working out, you can just unsubscribe, or drop out temporarily due to lack of funds, but re-subscribe once things are more stable.
Above all though, the ultimate benefit of a monthly subscription in terms of customers and expanding your user base is that it is a format nearly everyone is familiar with. As we mentioned before, nearly everything these days is done through a monthly subscription. It's something many people have dealt with for years in their personal lives and perhaps in other areas of their business, so when you as a developer offer it, it's something they immediately understand and are comfortable with.
So as you can see, there are a great deal of advantages for an app developer in terms of using a monthly subscription package, but how exactly do you go about setting it up? Click here to read the second article in this series, Setting Up a Monthly Subscription for Your App Development Business. Also be sure to follow us our social media accounts on Twitter, Facebook or LinkedIn to get the latest posts – or subscribe to our RSS feed to get our posts in your favorite reader.
FREE Webinar
Ok, so you've read the post – and this recurring revenue thing seems pretty easy enough – but you have a few questions. No worries, that's why we've scheduled a webinar on this very subject with the very catchy name of How to Build a Service Layer into Your Mobile App Business on September 28, 2017 at 11AM EDT.
The best part? Its absolutely free. Following the webinar, there will be an open floor for questions, where you're invited to ask anything on your mind (about the app business, that is). Seats are limited, so be sure to register early.
How to Get Going With Recurring Revenue Services in Your App Business
Thursday, September 28, 2017
11 AM EDT
REGISTER HERE