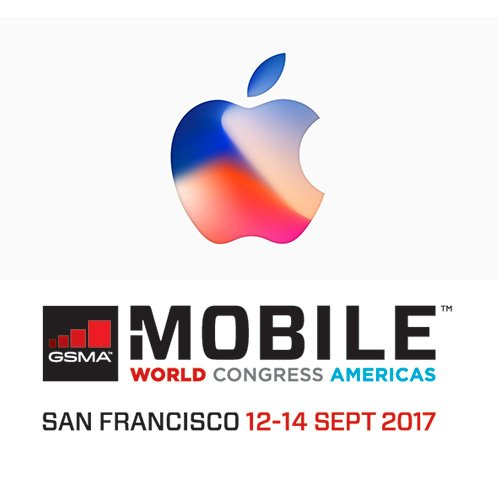 The West Coast of the United States held the world's attention this week as two of the biggest technology events unfolded in the Golden State, both with their own unique firsts and both on the same day. On September 12th, Apple held a Special Event inside the brand new Steve Jobs Theater in San Jose, while further up the peninsula, in downtown San Francisco, the first ever Mobile World Conference Americas launched at Moscone Center.
Both events had plenty to catch the eye of both mobile phone users and developers. We just wanted to touch on a few of the highlights.
All Aboard the 5G Express
The big news at MWCA17 was all about the ascendancy of 5G. In his keynote presentation, GSMA Director General Mats Granryd, prediced that by 2023, over 100M users would be sending data over 5G connections.Sprint CEO Marcelo Claure and Bharti founder Sunil Bharti Mittal chimed in, stressing that the race to lead the world in 5G was on and, if the United States wanted to keep their competitive advantage, they'd better get started.
TAKEAWAY FOR MOBILE APP AGENCIES: Networking is going to be more important than ever. App users are going to be expected to be able to use their apps and connect 24/7.
New iPhone and Apple Watches
Even as some of the speakers at MWCA17 were still delivering their keynotes, Apple started making technology waves with a string of new product announcements from their headquarters just a few miles away. Here, the spotlight shone on the newest iPhone releases, the iPhone 8 and the long rumored $1000 iPhoneX. Also introduced was the new  Apple Watch 3, which is the first Apple Watch model that works independently from the iPhone.
TAKEAWAY FOR MOBILE APP AGENCIES: Apple Watch 3 is free of its shackles. Make the most of it.
OS11 Release Date
Sure, some nifty gadgets, but what's probably more of interest Apple users was the announced September 19 launch date for OS11.
Many of the new features of OS11 were designed with iPhone X's TrueDepth front-facing camera in mind. The long familiar home button, for example, is gone and has been replaced by face recognition technology. This might take some getting used to for those used to signing in with a fingerprint. Other OS11 features exclusive to the iPhone X include Portrait Lighting, for enhanced photos and Animoji's which – as you might be able to guess from the name – are animated emojis users can generate by using the iPhone X TrueDepth camera setup.
TAKEAWAY FOR MOBILE APP AGENCIES: It's here! It's here!
Augmented Reality Apps
For developers and app builders, OS11 promises to bring the world's largest AR platform to their doorstep. They've been offering their ARKit online for download for a few months now, and showed off some of the cool AR abilities at their WWDC earlier in the year:
TAKEAWAY FOR MOBILE APP AGENCIES: When Apple announced the ARKit earlier in the year, Unity was one of the first platforms to jump on board with a plugin. If you're developing in Unity, you've got a head start in the AR stampede. Get going.
iTunes and App Store Updates
While most of the world's attention was on the iPhone X and Animoji excitement, Apple made some major changes to the App Store. In iTunes version 12.7, the App Store has been removed. This forces users to utilize the App Store App (too redundant?) for purchases. Other changes include the reshuffling of iTunesU to the Podcasts section, rejiggering of Internet Radio and the ability to download ringtones directly to iOS devices.
TAKEAWAY FOR MOBILE APP AGENCIES:  With a cleaner, dedicated App Store, it's going to be more important than ever for your app to stand out. Keeping your app description updated, uploading new screenshots and staying on top of reviews as part of an ongoing app store optimization program will ensure your app has visibiltiy in the new App Store landscape.
Are You at MWCA17?
We've been spending our time attending keynote events, eyeballing some of the latest product offerings from the companies attending and, of course, networking. Are you around WMCA17? Be sure to look us up!