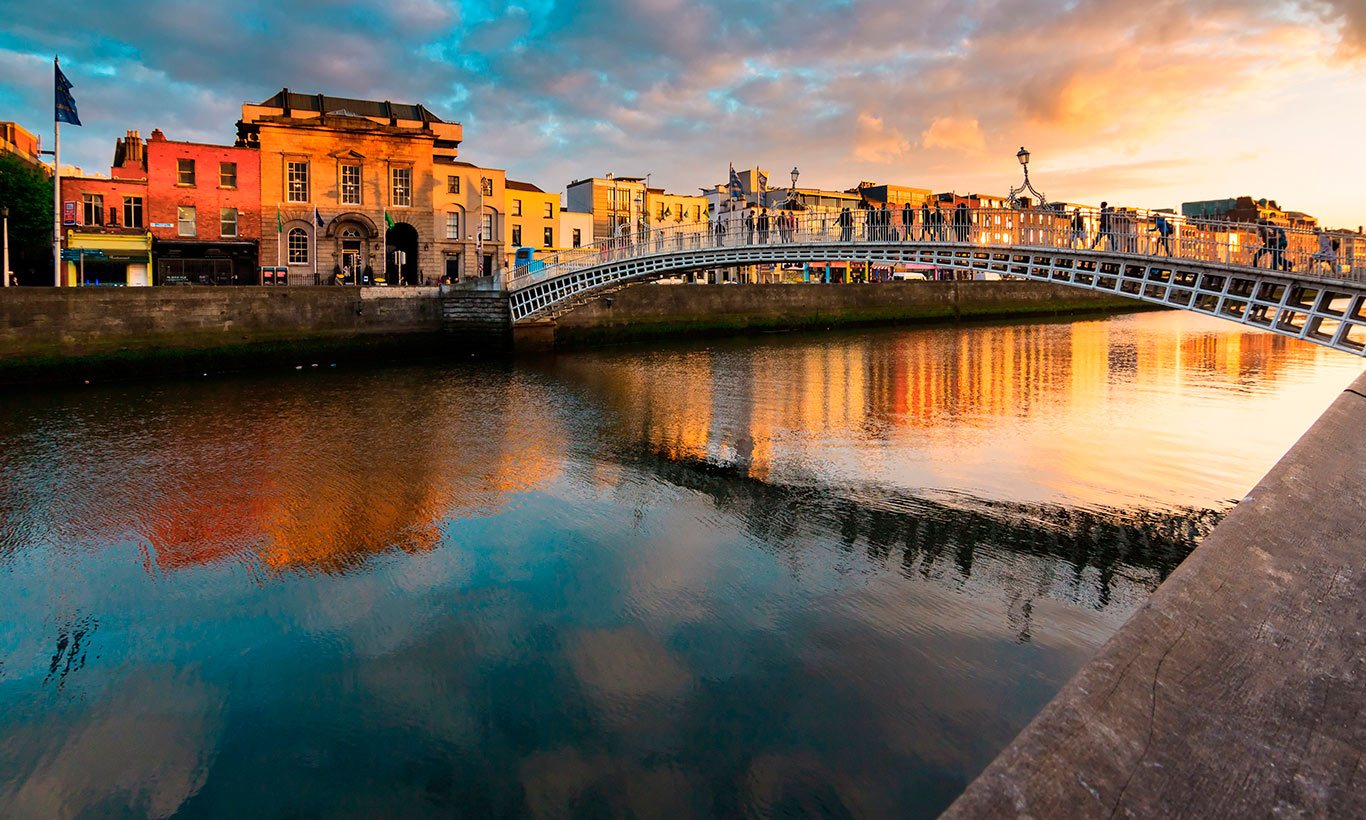 Described by Lonely Planet as a "small capital with a huge reputation," Dublin attracts visitors from all over the globe. With a wealth of culture, a vibrant party scene and no shortage of Guinness, the city continually delivers unforgettable experiences – and perhaps a few that get forgotten too!
Dublin's "huge reputation" is also something that's fair to apply to its thriving software development scene – particularly when it comes to the creation of apps. A great many app developers and digital agencies make Dublin their home, and do business with some of the world's biggest brands.
In this article, we run through some of the best agencies in Dublin and the surrounding area, and talk about what makes them stand out.  
Friday
The Friday Agency is a Google partner, and a full-service agency that gets involved in SEO, content marketing, graphics and video, as well as app development.
Friday has a strong local reputation, with several Dublin-based clients on its portfolio, including DublinTown and Saint Patrick's Cathedral. Further afield, Friday has worked with the Irish Landmark Trust and Inland Fisheries, creating a mobile app for the latter.
This YouTube showreel introduces The Friday Agency and shows off some impressive work to a pretty great soundtrack.
Follow The Friday Agency on Twitter.  
Tapadoo
Tapadoo creates apps for iOS, Android and Windows Phone. The company set up in business in 2009, just after Apple released the software development kit for the iPhone.
Tapadoo's strict focus on app development has won the company a solid reputation and an enviable client list. In addition to apps for clients like DHL and Samsung, Tapadoo specializes in Medical Apps. Using the latest tech, Tapadoo has had great success in the medical field with apps ranging from a Medications Checker to a Hay Fever Relief app that allows the user to enter symptoms so the app can offer up a customized medical relief plan. 
This promotional video features CEO Dermot Daly discussing Tapadoo and its work.
Follow Tapadoo on Twitter.
AppDesign.ie
App Design is a Galway-based company that does exactly what it says on the tin! Founded in 2013, App Design has worked with a wealth of international brands in the years since.
The company take particular pride in their customer support – something backed up by strong testimonials and industry awards. Clients include Hertz, Paddy Power and HP.
In addition to the main Galway office located near the National University of Ireland, App Design adds to its capacity with a secondary office in India.
Follow App Design on Twitter.
Púca
Advertised as one of Europe's first mobile marketing agencies, Púca is a well-established firm, in business since 2000. The company has won a huge collection of accolades in its years in business, including awards from Appy, Ireland eGovernment and the Mobile Marketing Awards.
In 17 years of trading, Púca has built the kind of blue-chip client list that a startup would dream of. Clients include Bank of Ireland, Unilever and Coca-Cola.
Follow Púca on Twitter.
Square1
Square1 is a full-service agency located just a stone's throw from Dublin's Guinness factory, and a quick walk from the Temple Bar district. The company offers infrastructure and web services as well app development work.
Square1 has a varied online portfolio of work, and one where Irish businesses are particularly well-represented. The company has built apps for the likes of Her.ie, SportsJoe, and many more besides.
Square1's introductory video gives an insight into the company and its work.
Follow Square1 on Twitter.  
Boom22
The team at Boom22, headed up by MD Lorcan o'Brien, designs and creates websites as well as mobile apps. Boom22 also offers an extensive range of complementary services. It's well worth checking out the company website, where there are many free guides and eBooks available in the #BoomTips section.
The company's client list is varied and impressive, including such brands as Nurofen, Belvedere Vodka, and Best Menswear.
In this YouTube video, the Managing Director discusses everything from digital strategy to SEO.
Follow Boom on Twitter. 
IrishApps
IrishApps has offices in Dublin, Galway and Cork, and is one of those companies that inspires confidence right from the start. The company website proudly displays awards from Clutch and Top App Creators, as well as an impressive client roster of known brands. These include Panasonic, Lidl and Boston Scientific.
IrishApps is clearly at the leading edge of technology, working in the sectors of blockchain and the Internet of Things alongside "traditional" app development. At the time of writing the company is also offering clients help with European General Data Protection Regulation compliance.
In this YouTube video, Program Manager Cathal Greaney discusses some SEO steps the company took to boost their own website.
Follow IrishApps on Twitter.
Legion
Winner of 2016's "Best Mobile or Tablet" app in the AccentureDigital Digital Media Awards, Legion is a Dublin-based firm with a strong reputation.
The company specialises in apps, websites and motion graphics. Legion's team has worked on projects with big brands such as Kerry Foods and Activate Capital.
Follow Legion on Twitter.
Mosaic
Mosaic is an interesting agency with a unique range of services. As well as offering the usual combination of website and app development, Mosaic also invests in startups and likes to "turn ideas into scalable businesses."
Mosaic's client list is one of the most impressive we've seen, featuring names such as Google, LinkedIn, Adidas and Diageo. It's also worth mentioning that Dublin's very own Guinness also features!
Mosaic seems like a great choice of agency for those who need a new app and some direction in helping it gain traction.
PurpleDecks
OK, so PurpleDecks aren't technically located in Dublin, but rather Longford, Ireland. So, still relatively close to Dublin, in Ireland terms. But we felt they merited a place in our list because, not only do they design apps for clients like RTE, Centra and Qualcom, but they also place innovation at the forefront of their business. So much so, that they have an entire innovation center working on solutions in fields like the Internet of Things, mobile hardware, connected life, TV and more. Our client's solutions benefit from our cutting edge research.
Follow PurpleDecks on Twitter.
Top Dublin Mobile App Developers
As with most top lists – this is just a start. There are a lot of great Dublin Mobile App Developers that we didn't have enough room for. Did we leave out any of your favorites? If so, feel free to leave a comment below.
If you enjoyed this article, you might want to also have a look at some of our other round ups, like our Top San Francisco Mobile App Developers, Top Netherlands Mobile App Developers, or Top Berlin Mobile App Developers.