A recent update to the Google Play Store algorithm used to recommend apps means that what happens after someone has downloaded and installed your app is as important as how they found it. Crash rates, retention and engagement are now every bit as important as ASO when it comes to discoverability.
What happened?
During the second half of June, several developers started to notice a sudden and dramatic drop in new installs of their apps. With free-to-play games worst affected, initial reports were on reddit threads and the unity forums. However, as more and more apps started to experience a big drop in new installs (and the developers of these apps started to realise they weren't panicking alone), the issue started to be more widely reported. It was even picked up by mainstream media.
Google Play Store Algorithm update
On 29 June, Google released a blog post confirming that there had indeed been a change to the Google Play Store Algorithm used to recommend apps. Titled "Improving discovery of quality apps and games on the Play Store", the post states the aim of the update is to "help people find and discover safe, high quality, and relevant apps".
Over the last year, we've been enhancing our search and discovery algorithms' consideration of app quality and user engagement. This means that apps and games that have high retention rates, low crash rates, low uninstalls, and many other factors, are recommended more often.

Recently, we increased the importance of engagement and app quality in our recommendation systems and users reacted favorably to the changes. With more high quality titles being surfaced in the Play Store's recommendations, people are playing the games they download more often.
So, App Store Optimization alone can no longer be used to maximize the discoverability of your app. You must ensure that your app is a high quality app. But what does this mean in practice? Read on…
Crash Reporting
The first measure of quality is the crash rate. If you only take one thing from this article, then please let it be the importance of eliminating crashes from your app.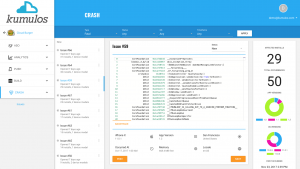 Kumulos Crash Reporting & API Endpoint Monitoring alerts you when errors and exceptions occur in your app. Kumulos groups together related issues and provides you with all of the information you need to pro-actively prioritize, diagnose and fix issues before they negatively impact reviews, retention, and now  discoverability.
Retention
The next measure of quality is retention. Of the people who download and install your app, how many are actively using your app one, two… seven or thirty days later? Earlier in the year, we discussed ways to increase retention. One such way is automated push notification campaigns timed to target users when they are most likely to drop-off (e.g. five days after install). Key of course to all of this is knowing what the retention rate for your app looks like. Kumulos Analytics will show you seven and thirty day retention and let you drill down to see how this varies across cohorts such as date, platform and country.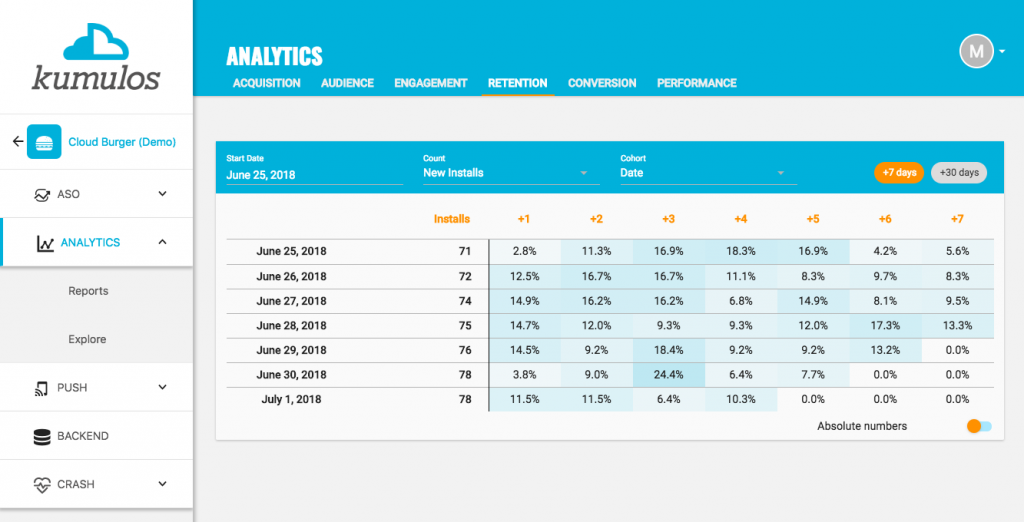 Engagement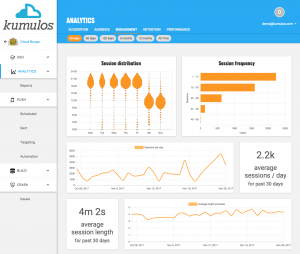 The final measure of quality (at least as far as the Google Play Store Algorithm is concerned) is how engaged users are with your app. But again, before you can improve engagement, you need to know what it looks like first. How often do people use your app? How long for? When and on what days? What features do they use?
By integrating the same Kumulos SDK that gives you Crash Reporting and Retention rates, you can also get Engagement Analytics that will answer these questions for you.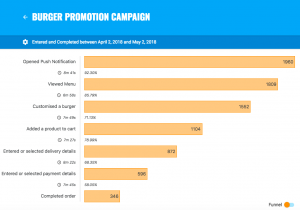 If the answers to these questions are not entirely to your liking, then look at the common user journeys in your app. How many people start a journey? How many complete? How long did it take?  Where do people drop-off? Kumulos Conversion Analytics lets you build funnels to track and optimize conversion through key user journeys in your app to increase engagement (and therefore discoverability).
App Store Optimization
While the Google Play Store Algorithm used to recommend apps may have changed, App Store Optimization remains an essential part of maximizing the discoverability of your app. Kumulos ASO gives you a quick and easy way to track keyword rankings, reviews and star ratings over-time versus your competitors.
In Summary
The change to the Google Play Store Algorithm used to recommend apps is undoubtedly a good thing for us users as it will, in Google's own words, "help us discover high quality apps". For developers, Google have simply raised the bar. No longer can you rely on App Store Optimization alone for discoverability. You must also lower crash rates, improve retention and increase engagement to ensure your app is considered to be a high quality app by the Google Play Store Algorithm and recommended as a result.
While there are several products that can help with any one aspect of this, Kumulos is the only platform that, from a single SDK, gives you App Store Optimization, Crash Reporting & API Endpoint Monitoring, Audience, Retention and Engagement Analytics as well as Automated Push Notifications and In-App Messaging. Why? Because we believe that it is the interplay between them all that helps make an app a success. And now Google do too.
Integrate Kumulos into your app and see for yourself with a free trial.
Further reading
This isn't the first and won't be the last change to the Google Play Store Algorithm. The successful apps will therefore be those that evolve and adapt fastest. In our post on creating a post-launch plan for a successful mobile app  we examine why this is not new thinking and the lessons you can learn from the web, sport, the military and even Darwin to create a post-launch plan you can execute at speed!