In the UK, the north, that's anything north of Watford for those based in London, used to be thought of as a technology hinterland. Not anymore. The Northern Powerhouse is now firmly established as a hot-bed for mobile app innovation, so this is why in this article we showcase this talent and show the Best Northern Powerhouse, UK, Mobile App Developers. Major enterprises are increasingly looking to businesses based in and around Leeds, Manchester, Newcastle, Liverpool, Sheffield and the rest to deliver creative solutions to their business problems. Be that Mobile Apps, Internet of Things Apps – IoT, Augmented Reality/Virtual Reality – AR/VR or Artificial Intelligence.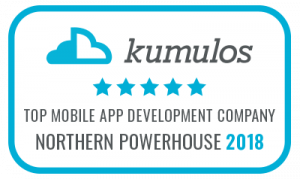 In this latest Kumulos blog, we look at some of the talent based there and review the Best Midlands and Northern Powerhouse Mobile App Developers.
Best Northern Powerhouse, UK, Mobile App Developers
Apadmi could be described as one of the gorillas of the Northern Powerhouse. Founded 9 years ago by Garry Partington, Nick Black, Adam Fleming and Howard Simms, along with their 70-strong team, their clients include some of the most impressive businesses across the UK and Europe. They work across a wide range of industries, but over the years have built up expertise in Healthcare, Travel and Retail. Their clients include Argos, Lexus, the NHS, Range Rover, EE, SkyScanner, and the BBC.
They describe themselves as a mobile technology company that works with clients of all sizes to understand how and where to use mobile in their organization, to improve their operations and deliver the complete solutions needed to make it happen. They are experts across the entire mobile journey – from interface to server to data. As you'd expect from an organization like Apadmi they cover the entire development lifecycle and are a team of thinkers, developers, designers, UX-ers and inventors, who see it as their role to continuously look for ways that technology can improve things for their clients.
Their development approach is customer-centric. They don't focus on any one technology, but can operate across platforms delivering apps on native, hybrid, web portals and voice apps on Alexa. They understand the customers' needs and then apply the best technology solution.
This video is a good showreel of their work.
Apadmi also have an investment arm Apadmi Ventures. Led by Howard Simms they seek out and invest in early-stage, highly-scalable technology companies. They offer much more than investment capital too, giving advice and technology expertise to help nurture and grow ideas, turning them into a successful venture.
Follow: Apadmi on Twitter
Codevate
Codevate has been in business for over 5 years. Strictly speaking they are too far south to be included in the Northern Powerhouse blog as they are based in Birmingham. But what they do and how they do it meant we just had to include them. Formed and run by Sam Jones and David Bennett their mission is to close the Technology Gap to create a competitive advantage for their clients. They describe themselves as a Software Development Consultancy, rather than a Mobile App Development Company, as they combine mobile technology with cloud-based systems to produce digital ecosystems that enhance their clients' business processes. They work with native & web apps as well as cross-platform solutions in particular React Native.
They follow their own internally developed, tried and tested multistage process which takes inspiration from Lean and Agile development. More Kanban feel than pure SCRUM.  This ensures the development process has clear multistage goals and short-term ROI based deliverables, so their clients can see the value at every stage. They focus on building a Minimum Viable Product and then build on that initial value with subsequent phases. This way their clients see value early and the course can be adjusted as the project takes shape.
They don't have any particular industry bias. They say, quite rightly, that every industry has problems that can be solved by digital and mobile technology. That said they have a lot of experience with Remote/Field workers, Social Media and Dating as well as Manufacturing, especially around IoT.
Codevate see their particular strengths as being able to quickly extract and distill domain knowledge from their clients. Together with this business knowledge and Codevate's technical know-how they are able to build workflows that optimize processes that can then be enhanced through technology.
Follow: Codevate on Twitter
Corporation Pop
Corporation Pop is one of the longest established Mobile App developers in our Northern Powerhouse blog having been around in various forms since 1991. Innovation and exploring new technologies flows through their veins. Run by Dom Raban and Dan Taylor along with their 20 strong team, they have a strong culture that focuses on innovation and continually pushing the possible to deliver the best outcomes for their clients.
Corporation Pop is all about innovation, good design and effective use of technology and it's the smart use of all three that really make them different. They operate across many different industries but have built particular expertize in Entertainment, Health and Education. Proof of this comes through in the impressive clients they work for, which include the BBC, Channel 4, the British Council,  Unilad and the NHS. They are also developing their own IP with an innovative app that uses AR, artificial intelligence and gameplay to help children going into hospital.
They work across all technologies and describe themselves as platform agnostic, so can handle Native, Hybrid or responsive web apps. Given their heritage in entertainment they have particular expertise with Unity 3D
This video shows you the award-winning work they do.
Follow: Corporation Pop on Twitter
Dreamr
Dreamr started in Manchester back in 2104 by Jack Mason CEO and Mylo Kaye Strategic Director. They have a team of 20 based from their central Manchester office. Working with Dreamr you'll get a good understanding of what makes them different; they are huge believers in giving back. So much so that they donate 10% of their time every month to help worthwhile causes in the Greater Manchester area.
They work across a broad range of clients and industries, but what really gets them excited are projects that make a difference to people's lives, such as social good & assisted living projects, or projects that use technology to help bridge the generational gap and unify different demographics.
There are two arms to the Dreamr business. The traditional mobile app development business and the investment arm, Dreamr Ventures. Here they work with their entrepreneurial clients to harness that entrepreneurial spirit, shape the idea, prototype and bring it to market. They are proud of the fact that they don't just develop software but develop their clients thinking to make sure what they produce meets the needs of the end customer.
Where their customers need it, Dreamr can offer the full mix of services, from product proposition development, design/prototyping, full stack development through to app marketing. They even help with investment pitches and securing funding for their idea.
Here is a couple of customers they work with to get a feel for the work they do.
Go-Local – helping local businesses get app technology so they can compete better with national chains
Corner – a wearable digital fitness trainer app for boxing, that was showcased at the International Consumer Electronics Show in Las Vegas and features on Dragons Den.
Follow: Dreamr on Twitter
Desap
Roger Martin Kadama launched Desap in Manchester, England back in 2014. They now have 40+ staff working at their HQ near the vibrant Media City in Salford.
Their wraparound approach is to work as an extension to their clients own in-house teams. They work closely, collaborating with their clients at every stage of the design, development and testing process; from defining the strategy, to UX design, build, test and release phase. They also offer an ongoing service to ensure that the initial investment in the app continues to deliver value as business and customer needs evolve.
Their core skills are in native app development where they help a broad range of clients to embrace mobile technology to improve their business performance. They work at the bleeding edge of innovation, with organizations like Manchester University and the National Graphene Institute which is looking to exploit the commercial potential of Graphene.
A few other examples of Desap's work include;
Loadie is a specialist mobile application and customer management system that allows customers to match their unfulfilled loads with drivers and logistics companies who have excess capacity. With state of the are tracking and payment technology Loadie is set to become the Uber of logistics.
Eras+ is a revolutionary app and web function to supports patients in the preparation for, during and after major surgery. Its core aims are to ensure enhanced recovery, reduced post-surgical complications and a better overall patient journey through the health economy.
Respassist is a mobile solution to assist in the diagnosis and treatment of respiratory problems in patients. This app helps GPs and Practice Nurses access resources and patient statistics to improve treatment protocols.
Here's a link to Desap Instagram page to get an insight into what they're about.
hedgehog lab
hedgehog lab are one of the most established businesses in our Northern Powerhouse blog. Founded in Newcastle 11 years ago by Sarat Pediredla, CEO & Mark Foster Chief Innovation Officer, they currently have more than 130 staff across their offices in the UK, North America and their development center in India.
They describe themselves as a Global Digital Product Consultancy helping their clients get the best out of both Mobile and broader digital technology, but with a firm emphasis on Mobile-First. What makes hedgehog lab special is their heavy focus on design coupled with an Agile Delivery process. This lets them innovate faster and learn along with their clients. This is reinforced by their Innovation Lab which epitomises their unique culture. It stretches the possible, both technically and commercially with their clients, to help businesses look beyond just apps to the benefits that can be delivered from wider avenues of digital transformation.
They don't specialise in any one industry vertical, but have built up particular expertise in Healthcare, Retail, Utilities, Education, Travel and Fintech. They boast a very impressive client list that includes AkzoNobel, Home Group, Leisure Pass Group, Northumbrian Water and Thales.
They can handle projects across a broad range of technologies that include Javascript, Swift, Java, Kotlin and Python and have in-depth experience building mobile applications around AI, XR, as well as Native and Responsive Web Apps.
Follow: hedgehog Lab on Twitter
Huddled
Huddled is a Manchester based bespoke software and mobile app development company. In their current form, they have been around since 2017, but their history and track record in web and mobile technology goes back 10+ years. Huddled is run by the Yates brothers, Paul and Justin, along with Martin Vernon as Development Director. They lead a team of 15 made up of a mix of developers, digital marketing experts and business development.
They describe themselves as a Software Boutique that can go beyond just development. They focus hard on how technology will help solve specific business problems and then offer a solution that is often a mix of web and mobile software. What makes them different is their abilities to then help their customer market their Mobile Apps and drive demand, so they can stay with their clients, after the mobile app goes live.
They operate across a broad range of industries with a slight leaning towards property management. They have helped many organizations, large and small grapple with digitizing analog processes to make their businesses more efficient. HAYS Recruitment and Residential Management Group are good examples of the businesses they work with.
They mainly work with hybrid apps, preferring Ionic/Cordova and Laravel PHP frameworks to give the maximum flexibility and interoperability with their customers' existing web technologies. They have a pretty unique way of working that is their cut on Agile development & Scrum that they call Huddle!
Check out an example of their recent work in this short video.
Pocketworks
Pocketworks has been based in central Leeds since it was founded in 2012. It's run by its founder Tobin Harris, Head of Technology Tim Medcalf and Lee Sommerville, Head of Production who manages a team of 14. Put simply they see it as their mission to "Develop mobile apps that help businesses grow."  They stand firmly behind that statement. All of the apps they build have clear KPI's so the performance of the app can be easily tracked against the business results their clients expect from their App Investment. Their expertise covers a broad range of industries, but over the last few years have built a strong reputation in customer loyalty apps and apps for electronics manufacturers around smart homes, smart energy and Internet of Things (IoT). They boast an impressive client list that includes:
ASDA where they developed the first app for this major UK retailer, their Price Guarantee app that allowed their customers to check their prices against the competition.
Energenie manufactures devices that turn homes into smart homes where devices can be monitored and controlled remotely. Pocketworks created a suite of apps for their product range to let their customers control devices remotely.
Veezu is a major taxi operator with over 4,000 drivers covering 5 UK cities. For this app, think Uber (only better). Specifically focused at students this app lets their customers book a taxi in less than 5 seconds.
Follow: Pocketworks on Twitter
Tyrell Digital
Tyrell can be found just outside of Leeds city centre not far from the historic Armley Mills. The firm was started a few years back in 2012 by Duncan Scobie who is the Managing Director and still gets his hands dirty as their lead developer. So, when you work with Tyrell you know you are getting their A-Team.
The company works across the full digital spectrum delivering mobile apps, mobile responsive websites and has built a specific expertise in IoT around Bluetooth, NFC and RFID communication protocols. As such they have worked extensively across manufacturing, electronics and healthcare sectors delivering a range of bleeding edge wireless interface projects.
They prefer to deal with interesting projects that push the boundaries of mobile technology, especially in IoT, than chase the big brands. That said, they do have an impressive portfolio of work on show, for clients including The Guardian, Pitman Training and the Medical Protection Society.
Best Northern Powerhouse, UK, Mobile App Developers
So there you have it. Our Best Northern Powerhouse, UK, Mobile App Developers. Of course, the best fit for you depends entirely on your specific needs. But we reckon that with the huge talent, and down to earth approach from Northern Powerhouse Mobile App Developers that you will find an ideal partner for your next mobile app project.