Burger King's "Whopper Detour" stunt targets McDonald's by placing geo-fencing within a 600 feet radius around each one of their 14,000 outlets. Then when someone with the Burger King mobile app on their phone crosses the Geo-fence, it triggers a special offer letting them order a Burger King for a penny. They are using a guerrilla marketing stunt to promote their refreshed app and the new advance order function, while at the same time catching customers that may otherwise be tempted to buy a McDonald's instead. A smart way to target folks may be ready to buy a burger and increase the catchment area for restaurant footfall.
Retailers have been geo-targeting each other's outlets this way for a while. For example, Dunkin Donuts back in 2014 delivered discount coupons to folks near Starbucks coffee shops. They achieved substantially higher coupon redemption rates than other promotions, showing the power of proximity-based mobile promotions.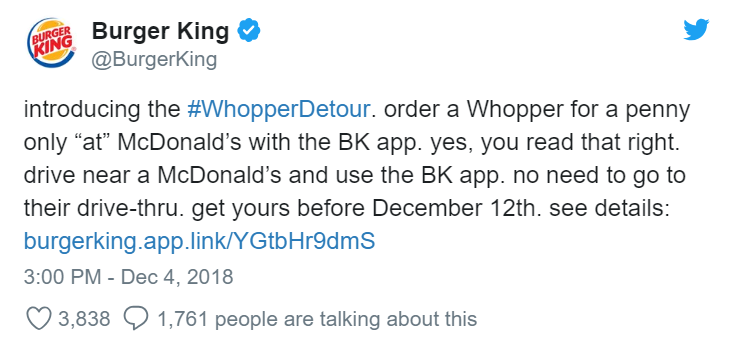 This latest initiative from Burger King is a great example of how to use the power of relevance and immediacy by offering customers something highly relevant and timely. Their proximity promotion is designed to retain customers that may be tempted to a competitor and promote a cool new feature in their app. An app, by the way, that's been desperately needing a major revamp for a while.
A few thoughts on this…
A one hit wonder?
They just let you redeem the Penny Burger once. You can understand the economics here. Users could easily gamify the offer and live on Penny Burgers for the duration of the offer. But I wonder if Burger King are losing an opportunity here. Rather than offering more burgers at 1 cent. They could still offer incentives (like Go-Large or fries free) that would still draw their customers back to Burger King and away from McDonald's longer term. The penny offer only lasts for a few weeks.
Works only where restaurants are close
When you place your order, the mobile app will guide you to the nearest Burger King to go collect their pre-ordered meal. It also lets the person easily see how much of a detour they'd have to make for the Penny Offer. So with that it's only really going to work if their outlets are close by. It would be really interesting to know how "elastic" the offer is in terms of the distance customers are willing to travel to save themselves a few dollars. Not 30 miles, according to this review on the app store. And it appears a good revenue booster for McDonald's.
Beacons + Geo-fencing = even smarter
They could go one step further and integrate beacons with geo-fencing. So, when someone has the promotion triggered on their phone and then approach the Burger King outlet the beacon recognizes them and loads their pre-order confirmation on their device.
It's simple to set some basic automation rules that chain-links geo-fencing and beacon triggers together to give a much rich user experience. We can show you how if you are interested.
Unintended consequences
We understand the original plan was to catch Burger King customers with wavering loyalty and navigate them away from McDonald's to their nearest Burger King to pick up food. An unintended consequence of the offer is to incentivize Burger King customers to seek out their local McDonald's to trigger the offer. So in effect promoting the location of their competitor, which is an interesting approach. It would be fascinating to see how that plays out in the long term. Or are Burger King just assuming that if you eat burgers you'll already know where the local McDonald's is anyway. But that's a BIG assumption.
Did Burger King miss the Technical Black-spots?
No matter how clever the marketing campaign, if it doesn't work technically it risks more harm than good. From the comments in the app store following the release of their revamped app pre-ordering risks being an own goal for Burger King.
Their app users have been waiting a looooong time for a decent app and Burger King have fallen badly behind McDonald's here. According to this comment on the app store the app they were having some technical issues. From the app store review below, I wonder what this this person did next. My bet is they bought a Big Mac. Doh!

Was Burger King on top of the technical performance of their app and closely monitoring the app and managing the app's API dependencies? I hope so.
At Kumulos, we see this way too often. No-one having the joined up view. By that I mean the marketing guys focus on app store reviews, downloads and order completions, but have no sight of the technical issues. The IT operations people don't know what's happening on the commercial side of the app, so things end up in the cracks.
It looks like even the big app brands get this wrong, but it doesn't need to be this way for apps of any shape or size. Simply run your app on Unified Mobile App Management Platform and you get the full picture – technical and commercial. A single pane of glass that means you have the complete picture of how well your app is performing and are able to catch problems early.
Understand the User Journey
Unless the Burger King Restaurant is very very close the One Penny offer will most likely appeal to customers in cars.
Here's the most likely user journey.
They park up at McDonald's.
They get the One Penny offer.
They place their order.
They use the app to navigate to the Burger King restaurant to pick up their order.
They, of course, take the Drive-Thru.
This is where for Burger King things unravel. Ironically something designed to make the order easier seems to take longer.
For some reason, probably only known to Burger King, it seems you can't pick up orders made on the mobile through the drive through. A bit of flawed thinking here I think.
As the App Store review says, "A system that is supposed to make things a lot easier, instead made it 1000 times more difficult."
I guess the lesson from this is pilot first, iron out the crinkles and then go national. Oh and make sure you take your franchise owners with you.
Faster fast food
The order ahead feature in the app, is designed to turbo-charge the fast in their fast food (unless you take the drive through of course, because your order is waiting for you when you arrive. No waiting in line. It's also a way to drive more value from their mobile app increasing the recency and frequency of mobile app users, giving you a good reason to use the app regularly. In addition, it's a way for them to compete with delivery services that McDonald's has recently introduced as well as the other food delivery services like Uber Eats, Deliveroo, GrubHub and DoorDash.
Want to know how geo-Fencing is done and whether its right for you?
The retail industry is fiercely competitive, and mobile is the latest battle ground. Get it right, and the results you can get from proximity marketing can be incredible. Get it wrong and it can hurt.
If you are looking to harness the huge potential of mobile location-based targeting then get in touch and we'll be glad to show you how the big brands do it.