As a leading provider of mobile app performance management software, Kumulos eat, sleep and breathe mobile – so we talk to a lot of mobile app developers around the world and are fascinated by the incredible work done by app developers of all shapes and sizes.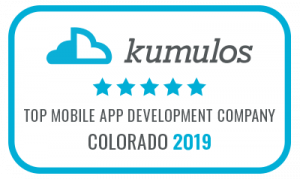 We regularly survey and assess the best mobile app development businesses across the world. In the past we've looked at businesses across the different regions in the US, Australia, Germany, UK and more. We reviewed Colorado based mobile app developers in the past, but it's clear to us just how much talent there is in that state, so in our latest awards we turned our attention back to Colorado mobile app developers.
This is what we found!
APPIT VENTURES
AppIt Ventures founded 7 years ago by Rob Carpenter, has grown to 47 employees with Amanda Moriuchi as CEO, Chris Taylor as CMO and Vamsi Reddy as COO. Since the mobile app development company served its first client in 2012, the Appit Ventures team has developed over 350 applications for clients ranging from local startups to Fortune 500 companies. Since AppIt's conception, they have earned recognition from clients, the press, and the community for being a world-class organization, delivering high-quality applications and a customer-focused process.
What sets them apart from the competition? They are impeccable with their word. In the world of custom software, the variables are endless. Unforeseen development roadblocks can drastically shift the budget or timeline of a project. Constantly changing technology can impact the overall design or approach. Challenges with integration can make or break functionality. Even slight changes in the design of an application can lead to tens of thousands of dollars in budget differences. These risks are present in every custom software development project, which is why it's important to work with a partner you trust. AppIt Ventures prides itself on doing what they say they'll do, and they are fiercely protective of client's budget and timeline.

They focus on native, react native and responsive web apps for many industries including business services, healthcare, manufacturing, logistics, IoT and Artificial Intelligence. Offering services from proof of concepts, to clickable wireframes, app consulting and app store optimization.  The projects include work for Helping Habit, FieldVision, Florence Crittenton Services, Seattle Fish Company to name but a few.
Watch this video to learn more about Appit Ventures
 Follow AppitVentures on Twitter
DEVETRY
Devetry was founded 4 years ago by Brett Truka, CEO. The CTO is Allan Wintersieck.  The Company which has grown to 30 staff is a custom software development and consulting company.
What makes them different from other mobile app developers is that they're entirely onshore, have experience and expertise across a diverse range of languages and frameworks, and are business savvy so they partner with clients to solve problems (rather than just build apps).
They work in healthcare, higher education, government, technology, and more, providing services beyond coding the mobile app itself e.g. app marketing, app store optimization, consulting and a code review service.
Devetry clients include OrthoFi, NREL, and Cloud Elements to name a few. The team focus on building Native, Hybrid and Responsive Web Apps and cover many technologies including Xamarin, React Native, Firebase and more. The impressive work of Devetry can be viewed on their case studies page.
Watch this video to learn more about Devetry
Follow Devetry on Twitter
EPIC APPS
Epic Apps will have been around 7 years come March 2019. Headed up by Kevin Williams and Scott Curtis, the company has grown to around 30 employees. Epic Apps describe themselves as being cost effective, locally driven and personally invested.  They are a full service digital agency covering everything from ideation to product delivery with a primary focus on custom app and website development.
What makes Epic Apps unique is their Employee/Contractor mixed team model which typically saves clients 30%-45% on market rates. The team love their Rocky Mountain backyard and are big on local relationships. In fact the founders are heavily involved, readily available, and ensure each project is on-time and on-budget.
The team focus on design and development with native, hybrid, responsive apps, though they also provide insights into marketing, SEO, funding and more – why not check out their blog!  Epic Apps customers include U.S. Figure Skating, National Institute of Standards & Technology (NIST), University of Colorado Boulder, Denver Police Department, Colorado Division of Fire Prevention & Control to name but a few. The team manage all projects in a sprint-based way using agile principles.
Like Epic Apps on Facebook
MASTER OF CODE
Master of Code has been in business since 2004 and was founded by Dmitry Gritsenko who is CEO to 190+ team members of the software development company. Master of Code work with cool startups, brands and enterprises with 273 awesome experiences and projects created on web, mobile and in chatbots.
What makes them unique is that Master of Code Global has proven to be a solution-oriented and outstanding development partner. MOC Global has years of industry experience and highly talented developers which makes it possible to find the best technical solutions and propose ideas in best practices.
They focus specifically on artificial intelligence, mobile and web app development – particularly native. They also offer UI and UX design, QA services, app store optimization and chatbot marketing. Customers include World Surf League, TrapTap and Liveperson to name but a few.
Follow Master of Code on Twitter
NEON RAIN
Neon Rain Interactive has been around for 16 years and founded by Arif Gangji. The team approach each project from the business perspective and work to determine what features drive the most value and create the biggest impact.
Neon have been developing web based software using an agile scrum development methodology  for quite some time and have worked with some very prominent brands. They offer web application development, custom web based software, enterprise websites and small business websites. Some of the clients they're proud to mention are Sprint, United Way, TalkCondo, Adams County Government, Douglas County School District.
Follow Neon Rain on Twitter
THINK TREE STUDIOS
Think Tree Studios was founded in 2015 building upon a team with more than 20 years of mobile and embedded systems experience. The key executives are Aric Franzmeier (CEO) and Nathan Franzmeier (CTO) . With 20 staff members, Think Tree Studios is a leader in creating innovative mobile applications and websites.
While the team designs and develops unique apps across a wide spectrum of industries they specialize in Bluetooth, IoT, internet based communications and hardware integration. They have a wide focus across multiple industries ranging from health/medical, fitness, and consumer products to security, telecommunications, government, and education. They offer clients Bluetooth LE development, embedded software development, HIPAA compliance, Search Engine Optimization, scalability and redundancy design, database design.
Their list of customers is extensive but here are just a few of the customers Think Tree Studios have worked with: Healthio – built using Ionic/Cordova – is a very robust healthcare app that uses several custom BLE medical hardware devices to communicate with the app and send the proper data back so that users could monitor and record select vital measurements. WiCis Sports iSTREME – is a tele-health Android app they designed and developed that lets anyone monitor user vitals, step count, elevation gained/lost and more, using select Bluetooth devices, from anywhere in the world – including Even Mount Everest – and share the data with people you are connected to in real time.
Follow Think Tree Studios on LinkedIn
POSSIBLE MOBILE
POSSIBLE Mobile has been in business for many years and POSSIBLE Mobile's CEO, Ben Reubenstein, created one of the first 150 apps on the App Store, which topped the US charts at 22. The company began at Ben's kitchen table and was initially called Xcellent Creations, which was incorporated in 2008. In 2013 the company then merged with Double Encore to form a mobile powerhouse. Double Encore was later acquired by WPP's POSSIBLE in August 2014. In addition to Ben Reubenstein, the executive team includes Danielle Reubenstein, Executive Creative Director / Founder, Jay Graves, Chief Technology Officer and Eric Daugherty, Chief Operating Officer
POSSIBLE Mobile now has a total of 129 full-time employees across offices in Denver, Atlanta, New York, and Seattle. What makes POSSIBLE Mobile unique is that they are consistently forming long-term partnerships with their clients and deliver for them year after year; there are very few one and done endeavors with this agency. Also, many of their clients have live events that occur every year that the company works to enhance and keep up to date. The agency even provides live support during the events to ensure things run smoothly.
POSSIBLE Mobile's work which focuses mainly on sports, travel, entertainment, and health has garnered several award wins including Webby Awards, Cynopsis Sports Media Awards, Cynopsis Model D Awards, and even an Emmy Award. Clients include Turner Sports, JetBlue Airways, PGA Tour, Pokémon to name but a few.
In addition to their core service offering of native app development across a wide variety of platforms including iOS and Android, all connected devices, wearables, and voice assistants, POSSIBLE Mobile also offers creative design services including interaction design, visual design, and voice user experience. Quality assurance including automated testing, digital and mobile strategy, marketing sciences, program and project management, and account management are also part of POSSIBLE Mobile's capabilities. Lastly, the agency also offers App Store Optimization and App Store Marketing services to drive users to find and download their clients' apps in the stores.
Learn more about POSSIBLE MOBILE
Follow Possible Mobile on Twitter
ABOUT TOP APP DEVELOPMENT COMPANIES
So, there you go, all you need to know about the top mobile app development companies in Colorado.
In order to be named a Top App Development company by Kumulos, a company must be an established mobile app development business which is growing fast and developing exceptional mobile apps for their clients. The company will either have broad expertise across many industry sectors or will have developed a niche expertise. Either way, they will have outstanding business results, evidence of client wins and good client retention.
Top App Development companies will be able to showcase a portfolio of mobile projects with recent case studies, backed up of course by the apps themselves being ranked well in the app stores and good user reviews. We look at the strategy for the app, what the app solves, the technology used behind the app, any use of AR / voice / IoT and it's onboarding experience along with the UX/UI design and use of push notifications etc.  
Overall, we're looking for innovation that goes beyond the norm of mobile.  To be featured as a Top App Development company by Kumulos is a great achievement and shows that a mobile app agency is excelling at mobile strategy, design and development and in fact is thinking about the full app life-cycle for their clients by offering ongoing ASO services and app analytics.
Bob Lawson, Founder and Director, Kumulos says, "These app agencies impressed us with their close collaboration with clients when it comes to strategy, UX design, and ongoing services."
Did you like our list? Let us know if we left out your favourite app agency!