As a leading provider of mobile app performance management software, Kumulos eat, sleep and breathe mobile – so we talk to a lot of mobile app developers around the world and are fascinated by the incredible work done by app developers of all shapes and sizes.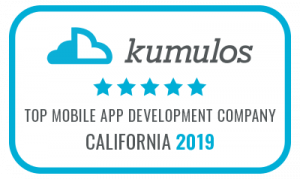 We regularly survey and assess the best mobile app development businesses across the world. In the past we've looked at businesses across the different regions in the US, Australia, Germany, UK and more. We reviewed LA and San Francisco based mobile app developers in the past, but it's clear to us just how much talent there is in California, so in our latest awards we turned our attention to Californian mobile app developers.
This is what we found!
Top Mobile App Development Companies in California
Appstem
Appstem has been in business for 9 years and was founded by Robert Armstrong who is the company's CEO.  With 20 staff, Appstem is a full-service mobile strategy, design and development agency. Based in San Francisco, Appstem has delivered over 200 apps with a team of experts. Their clients range from leading brands like Tesla, Enterprise, Zendesk, Intel and Johnson & Johnson to high-growth startups like DUFL, Hubbub and EmployeeChannel.
What makes Appstem unique is their team's enthusiasm for an agile development methodology. The Appstem team believe that the combination of the right process and a complete team of software experts is the right way to build successful apps. They are not siloed into a particular vertical and have experience across many industries delivering strategy, ideation, UI/UX design, hosting and on-going support. When it comes to apps, they build native and hybrid as well as web apps. Mainly though, they concentrate on native app development, MEAN stack, React and React Native technologies.
The company was featured in the Kumulos 2017 Top San Francisco Mobile App Developers and has grown a lot since then to now feature in 2019 Top California Mobile App Developers.
Watch this video to learn more about Appstem
Follow Appstem on Twitter
ArcTouch
ArcTouch has just celebrated their 10 year anniversary! The company, which now has over 200 employees, was founded by Eric N. Shapiro, who is CEO, Adam Fingerman, who is CXO and Paulo Michels, who is EVP of Engineering. ArcTouch focuses on consumer and enterprise apps, and also blockchain and smart IoT products.
ArcTouch is obsessed about creating lovable apps that are both useful and delightful to use. They provide strategy, experience design, development, and growth and optimization services, and follow an agile methodology. Many of their clients have been with ArcTouch for over 5 years, including 3M, Audi and Marriott. ArcTouch has expert Xamarin app developers and blockchain developers.
ArcTouch was highlighted in the Kumulos 2017 Top San Francisco Mobile App Developers and is proud to be featured in the 2019 Top California Mobile App Developers.
Follow ArcTouch on Twitter or on the ArcTouch Blog
CitrusBits
CitrusBits was founded in 2005 by Ammad Khan and is currently led by Harry Lee, CEO. The company has grown to 70 employees and thrive at the intersection of mobile development, UI/UX design, and emerging technologies. They practice an agile methodology for all design and development work.
CitrusBits is proud of their capabilities in emerging technologies such as Artificial Intelligence (AI), Augmented Reality and Virtual Reality (AR/VR), blockchain, and the Internet of Things (IoT). The team work across all industries, but say they have recently taken on a lot of new clients in Augmented Reality (AR), Healthcare, and Entertainment/Media. Clients include Johnson & Johnson, UCLA, Burger King, Quiksilver, Harman (a Samsung company), IrisVision.
CitrusBits build native and hybrid apps and responsive web apps and overall provide services from product strategy to app marketing, support and backend services. CitrusBits work with most platforms used today, including Swift, Java, Kotlin & React Native on the front end. They can work with almost any backend service providers, including Firebase, AWS, and many others.
The company was featured in the Kumulos 2016 Top Los Angeles Mobile App Developers and has grown a lot since then to now feature in 2019 Top California Mobile App Developers.
Subscribe to CitrusBits YouTube Channel to see their awesome work.
Follow CitrusBits on Twitter
Dogtown Media
Dogtown Media was founded in 2011 by Co-Founders Marc Fischer (CEO) and Rob Pope (CTO). It has around 49 employees including some contractors. Dogtown Media was conceived as a custom mobile app development company and has expanded into an award-winning mobile technology powerhouse. Partnering with VC-funded startups and enterprises like Google, Harvard Medical School and the United Nations, Dogtown Media create powerful digital products. Apps which they've developed receive millions of downloads and have featured on international TV programs.
What makes Dogtown Media unique is that they integrate themselves holistically with clients. They augment custom app development with emerging technologies such as AI, Machine Learning, and IoT. Their main focus for 2019 includes Healthcare, FinTech and they act as a technology incubator for enterprises using their AI subset of Machine Learning, connected devices based on IoT frameworks, and wearables that assist with medical care.
While Dogtown Media advocate for native iOS and Android development from a user experience standpoint, they are experienced in cross-platform development through React Native. For back-end development, they offer full stack solutions on a foundation of node.js and react technologies. All of this is done in an agile, scrum-based methodology
Watch this video to learn more about Dogtown Media
Follow Dogtown Media on Twitter
Mokriya
Mokriya was founded in 2010 by Sunil Kanderi and Pranil Kanderi. The company now has 100+ employees in 4 continents with remote staff. Mokriya describe themselves as a software product consultancy. Their unique approach to solving tough problems means they design compelling experiences and ship solutions fast. The company offers many services from innovation and ideation to visual design, market research, testing & validation and big data & analytics. Mokriya customers include Verizon, Intel, Google, Sony, Twitter and Salesforce, to name but a few.
Using rapid prototyping with their agile methodology, Mokriya concentrate on mobile (iOS, Android, React Native) and application development (React). They also cover connected devices (Cars, Home, Automation, Wearables, etc.), Machine Learning, AI, Chatbots, AR and VR.  
Mokriya was in Kumulos 2017 Top San Francisco Mobile App Developers and has become so well known to now feature in 2019 Top California Mobile App Developers.
Follow Mokriya on Twitter
Sidebench
Founded 6 years ago by Kevin Yamazaki, Sidebench now has 50 team members and is a full service product strategy, design and development company. Working in an agile methodology, they have an expertise in enterprise scalability, enterprise systems integrations and multi-user platforms.  This allows them to offer product strategy, user research, technical architecture, rapid prototyping and user testing, development and implementation.
Sidebench are particularly proud of their design team in Los Angeles.  Overall, the team deliver native, hybrid, responsive web apps and cross-platform apps. They concentrate on React Native, Swift, Kotlin and Firebase. Industries which they deliver projects for include healthcare & government, media & entertainment, financial services, consumer products & retail. Their impressive list of clients include Red Bull, Oakley, Sony Entertainment, United Talent Agency and Children's Hospital LA.
Watch this video to learn more about Sidebench
Follow Sidebench on Twitter
Swenson He
Swenson He was founded 5 years ago by Nick Swenson and Chao He. With 30 staff, Swenson He designs and engineers custom mobile and web solutions. As a full-service firm based in Los Angeles, they have unique, multi-faceted expertise to aid the growth of  companies at every stage, including strategy, design, development, support and on-going product evolution. They specialize in healthcare & fitness, media & entertainment, e-commerce and IoT. A few of their clients include simplehuman, Stanford Medicine and Power Music.  
Using Agile and Waterfall methodologies, the Swenson He team develops solutions for iOS, Android, and hybrid mobile platforms, each serving a distinct market segment and particular client needs with technologies including: Swift, Objective C, Kotlin, Java, Angular/Ionic, React/React Native, and Javascript. They have broad experience building for a variety of web-based applications, working with clients to identify the ideal frameworks and platforms using technologies including Magento, Shopify, MS Great Plains, Videos, Images and AWS. Swenson He has additional expertise in Internet of Things (IoT), Artificial Intelligence (AI), Augmented Reality (AR) and Machine Learning (ML).
For more information contact David Hirschman, Vice President, Sales at 424-465-2525
Utility
Utility was founded in 2013 by David Cohen, CEO. The company has grown to 53 employees. Utility specializes in crafting custom mobile applications and web software with innovative partners, from startup ventures to Fortune 500 brands. Founded by digital leaders from companies like Major League Baseball and McCann Erickson, Utility is built by folks that have been on the other side of the table. The team treat every project as if it were their own, from startup ventures to blue chip brands.
They work in an agile methodology across all industries and their services include strategy, UI/UX design, app development – native, hybrid and responsive web, app launch, and more. Their impressive list of clients include Airbnb, Toor, Bleacher Report, NBA and Samsung to name but a few.
Follow Utility on LinkedIn.
Visual Demand
Visual Demand has been in business for 2 years and was founded by Jay Balderas, Senior Developer, and Pavel Parkhomey, Senior iOS Developer, and Lindsie Herring, Marketing Director. The full service digital team has 5 employees who focus on quality code and staying ahead of the tech curve. Visual Demand prides themselves in providing clients with the latest UX transitions & hottest design trends. This is because the founders come from one of the top Code Academies in Seattle and all have backgrounds in design.
What makes Visual Demand unique, is that they are the only full service custom software development company that offers several forms of payment plans. They work within budgets and offer payment plans, along with full & partial equity plans. Visual Demand says there is no job too big or too small & the openings to collaborate are endless. The company specializes in Mobile App Development, Marketing, Web Development, SEO, PPC & SMS campaigns. They use a broad range of technologies but mostly Swift, Kotlin and React Native. Visual Demand does a lot of Venue Software & custom business apps in Firebase, Realm and Node JS. They also step in and build custom apps for companies that can't find current solutions with SaaS companies. Clients include a top night club in the heart of Hollywood, along with the most exclusive recreational mobile delivery in the Hollywood Hills and Los Angeles area; a Board Certified Medical Group; a super trendy E-commerce membership platform. And, they have a special high profile Natural Gas client in Equatorial New Guinea and clients on the East Coast, Canada and Asia.
The company was featured in the Kumulos 2016 Top Los Angeles Mobile App Developers and has grown a lot since then to now feature in 2019 Top California Mobile App Developers.
Follow Visual Demand on LinkedIn
Wildebeest
Wildebeest was founded in 2014 by Ran Craycraft and Kevin Ng. The company has 15 team members and describe themselves as a boutique product shop for brands. They work closely with their clients to wholly understand their business challenges then find solutions that incorporate great design with technology. In addition to mobile and web apps, Wildebeest also build Alexa Skills, Google Assistant Actions, Chrome Extensions, desktop apps and IoT apps. They love React and React Native but work on all technologies. Their methodology largely depends on the project – sometimes agile, while other times it just makes sense to have a waterfall approach.
Wildebeest enjoy working with a variety of businesses including banks, automotive, entertainment, cities, non-profits, consumer products, as well as health & beauty companies. They do a lot of business consulting to help small businesses and new organizations grow. Wildebeest analyze performance, understand business challenges and audiences/users, then imagine the right product for the job. Their clients include some very creative startups like Bouqs, Teckst, and Gem and they've worked with many of the world's most trusted brands like YouTube, Hulu, GM, Microsoft, Google, and Disney.
Watch this video to learn more about Wildebeest
Follow Wildebeest on Twitter
Y Media Labs
Y Media Labs was founded in 2009 by Ashish Toshniwal,CEO and Sumit Mehra, President and CTO. They have grown the company to 300 staff. Y Media Labs describe themselves as a design and innovation agency. They have partnered with many of the world's most recognizable companies to build dynamic, enduring digital experiences. Using data science and emerging technologies like AI, AR and VR, Y Media Labs consistently creates award-winning and revenue-driving digital experiences across various channels and platforms.
Y Media Labs serve across pretty much all industries, but specialize in retail, e-commerce, healthcare, consumer technology, financial services and consumer goods. They delight in focusing on customer experiences using digital products, innovation and harnessing the power of data too. Clients include State Farm, Credit One, Epson Moverio, Google, Apple, Molekule. The team follow a version of the scrum process which is customized for each client and their products.  As YML were born in the mobile age, they claim that mobile, and more specifically native, is in their DNA. Of course, depending on their clients' needs and timelines for mobile apps, they support either hybrid or native.
YML was in Kumulos 2017 Top San Francisco Mobile App Developers and has become so well known to now feature in 2019 Top California Mobile App Developers.
Watch this video to learn more about Y Media Labs
Follow YML on Twitter
ABOUT TOP APP DEVELOPMENT COMPANIES
So, there you go, all you need to know about the top mobile app development companies in California.
In order to be named a Top App Development company by Kumulos, a company must be an established mobile app development business which is growing fast and developing exceptional mobile apps for their clients. The company will either have broad expertise across many industry sectors or will have developed a niche expertise. Either way, they will have outstanding business results, evidence of client wins and good client retention.
Top App Development companies will be able to showcase a portfolio of mobile projects with recent case studies, backed up of course by the apps themselves being ranked well in the app stores and good user reviews. We look at the strategy for the app, what the app solves, the technology used behind the app, any use of AR / voice / IoT and it's onboarding experience along with the UX/UI design and use of push notifications etc.  
Overall, we're looking for innovation that goes beyond the norm of mobile.  To be featured as a Top App Development company by Kumulos is a great achievement and shows that a mobile app agency is excelling at mobile strategy, design and development and in fact is thinking about the full app life-cycle for their clients by offering ongoing ASO services and app analytics.
Bob Lawson, Founder and Director, Kumulos says, "These app agencies impressed us with their close collaboration with clients when it comes to strategy, UX design, and ongoing services."
Did you like our list? Let us know if we left out your favourite app agency!