As a leading provider of mobile app performance management software, Kumulos eat, sleep and breathe mobile. We talk to a lot of mobile app developers around the world and are fascinated by the incredible work done by app developers. Which is why we're looking at the Top Mobile App Development Companies In Florida 2019
We regularly survey and assess the best mobile app development businesses around the world. In the past we've looked at businesses across the different regions in the US, Australia, Germany, UK and more. We reviewed Florida based mobile app developers in the past. But it's clear to us just how much talent there is in Florida, so in our latest awards we turned our attention again to mobile app developers in Florida.
TOP MOBILE APP DEVELOPMENT COMPANIES IN FLORIDA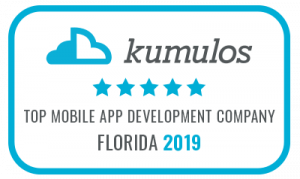 The southernmost state in the US is home to some of the biggest and most innovative companies in the industry. From AI to chatbots to AR/VR, IoT and, of course, mobile apps, just about any type of development you need can be handled in the sunshine state.
So, here you go… Kumulos bring you our pick of the crop for the Top Mobile App Development Companies in Florida 2019.
Atmosphere Apps
Atmosphere Apps is on a mission: to collaborate with organizations to create innovative products that help professionals work better. Their 200+ apps have had 2.4 million + downloads and 10 top rankings
Atmosphere knows that the app's functionality and beauty are key to gaining and retaining your users and that user experience is at the root of both. They consider your business goals and the needs of your audience, which allows them to accommodate the way that your audience interacts with the app. Their team of designers will take the lead and provide high-fidelity, interactive prototypes that promote engaging user experiences and are customized for both iOS and Android.
Their built-in custom framework integrations allow Atmosphere to concentrate on the core business logic that is critical to your app's success. They can handle your CMS integration, consumer integration, push notifications, storage, security, mobile payments, GPS, analytics, and virtually any other specification. Atmosphere also offers bolt on services like App Store Optimization and App Usage Analytics.
CLIENTS: University of Florida, Modern Healthcare, Konica Minolta
Follow Atmosphere Apps on Twitter.
Concepta
Far from being just a mobile app development shop, Concepta also creates intelligent solutions to solve complex problems. With their machine learning expertise, they can build chatbots and other AI applications that produce real business benefits. Looking for custom programming? Concepta can handle that too, from custom APIs to applications designed to sync your business. Concepta brings high-level experience to sophisticated mobile applications for every type of device.
CLIENTS: Walt Disney World, FEMA, GE, Warner Music Group
Follow Concepta on Twitter.
Core Mobile Apps | Core Media Concepts
Core Mobile Apps | Core Media Concepts has been around for 11 Years now and was founded by Will G. Manuel & Michael Fiifi Deku. The company describe themselves as extremely detail oriented and customer centric. Core Mobile Apps spend more time in the discovery and planning stages than most app development companies, which has in turn lead to a lot of project successes. They believe in creating solid foundations of both project requirements as well as client relationships. In terms of industries, they focus on SMB,Non-Profits and Start-ups.
In addition to mobile app development, they provide website development and SEO. When it comes to technologies, they concentrate on  Native, React Native, Ionic, Firebase and LAMP. Core Mobile Apps use Agile project management. Congratulations to the team for being a new entry to the Kumulos Top Mobile App Development Companies In Florida 2019
CLIENTS: DHL Global, University of Florida, Clemson University
Follow Core Media Concepts on Twitter.
Echo Interaction Group
Echo's primary business is mobile application development. They design mobile apps with a fearless approach to what can be created. Whether it's a new concept and you need Echo to help your business understand what's achievable, or a salvage project to make improvements to an existing mobile app from a previous team, Echo delivers mobile innovation, on-time and on-budget. Echo's development team has worked on over 100 iOS and Android apps for clients ranging from Fortune 500 companies to small business worldwide.
Besides mobile apps, Echo has experience in developing artificial intelligence engines, VR/AR, chat bots and conversational design platforms. No matter what you're building, Echo is there to help you design something amazing together.
CLIENTS: Ford, VOXX, Lincoln, Florida DOT
Follow Echo Interaction on Twitter.
Haneke Design
When the Apple iOS and Google Android operating systems were launched nearly a decade ago, Haneke Design made a significant decision to make native mobile app design and development core to their solution set. Since then, they've continued to collaborate with startups and enterprises to successfully integrate mobile applications into their business for marketing, product, and internal initiatives. With Haneke, there is no such thing as a final product. Users today expect their app to have constant updates and improvements to better meet their needs. You need a roadmap of feature releases and a partner that can execute it quickly. Haneke design and develop that roadmap with their customers and – as their website says – they move really, really fast.
CLIENTS: Vector Solutions, APKUDO, iMEDx
Follow Haneke Design on Twitter.
Hashrocket
At Hashrocket, they have a passion for turning ideas into reality. Their world-class team is fluent in Ruby on Rails, Elixir, React, React Native, iOS, and Android. They're ready to design, build, and train so your product is rock-solid and user-friendly. In addition to mobile app development, they can help with just about every phase of your project, from strategy and requirements gathering, design and development, to training and process consulting.
CLIENTS: Connectsense, Vegas.com, Regions Bank, ParkWhiz
Follow Hashrocket on Twitter.
Leale Solutions
From idea, through app store deployment, to continuous improvement, Leale Solutions create impactful user experiences through creative UX and UI design processes. Leale focus on your envisioned customer's experience. They then build these quality experiences through a series of processes and tools designed to produce optimal results.
Want to develop apps for multiple platforms? Leale is a Premier Xamarin Partner.  Using Xamarin enables them to produce a smaller code base footprint with no degradation in results. Producing native mobile apps with platform-specific look and feel is critical and Xamarin facilitates this requirement. Leale is then able to use the shared code base capabilities in Xamarin to save time and money by writing code once and reusing it for Android, iOS and Windows Phone apps.
CLIENTS: PLEXUS, University of Rochester, EPIC Loan Systems
Follow Leale Solutions on Twitter.
Mercury Development
Mercury Development has been creating apps for iOS, OS X, Android and Windows platforms since 1999. Yes, before the Turn of the Century, if you can believe it. Their very first app was for the Palm Pilot (for those of you out there who can remember that far back). But don't get the mistaken idea that Mercury Development is living in the past. In addition to mobile app development, they're also developing for AR/VR, BLE, bots, IoT and wearable tech including keypads, smart key fobs, fitness trackers and more.
CLIENTS: Dow, HSBC, iBeacon, Grainger, Thomson Reuters
Follow Mercury Development on Twitter.
SDSol Technologies
With more than 17 years of experience under their belt, SDSol Technologies prides themselves on being more than just a software development shop – they'd rather be known by their longstanding reputation as the best technology consultants in South Florida. As they say at SDSol, they don't just launch apps, they launch businesses.  From concept-to-delivery, SDSol determines the best solution for your company. They've developed technology that has led to several Venture Capitalist acquisitions in the eight to nine figure range. Many of their clients have been with SDSol for over a decade, and some even become partners. SDSol has been serving Miami, Ft. Lauderdale, and all of South Florida for over 17 years.
CLIENTS: Konica Minolta Cartier University of Miami Health System
Reach out to SDSol Technologies on Twitter.
TEEPS
Through the lifecycle of every project, TEEPS considers the best way to build a piece of software that meets the highest standards of design and development. With a strong consideration of business goals, a talented team of creators, and thorough knowledge of their craft, TEEPS produces mobile applications that serve a purpose and are enjoyable to use. As an Agile shop with a client-centric approach, TEEPS keeps the client in sync with every step of the development process, driving the vision as they tailor a mobile app to meet specific business needs and creative goals. They believe in strong, regular communication and work with each client to fully develop their ideas into rock-solid and functional tools that people want to use.
CLIENTS: Orlando Health, Haulzi, Chili Billy
Follow TEEPS on Twitter.
ABOUT TOP APP DEVELOPMENT COMPANIES
So, there you go, all you need to know about the top mobile app development companies in Florida.
In order to be named a Top App Development company by Kumulos, a company must be an established mobile app development business which is growing fast and developing exceptional mobile apps for their clients. The company will either have broad expertise across many industry sectors or will have developed a niche expertise. Either way, they will have outstanding business results, evidence of client wins and good client retention.
Top App Development companies will be able to showcase a portfolio of mobile projects with recent case studies, backed up of course by the apps themselves being ranked well in the app stores and good user reviews. We look at the strategy for the app, what the app solves, the technology used behind the app, any use of AR / voice / IoT and it's onboarding experience along with the UX/UI design and use of push notifications etc.
Overall, we're looking for innovation that goes beyond the norm of mobile.  To be featured as a Top App Development company by Kumulos is a great achievement and shows that a mobile app agency is excelling at mobile strategy, design and development and in fact is thinking about the full app life-cycle for their clients by offering ongoing ASO services and app analytics.
Bob Lawson, Founder and Director, Kumulos says, "These app agencies impressed us with their close collaboration with clients when it comes to strategy, UX design, and ongoing services."
Did you like our list? Let us know if we left out your favourite app agency!