Top mobile app development companies in Toulouse 2019  – the awards are announced!  As a leading provider of mobile app performance management software, Kumulos eat, sleep and breathe mobile. We talk to a lot of mobile app developers around the world and are fascinated by the incredible work done by app developers from startups to enterprise to agency.
We regularly survey and assess the best mobile app development businesses across the world. In the past we've looked at businesses across the different regions in the US, Australia, Europe and more. It's clear to us just how much talent there is in France, so in our latest awards we turned our attention to Toulouse mobile app developers.
This is what we found!
Top Mobile App Development Companies in Toulouse 2019
Toulouse is in the heart of South West France, in the Midi-Pyrénées region. It's France's fourth most populous city and known for being home to the global HQ of Airbus Group. Alongside being well known for international aerospace, Toulouse also continues to constantly innovate and accelerate in areas such as digital technology.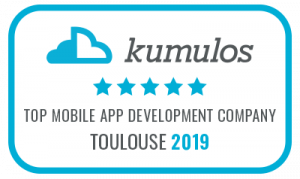 In fact, Toulouse was recently awarded the selective "French Tech" label by the French government. The Toulouse region has a highly dynamic and innovative IT and digital sector with applications in areas such as aerospace, automotive, agriculture, healthcare, robotics, and energy. So, here you go…
Kumulos brings you our pick of the crop for the Top Mobile App Development Companies in Toulouse 2019.
Agoranet
Agoranet, part of Groupe Erra has been in business for 18 years and has grown to 9 employees. Project Leads include Marion Vicente, Thomas Julé and Leslie Albert who all lead the digital projects for Agoranet team. 
Agoranet pride themselves on their ability to create, invent and then reinvent. Every day they work to be more industrious with their creativity. Their motto is between "small is beautiful" and "bigger is better".
What makes Agoranet unique is their capacity to put in extra support for clients. From the advisory phase through to the production phase as well as the design/creation phase, they are there every step of the way.  Agoranet describe themselves as a "digital native". They were born from the web and have developed with it. The development of smartphones and tablets allowed them to further increase their technical offering. Today, Agoranet is recognised as a leading technological communications agency. 
Morevoer, the team work with all industries and offer digital, mobile, web and print services. They build all types of apps for multi-device compatibility from iOS to Android and for mobile and tablet. 
The impressive list of clients include A380 De Fil en Deco, PPG Aerospace and Pierre Fabre. 
You can see their app work in this video about the Airbus interactive magazine for tablets, allowing an international audience to experience the first flight in real time!
You can follow Agoranet on LinkedIn.
Bleu122
Bleu122 was founded in 2010 and for 9 years has been supporting companies and professionals in the development of their iOS & Android mobile applications, phones and tablets. CEO Charles Cans heads up the team of experts who are Native iOS and Android developers and mobile consultants.
The team at Bleu122 will always use the best of existing technologies without ever compromising reliable and proven development methodologies. This guarantees that clients get powerful, robust and scalable solutions. In 9 years, the team has developed over 122 applications from their Toulouse agency. The team use an agile methodology.
Clients include Acquila Airport, Clinique Pasteur, Rte, ENAC and a whole load more.  
You can follow Bleu122 on LinkedIn.  
Brandsetter
Brandsetter was founded in 2017 and has 8 team members.  The Founders are Sophie Audiguier who is Managing Director and Florian Alexandre. 
Brandsetter help their clients to create the right mobile app that will make their business successful. They work with clients to define an effective mobile strategy adapted to their ambitions.
The team design and launch mobile apps using agile methodology. They offer a full life cycle service with services including mobile acquisition strategy – to generate downloads – and activation and retention services. The team at Brandsetter also help clients to monetize mobile applications and boost revenue. 
Clients include KissMyShoe, Airbus, Chap'nGo, JustHelp and more. 
You can follow Brandsetter on LinkedIn.
Ewolis
Ewolis was founded in 2014. Ayoub Zouak is a Director of Operations heading up the team of around 10 employees. 
Ewolis agency has a very advanced mobile solutions development department and are an active player in the digital industry. They use the latest digital technologies to design iOS and Android apps. Hybrid or native mobile applications, the team at Ewolis will propose the technology to meet client objectives and budget. Their goal is to create mobile products, with innovative features, perfectly adapted to the client's brand. Located in Toulouse and Balma, Ewolis, in addition to development and design, also have a mobile app marketing department to help clients get a better ROI. 
Clients include Distrix, Parentoo, Mesoo to name but a few. 
Watch this video to learn more about Ewolis solutions.
https://youtu.be/9aqDOAjLBe4
You can follow Ewolis on LinkedIn.
FreezySnail
Founded in 2009, FreezySnail now has 4 team members who have a mix of skills from creative to engineers, consultants and project managers. The company is headed up by Marc Jordan, Michel Moreau and Guillaume Rossit. Together with the team they support all mobile projects for customers who include startups, industrials, key accounts, IT services companies and SMEs / VSEs.
FreezySnail offers a complete service from design to technical realization of all iOS and Android projects.  Their work also includes MDM, continuous integration, mobile security and many other areas of digital expertise. 
Clients include AirFrance, Renault, Scoop.it, MyFox, gfi and many more. 
You can follow FreezySnail on LinkedIn.
JULOA
JULOA was founded in 2012 and is a Toulouse company specializing in both web and mobile development. Thomas Papin is a Co-founder at Juloa with other key contacts at the company being Romain Jacquel and Franck Chevallier. The team of 5 offer a number of services and are skilled in development and project management. 
The team at JULOA not only know the importance of mobile for their clients, whether iPhone or Android, but they can take care of everything from mobile advice to implementation. They can also take care of website creation, a site redesign and are experts in merchant sites such as ecommerce. The team say everything is possible with JULOA and they will adapt to client budgets.
Clients include MFI, AXIM, Mariage31, Ville de Font Romeu, Hydro-M, Studio Hookipa to name but a few.
Watch this video of how JULOA created an app to allow users to use a classified ads website anywhere with AdsManager.
You can follow Juloa on LinkedIn
Log'in Line
Log'in Line was founded in 2016 and has grown to have 7 engineers.  Bernard Connac is President with the other key executives being Rémi Mach and Anthony Marchand.
What's unique about Log'in Line is their involvement in monthly technology meetups and they drive various technology communities online too.  The team pride themselves on being a service delivery company for all areas of IT expertise. They also train companies in various areas of technology to help them increase technical competence.
In addition to mobile and tablet apps, Log'in Line specialize in software, cloud, virtualisation, artificial intelligence, IoT and more. Their mobile app development skills include C #, .NET, C ++, JAVA, HTML, CSS, PHP, Javascript, ReactJs, Meteor, Angular, NodeJs, Android, Ionic, Swift, Kotlin, ReactNative, Cordova and a whole lot more. 
Clients include Notalus, Soltechnic, Scinan and Côté Sports.
You can follow Log'in Line on LinkedIn.
Mirum (X-PRIME became Mirum)
A new name for the same agency says Mirum. Although, for those in Toulouse, they might still remember the name X-PRIME. Francois Garcia is the 2009 co-founder and CEO of X-PRIME and is now CEO for South Europe at Mirum.
Mirum was founded in 2015 and has thousands of employees around the globe. Mirum Agency believe that digital innovation comes from experimentation and understanding user experiences. They say that technology feeds their creativity.
Mirum supports brands in all areas of digital transformation. Their expertise is based on a service-oriented consulting thesis, called Digital As A Service. They implement all of their own production resources from consulting support to design (UX & UI), Creation, Commitment (Social Media & Automation) & Development front & back.
Big name clients include Nespresso, Bnp Paribas, L'Oréal, Danone, Nestlé, and BMW.
Mirum is part of the J. Walter Thompson Company and the WPP Network.
You can learn more about Mirum Agency in their video.
You can follow Mirum South Europe on LinkedIn.
Octotek Studios
Octotek Studios is an innovative agency in Toulouse which was founded in 2015 and has 5 team members. Key executives include Benjamin Gimet who is CEO and John Prentice who is responsible for Marketing. 
Octotek Studios specialize in Virtual Reality for companies (virtual visits for real estate, visual stand at a show, learning for risk positions), B2B or B2C mobile applications. When it comes to mobile they can create interactive mobile applications with beacons for media libraries, mobile application for internal communication and much more.
The team also specialize in Augmented Reality: B2B or B2C application in medical, automotive and aeronautic fields.Their mobile work includes B2B or B2C applications, Natives (iOS, Android) or cross-platform (Xamarin, Unity3D), 3D or conventional.
Clients include ATR, Ministere de la defence, ABB, Novateam and more. 
See some of their VR work in this video.
You can follow Octotek Studios on LinkedIn.
Slapp Agency
Slapp Agency is more than just a web and mobile development agency, they are a team of computer enthusiasts committed to helping clients. Founded in 2014, the team of 8 designers and engineers say they are building today's experiences with the technologies of tomorrow. Headed up by Guillaume Bernard, from design to development, Slapp Agency supports their customers' digital projects with the tools of their choice, to improve the user experience and achieve the objectives.
The team specialize in e-commerce, React Native, Swift, Angular, Drupal and a lot more.
Clients include companies such as FFMKR, Stade toulousain, Université Paul Sabatier, and Groupe 3s.
You can follow Slapp Agency on LinkedIn
ABOUT TOP APP DEVELOPMENT COMPANIES
So, there you go, all you need to know about the top mobile app development companies in Toulouse.
In order to be named a Top App Development company by Kumulos, a company must be an established mobile app development business which is growing fast and developing exceptional mobile apps for their clients. The company will either have broad expertise across many industry sectors or will have developed a niche expertise. Either way, they will have outstanding business results, evidence of client wins and good client retention.
Top Mobile App Development companies will be able to showcase a portfolio of mobile projects with recent case studies, backed up of course by the apps themselves being ranked well in the app stores and good user reviews. We look at the strategy for the app, what the app solves, the technology used behind the app, any use of AR / voice / IoT and it's onboarding experience along with the UX/UI design and use of push notifications etc.
Overall, we're looking for innovation that goes beyond the norm of mobile. To be featured as a Top Mobile App Development company by Kumulos is a great achievement and shows that a mobile app agency is excelling at mobile strategy, design and development and in fact is thinking about the full app life-cycle for their clients by offering ongoing ASO services and app analytics.
Bob Lawson, Founder and Director, Kumulos says, "These app agencies impressed us with their close collaboration with clients when it comes to strategy, UX design, and ongoing services."
Did you like our list? Let us know if we left out your favourite app agency!
About Kumulos Mobile APM Platform
Kumulos Mobile App Performance Management platform comes with a comprehensive range of services covering the entire life cycle of the app. Its 5 integrated services include app store optimization, analytics & reporting, backend hosting, crash reporting & endpoint monitoring and its award winning push notifications service, which received awards from Business of Apps, Mobile App Daily and The Tool.
It provides a management console that delivers comprehensive visibility on how the app is performing technically and commercially. It's easy to setup and there's no SDK required.
Start monitoring now by signing up for a free trial or book a demo. And, when you're up and running with your free trial, make sure you download the free Kumulos Companion App to try out the push notifications for real.