Top mobile app development companies in Virginia 2019  – the awards are announced! As a leading provider of mobile app performance management software, Kumulos eat, sleep and breathe mobile. We talk to a lot of mobile app developers around the world and are fascinated by the incredible work done by app developers from startups to enterprise to agency.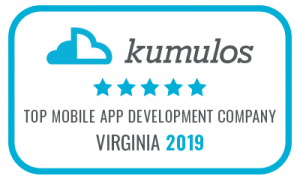 We regularly survey and assess the best mobile app development businesses across the world. In the past we've looked at businesses across the different regions in the US, Australia, Europe and more. It's clear to us just how much talent there is in the US, so in our latest awards we turned our attention to Virginia mobile app developers.
This is what we found!
TOP MOBILE APP DEVELOPMENT COMPANIES IN VIRGINIA 2019
Virginia has the highest concentration of technology workers of any state, and the fourth-highest number of technology workers after California, Texas, and New York. 
Northern Virginia, once considered the state's dairy capital, now hosts many software, communication companies and many technology businesses including mobile. 
So, here you go…
Kumulos brings you our pick of the crop for the Top Mobile App Development Companies in Virginia 2019.
10Pearls
Founded in 2004, 10Pearls is an award winning digital transformation company, helping businesses with product design, development and technology acceleration.  Founded by Imran Aftab and Zeeshan Aftab the company has over 400 employees. 
10Pearls specialize in mobile apps, cyber security, web applications and enterprise solutions. They blend high-value stateside contributors (UX/UI, Product Managers, Architects, Security) with their global development workforce to provide value to customers.  They have partnered with a range of growing companies and large enterprises across the US to help accelerate product development. 
Clients include some great brands and start-ups, including: Time Warner Cable, Nextel International, Discovery, Johnson & Johnson, Zubie, Blackboard, National Geographic, JK Moving and many more. 
Watch this video about 10Pearls digital health projects.
https://youtu.be/0mp8jEq5_Bg
Follow 10Pearls on Twitter.
Mobomo
Founded by Barg Upender in 2009, Mobomo is a premier web and mobile application development company in Virginia who also specialize in creative design. Mobomo claim to create elegant products to solve complex problems. Brian Lacey is CEO and the team has grown to around 100 people. 
The team has extensive experience in creating functional, large-scale, engaging mobile and responsive web designs. Their specialties include UX Design, Mobile Development, Web Development, Product Development, Drupal, High Performance Websites, and AWS.
Clients include Navy, Pulse, RGS, PockItShip and many more. 
Watch this video about Mobomo guide to user research.
Follow Mobomo on Twitter 
NS804
NS804 has been in business for 7 Years. It was founded by Nick Jones and now has just under 20 employees. What makes NS804 unique from other mobile app developers is that, not only are they completely full service, but they are also project oriented, not profit oriented. 
The team at NS804 doesn't focus on any single industry – they make apps for appreneur passion projects and fortune 300 companies. They are full stack developers for both iOS and Android – mainly focusing on Swift, Java, Kotlin, C, C++ and Javascript. Moreover, NS804 provide services which go beyond the coding of the app itself. They provide app marketing, app store optimization, app maintenance, consulting, app design and prototyping. 
Their clients include Luck Stone, Dominion Energy, Wells Fargo, CarLotz & Whystle. NS804 client portfolio includes strictly native development for iOS, Android, and some web development services. Everything is done in an agile project management methodology.
Watch this video to learn more about NS804.
Follow NS804 on Twitter. 
Savvy Apps
Savvy is an award-winning creative agency that crafts compelling application experiences across Android, iOS, and the web. It was founded in 2009 and has around 30 employees. Ken Yarmosh is both Founder and CEO. 
Their impressive list of clients include household names like Levi's, Toyota, PBS, NFLPA, and Motley Fool, as well as innovative companies such as Homesnap, LifeFuels, Pocket Prep, and The Draft Network.
What makes Savvy Apps unique is their team. They believe they have the best team in the game – a group of passionate, particular, and proven individuals. Savvy consists of product managers, designers, developers, growth experts, and even content strategists (including social and video).  They care about each other, their customers, and doing great work. In fact they've won awards for Happiest Company (TINYpulse) amongst others. 
Their mission is to make life better, one app at a time, enabling digital transformation inside organizations and disruptive technologies in the marketplace. 
Specialties include app development for iPhone, iPad, iOS and Android to Mobile Strategy, Growth Hacking and more. 
Check out Savvy's video about making your first app.
https://youtu.be/em1rRyxUrf8
Follow Savvy Apps on Twitter.
Segue Technologies Inc. 
Segue Technologies Inc. has been in business for 22 Years. Key executives include Brian W. Callahan, President & CEO and Executive Vice Presidents Mike Behrmann and Ron Novak. The company has grown to over 160 people. 
Segue is primarily a Federal IT services provider with a core competency in custom application development and modernization. Segue's experience with Federal customers is a differentiator; they understand Federal IT procurement constraints and pride themselves in the ability to engage with non-technical government stakeholders to realize their IT requirements.
Their core customers are the US Air Force, Navy / Marine Corps, and Department of Interior. Segue provides an in-depth project discovery service to help customers fully understand the potential of their app and the business cases it serves. Clients include The Caring Village, AWLA, NABTU to name but a few. 
Segue builds native, hybrid and responsive web applications for a variety of industries and sectors. For specific mobile app development projects, Segue typically takes an agile approach. For larger system development efforts, they take a hybrid approach. They are also engaged in development with low/no code platforms such as Pega.
Learn more about Segue by watching this video.
Follow Segue on Twitter. 
Shockoe
Founded in 2010, Shockoe is a full-service digital agency with a singular focus on custom mobile solutions. From ideation and mobile strategy to product design and implementation, they partner with clients to create innovative apps for both consumers and employees while focusing on delivering the latest in mobile, AR and voice technology. 
CEO Edwin Huertas heads up the team of around 40 employees. 
Shockoe's strategic planning, design, and engineering teams build solutions driving intentional behaviors that help meet client's overall digital and business objectives.
In addition to mobile app development, specialties include Mobile Security & Compliance, Mobile Strategy & Transformation, Workforce Apps, Customer Experience & Brand Loyalty, Inventory & Asset Management and Mobile Workforce.
Clients include American Express, T-Mobile, citi and a whole load of other well known names. 
Watch this video to learn more about Shockoe.
Follow Shockoe in Twitter.
Simpalm
Simpalm was founded in 2009. Founder Piyush Jain has grown the company to have almost 50 members of the team. Simpalm have developed 250+ applications in the last 10 years. They have an expert team of app and web developers who have worked on amazing startups, enterprises, government and several associations in the USA. 
What makes Simpalm stand out is their team. They can build complex mobile apps on native and cross platforms. The team also has expertise in Augmented Reality, Virtual Reality, Internet of Things, Cloud Based Apps, Bluetooth and WiFi Based Apps, Payment and Financial Apps.  Overall, they focus on Native iOS, Native Android and cross platform tools like React Native, Xamarin and HTML5. Simpalm use agile scrum methodology for several of their projects. 
In terms of industries, they work in Financial & Payment, Startup, Social Media, Fitness & Healthcare and Government. Beyond the app coding, they offer UI/UX designing, Backed server & database development, API Building, Designing Complex Algorithm, App Store Optimization and App Marketing.
Their client projects which feature both native and hybrid apps include TaptIn, AudioBooksNow, Blanco, Forte Mobile Payments. 
Watch this video to learn more about Simpalm.
https://youtu.be/6aQTQYILv3U
Follow Simpalm on Twitter. 
V4 Development
V4 Development is a full-service web and mobile development company in Richmond which has been around since 2010.  It was founded by David vanBlaricom. They specialize in Mobile Development, Android Applications, Security, Responsive Design, Backend Development, CMS development, UI UX Design, Website Management, Frontend Development, Software Development, and Creative.
What makes V4 Development unique is how they support their community. They believe in encouraging kids' passion for science, technology, engineering and math. They provide a scholarship for one child to attend Space Camp each year. Also, two of V4's partners serve on the board of ECPI University.
Clients include motormouth, Co-op, WelldHealth and more. 
Watch this video to learn more about V4 Development.
Follow V4 Development on Twitter. 
Viget
Viget was founded in 1999 by co-founders Brian Williams,CEO and Andy Rankin, President. 
Viget is a digital agency made up of designers, engineers and strategists who create award-winning digital products, experiences, and tools that inspire customers, extend capabilities, and advance business.
With a unique mix of capabilities, Viget has a deep history of digital innovation, helping clients leverage emerging technologies to improve existing processes or establish new ones. 
Their work crosses many sectors from enterprise to consumer goods, finance, food & hospitality, healthcare, news & media, nonprofits, sports & entertainment, startups, higher education. Clients include World Wildlife Fund, NBC Sports, Whitehouse Historical Association, Trackpacer and more. 
Learn more about Viget Trackpacer app by watching this video.
Follow Viget on Twitter.
WillowTree
WillowTree LLC was founded in 2007 with offices in Charlottesville, VA and Durham, NC. Their team of around 400 staff, help their clients realize the potential of rapidly evolving mobile technologies, from developing a mobile strategy to launching mobile products. Key executives include Abby Cook, Controller and Tobias Dengel, CEO. 
The team has 4 key areas of focus ranging from mobile strategy and research, native and web applications development, including iPhone, iPad, Android and Web Apps to Mobile Optimization and Client Workforce Augmentation.
With an impressive list of clients including some Fortune 500 companies such as 21st Century Fox, Synchrony Financial, Wyndham Hotels & Resorts, Johnson & Johnson, and GE the team are clearly leading the way when it comes to mobile projects. 
Watch this video of Tobias Dengel speaking about WillowTree.
Follow WillowTree Apps on Twitter.
ABOUT TOP APP DEVELOPMENT COMPANIES
So, there you go, all you need to know about the top mobile app development companies in Virginia.
In order to be named a Top App Development company by Kumulos, a company must be an established mobile app development business which is growing fast and developing exceptional mobile apps for their clients. The company will either have broad expertise across many industry sectors or will have developed a niche expertise. Either way, they will have outstanding business results, evidence of client wins and good client retention.
Top Mobile App Development companies will be able to showcase a portfolio of mobile projects with recent case studies, backed up of course by the apps themselves being ranked well in the app stores and good user reviews. We look at the strategy for the app, what the app solves, the technology used behind the app, any use of AR / voice / IoT and it's onboarding experience along with the UX/UI design and use of push notifications etc.
Overall, we're looking for innovation that goes beyond the norm of mobile. To be featured as a Top Mobile App Development company by Kumulos is a great achievement and shows that a mobile app agency is excelling at mobile strategy, design and development and in fact is thinking about the full app life-cycle for their clients by offering ongoing ASO services and app analytics.
Bob Lawson, Founder and Director, Kumulos says, "These app agencies in Virginia impressed us with their close collaboration with clients when it comes to strategy, UX design, and ongoing services."
Did you like our list? Let us know if we left out your favourite app agency!
ABOUT KUMULOS MOBILE APM PLATFORM
Kumulos Mobile App Performance Management platform comes with a comprehensive range of services covering the entire life cycle of the app. Its 5 integrated services include app store optimization, analytics & reporting, backend hosting, crash reporting & endpoint monitoring and its award winning push notifications service, which received awards from Business of Apps, Mobile App Daily and The Tool.
It provides a management console that delivers comprehensive visibility on how the app is performing technically and commercially. It's easy to setup and there's no SDK required.
Start monitoring now by signing up for a free trial or book a demo. And, when you're up and running with your free trial, make sure you download the free Kumulos Companion App to try out the push notifications for real.