In-app messaging is now being used more frequently by mobile marketers. But, there are still many app marketers who currently only use push notifications. They think push notifications alone are sufficient for their mobile app marketing strategy.
However, mobile marketing should always be about targeted engagement. Personalization is key when it comes to app marketing. Gone are the days of generic marketing messages. In are the days of tailored messages to suit the actual needs of app users.
A key part of this personalized mobile marketing strategy is app messaging – both in-app messages and push notification messages. Regardless of the type of message, app messages should reach the user at the right time, with the right content, to engage them further with the mobile app.
The Difference between In-App Messaging and Push Notifications
The two most important ways to deliver app messaging campaigns are push notifications and in-app messages. So, what's the difference between in-app messaging and push notifications?
What are Push Notifications?
When clients ask you about mobile app messaging, you probably start talking about push notifications. Don't you? Pretty much all mobile marketers use push notification marketing because it's easy to implement and it's an industry standard.
Push notifications are a great technique to increase app retention. They let you deliver messages to the app user's home screen on their mobile. It's like an SMS message, but coming from an app. When the technology first came on the scene, push notifications were solely text and sometimes emojis. Now though, rich push notifications let mobile marketers include text as well as images, video and sound. And the use of beacons along with push notifications makes proximity marketing a very powerful technique for marketers.
In-app Messaging
Recently, in-app messaging has become more common in mobile marketing. It can be used to draw attention to new features, highlight special offers, better onboard new app users and much more. What's more, in-app messages can deliver rich content like images and video too. Overall, in-app messaging is a powerful tool to create more targeted user sessions. There are stats floating around the industry that say those who use in-app messaging see around a 30% increase in uptake of app launches and a massive 4 times increase in app retention.
When to use Push Notifications and when to use In-App Messaging
It's all very well having two fantastic mobile marketing messaging tools, but how do you know when to use a push notification, or, when an in-app message would be better?
When to use Push Notifications
Push notifications are great for prompting immediate interaction and engaging app users who are not currently active in the app. Users who opt-in to push notifications are a great target audience. Opted in users tend to engage with your app on a regular basis – so much so that they engage around 90% more than those who are not opted in.
Often though, the decision about when to use push messaging comes down to the content, frequency and timing of the messaging. If you get all three right then push messaging drives lapsed users back into your app and brings awareness to your mobile marketing campaigns.
However, don't misuse push notifications. Note, they can be irritating for the user and ineffective if they lack context or purpose. Overdo push notifications and you will risk an app uninstall.
Overall, with push notifications, you have the power to engage users outside of your app at a chosen time. This content can act as a reminder to use the app. Or, it can notify the user of a special offer, or advise about app updates. In summary, when push notifications are customized, timely and justified, push messages drive big results and increase app retention. Follow a strategy to increase opt-ins from location prompts and you will be able to use location as a factor for segmentation.
When to use In-App Messaging
In-app messages are notifications which are displayed while the user is active within the app. Some people talk about native app content as essentially they are used to nurture users in the app and increase app session time. Because it is sent while the user is in the app, this type of messaging is very contextual. Success is very much dependent on having good app analytics as messages can be triggered based on user interactions.
Due to this tailored style, it creates a more seamless progression from an app user's initial session to the desired conversion. If it's done well, in-app messaging should feel like a natural part of the app. It should not feel like additional marketing. In app messaging can be used by mobile marketers to fine-tune app content or marketing strategy.
Although the in-app message can only be shown when the app is open, it's possible for the app marketer to send the message and it will wait for the next app open. Therefore, the user doesn't necessarily have to be active at the time of sending the message.
Using In-App Messages to Improve the Onboarding process
Another popular use of in-app messaging is to create onboarding experiences for new app users. A well structured flow of in-app messages can show new users the most popular app features. In fact, it's one of the most common ways you'll use in-app messages as it's been proven that by implementing onboarding you can increase retention rates by over 50%.
However, there can be challenges. Without the right tool to run in-app messaging, it can be difficult to implement and track. If you don't have the right app analytics and know how to act on them, it's hard to get it right.
In summary, in-app messaging is the single most effective way of creating a richer app experience. This is due to being able to segment and tailor the target audience. It creates a more valuable app session by providing the user with personalized messages. What's more, it can funnel actions into becoming conversions.
Using both Push Notifications and In-App Messaging
As part of a wider mobile marketing strategy, push notifications and in-app messaging work best when used together and not separately. The key is to have layered messaging. For example, if an in-app messaging campaign is triggered by app opens, but you have a low open rate, you could consider running a push marketing campaign to prompt more opens. This way, you are using push notifications to re-direct users back into a funnel for your in-app messaging!
Most importantly, a structured approach to messaging means better app usage analytics and more engaged users. Most importantly though, the app user will feel that they are getting the best experience possible. Make sure you ask your client the right questions before you start their mobile app development project and you'll be able to nail their messaging strategy! Check out the 20 questions you need answers to – before you build your client's mobile app.
Choosing a tool for push notifications and in-app messaging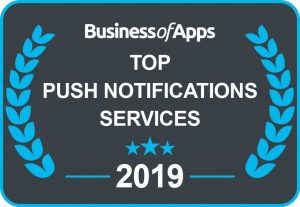 There are many solution providers who give you the tools to run push notification campaigns and in-app messaging so it's worth doing your research. For a complete list of providers, check out Business of Apps Top Push Notifications Guide.
About Kumulos Mobile Marketing Automation Platform
Not only is Kumulos a multi-award-winning tool for push notifications and in-app messaging but the mobile marketing automation platform, gives you app analytics, crash reporting, ASO and more – all in one dashboard. Why not take a look at who uses Kumulos?
In fact, Kumulos is the first fully integrated mobile marketing automation platform to help you attract, engage, retain and monetize app users. We don't care whether you're building native apps on iOS and Android, or using your preferred hybrid platform, or a low-code / no-code platform, you can use Kumulos to help you deliver greater commercial success. We partner with a range of technology providers so you can have it your way.
Contact us for a demo, or take a free trial today.