All Kumulos features are designed to help you engage the audience of your app. After all, it is how today's customers, guests, fans and loyalty card members want to interact with your brand or business. Whether your app is intended to improve the guest experience for holidaymakers who visit your resorts, engage sports fans on match-day, both inside and outside of the venue or to increase footfall to your franchises and improve the in-store ordering experience, effective engagement involves delivering the right message to the right user at the right time.
The Kumulos dev team have been hard at work this fall, adding powerful new features to make delivering the right message to the right user at the right time even easier, so you can retain and engage your audience and drive real business results from your mobile app. Here's a quick roundup of the new Kumulos features.
The Right Message – Images, videos and personalization
New features to deliver even richer, actionable content across messaging channels.
Images in push notifications
All channels have their role to play, but Push Notifications remain the single most effective way to engage the audience of your app. Our award-winning push notification service now supports images on both iOS and Android. You can upload and save brand images to your media library or find inspiration from the Unsplash royalty free stock image library to send push notifications your audience won't be able to resist opening.
In-App messaging and app inbox
The next most important channel to engage your audience is in-app messaging, where you can deliver much richer, full-screen, actionable content to your users. Unlike push notifications, you now have complete control over message layout, style, fonts, content and actions. The downside is of course that only users who open your app will see the message, right? Not anymore, with Kumulos, you can combine in-app messages with push notifications to let all of your users know straight-away when new content is available for them.
Videos
If a picture is worth a thousand words, then a video is worth a million (well 1.8 million words to be precise according to Forrester), which is why Kumulos in-app messaging now supports background and foreground videos to increase conversion from your messaging campaigns.

Personalization
Everyone prefers to receive content that is tailor made for them, rather than broadcast to everyone – the users of your app will be no different – so Kumulos features a number of different ways to personalize what you send. You can create and save message templates containing dynamic content tags replaced at send time with content you provide via console or API – this allows you to reuse message templates in different campaigns. You can also include user attributes, for example name, that will be substituted with the value for each user (or a default value) when the message is sent for that extra, personal touch.
The Right User – User, behaviour and location-based segmentation
Getting the right message to the right user is easy thanks to the latest user, behaviour and location-based segmentation and targeting features in Kumulos.
User based segmentation allows you to filter the audience of a campaign according to who the user is and what you know about them. Behaviour based segmentation allows you to filter the audience of a campaign based on the actions the user has taken.
One of the things that sets Kumulos aside from other messaging vendors is that Kumulos supports location-based segmentation out-of-the-box so you can target different content for fans who are in the stadium to those who are watching the big match from the comfort of their own home, for example! When you are creating a Geofence, Kumulos will show you how many users last known location was within the fence, so you can optimize the size and position accordingly.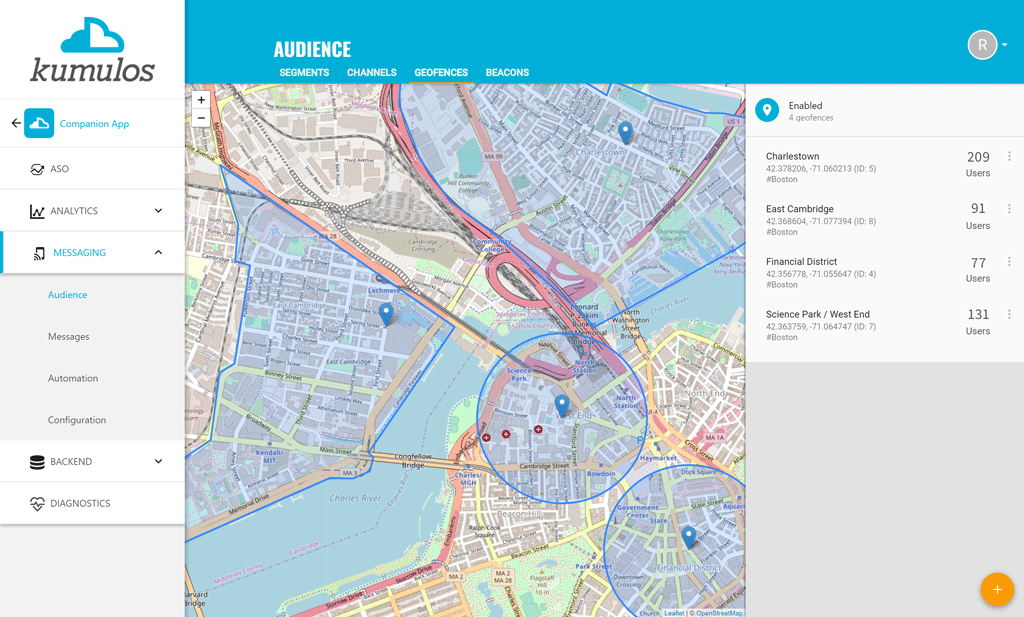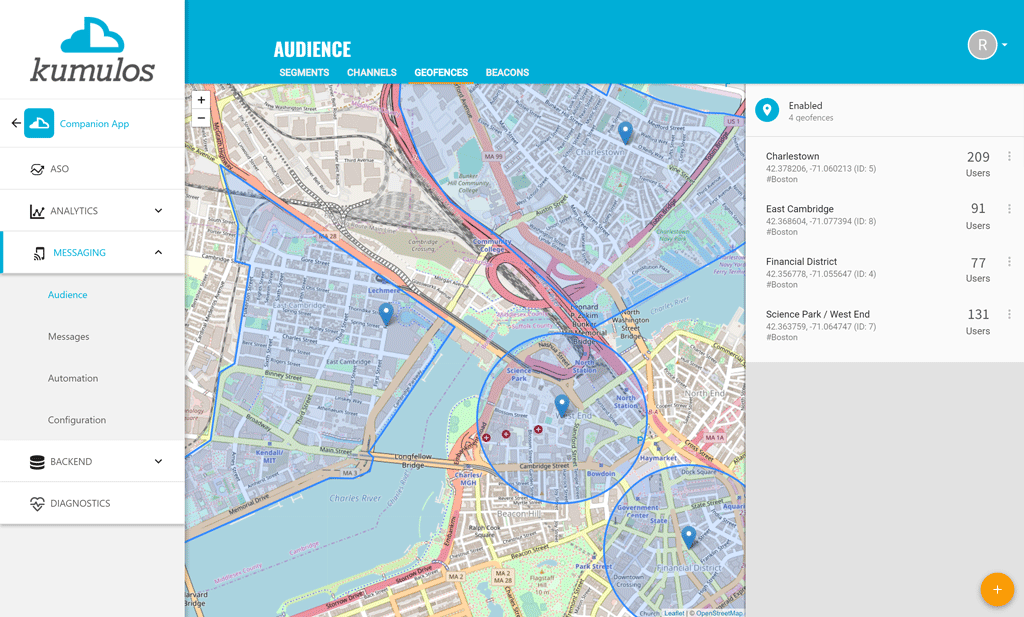 With Kumulos, it is easy to combine user, behaviour and location-based segmentation and targeting for maximum impact. For example: to target a win-back campaign at customers who have opted in to special offers, placed at least five orders in the past six months, have not opened the app within the last 30 days and are within 500m of a participating outlet. As you construct your campaign, Kumulos will show you the targetable audience so you can refine your audience filters accordingly.
The Right Time – Scheduling, event triggers and message expiry
As with comedy, when it comes to mobile messaging campaigns, timing is everything! Kumulos features a number of ways you can get the right message, to the right user at the right time!
Recurring, scheduled campaigns
Whether your audience is concentrated within a few city blocks, or spread out across the world, when scheduling campaigns in Kumulos you can choose whether all users should receive your message at exactly the same time, or at the specified time in their local time-zone. In addition, the Kumulos automation engine lets you schedule recurring campaigns, such as sending a message every Friday in November before Cyber Monday, for example.
Automation – Event triggers
The automation engine in Kumulos features event triggers that will fire when a user takes a specific action. This can be within the app (for example: when they place their fifth order within a 90-day period) or external triggers such as coming into proximity with a beacon or entering or exiting a geofence. This makes it easy to ensure that each user receives the message at the right time for them.
Message Expiry
As well as making it easy to deliver the message to the right user at the right time, Kumulos also makes it easy to ensure the right user doesn't see the message at the wrong time! After all, no one likes seeing a Christmas card full of festive cheer first thing in January! When sending a message, you can choose when it should expire (after which time it will not be shown to users who have not opened your app). You can also choose how long messages should persist within the App Inbox, so that unredeemed coupons are automatically removed after they expire, for example.
Other News
Big thanks to Chris Caron from the Kumulos community for adding support for Kumulos to his popular apprise server-side notification library.
Learn more or try it out yourself
If you want to learn more, then contact us for a demo. Alternatively, start a free trial today. You can then use the Kumulos Companion App to try it all out yourself and see how easy it is to deliver the right message, to the right user at the right time with Kumulos.
Coming Soon – Web Push Notifications
Watch this space for an exciting announcement coming very soon as we add web push notifications to our award-winning push notification service so you can deliver the right message, to the right user at the right time whether they are using your mobile or web app!
In the meantime, from all of us here at Kumulos, Happy Thanksgiving to you and yours!