Part Three: Who's smashing it
Loyalty and rewards apps are about so much more than user acquisition; what's the point in 50,000 downloads if no one's using it? (Clue: none whatsoever). So, while it's very tempting to focus on acquisition when it comes to your loyalty app, engagement and retention will be the drivers of success – they're also why the behemoths of the QSR sector are doing so well. Don't believe us? After downloading an app, just over 30% of users will return to it, and 25% will abandon it just after one use. So, who's smashing it when it comes to loyalty apps – which brands have nailed engagement, focused on personalizing their customer's experiences, and now reaping tangible rewards for themselves in the process?
Chipotle
Chipotle was always ahead of the game when it comes to digital, launching their brand app in 2009 thru which customers could place their order rather than having to turn up at one of their near 2,500 restaurants. If you think back to 2009 – 3G, no Facebook Messenger, and a one-year-old App Store – this was pretty radical, and certainly way ahead of many of its competitors. It's now nearly 12 months since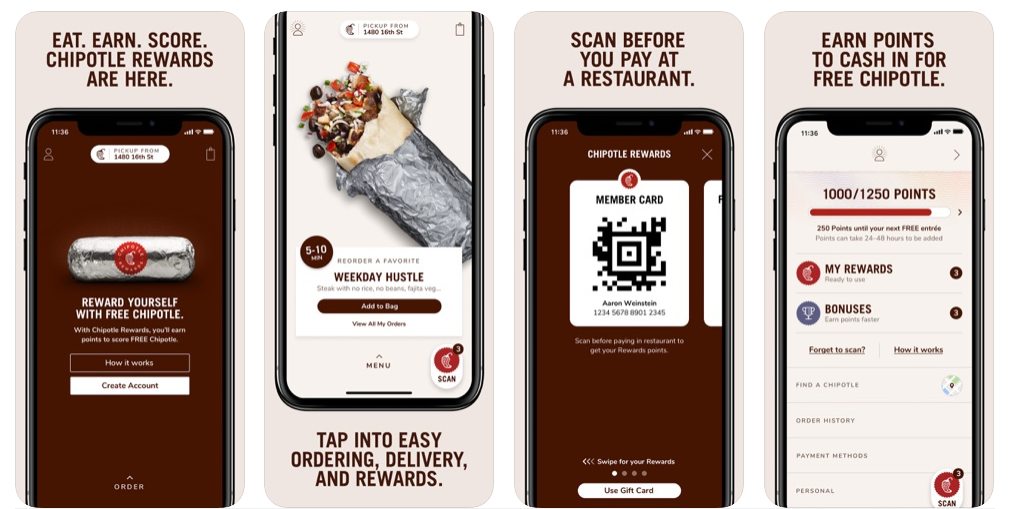 The Chipotle Loyalty App 
Chipotle rolled out its much-lauded loyalty program (March 2019), and already they're pick of the pops in the rewards stakes (no pun intended). Why? QSR's loyalty program and accompanying app have seen the enterprise almost double its digital sales since launch, no doubt driven by the 7 million loyalty program signups since it was implemented. Result. What's so great about the app? Let us count the ways:
Personalization: the burrito you like, where you like it, based on purchase history

Fast – allows quick ordering /reordering

Easy to pay with Apple and Android Pay functionality

Super-easy to redeem rewards and offers
The company have also implemented "Chipotlanes," where customers can pick up app-ordered food without having to get out of the car (perish the thought!). 
Dominos
Top US pizza progressives Domino's launched their first app in 2011, and in the (almost) ten years since, we've seen their stock price jump nearly 1000%. All things considered (we won't bore you with the balance sheet) that's almost $7.8 billion in value creation since bringing their products to your smartphone. As if that wasn't enough, last year the enterprise eatery had an ingenious loyalty idea, one that should have tanked, but instead propelled it to legendary status for its sheer boldness. 
During the 2019 Super Bowl, the company turned its own loyalty program on its head by launching the now-infamous "For the Love of Pizza" campaign – and rewarding its customers for eating any pizza. That's right. Your mama's, Pizza Hut's, Papa John's, even my pathetic midnight attempts at a margarita (base, ketchup and a handful of grated cheese – hey, at least I try). These pizza purveyors then had to upload a photo of said delicacy, when they would collect points that could be redeemed against a (much nicer looking) Domino's pizza. This off-center idea paid off – on Super Bowl Sunday, the app moved up a whopping 158 ranks on the previous week.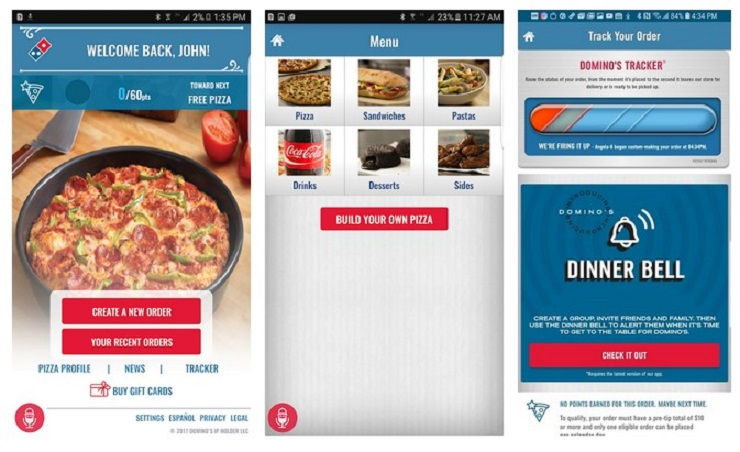 Domino's loyalty app 
Post Super Bowl, Domino's app continues to drive downloads and customer engagement offering:
Order tracking with Pizza Tracker – tells users where their pizza is in the delivery process.

Customization – customers can create their own pizza, however they want it.

Rewards – One of the most generous rewards programs, free pizzas are pretty easy to come by – and not the one-freebie-a-year so prevalent across the industry. 

Our favorite, Dom, the in-app equivalent of Alexa, means customers can order the way they would in an outlet – by talking. 

Easy ordering based on purchase history.
It's worth noting that Domino's success has digital transformation written all over it – no technology is an island, and they've been busy not just with their loyalty scheme but with a whole host of digital initiatives that are paying dividends: voice-based tech and self-driving delivery vehicles being our favorites. Key takeaway? Meet your audience where they are and the rest will take care of itself. 
Globally, consumers sourced food & drinks through apps
130%
more often in 2018 than 2016
Starbucks
A piece on QSR loyalty apps wouldn't be complete without Starbucks. Try as we might, we can't get away from the fact that the coffee behemoth smashes it on every level when it comes to their rewards program – and the results speak for themselves: 48% of smartphone users who regularly use QSR rewards apps use Starbucks Rewards.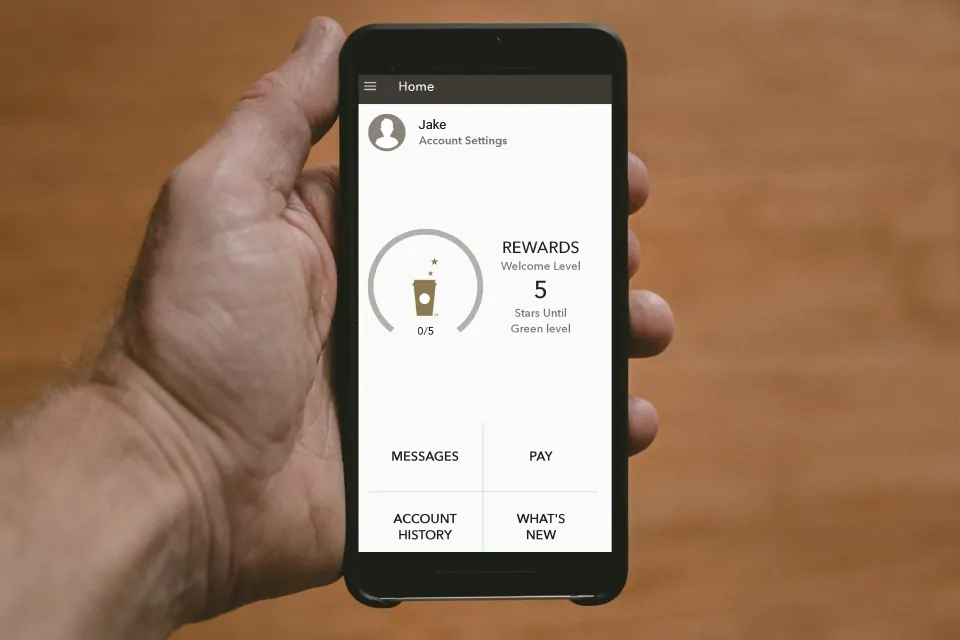 Starbucks Rewards App
Last year, Starbucks reported an increase of $2.65 billion in revenues, attributing most of that success to their rewards program. Not convinced? Over the last two years, Starbucks Rewards membership has grown more than 25%; 16 million loyal customers are in the Starbucks' membership program which now accounts for around 40% of sales at their US outlets. Someone, somewhere is doing something right … CEO Kevin Johnson is clear about the reasons for this monumental success: "… a more seamless customer onboarding experience, greater mobile order-and-pay adoption, and enhanced personalization features". Let's take a look at what makes this the holy grail of QSR rewards apps:
A personalized brand experience – The epitome of a personalized mobile experience, the Starbucks Rewards app has it all – from telling users what's "Now Playing" in the Starbucks store they're in, to where their nearest outlet is to recalling a favorite order, this is all about the customer, just as it should be …
Mobile Order-and-Pay

– the ability to order your coffee ahead and skip the queue when you get there to collect is one of the most popular app functions; the app also provides quick access to the Starbucks Card, moving customers through the queue even faster and without them ever having to reach for their wallet. Seamless customer experience? Check!

Speaking of ordering, the mobile ordering platform doubles as a

smart digital marketing tool,

enabling customers to see new products before they're launched. 

The gamification of rewards

– Customers win stars each time they pay with their app, as well as giving members "challenges" which can earn additional stars to use towards free food and drinks. App engagement? Check!

A

geo-location feature means customers can find out where their nearest Starbucks locations are, the menu available at each location, and of course, the ability to order ahead so you can pick up when you get there. Helpful? Check!
Starbucks card management

– customers can check their Starbucks card to find out their balance, transfer money between cards, top-up their balance, pay for food and drink at Starbucks outlets, see payments history, collect stars for rewards, and even leave tips (our favorite). A flawless brand experience? Check!
Challengers
Of course, the big brands are the ones which make the biggest noise- but we'd be wrong if we think that big means better. Challenger brands too have been busy when it comes to loyalty. If anything, they perhaps understand more the importance of putting their customers first, grokking the necessity of relationship over retention and driving meaningful connection across an increasingly remote digital space. The result? Why, loyalty of course! And here's our pick of the bunch …
Second Cup
The Second Cup Coffee Co. – now in the process of transitioning to new name "Aegis Brands" – is the largest specialty coffee retailer in Canada with over 240 outlets and a very loyal fanbase. Providing Canada's coffee-loving contingent with over one million drinks every week, from over seven thousand pounds of fair-trade coffee every day, this challenger brand knows how to keep its fanbase happy. Launching their loyalty app in 2015, Second Cup customers today enjoy a loyalty app that offers points for beverages, tailored product offerings; order-ahead and mobile payments functionality and the nice gamification of rewards acquisition. You can read all about it right here.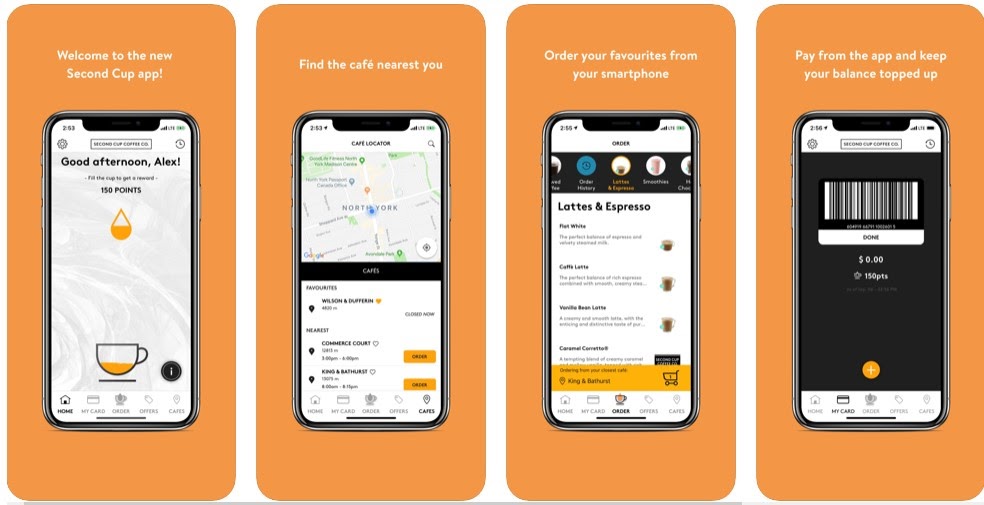 Second Cup Loyalty app
Menchies
Our next pick of the challengers is Menchies, fro-yo superstars that are no strangers to innovation when it comes to looking after customers. Today, their highly successful mySmileage loyalty program continues to smash expectations, boosting customer count, driving new revenue streams and rightly earning their place on the loyalty leader board of the challengers. The figures speak for themselves; over 13 million mySmileage members, a whopping 17% average ticket lift and a 50% increase in customer frequency, driven by the smart rewards features in the mySmileage app. 'Smiles' points collection, a $5.00 birthday credit; personalized offers and discounts; a Menchie's payment account, store locator and e-Gift cards – you can learn more about Menchies mySmileage app here.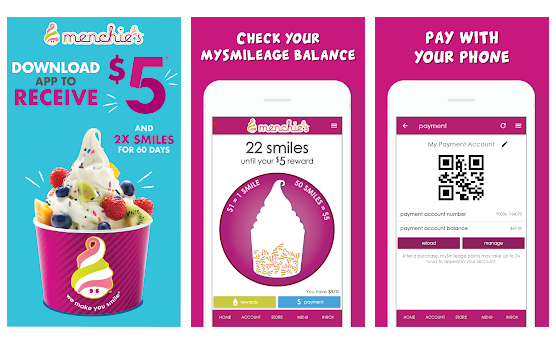 Menchies Smileage loyalty app 
Pizza Pizza
In 2013 Pizza Pizza launched their Club-11-11 loyalty program, the first ever app for ordering pizza in Canada – result! Since then, their loyalty program has gone from strength to strength, powering impressive results across transactions, digital sales and repeat visits over any other touchpoint.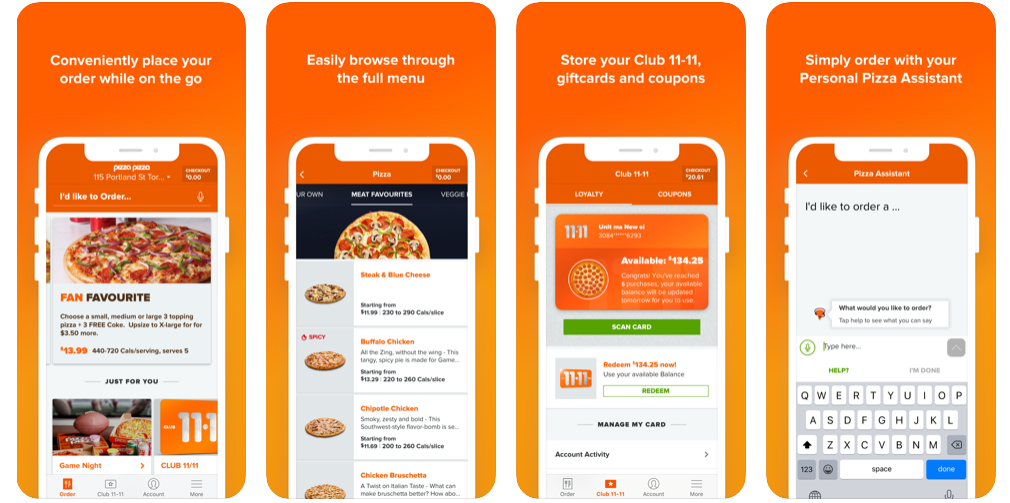 The Pizza Pizza rewards app
Value-add features such as order ahead and order tracking, outlet location, payments functionality, weekly deals and gamification of the ordering process (users can opt to play a game on closure of an order and can win a free item with their next one) keep Pizza Pizza customers engaged and coming back for more. 
Big brands or challengers, QSRs are leveraging mobile strategically to both reach and engage their customers through their smartphones – the devices that never leave the side of these customers. That's one of the reasons that in 2018 we spent 140% more time in food and drink apps than in the two years prior. But access to, and growth of, mobile technology doesn't a great rewards app make – this particular ecosystem is about simplicity, efficiency and the myriad on-the-move benefits that put ME at the center of the brand experience. A brand experience that must be relevant, personalized and bridge the (increasingly diminishing) gaps between the real and digital worlds. 
87% of companies are primarily using Loyalty data to optimize member experience, 60% for measurement and forecasting, and 48% for marketing (LoyaltyOne)
The best loyalty programs and apps which manage to successfully create these bridges must provide customers with value – such as the super-convenient pay-and-collect facility, the gamification of relevant, niche rewards, or the personalization of the purchase experience. It's that satisfying, seamless, engaging customer experience that meets all of the demands of a new digital audience – and the digital brands that are ready to embrace it. And it's not all about the customer (I know, sacrilege!) For brands ready to take on the mobile marketplace, the rewards are there too. The big data gleaned from doing business in the loyalty app space means the ability to create personalized digital marketing campaigns that can both reduce spend and increase ROI. Sounds like a win-win to us …
What to do Next…
To offer users a better experience on your app, create loyalty and see results like these brands there needs to be a focus on retention and engagement after customer acquisition.  Kumulos gives you the tools to understand user behavior and send relevant, highly targeted, personalized content. Connect with users, create loyalty and boost retention. Use built-in analytics to gain a deep understanding of your audience, better your campaigns and create amazing UX. Book a demo of our award winning messaging platform and see how Kumulos can create real business results for your app.