No "Easy like Sunday Morning" any more thanks to COVID-19. Let's face it, customer behavior has changed and in many cases changed for good. Businesses need to be thinking about how this impacts on how they interact with customers and build strategies that reset the habit of using their products and services where trading has been heavily disrupted. Other businesses, that have been huge beneficiaries of the disruption the pandemic has brought, have another problem. How to reinforce this new behavior and keep customers when some sort of normality returns to people's lives. This blog explores this and argues that there are two distinct strategies. Businesses need to be thinking about Re-setting habits or Reinforcing new behavior if they are to emerge strongly from this crisis and mobile technology will be central to this.
How life has changed
We all know the huge disruption to our lives that the Pandemic has caused. It's here for the long term, so this isn't something that's just a short term disruption, but something that will mean fundamental changes to routines and habits.
Homeworking is now more accepted, and likely to stay permanently for many, at least for part of their working week,
Video calls for things like medical consultations, team meetings, sales interactions, and customer account meetings are now acceptable across the board,
How we buy our groceries and internet shopping for electronics and durable goods is now safer, but also maybe more importantly easier, largely because we are at home when the delivery arrives.
Science says that it takes about 2 months for new things to become habit-forming.66 days to be exact according to James Clear in his book Atomic Habits a New York Times Bestseller. Given the impact that the virus has had on many of our lives for way more than 66 days, it is clear that many will find significant permanent changes to their daily routines and habits.
Indeed we can see how dramatic the shift has been from our own data. As examples, habits have changed around how and when we exercise and even when we kick back and have a coffee. Gone, it seems, are the lazy Sunday morning coffee meetups with friends and family.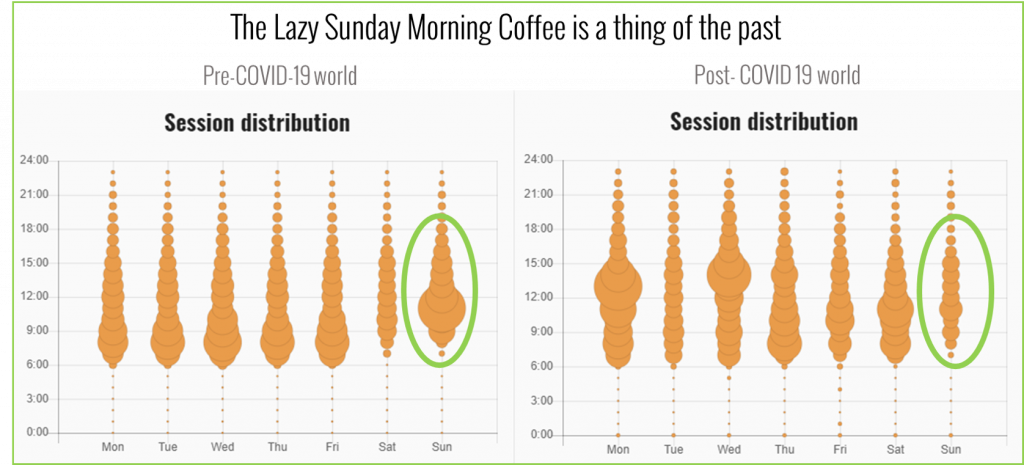 Also, the change in work/home routine means the early morning workout, lunchtime crunch, and after work sweat-out are replaced by exercise distributed more evenly across the day, as our data shows. OK, when gyms start to open again, the habit of home exercise may change. But don't think that means that everything reverts to as it was before. For example, the location will more likely be close to home, rather than close to the office in the new normal.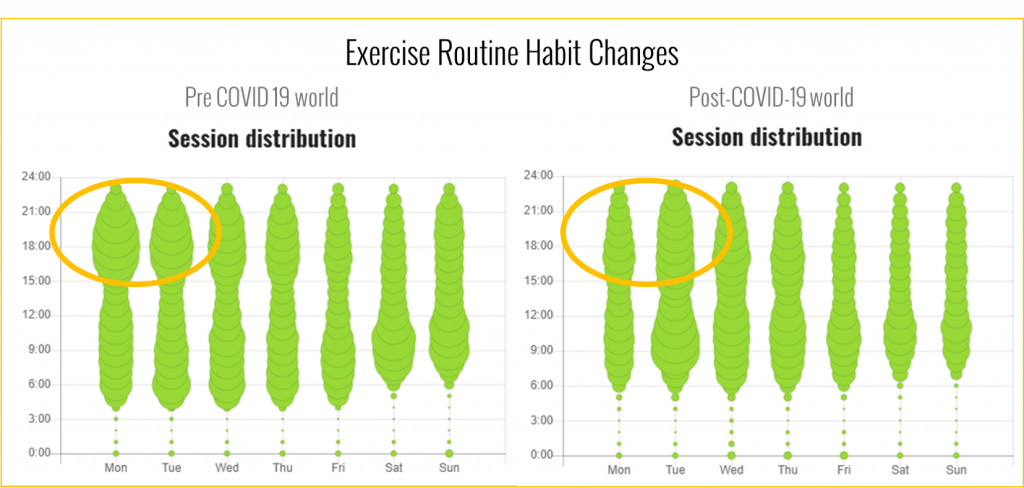 Also gone seems to be the Monday evening guilt sessions working off the excess from the weekend. Presumably, excess now isn't isolated to just weekends. Morning sessions start later, with no morning commute to accommodate. And much less evening exercise, replaced by box-set binges on Netflix. (or is that just me?)
What's the business impact
So what does this all mean for business? Well if your business has been operating differently during the COVID-19 Pandemic, on the simplest level it could mean that your customers just get out of the habit of using you. Their habits have changed and you don't figure in their new routine. Re-engaging customers and encouraging them back to their Pre-COVID-19 habits will be important, will take effort, and will take time. So the sooner you start the better, even if you are not back to full operation.
Getting customers to pick up their coffee on the (less frequent) visits to the office and doing it in such a way that is convenient and they feel safe, is going to be essential. Also adapting to the new ways that customers want to interact will be important. Order ahead and pay on the app will be expected as will curbside pick-up. The lunchtime sandwich habit will also change. Food from home or prepacked food will be more prevalent over the build your own lunch that was the habit before.
Customers will expect menus on their phone and simple order ahead and office/home office delivery. If you don't have it, they'll go to someone who has. You see in this we have the biggest shift. Things that businesses considered as ancillary services, like order ahead/don't wait in line, are now quite literally hygiene factors for any business. And making them accessible through a mobile app will be mandatory.
Customers won't trust your technology anymore. Order at table or large form factor touch screens will be a put off for clients. They want to manage all of this on their own device. This is echoed by a recent blog post from our friends at Tacit Corporation on fast casual restaurant dining and the important changes restaurants will have to make to successfully bring customers back.
So, to summarize this, there are in essence two main challenges facing businesses in the new COVID-19 world.
1. Re-set the habit and re-established the Pre-COVID-19 routine you want them to have.
2. Reinforce the habit. Hold onto the surge in customers that some businesses have enjoyed – like home fitness apps, and reinforce this new home exercise habit.
And one other thought, if the chance to reset the routine is gone, then how do you keep the customer close and still give them your brand experience. One example, from one of our North American Coffee shop retailers, is they bring the physical store experience to the home. Home delivery may be an option, but more practical is to let them buy that special coffee bean blend themselves, so they can have that premium artisan coffee experience in their own home. They retain that brand attachment, so next time they are downtown, near a store, they'll automatically come to that store, to get that experience for real.
What can you do
Well here are a few suggestions that hopefully will spark ideas that can apply to your own business.
Reset
Catch people when they are interested and ready to interact. Understand how habits have changed and then go with it, rather than fight against it. By that I mean, if Sunday isn't a big thing for Coffee any more, then engage your customers when they are now ready to buy. Through your loyalty app trigger, messages that prompt coffee drinkers when they are near your store or better still your competitor's stores will remind them you are still around and draw them back. Reassuring them that you have their safety and convenience in mind with the changes you have made, will give them the confidence to buy from you again.
Put loyalty programs on steroids, double the points, increase the giveaways. This may be hated by your Franchisees as it can cut into their margins, but investing is going to be critical to get habit-reset happening. Geofence triggered messaging, be that push notifications, in-app messages or SMS can be very effective here.  With these, you can plot locations on a map, your stores, or your competitors, and when someone with your app is close-by, trigger contextual, personalized, and helpful information, direct to their phone, even if the app isn't open.
Reinforce
For the businesses that have benefited from the COVID-19 disruption, customer retention and habit-reinforcement are key. Keeping them motivated to "stay with the program" as elements of their life drift back to "normal" is important. For this, it's important to adjust your strategy so it stays relevant to how they now feel. You don't want them to associate your brand with the negativity of crisis, but make them understand that you are the silver lining. The thing they wouldn't have got if the Lockdown hadn't happened. That way you'll convert them into long term loyal customers.
With fitness in particular there's a seasonal fad phenomenon. COVID-19 created a second January Guilt Spike for a lot of the home & self-fitness apps. Looking across our customers this spike has been 2 to 3 times as large in terms of new app user acquisition than an average new year resolution. And the hope for these businesses is that the 66-day rule holds true and the habit sticks. But my guess is that apps will have to work hard to keep customers engaged. The good news is that a small percentage increase in user retention can have a dramatic impact on the bottom line with repeat purchases and app license upgrades to premium services. And we have a great series of articles that offer real practical tips on how to keep customers coming back.
And if you are a Quick Serve Restaurant, Casual Diner or Fast Casual Eatery then we have an in-depth blog series that has never been more topical than it is today at tackling the challenges of re-establishing customer loyalty.
In Conclusion
So to wrap up, COVID-19 is going to introduce some fundamental changes to our habits and routines. For many, these will remain, even when things start to turn to a form of normal. There will be winners, businesses that have had a real windfall of customers. Their challenge is how to reinforce the new habit and keep customers engaged. For others, it's about kick-starting their business and either adjusting to their customer's changes in habits (go with the new flow) or re-setting the new habit replacing it with a close version of what they did before.
And of course, we are here to help. We have a range of technologies that can help you with the challenges that have emerged from this pandemic. Give us a try, we just may make the brave, post-COVID-19, new world easier to navigate.