With so much disruption to our daily routines, travelling safely on public transport has been one of the biggest challenges facing societies as they try to get back to some form of normal. During times of social change, it's incredible to see the level of innovation that occurs. None more so than with technology. It's now increasingly clear that Mobile is the answer to COVID-19 safe travel. And once established it will become the way travellers will expect things to work from this point forward. In this blog, we look at some of the mobile innovations that are helping us all travel more safely.
Remote working, suspended travel, groceries by delivery only, family catch-ups by Skype … there aren't too many aspects to our lives that haven't been touched (and will continue to be so) by COVID-19. And as with our personal lives, so with business. As we digest the non-stop flow of pandemic news, we surely can't help but look on with concern – no sector is managing to avoid the impact of COVID-19:
Hospitality: Hotel bookings falling by over 20% worldwide
Retail: Across Europe, retailers are expected to face a loss of nearly €4bn due to disruptions caused by the current outbreak.
Air travel: Passenger numbers down over 80% in some countries,
Cross-industry: In the UK, almost 25% of all businesses have temporarily closed or paused trading due to the pandemic as of April 2020, with over 80% of arts, entertainment, and recreation sector businesses currently closed. The result? The loss of almost 400,000 jobs in April – a 12-year low.
And with millions of us forced indoors and unable to travel beyond our four walls, the transport industry, in particular, has felt the crushing weight of a radically redefined future bare down upon it and forcing a reimagining of what the next 'normal' will look like. Long periods of "Lock-down" has also had a fundamental change to our day to day habits. Transport providers will have to think carefully about whether these habit shifts are temporary or whether this signals a fundamental and permanent change to how we behave and how we travel from now on.
We're already starting to get a taste of that 'normal' across the aviation sector with airports scrambling to encourage the travelling public back through an endless cornucopia of safety-focused measures powered by technology. Dallas Forth-Worth International Airport – the world's busiest airport – has already begun rolling out entirely touchless restrooms, complete with "hands-free sinks, soap, flushing toilets, and paper towel dispensers" complete with sensors that will alert staff when supplies get low. The same airport is also been looking at touchless technology for staff temperature checks … doubtless this is the tip of the coming iceberg of technology focused on helping the public to stay safe and healthy.
Public transport – where are we now?
Along with aviation, over the past 4 months local bus, train, subway and tram systems have witnessed an unprecedented decline in passenger numbers – in many cases, literally overnight. And whilst the global impact of lockdown on public transport has yet to make official statistics, data from other sources tell us that it's been considerable. In some cases, passenger numbers are – unsurprisingly – almost 95% down on the same period last year.
What's more, there are very real risks to the industry from declining numbers as we walk into the next normal. Public perceptions around their safety mean they're cautious about using public transport, with indications that significant numbers of travellers plan to work from home more and change how they travel, with many saying they'll be walking, cycling and driving more.
Particularly concerning for operators are murmurings that less than a quarter of us will be 'happy' to travel on public transport when restrictions start to ease. We can concur that resuming 'business-as-usual' will take some time – but it's not all bad news …
Although many operators find themselves being forced to drastically reduce services, and in some instances shut their doors completely, public transport operators around the globe are turning to technology to help pull them out of the hole they've found themselves in.
Whilst in the short-term the landscape ahead will be challenging, revisiting enterprise digital strategies to map out the new terrain might just be the ticket needed to take charge of that new normal and boldly advance towards a more safe, innovative and bright future – one that puts the customer at it's beating heart and future-proofs its existence in our brave new world.
Digital transformation and innovation aren't new to the transport sector – the savvy enterprise, whatever sector they're operating in, knows that every successful business is a digital business. From public/private digital collaborations to exuberant MaaS adoption, public transport operators could never be accused of dragging their wheels when it comes to innovation. The challenges of the world in 2020 only means this innovation has to happen faster.
So how will technology help public transport back onto its feet? How can operators use it to keep passengers safe, instil confidence and encourage them back to our roads and railways? To get our societies moving again in a way that makes PT travel a viable, trustworthy option as we ease out of lockdown. How will a robust digital strategy that's focused on the future support the longevity of our transport ecosystem and the reopening of our cities, towns and rural communities —a process that has already begun across Europe and beyond? So many questions – but there's one word that keeps popping up time and again to offer the answer – 'mobile'!
Mobile and the new customer experience
Mobile technology today has come a long long way since Motorola's first hand-held device in 1973, an (cough) 'impressive' piece of kit coming in at a worrying 2 kg and a 10-hour charge time. Today, well, you've only got to count the number of times we look at – and use – our smartphone on a daily basis to get a feel for just how much we rely on mobile technology to do even the most basic of daily tasks. Shopping, meetings, exercise, music, chat, photography, food orders, taxi-rides, sleep monitoring, morning alarm, payments, e-tickets … we could go on, but you get the idea …
With a staggering 3bn smartphone users worldwide, mobile has already profoundly changed public transport, both for operators and customers:
Mobile & Big Data
Big data insights are at the heart of innovation across healthcare, finance, renewables, retail, and just about any industry you care to think of. The power of these insights – driven by smartphone use – can't be understated. How do your customers prefer to travel? When do they travel? What are they looking for when they log on to your app? What can't they find? What brings them back for more?
Big data helps public transport planners and operators enhance (and keep enhancing) the efficacy of their transport ecosystems, services and customer relationships and is critical for any and every organisation looking to secure its future.
Mobile & The Digital Customer
Armed with those big data insights, true innovation becomes a real possibility. With real-time data at their fingertips, public transport operators are now simply expected to deliver on the needs of the new digital customer – everything from the timely provision of travel information through push notifications directly to their mobile phone to visibility of the cheapest travel options to straight forward journey planning and sharing.
The bottom line? Public transport isn't just about getting from A-B anymore … it's about every element that makes up the customer journey – long before these customers are near that bus stop or train platform, and long after they've arrived at their destination.
Mobile & Social media
More than simply scrolling through our feeds on the bus ride to work, social media on our smartphones has created yet another way for customers to share information in real-time. If you're a business, you really really want that information to be positive when it's about your service or product. A late train 5 days in a row? Your customers will share that information with often hundreds of others. That cranky ticket collector? For better or worse, ditto!
Thing is, social media has redefined our relationships not just with friends and colleagues, but with the businesses we interact with, buy from and travel with. But it's not all bad news by any stretch of the imagination. With the right strategy, social media has a myriad of benefits to offer the public transport operator, from visibility of what customers are saying about the services they're using to invaluable insights around what matters most to customers on their daily commute, to the opportunities to put wrongs right again
Mobile and the COVID-proof transport ecosystem
Public transport could and should be a safe, reliable, efficient and attractive way to travel – the transport of choice across our cities and towns. Today, with a laser-focus on personal safety, a very real reluctance to share spaces with strangers and a strong instinct to avoid touching the surfaces that hundreds – if not thousands – of others have touched, how can we encourage travellers to ditch their bicycles, cars and running shoes and re-embrace our public transport infrastructure? It's here that mobile really starts to deliver, offering glimmers of hope and increasingly loud whispers of recovery:
Mobile ticketing apps
As more and more of us are encouraged to use contactless payments in our supermarkets and stores, it's the logical next step to embrace contactless technology across public transport networks too. Before mobile, purchasing a ticket to travel meant handing over cash, getting the ticket handed back – followed by your change, or in the case of ticket machines, pressing lots of buttons that millions have pressed before you. No one wants to do that post-COVID. By giving travellers a quick and easy way to buy and validate tickets on their smartphones without the need for any kind of cash or touch transactions, operators can ensure the safety and protection of their passengers and drivers.
Cross-sector partnership apps
Vital in the months ahead, cross-sector collaborations that look to capitalise on shared capabilities and expertise are likely to deliver tangible, valuable benefits across our transport infrastructures – and mobile will be their great enabler. Instead of transport providers encouraging travellers to use their services exclusively to travel, the more savvy approach post-COVID will be to partner with a range of travel service providers and reimagine the entire passenger journey as they travel from A to B. Think a journey-planning app that provides information on the fastest routes and most effective way of completing a journey – one which might look like e-bike hire from home to transport hub, then bus travel to the edge of town, followed by a ride-share to complete. The app to deliver these efficiencies might include a journey planner, a payment portal, ticketing and booking system for entire journeys – no contact, no touch required!
Advice and information provision
As we're released from lockdown and make our way out into public spaces, travellers must be able to plan their journeys and undertake travel with the confidence that their health is a priority to the companies that they choose to travel with. Changes to services, travel restrictions, healthcare advice – transport operators have a lot of information to impart to travellers that will meet their new requirements. What better way to deliver that information than mobile and push notifications, ensuring travellers are fully informed about their journey (location of the vehicle, restrictions in place such as face-masks) what to expect (real-time passenger numbers on vehicles, availability of wheelchair space, service limitations), and the safety precautions in place (sanitisers, mobile ticketing and the rest).
Powered by mobile, we've seen the transport ecosystem metamorphose into an ever-changing entity that's so much more than simply hopping on a bus or train to get to work and back. Car-sharing, e-bikes, Uber … all made possible by our smartphones and the apps on them.
This information-driven culture has given us a plethora of options when it comes to travel, and prepared the industry well to deal with the COVID crisis:
Real-time vehicle tracking: Transport operators the world over have been quick to adopt IoT, and for good reason. It's got a lot to offer! IoT empowers the transport ecosystem and those that travel on it. By relaying real-time tracking data to central command centres, transport operators can provide customers -and drivers – with relevant, timely information that delivers all kinds of benefits – from improved traffic flows to enhanced service provision, more efficient journey planning to cost and resource savings.
Private/public partnerships: The decision to help people navigate the city using a variety of public transit options is part of Uber's mission to reduce reliance on car ownership, the company said. It puts the Uber app in direct competition with apps such as Google Maps and Citymapper.
MAAS – or mobile as a service: Relatively new to public transport, local authorities around the world are currently supporting and promoting the use of MaaS platforms across their respective transport infrastructures – part of which includes the creation of mobile apps that integrate public transport information with other services to enable a more seamless, efficient travel experience. We talk about this further on in this article so keep an eye out!
Transport events management: Accidents, roadworks, bad (or occasionally good!) weather … there are a ton of things that can impact public transport. The IoT alongside mobile technology allows operators to divert vehicles as needed, and to update passengers accordingly, again in real-time via their smartphones.
Mobile ticketing: Where the smartphone becomes the ticket and the ticket machine – and at the same time helps to reduce an operator's infrastructure and sales costs by removing the need for third-party vendors. Mobile ticketing offers a myriad benefits, but where it really delivers is in providing real value to customers (no queues, no cash, no hassle) and at the same time boosting that bottom line for operators.
The Result- Mobile is the Answer to COVID-19 Safe Travel
Travellers are more informed with real-time information at their fingertips – meaning they can plan the where, when and how, far more efficiently – and safely – than they ever could. This is a big step on the road to encouraging travellers back to public transport because it's the preferable way to travel – and not just because, as in days of yore, there's no other option.
Public transport operators themselves have invaluable data at their fingertips to better plan and route their services according to real traveller needs (these data insights, remember?!) and (thanks to IoT) real-time traffic and transport conditions. This unprecedented access to data and its resulting insights will be critical to support both operators and travellers during the pandemic.
And local authorities are at last able to make decisions based on facts – where should new roads be prioritised? What about curb management strategies? And their own digital transformation priorities? With insights from the public and from transport operators, planning for a smarter, better, more efficient transport infrastructure in the time of COVID becomes very achievable.
In short? The public transport industry is ready to meet the COVID challenge head-on – and here's what it looks like:
Go-Ahead in the UK has launched its innovative 'When2Travel' mobile app for bus travellers. Built-in collaboration with CitySwift, the app provides travellers with timetables using colour-coded bus capacity predictions. Using algorithms and AI technology which 'learns' from these big data insights we talked about earlier, the app updates itself in real-time to provide accurate travel information aimed at helping passengers to plan safe travel with all the right information to hand.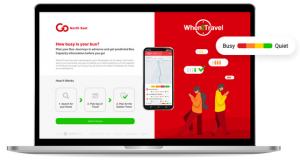 In Wales, a new bus service has been introduced which enables travellers to request a bus for pickup near their home or work. A dedicated mobile app – fflecsi – allows essential-travel passengers to select their preferred pick up and drop off points – then matches and books a seat on the bus that best meets their travel requirements and adhering to local authority guidelines for social distancing.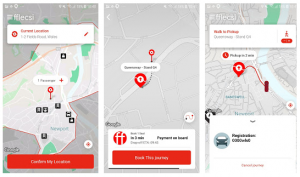 Still in Wales, Cardiff Bus has partnered with bike-sharing enterprise NextBike, to enable its customers to switch seamlessly between bus and bike while travelling. The collaboration sees NextBike cycles included in Cardiff Bus's mobile app so that travellers can see how many bikes are available along their bus route and empowering that important informed decision-making.
Google has introduced several COVID-related features on its Maps platform, delivering information and real-time alerts related to travel restrictions for people travelling by car and public transport.
The latest app provides public transport information alerts when users search for directions, with the goal of avoiding overcrowding on trains and buses. What's more, travellers can also be notified if their planned journey is likely to be affected by restrictions related to COVID such as suspended services – with information on safety precautions required of travellers such as face masks etc.
First Bus in the UK recently launched a new feature – again to help its passengers adhere to social distancing guidelines. Before travellers board their bus, the app lets them know in real-time the number of vacant seats which are available. Travellers can also use the app to purchase their journey ticket – and scan it when they board.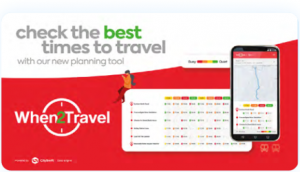 Where to next?
Public transport won't be the same again once we emerge from the COVID crisis – but it will be better. Despite the challenges facing the industry, with every crisis comes opportunity and this still rings true in 2020. As we've seen, innovation hasn't been slow at showing its hand over the last few months – and in many cases, we have mobile technology to thank.
To survive, to be truly transformational, digital change and strategies will be driven forward, underpinned by many technologies, but with mobile grabbing a large share of the spotlight. Mobile apps to help travellers plan their journeys, mobile technology to allow mobile ticketing, and smart cross-sector collaborations to build the mobile apps of a safer, cleaner, greener future.
There's no time like the present to reimagine the industry as more customer-focused, more efficient, and as such, robustly future-proofed to meet the inevitable challenges ahead. As an industry of innovators, we need to get good at mobile apps, delivering exceptional customer experiences, and delivering that always-on safe service this new world customer is waiting for.
How Kumulos can help Public Transport Innovation
Kumulos has been the power behind mobile-led digital transformation for most of the last decade. As more and more public transit organizations wrestle with how they need to change, Kumulos can help. We provide a fully integrated mobile app communications platform, so you can quickly, easily and reliably communicate time-critical and COVID-19 safe information directly to travellers at the precise time and place that they need it most. Our advanced location targeting features in particular, which include industry-leading Geofence and Beacon triggered notifications means that we ensure travellers get relevant timely information in the palm on their hand. This not only improves the travel experience but instils the essential trust that everyone will expect from service providers and demonstrate that passenger safety is the primary priority.  You can take Kumulos for a spin free of charge. Either set up a trial account today or contact us to discuss how Kumulos can help your business thrive and make sure that Mobile is the answer to COVID-19 safe travel.