iOS 14 adoption is now over 50% worldwide, but there are some significant regional differences. With the recent addition of contact tracing APIs to both the iOS and Android operating systems, gaining significant adoption of latest updates has never been more important. In this article we'll look at the detail behind the headline iOS 14 adoption figure and what this means as governments around the world release their COVID-19 contact tracing apps.
iOS 14 Release
Its been less than three weeks since the September 15 Apple Event and while we were all expecting Apple to announce the upcoming release of iOS 14, no one was expecting them to ship it the very next day! With no time available for app developers and publishers to test their apps and games on iOS 14, many of the world's largest publishers, including Nintendo, took the unusual step of advising users not to update to iOS 14 straight away.
Here at Kumulos, we wondered what impact such advice would have on user behaviour and so decided to monitor iOS 14 adoption using an anonymized sample of 500,000 loyalty, sports, fitness & well-being app installs around the world. This is what we found…
iOS 14 Adoption
Unlike the more complex Android ecosystem where developers have to cater for a long-tail of older Android operating system versions still in use, the Apple user-base has historically been quick to adopt operating system updates. The warnings from publishers that your favourite apps and games may be glitchy until they have a chance to update them would appear have had little impact on this. iOS 14 adoption surpassed that of iOS 13 within two weeks of its release and, as of 6th October 2020, iOS 14 adoption is now at 50% worldwide.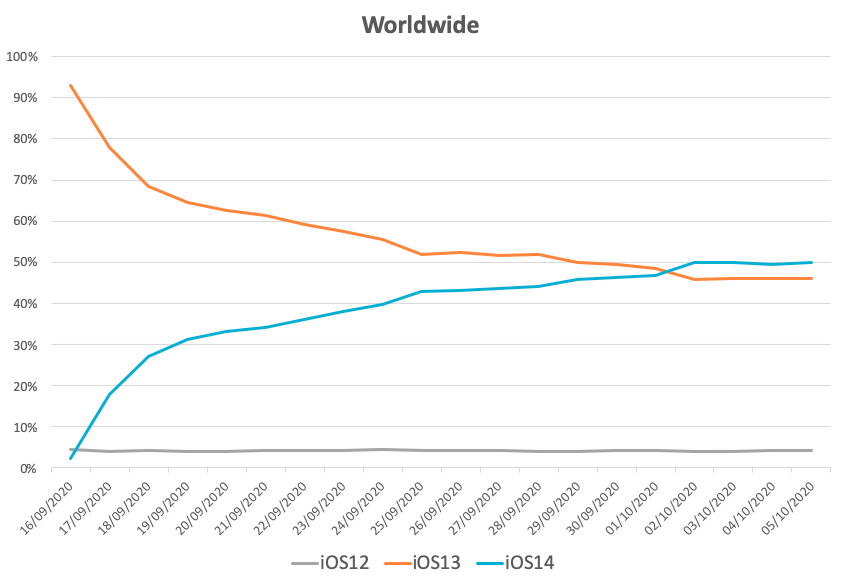 However, there are big regional variances driving this adoption. Europe is leading the way, with iOS 14 adoption at 69%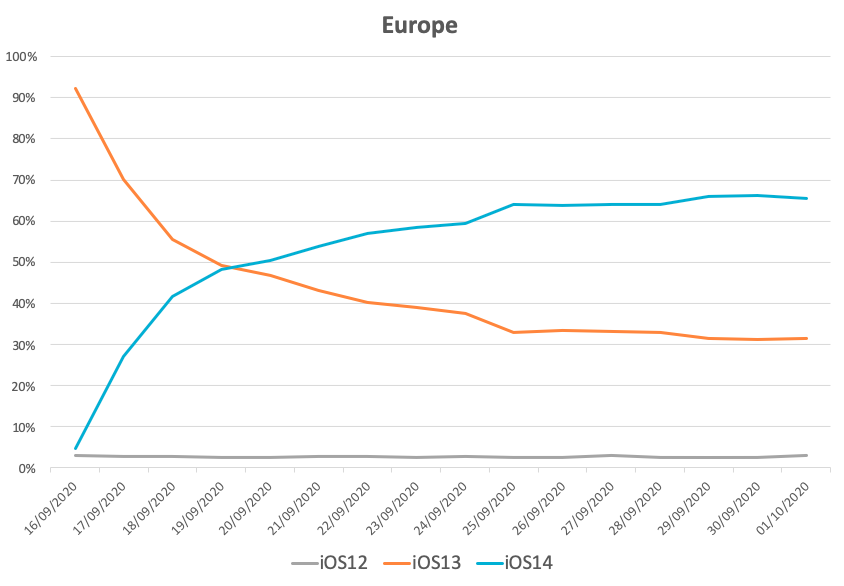 Whereas iOS 14 adoption is only at 31% in North America with 64% devices still running iOS 13.

In practice, what does this mean for app developers, especially those working on regional and national COVID-19 contact tracing apps?
iOS 13 Adoption
Looking at all those devices still running iOS 13, the good news is that the vast majority (70%) are running iOS 13.7, which includes the COVID-19 contact tracing APIs.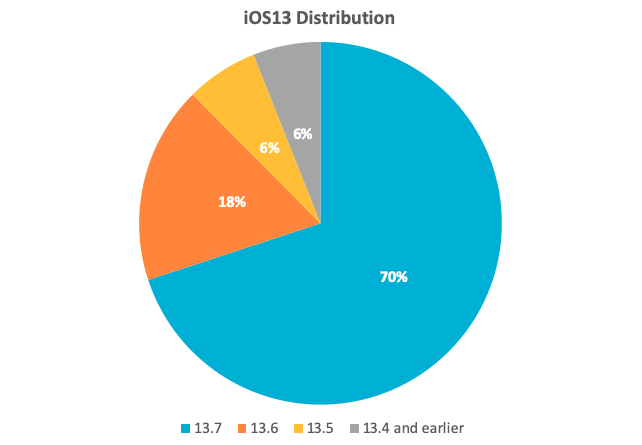 Combined with devices already running iOS 14, this means that across our sample, 82% of all iPhones should be able to run contract tracing apps right now.
Of the 4% devices worldwide that are still running iOS 12 or earlier, 75% (approximately 15,000 devices in our sample data set) are unable to update to iOS 14. However, the vast majority of these devices were iPhone 6 / 6 Plus and can still be updated to iOS 13.7 to add the contact tracing APIs.
In fact, across our sample data set, the number of active devices that cannot be updated to iOS 13.7 was less than 0.5%
In Summary
Despite the warnings from major publishers, iOS 14 adoption around the world has been as fast as we have come to expect from the Apple user base. Although iOS 14 adoption in North America is lagging behind Europe, concerns around the compatibility of national COVID-19 contact tracing apps with the Apple install base appear to be unfounded. 82% of iPhones have the contact tracing APIs now and less than 0.5% iPhones in daily use will be unable to add them in future.
About Kumulos
Kumulos is an easy-to-use, omni-channel, user engagement platform. We help major brands in over 20 countries around the world to retain and engage their mobile audience and drive real business results from their mobile app. Contact us today to find out how.