Implementing features that allow apps to easily define and target users makes marketing to your audience easier. This helps to keep users engaged and boost your chances of retaining them long term. For businesses that have physical locations or where it's important to know where your customers are, location targeting using geo-fencing technology can significantly increase the engagement you can get from your mobile app messaging. 
Often businesses don't make the most of using the features available to them in the world of app marketing, meaning they aren't maximizing their potential. One common mistake we see is app publishers focusing too heavily on acquiring new users rather than retaining the far more valuable ones they already have.  Last year only 32% of users launched an app more than 11 times.
Being able to define your audience and target them with rich, personalized messaging increases your chances of engagement by more than 50%. And doing this with accurate proximity-based marketing means app owners can catch their users attention at exactly the moment they are ready to engage.
Using geo-location, to intelligently deliver rich, interactive messaging will  increase user engagement by sending notifications that are timely and highly relevant to each individual user. 
What is location targeting?
Location targeting uses geofences to allow you to target your users based on their location or vicinity to one of your businesses. A geofence is an area you define that will automate the sending of messages. This can be when someone enters, leaves, or is present in a predefined area. It works by using the GPS services within a smart phone and the phone telling the app where it is, so this can then correlate with the coordinates of the geofence. If there's a match then an action is triggered – a message is sent, or the location is logged.
For example, if a coffee shop wanted to target a certain area of a city with a promotion, say around one of their competitors stores,  they can define a geofence and when a user enters into this area with their app on their smartphone,  an automation will send their chosen message to the user. This means you are able to communicate with a user at precisely the time they are ready and able to interact with you, in the right place and receiving it at the optimal moment – Using mobile technology to drive footfall to your premises.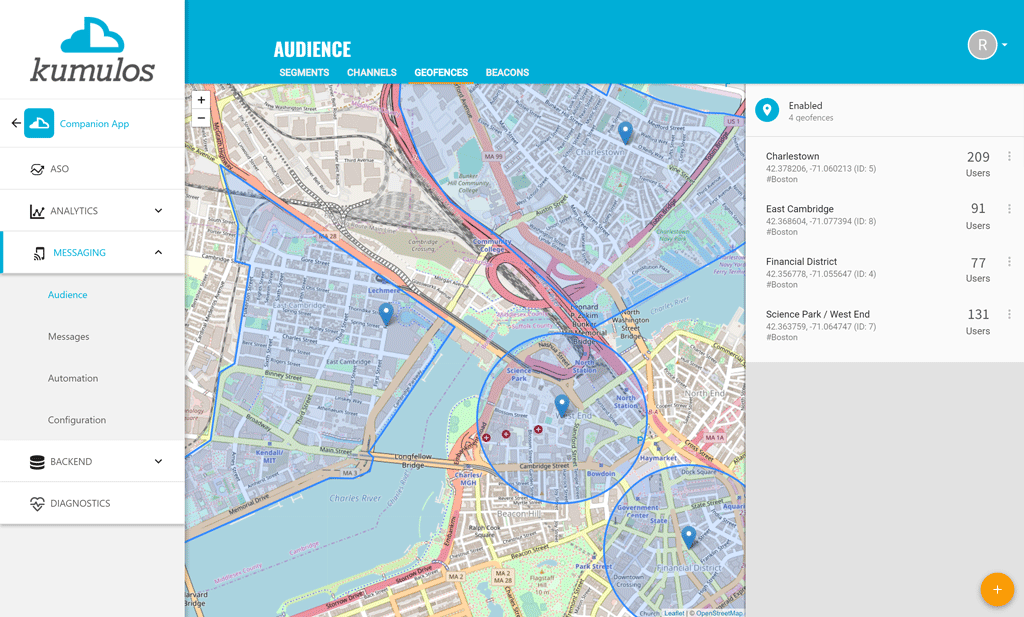 A geofence can be set around a small physical location like the areas around a shop or shopping mall or as big as an entire city. Part of their brilliance is in their flexibility. Complex geofence perimeters involving intricate polygons around very specific areas are totally achievable. This allows you to be very precise about where you want the geofences to be and avoid areas such as freeways where you may not want to trigger messages to your app users. You can also have hundreds or even thousands of geofences or geofences within geofences. Used for the right reasons they are a very, very powerful message targeting tool.
How does it work?
There is no hardware required to install a geofence and can be done from within your service providers web console. To work, you require a mobile app on the smartphone and an SDK from a service provider, such as Kumulos, integrated into the mobile app. The smartphone user also has to grant you permission to track location (foreground as a minimum as well as background ideally) and particularly for Apple phone users then explicitly grant permission to send push notifications. 
Once the geofences are in place when someone enters, leaves or lingers in a geofence you can decide exactly what actions should happen.
Send a Notification  (now or after a time delay) like "Enjoyed your visit? Rate us on Tripadvisor"

Send an SMS or email- Giving them important information about a location

Send an in app message – with rich media content

Add them to a remarketing list to then tell them about a future event at the same location.
To get the best from the technology, there are few things you need to know about geofences. Location tracking on a phone can put a heavy load on the smartphone battery. Anyone who has used Google Maps on a long journey will testify to that. So to manage this, the operating systems of the phone enforce certain rules, such as only sharing the location update every once and awhile (15 –  20 seconds for example). Also it wont repeatedly send location updates where the person hasn't moved far from the last update. Typically significant change is over 500 metres. So to get the most out of Geofences you have to follow some important best practices, and understand these limitations. They will apply to ANY service provider you use. We will dive into this in more detail a little later.  
 Once this is enabled the geo-fence will have all the necessary tools to automate the sending of the campaigns you create.
Why use location targeting?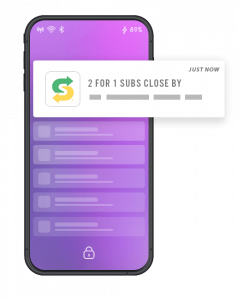 As we have said, geo-fences are a powerful location targeting tool for mobile marketers. Used wisely they can deliver huge business benefits, delivering higher revenue spend in the app, using mobile technology to keep your customers loyal and stop them being tempted by your competition. 
Here's some examples of how geofences are used. 
Increase footfall by sending promotional offers as the user approaches your store

Catch your users when they are near a rival location by setting a geofence around that location, then incentivize with push notifications to draw them to

your

store

Know what your customers are interested in and send them relevant offers,  (based on previous in-app behaviors) when they are near your location – An offer like "We think you'll like this dress. It's now on sale"

Get feedback from customers that have been in your venue – like "we hope you liked your stay, rate us on trip advisor".
Beacons Vs Geofences

Location targeting options are not limited to geofences and in certain circumstances they may not be the best option. 
Beacons can be useful in indoor locations where the smartphone may not have a GPS signal. Also if you want to get very precise targeting, say down to just a few meters – they could be the best solution.  The downside is they require a physical device located at a cash point or store front,  that connects to your app users phone through Bluetooth when they are nearby. 
You can get the best of both worlds however and use Geofences and Beacons in combination. 
Geofencing is better for much larger, definable areas. Beacon range is generally just a few hundred metres, so will trigger messages when someone is very local…
Best Practice for location targeting campaigns
There are key considerations to take into account when implementing geofencing within your app, these will help you get the most from campaigns and firmly establish a successful geofencing campaign.
Carefully consider the position and size of your geofence to capture the maximum number of users. Don't make them so large (hundreds of miles wide) that they aren't nearby or so small (10 metres) that you hardly message anyone.

Consider how people will be traveling through the Geofence – by car, walking. The speed that they travel is a factor in how large a geofence should be, to stand the maximum chance of them triggering the message.

Mobile phones only send location updates every 15 – 30 seconds and only when the person's location has changed significantly from the last update being sent. So, you have to consider this when deciding the size of your geofences. So, don't make the geofence too small where people are traveling quickly and could be through the fence before the phone has a chance to send location data.

Don't try to use geofences where GPS location data could be poor, inside buildings or tightly drawing geofences around the building perimeter. Use Beacon technology if you can in these situations or target open spaces where people will be entering the building.

Limit the number of times someone will receive a message. The best way to encourage someone to un-install your app is to send them repeated (and possibly irrelevant) messages. 

Time of day – think about the relevance of the message and the time of day. Don't promote your Breakfast specials at 2 in the afternoon. Either switch off messaging in your geofence when it's not relevant, or better still have it set up to send different messages from the same geofence at different times of day.

Make the message REALLY relevant. Don't just trigger a general message for every one of your users unless that makes sense of course. Send messages that are highly relevant for the user based on what you know about them and what you know they are interested in.

Prime the message based on their past usage of the app. If you know they have looked at a particular product but haven't purchased it yet, then if it's on sale and they are near your store – tell them about it.

Consider using Geofences in conjunction with Beacon technology, if that makes sense. So if you have a store, put Geofences around your place (and if you want around your closeby competitors) and then use Beacons for when they are close (100 meters or so) to bring them to your door. Also consider using beacons inside your venue to provide hyper-local information.

Use location information to remarket to the user at a later date.  Knowing that someone has been near your place, in the past, is valuable information. So store it and use it for later outreach marketing campaigns. "Hey the next time you are near, come in and see us for the latest special offers".

Social proofing – for some businesses customer endorsements are really important. So you can use the fact that someone has been to your place to then ask them to rate you on TripAdvisor, or similar. Set the geofence system to trigger, say, 24 hours after their visit with a link to your page, for their endorsement. 
Choose your Geo-fence system wisely so you don't have to chop and change when your needs evolve. Find a company that offers:
An easy to use dashboard to create, edit, disable geofences with no technical skills required.

A system that offers custom shape (polygon) geofences as well as simple radius options. 

A system that lets you manage geofences and beacons in one place

A system with flexible automation rules so you can easily build and adjust the rules that will trigger location targeted message

Frequency limited – Use a system that can let you set the maximum number of times anyone can receive a message in any one day/week/month.

Don't just rely on Push Notifications. Also use Rich Media In-App messages to really engage your users.

Go omni-channel and use a system that can also send SMS and Email messages so you have complete flexibility over how you communicate with your customers.

A system that will build remarketing lists for you, so you can keep in touch with customers who you know have been near you in the past, to bring them back to you with attractive offers. 
Final thoughts
Location targeting is ideal for any business where the location of the app user is important. Smart use of Mobile technology not only improves the interaction you can have with your customers it also means that you can catch their attention at precisely the time that they are ready and able to interact with you. 
It's not right for everyone. Firstly, it only works if the person has your mobile app in their cell phone. There is NO way round that. They also have to give explicit permission to allow you to track their location and send them messages, so you have to have a good reason and sell the value of this to your app users. 
That said… picking the right system that doesn't require you having a PHD in computer programming and having a friendly developer on standby isn't important if you find a platform that will allow you to grow into its features. 
Used correctly,  there's no doubt that proximity marketing delivers huge benefits to anyone with physical locations that you want app users to visit. Allowing you to build loyalty and entice them away from your competition. 
Who are Kumulos
At Kumulos we offer a purpose-built Mobile User Engagement platform with industry leading location targeting capabilities – ideal for anyone with a place they want their app users to visit. Main features include rich, interactive push notifications, in-app messaging and integrated award winning analytics that lets you build intelligent, informed,  powerful automatically triggered messages. Our focus is to help  you retain app users through engagement by allowing you to target the right user, at exactly the right place and time that they are able to interact with you.
Our geotargeting services including geofencing or beacons are easily integrated into your app. Kumulos offers an API that you can install for geofencing and monitor all aspects of your campaigns, including messaging and geofencing, from one place – the Kumulos Mobile Marketing Hub.
Our Messaging feature allows you to send rich, interactive push notifications with imagery and action buttons that increase your chances of user engagement. Combine these with location targeting to send personalized, highly relevant, engaging messaging to the user in exactly the right location and strive for better results from your user engagement strategy.
Other features such as analytics will allow you to evaluate your messaging campaigns and analyze location data to ensure your campaigns are sending the most effective message, in the most relevant locations.
If you'd like to try Kumulos for yourself we would like to offer you a free demo of our platform where we can show you all of these features and more. Book your demo here and start seeing better results from your app using geofencing.