During 2020, mobile technology has proven essential to multiple business sectors. The benefits of mobile devices have been elevated with the challenges of COVID-19. We have relied on them for both convenience and safety. They have ensured we reduced contact within retail and hospitality settings by allowing payments to be processed and adhering to contact tracing guidelines easily and effectively, as well as this when bricks and mortar retail or dine-in has been unavailable, we've relied on mobiles for online ordering of goods and services.
Many sectors have been impacted by COVID-19 and relied on mobile technology to ensure they retain customers and continue to offer differentiation and value. Therefore, with vaccinations beginning to get underway, let us look forward to the role of mobile technology in a post-Covid world.
Quick Serve Restaurants
As restaurants have been subject to dine-in restrictions throughout the last year, mobile is becoming more important than ever. Mobile ordering has become the norm, offering diners the ability to order and pay via an app – ensuring that the process is "zero touch" and minimising interaction with servers to ensure COVID-19 guidelines are being adhered to.
This has offered a range of benefits to restaurants including:
Ability to optimise menus.
Ability to adhere to contact tracing guidelines easily, removing the need for additional paperwork and server time.
Customers feel safer as they are using their device to order and pay.
Offer diners the ability to check previous orders and reorder and restaurants to use this data to upsell and provide special offers to customers based on previous preferences. Lumina Research suggests up to 60% of diners would welcome targeted special offers sent to their mobile device.
Speeds up the turnaround of tables by 12-17 mins, when restaurants have restricted headcount, the quick turnaround ensures restaurants can maximise revenue.
Cris Jucan, CEO of Tacit explained, "Last year Tacit saw many restaurants transform operations overnight to online and mobile ordering to remain open and provide a safe way for their customers to order. We expect this change to continue well into 2021 with more QSRs investing in mobile ordering technology to allow for flexibility in their operations, provide convenient ways to order food, and improve their ability to compete. 
Beyond the power of online and mobile ordering to attract new customers and increase average order size, the return on investment for those operators willing to invest in digital ordering is undeniable."
COVID-19 has encouraged restaurants to adopt new technology, driven by safety and increased efficiency for their customers. By adopting their app, restaurants have another marketing channel for their customers and this trend will continue through 2021 and may be the "new normal". From sushi trains to iPad ordering at tables – mobile phones have become the next new wave in interacting with Quick Serve Restaurants.

Retail
Mobile apps have always been an essential part of retailers marketing strategy, but with restrictions on store openings, mobile apps have become an integral part of a retailers marketing strategy with Forrester reporting 53% of customers buying directly from a retailers mobile app. Apps have also helped retailers match their online strategy with their in-store offering. Additional functionality has been added to many apps as a response to COVID-19, this ensures:
Increasing loyalty to customers by sending targeted special offers.
Offering functionality such as virtual queuing for store entry when numbers have been restricted, improving the customer's in-store experience.
Enabling payments via the app, ensuring that zero touch measures are in place for safety.
As customers have moved to apps and interacting with retailers' apps more frequently, this has enabled retailers to get to know their customer more and focus on targeted, push based advertising. In 2021, there will be a trend to move towards analytics and Artificial Intelligence, attempting to accurately anticipate a customer's needs and send them relevant offers, at the right time, to increase the possibility of conversion.

Health and Lifestyle
One of the winners through COVID-19 has been health and lifestyle apps. People cannot rush to renew their gym memberships as has become traditional in January, so mobile apps and services have become a convenient, safe and cost-effective way to exercise and maintain a healthy lifestyle into the New Year and beyond. So with traditional health and exercise routines changing, what's next for mobile apps in the health and lifestyle market?
Health and fitness will continue to be important throughout 2021, particularly a mobile first approach. Consumers have a renewed focus on wellbeing to reduce the potential impact of COVID-19. Wellness apps have also seen a sharp increase in popularity. With furlough, increased working from home and e-learning for school children, lifestyles and family life have changed dramatically through 2020 and this trend is set to continue.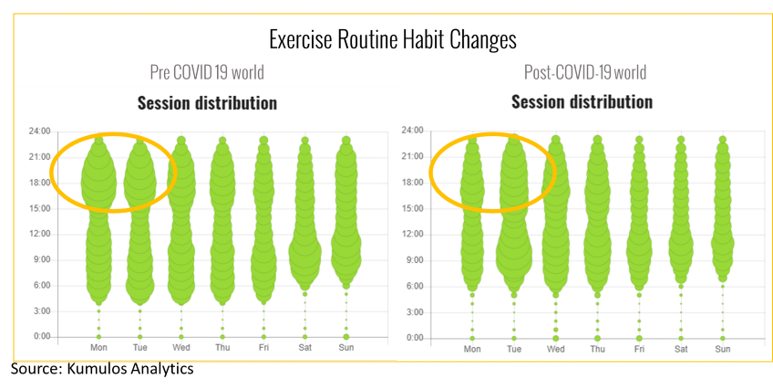 Travel and Hospitality
With international and national travel restrictions in place, travel and hospitality has felt the biggest impact from COVID-19. As vaccinations begin, there is renewed hope that travel will begin to resume but the main challenge facing travel is how do travellers keep up with the ever-changing conditions? Mobile has continued to play a key part in keeping travellers informed.
The IATA (International Air Transport Association) are helping to drive innovation by offering a CommonPass app with many of the world's top airlines already signed up, including Lufthansa, Virgin Atlantic and United Airlines. The app will enable travellers to enter their vaccination information and ensure they adhere to any entry requirements for their country of travel, acting as a COVID-19 Passport for travellers.
It's essential that with unpredictable conditions, travel providers make it as easy as possible for customers to change their plans. Proactive and informative notifications will help customers stay informed and improve their experience.
Hotels have made significant changes in their operating practices to ensure customer safety. One key focus has been to decrease the number of physical touch points within a hotel and mobile has played a significant role by:
Enabling check-in via a customer's device: This has been an opportunity for face-to-face engagement and opportunity to upsell services such as breakfast, therefore hotels should ensure these offers are relevant and easy to adopt for their customers to ensure they don't lose the ability to upsell.
Room entry via mobile phones to eliminate the need for room keys
Ordering room service straight from a mobile device to reduce the need for paper copies of menus and touching high traffic devices in the room i.e. telephone.
These changes may seem restrictive but they also have the upside of customers engaging with the hotel brand through their mobile – ensuring hotels know their customers and can use this data for marketing and building loyalty with their customer. Dwayne Pascal, CTO at Criton agreed,
"With COVID-19, we saw the acceleration of market trends giving more control to the guest about their experience and the importance of mobile as a vital communication point.  Mobile apps have ensured guests feel safe and comfortable with changing guidelines and we've seen a huge increase in the 'contactless guest journey'.  Mobile technology is also giving hoteliers the ability to quickly adapt their offerings and retain precious revenue channels through features like online food ordering and remote check-in.  Hoteliers can use channels like push notifications and in-app offers to drive increased demand and clients have been astounded at the take-up they've achieved through their mobile app.  With such clear benefits to guests and increased flexibility for operators, we see the trend towards greater mobile adoption continuing to increase in the months and years ahead."
As restrictions begin to lift, leisure travel will begin to increase, recent reports show a surge in travellers over 50 beginning to book travel as their confidence in vaccination rise. Mobile will remain an essential communication tool for travellers to inform them of any changes and ensure their safety.
The costs of businesses adapting to COVID-19 and the "new normal" have been extensive, but it has also accelerated technology and business plans that were already in place. Building brand loyalty via mobile apps and capturing the customer within the app has been a common theme, enabling brands to upsell and really consider their customer engagement. There will be many unknowns in the coming weeks and months but the technology industry has shown its ability to adapt quickly, to work with sectors to ensure that their mobile business will be sustainable, even in uncertain times.