The Apple IDFA is changing and based on some of the headlines and news reports, you could be forgiven for thinking the sky is falling in. In this article, we'll look at what this change actually means in practice for you and the opportunity it presents to shift your focus onto engagement and retention.
In doing so, you might find that this has a much greater impact on your bottom line than any new user acquisition campaign ever can.
What is the IDFA?
Not to be confused with Dua Lipa's 2017 hit single IDGAF, the Apple IDFA or Identifier for Advertisers is a unique identifier generated for each Apple device. Although it doesn't contain any personal identifiable information, the IDFA enables advertisers to serve targeted, customized adverts based on the actions you have performed in other apps that track in-app event behaviour and associate this with your device's IDFA.
It also enables advertisers to track and measure which mobile advertising campaigns you then interact with to further refine and target the adverts you and others will then see, the principle around which has spawned the multibillion-dollar mobile app attribution industry.
Why is the IDFA in the news?
Although the IDFA is not new, it hit the headlines at WWDC in June 2020 when Apple announced it would that as of iOS14 (released in September 2020), you would have to give each app explicit permission to use the IDFA (just as you do for push notifications or location tracking). This is one part of a wider Apple initiative called App Tracking Transparency (requiring apps to be completely transparent about the data they collect and hold about you) and a wider shift in the industry away from third-party tracking data (such as Google's proposal to block third-party tracking cookies in its Chrome browser).
You have always had the option to opt-out of being tracked via the IDFA, but in practice few of us did this, with well over 70% of us not bothering to reverse our implicit consent. However, with the simple change of requiring us to give our explicit consent it is widely accepted that this figure will fall to only 10% – 15% of us allowing apps to track what we do for the purposes of serving targeted adverts.
Why are we still talking about the IDFA now?
As we've previously discussed, iOS14 adoption was swift (pun intended) reaching 90% adoption within three months of launch (by contrast iOS13 was only at 76% adoption by that same time).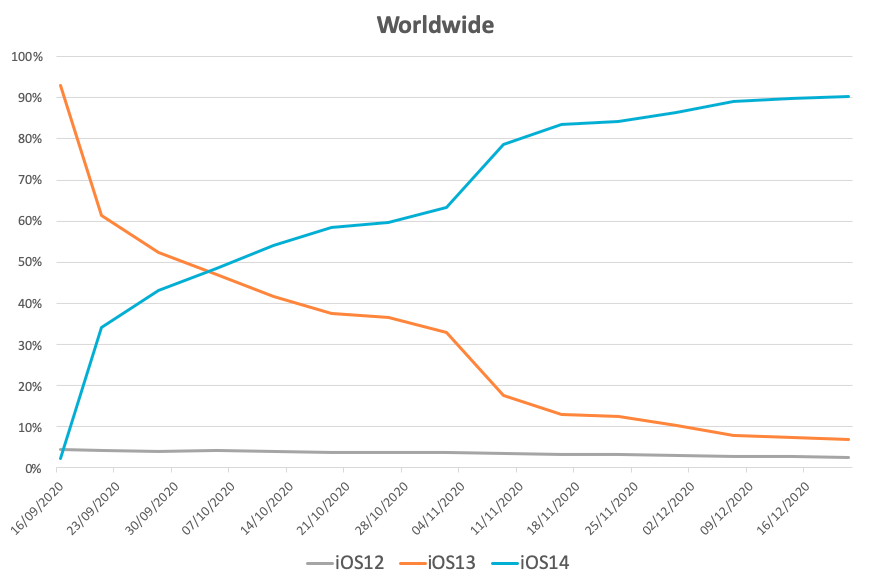 So why is the IDFA still in the news now?
Well, for that there are two simple reasons. Firstly, bowing to pressure from mobile ad networks and attribution companies, Apple announced in September a grace period delaying the change to requiring explicit user consent to use the IDFA until Spring 2021. This was to allow the industry time to switchover to using Apple's new SKAdNetwork (which allows advertisers to measure the overall success of their campaigns, but not to an individual user level).
Secondly, the reason the IDFA is still in the news is because the mobile ad networks and attribution companies want it to be, in the vain hope of forcing Apple to reverse their decision. In a blistering attack in December, Facebook accused Apple of hurting small businesses reducing their sales by upto 60% by limiting their ability to serve personalized adverts (Facebook themselves are expected to take a multibillion-dollar revenue hit as a result of these changes).
When will the change actually happen?
With the sun getting higher in the sky, spring is now well and truly underway, so when will you require explicit user consent to use the IDFA? The answer is no one really knows.
The one thing that could delay the change is the relatively low levels of adoption of Apple's new SKAdNetwork, currently sitting at around 20% as many ad networks are still evaluating their options. Rather than accept the seismic change, many have simply buried their head in sand hoping that Apple will bow to commercial or legal pressures.
Similar to the ongoing investigation by the UK's Competition and Markets Authority into whether Google's proposal to block third-party tracking cookies (that many argue will make advertisers even more reliant on Google than they currently are), a number of legal complaints have been lodged against Apple's proposed changes to the IDFA claiming they amount to an antitrust violation. However, early indications are that these are set to fail, with the French Competition Authority refusing to order Apple to further delay implementing the changes as the French trade body the Interactive Advertising Bureau (IAB) had been seeking.
Furthermore, in a recent press release from Apple they doubled down on data privacy, improving transparency and putting you firmly in control. So, although we don't know for sure, we are still expecting the change to happen sometime soon before spring makes way for summer. Regardless, there is now an opportunity to revaluate how you reach and connect with your mobile audience and here at Kumulos, we recommend you take it!
First off – does this change impact Kumulos?
No! Kumulos does not use the IDFA and so this change will have no impact on Kumulos. In fact, we are fully supportive of the principles that are driving this change. You can continue to use Kumulos to track first-party analytics events within your app, remaining compliant with Apple's privacy policies, and then use this to segment your audience for targeted messaging campaigns but rest assured, this data belongs to you and we will never, ever share this data with anyone else.
Furthermore, Kumulos Deferred Deep Links are deterministic, and we do not use device finger-printing or any other probabilistic tracking techniques to try and identify your users.
Be transparent! B-E transparent. B-E-T-R-A…
Secondly, whether you have to yet or not, be completely transparent about the analytics data your collecting and why! For years, we've been explaining that if you want to track users' location or send them push notification, you need to explain why to maximize your opt-in rates.
"Allow Cloudburger to access your location?" vs. "Allow Cloudburger to access your location so we know when you will be arriving at your local restaurant so we can start preparing your order."
"Cloudburger would like to send you notifications?" vs. "Cloudburger would like to send you notifications such as updates on opening times and weekly special offers"
The exact same principles apply to analytics, for example "We'll record what you order from our menu the most, so we can display them first and also make suggestions of new items we think you might like."
Focus on Engagement and Retention, not just Acquisition
Another thing we've been advocating for years is to shift more of your focus from new user acquisition to onboarding, activation, engagement and retention. We're not saying user acquisition doesn't matter – of course it does – but acquiring a new customer is much more expensive than retaining an existing customer yet has a much lower chance of conversion! Whereas even just a small increase in retention, can have a significant impact on the bottom line.

Think about how you onboard new users into your app. What can you do to activate and engage more of them? Measure retention and use analytics to see where and when most users drop-off. Then, make small, incremental changes to increase activation and retention. For example, a timely message with a personalized money off coupon for your first or next order. Measure the impact and then repeat the process moving onto the next drop-off point. Build-Measure-Learn!
Make the most of the other channels you control
Just because the IDFA is going to become less prevalent, doesn't mean you can't still connect with your users via other channels. Use the other channels you control to acquire more users into your app (ideally, with a personalized onboarding flow) and re-engage lapsed app users with Deferred Deep Links. Whether this is by email, SMS, social or even a QR Code on the side of a pizza box, you can acquire new users for your app or re-engage and drive existing users back to your app, increasing retention. 
Close the loop
Good things happen to good people! Use Crash Reporting to monitor the user experience, be transparent about the information your collecting and ensure your messaging campaigns are personalized, timely and relevant to each individual user. If done well, you'll see this reflected in the star ratings and reviews your users give your app, which will improve discoverability in the App Stores, increasing acquisition and so it goes on!
In Summary
Despite what some tech giants might want us to believe, requiring explicit user consent to use the IDFA is coming, and its hard not to argue that putting your users in control is a good thing. It gives us all a chance to think about how we connect with our audience. If this leads to a greater focus on engaging and retaining existing users, away from constantly acquiring new users, then not only will that be better for your users, it will also likely be better for you. If this strikes a chord and you want to know more, let's talk!
Further Reading
If you want to learn more about how you can use the other channels you control to acquire more users and re-engage lapsed users, download our Ultimate Guide to Deferred Deep Links.