21st-century technological advancements are providing marketers with a treasure trove of tools to ensure they're hitting the sweet spots of their audience, with web push continuing to hold a top spot in their martech arsenal – and for good reason; we spend just over 30% of our digital-media time in a web-browser. In this article, we explore the ways to ensure web push notification success. 
With a projected growth of nearly $32 million by 2025 for the Global Push Notifications Software Market, savvy brands are in agreement – web push notifications provide a huge opportunity for mobile marketers. How? By helping them reach beyond app engagement only and engage customers on both mobile web and desktop. A quick recap on the benefits of web push – 
Visitors don't need to download your app or provide personal information to opt into web push messages, which means you can focus on delivering relevant, effective messaging directly via your site.

Because web push notifications are quick to implement, flexible and temporary, you can use them to prompt users to take immediate action.

… as well as the ability to mix up your messaging with little effort to test what works – and what doesn't.

Visitors don't need to be on your website to see web push messages, so they're a powerful way to re-engage and encourage lost customers back to your site. 
2021: The year browsers start to clamp down on less-than-optimum website experiences
We've all seen it, every day, and on every other website we land on – badly timed push messages that deliver irrelevant information that we can instantly forget, interrupting our browsing experience, and more often than not, ensuring we'll never make a return visit.  That's why Google, Firefox et al now penalize sites that deliver poor visitor experiences, and although this isn't news, it's really just started to impact how marketers are looking at their web push strategy in 2021.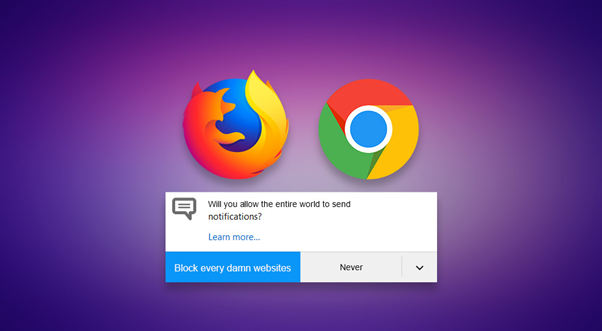 Chrome, for example, has made huge inroads to ensure web push notifications are useful to users; the resulting Chrome 80 delivering (under certain conditions) a new, quieter notification permissions interface that minimizes the seemingly endless interruptions (and frustrations!)  of permission requests.  

Chrome 80 users can manually opt-in to use the new interface – or are automatically enabled for users under two conditions: first, for users who typically block notification permission requests, and second, on sites with very low opt-in rates, and penalizing websites that use push notifications for malware, ads, and other less than desirable circumstances.  
Chrome isn't the only one. After discovering that 99% of push prompts on their platform go unaccepted, and 48% are actively denied, Firefox made the move to automatically block "pesky" push notification prompts. They now serve up their own 'quiet permission prompt' whenever a site sends a push permission message to visitors who haven't taken any initial action on the page (like clicking a button). 
Safari, too, now requires at least some initial visitor interaction before a notification permission prompt can be shown.  It's also worth keeping in mind that many other browser platforms are built on the foundations of Chromium, so Opera, Edge and others are also affected by these moves to improve visitor UX.
Amen to that – but what does it mean for marketers? 
Given that many of us have been spending a lot more time at home and on our laptops and mobiles thanks to COVID, we're all aware that doubling down on making sure we're delivering the absolute optimum visitor experience is going to reap rewards for everyone. Ensuring your web push strategy takes this into account, and pleaseth the browsers means you should be focused on 3 key areas to put your visitors back in the driving seat and increase your chances of web push success …
Put your visitors in the driving seat
Landing on a webpage only to be immediately interrupted by a message asking to you opt-in for more messages (wait – who is this company? Why should I opt-in? Do I even like these guys?) is like bashing your customer over the head then asking if they mind if you do it again. Such clumsy – but exceptionally common – delivery takes all the control away from your visitors and tells them that quite frankly, you're only interested in what you can get out of them being there. It's an approach to web push that urgently needs to be consigned to the Bin of Illl-Advised  Strategies, not least because you're probably going to be penalized by the browsers as well as site visitors.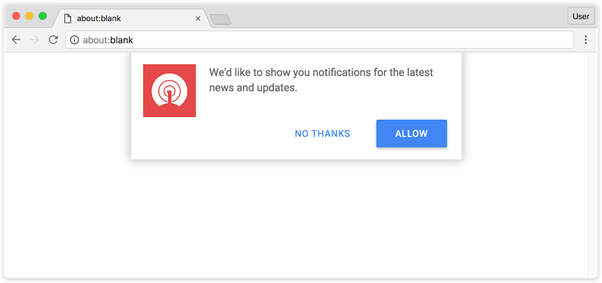 Time to put your audience back in the driving seat and allow them to set the terms on which they'll engage with you, so tell visitors why you'd like them to allow notifications before you ask them to do so. The more explicit you are, the better your opt-in rate will be (it's also a far better strategy than sending that very familiar and not particularly enticing). Messages that give users a reason to click 'Allow' – aka, a strong 'value exchange' – and ensure web push notification success, should look something like this:
Adopt the "soft ask" approach.

 
Either go whole-hog on the hard approach – not advisable (see everything we said above), or go softly-softly and increase your chances of success. The soft-ask approach is essentially an overlay message that's sent in advance of the main 'opt-in'  request. Think of it as a pop-up that you can customize from a  design, content and placement perspective. Once the visitor has said "Yes", your opt-in message can be served. Simples.
There's one huge advantage to this approach. If your visitor says 'no' to your soft-ask, you haven't really burned any bridges – you've always got the option to schedule your overlay to display at another time when the user might be more likely to say yes. With the hard-ask approach, once you're blocked, you're blocked – no second chances. 
Add value through your push messaging
If there's nothing in it for your visitors, why should they bother opting in? What do users get out of it? What makes it worth their time to allow your notifications? Discounts? Pre-launch product offers? There are tons of ways to add value through your push messages:
Welcome new users with an offer they can't refuse!  "Thanks for coming aboard — here's 10% off your first order!"

Provide a list of curated product picks based on past purchases, location, browsing behavior or interests – "Summer's here – here are your top 5 must-have poolside accessories to keep you cool all summer long!"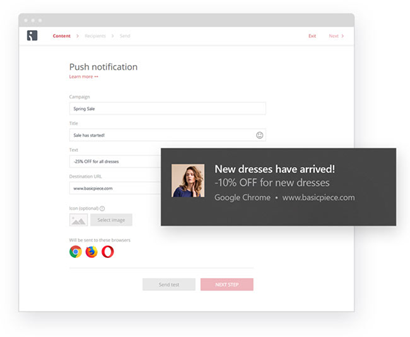 Think about the time of day and how you can customize your messaging accordingly – "It's a beautiful day! Here's a cappuccino on us to put that Spring in your step!"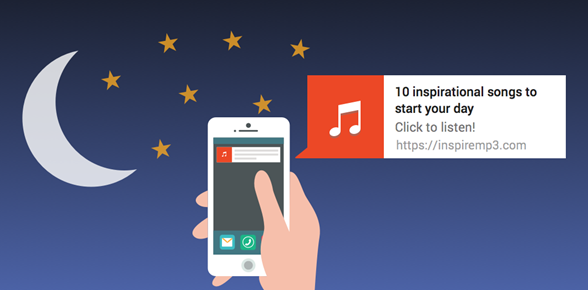 Discounts based on a user's location – "Our new Iced Strawberry Frappuccino to go – just the way you like it – with 50% off!"
Make opting-in worth their time and you should start to see your opt-in rates steadily increase, keeping your customers – and the big browsers – happy.
Make messages timely and relevant for web push notification success
With the big focus on user experience in 2021, being relevant and timely is critical. No one wants 10 push messages from you on a daily basis, and they definitely don't want messages which offer nothing that's relevant to them personally. 
To avoid losing users,

limit the number of push notifications you're sending out

. One notification per day is optimum – research tells us that businesses see an almost 10% engagement with the first notification of the day, with CTRs on subsequent messages decreasing with each delivery. 

Content that provides users with value that's

specific to their needs and circumstances

means one thing, and one thing only –

segmentation. Bottom line? I

f you're not segmenting your data, you'll never succeed at push, simply because what's valuable to one user will be instantly forgettable to another. What are your customers looking for? What content does a certain user normally consume on your site? What does their purchase history look like? Where are they geographically when they're browsing your site? What pages do they spend the most time on when visiting your site?
Segmentation means knowing your users so that you can build your push strategy to deliver the notifications that stand the best chance of engaging each segment of users – we could write an entire article on segmentation, in fact, we already did just that for our customers – you can find it here. 
It can be hard to strike the optimum balance between respecting user privacy and delivering push content that your users will find valuable, but this year, that's exactly where our focus needs to be. Web push notification success largely depends on encouraging opt-in through an optimum value exchange, and once you've established that connection, nurturing loyalty with personalized content that's informed through segmentation.  If there's anything you want to know about web push notifications we're the right people! Ask us a question or if you'd like to see our web push notifications platform in action sign-up for a free trial or demo of our product and we'd be more than happy to help.