WWDC21 is now underway and top of Monday's opening keynote, Apple's Craig Federighi (SVP, Software Engineering) gave us a glimpse of what's coming in iOS15. The good news for users and potentially bad news for (some) brands and advertisers is that Apple continues to put our privacy at the forefront of everything they do with new features such as the App Privacy Report and Focus feature.
However, if you dig beneath some of the more adversarial headlines (for example the BBC led with Apple continues privacy war), we believe these new features continue to represent a progressive opportunity for brands to offer better, true personalized experiences.
Background
One year ago at WWDC20, Apple announced that iOS14, to be launched last September, would include one of the most significant changes in the history of mobile advertising and measurement – users would now have to opt-in to allow apps to use the IDFA (ID for Advertisers) in order for brands, advertisers and mobile measurement platforms to track user behaviour across different apps and websites.
We've written at length about the changes to the IDFA, including the stay of execution that delayed this until iOS14.5 was released on April 26th this year. TL;DR once iOS14.5 reaches widespread adoption, it will signal the end of using third party data (collected from other apps and websites) to serve targeted advertising. That point is approaching fast as six weeks after launch, adoption of iOS14.5 (and its successor 14.6) has accelerated to 41% in the past few days as users are prompted to update.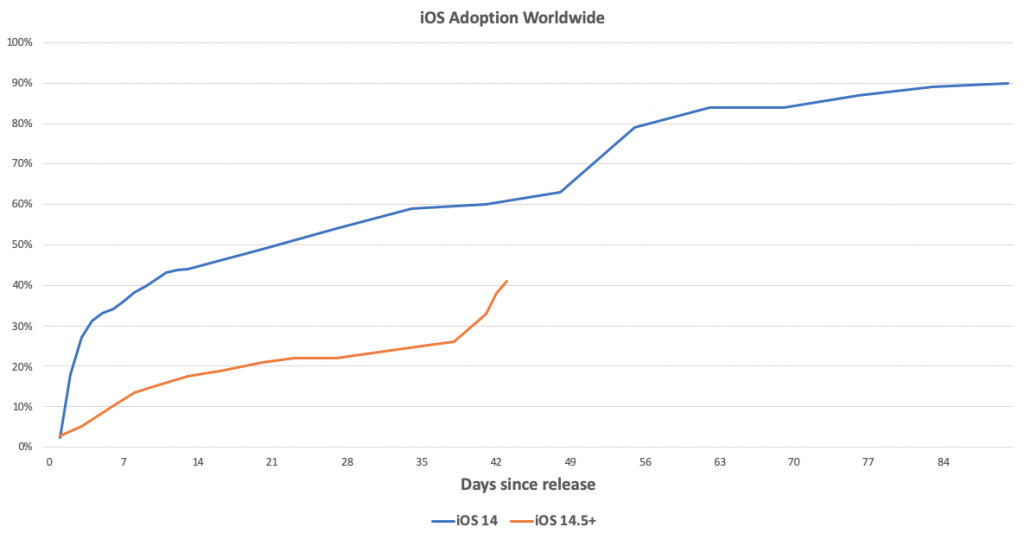 Google have somewhat followed suit announcing that sometime in late 2021 users will be able to opt-out of the Android Advertising ID (their equivalent to the IDFA). More good news for users and good news for brands! However, with iOS15, Apple are going further still with features such as the App Privacy Report.
App Privacy Report
Before you install an app from the App Store, you will be told what permissions the app may request, e.g. access to your contacts – a simple "nutrition label" according to Apple. The new App Privacy Report announced at WWDC21 goes further. You will be able to access this from your Settings at any time and see how often, in the past seven days, an app has used the permissions you have granted it and where the app is sending data.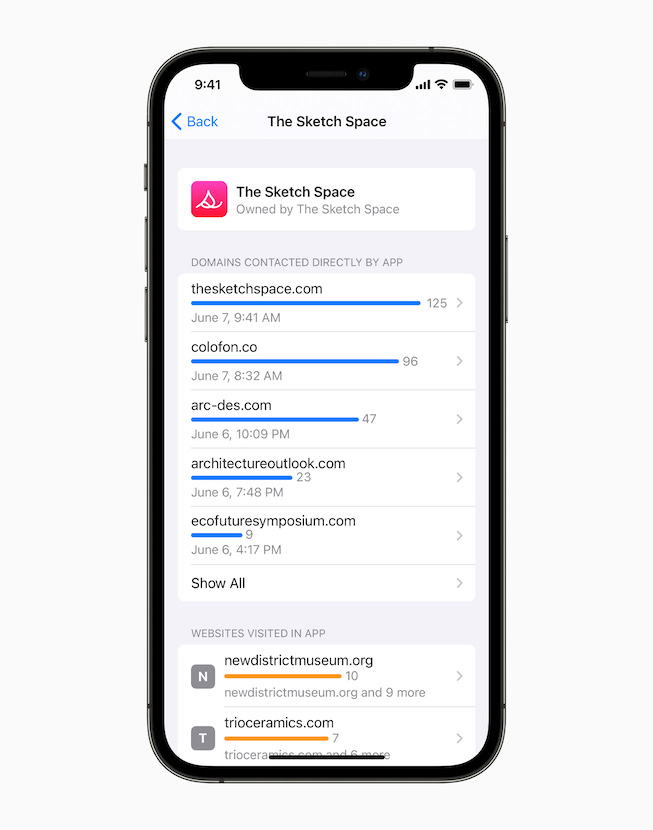 Here at Kumulos, we think this is a great idea. If you're Head of Mobile for a theme park and want to use location to update your guests on nearby attraction queue times as they move around your venue, then simply ask them and explain why – if you have a good reason, most will opt-in and you've nothing to worry about!
However, may people are asking why, now, are Apple putting so much emphasis on ensuring you know (and can control) what apps on your phone are doing? To answer that, we need to look at some of the other announcements from WWDC21…
Apple Wallet
Not only has Apple announced (again) that you will be able to store digital keys for your car, hotel room and even your home in your mobile wallet, at WWDC21 they announced that in iOS15 you will be able to store both your state ID and driving license in your mobile wallet! Already accepted in several states, discussions are now ongoing with the Transportation Security Administration (TSA) to use this.
So, if your iPhone –your digital identity and connection to the online world, is also to become your offline identity for the real, physical world then not only is it reasonable to show you what other apps on your phone are doing, it should be expected. This, in part, explains why Apple is so focussed on putting you in control of your privacy!
What else was announced at WWDC21?
Over in email marketing land, the Apple Mail client will now hide the IP address of the device it is on. This means that some email marketing platforms will no longer be able to track if an email has been opened and where the recipient was when they did that.
A more significant announcement concerning IP Addresses, is the new Private Relay feature for iCloud subscribers that will route all Safari web traffic through two separate proxy servers, therefore masking their IP address, much like a VPN. Why is this significant? IP addresses are a key, if not staple, ingredient in the black arts and witchcraft recipes of the device finger-printing and probabilistic tracking – unofficial, non-consent approaches make a best guess on who you are and where you have been to determine what to serve you – a marketing tactic that is ageing fast (in case you hadn't guessed, we're not fans).
So this signals the end of targeted advertising? How does it empower personalization? Again, to answer that, we need to look at another announcement from WWDC21…
Focus Mode and Notification Summary
At present, the only control you have over when you receive notifications is Do Not Disturb. When iOS15 is released, you will be able to better customize which apps can notify you and when. You will be able to group apps into work and personal and then ensure only work apps can notify you during the 9-5 and that they can't then notify you in evenings and weekends. In today's BYOD world where, for most of us, your work phone and personal phone is just your phone, this sounds heavenly.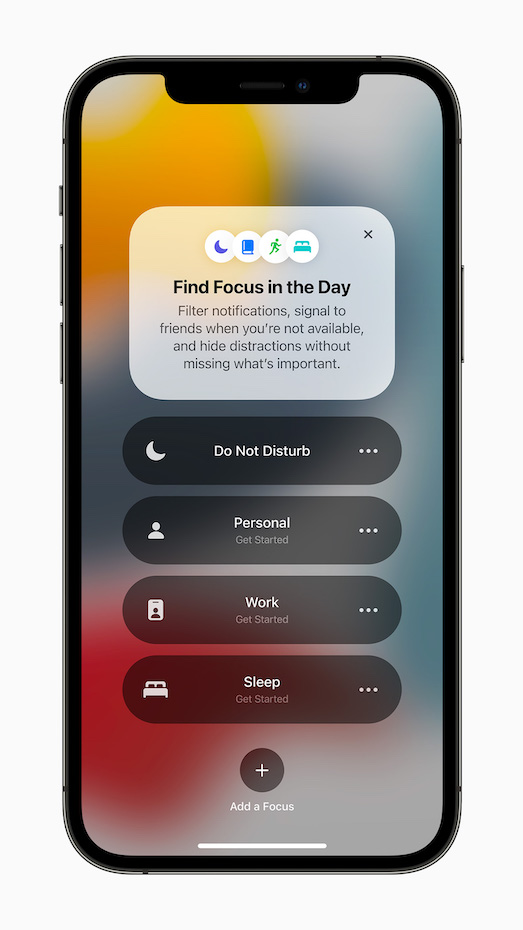 Even if you do not configure this, iOS15 will also include a new Notification Summary which you can schedule for any time you choose to automatically group and prioritize notifications based on things like time of day.
For brands, this is also an opportunity. First and foremost, there will be an override, so that any time-sensitive notifications can get through – don't abuse this though, think about how we all react to an IMPORTANT email from a colleague where the subject line is in caps (not well, usually). Secondly, don't obsess about what if I send a notification when the app is not in focus, instead obsess about ensuring you send your notifications when the app will be in focus! How? Personalization! Make use of features such as intelligent delivery to deliver messages when a user is most likely to want to receive it.
Still need convincing that iOS15 is as much about personalization as it is privacy?
Personalized Healthcare
The Health App will go beyond recognizing when you have fallen, to predicting when you might be at risk of a fall based on analysis of your own personal walking gait. It will then make suggestions as to exercises that might help you improve. All of this data and processing is securely encrypted and on-device… private and personal.
Our Summary from WWDC21 Keynote
Privacy and personalization are not mutually exclusive. Both are constantly evolving. With iOS15, the balance of power continues to shift – giving users more control of the data they share and visibility of with whom.
For brands, forget about the data you don't have access to and instead listen to the sources you do still control – your app, your website. And obsess, obsess about personalizing the journey and experience for every, single, customer.
If this strikes a chord and you want to know more, let's talk!
Further Reading
To find out how to build and execute an effective, personalized push notification strategy, download our Push Notifications Best Practices Guide or, schedule a personal product tour to see how Kumulos can help you achieve this now.