Thinking about where your focus should be when it comes to increasing sales across your digital estate? Then it's worth remembering that the gap between mobile app usage and mobile website usage continues to widen … A significant number of us "went digital" over the last 18 months, and as we did, we powered a new wave of in-app shopping resulting in global consumer spending in mobile apps tipping an eye-watering record of $111 billion – a massive 30% on the previous year. 
While mobile sites account for almost 50% of global web traffic, research shows us that 90% of our time spent on mobile is spent in mobile apps, with only 10% on websites. But here's an even more compelling fact – mobile app users spend an average of just over 200 minutes per month shopping (generating around $50 billion), compared to a teeny tiny 10.9 minutes a month for mobile website users. The message is clear – spending increases significantly in-app, and for good reason! Competing successfully and increasing spend in a burgeoning sector where everyone is vying for your audience's attention means delivering a seamless, friction-free CX; being on the channels your customers prefer, personalizing the CX at each touchpoint, and using big data insights to deliver value – all the things which apps do far better than a mobile site ever could … But how do you nudge users from your site – or your ads – straight to your app, especially when they don't have your app installed? Step up to the plate, Deep Linking!
A bit about regular deep linking
In the olden days, links from one app or mobile website would only send users to the home screen of a different app. Once there, the hassle of searching, scrolling, and eventually landing on the page they were originally looking for was the user's responsibility.  So when deep links came along, marketers everywhere breathed a deep (no pun intended) sigh of relief. 
Regular deep links send users straight to an app instead of to a website – and more often than not, to a specific location in the app. By default, this saves time, energy, and frustration for users – they land on the screen that has the item they want to purchase (or the subscription they want to sign up for, or the product they'd like to trial, and they get a great user experience until, that is, users are deep-linked to an app they haven't installed. Why? Default deep links are only capable of directing users to an app if they've already installed it. If that's not the case then the link won't reach the intended endpoint and the dreaded error message will be presented. No one wants that.
So why use 'em? Generally speaking, default deep links are really really useful for deploying as part of retargeting campaigns where a business is only interested in users that already have their app installed. They're also used when targeting users who have a severe case of cart abandonment (a condition that costs businesses  $18bn in lost sales each year), encouraging them back to the app to complete their purchase … but there's more:
Deep linking boosts conversions – for every extra step your users have to take to do what they want to do will lower your conversion rates.  Deep linking allows you to point your users straight to the point-of-sale in-app, even after the install.

Deep linking increase retention rates. Why? Because deep links contain contextual information so that your app can deliver a personalized experience before, during and after the onboarding process … and we all know how critical a smooth and frictionless onboarding experience is when it comes to retention.

Deep linking increases sales. Your users are twice as likely to spend money in-app as they are on your mobile site – and they'll also spend

more. Over 2.5 times more.

Not to be scoffed at!
… OK, and Deferred Deep Linking?
55% of consumers say that a poor mobile experience makes them less likely to engage with a company, so it's critical to provide the optimum customer experience, and that's where deferred deep linking comes in.
Imagine you have a fashion retail app with various clothing types –  tops; shoes; outerwear etc … you get the idea – and you want to kick off a marketing campaign via SMS, Google or banner ads, or Emails, and which will include sharing links to these items. Wherever the recipient clicks on the link in your campaigns, the app will open and the user will land on the relevant item in-app if they have the app installed.
If the user clicks on a deep link and doesn't have the app installed, rather than the error-message experience, they'll be deferred to the relevant App Store where they can download the app. But that's not where the cleverness lies … the brilliance of deferred deep linking is that when the user installs and opens the app, they'll still be sent to the location of the link they originally clicked on, minimizing friction and increasing the likelihood of a successful sale. 
Yes – the additional 'default' deep link step of asking users to navigate the app to find what they were originally looking for might seem trivial or inconsequential, but the actual experience of these two routes to conversion – being directed straight to the required screen vs. searching for the app, browsing menus, scrolling through lots of different products etc – are markedly different and often the difference between a sale or a fast sprint elsewhere.
A few examples of how deferred deep links are being used
Finance: A trading app might want to run a referral program campaign. Using deferred deep links,  it could send a push notification containing a link to an existing app user. The user could forward the link to a friend via email or SMS, and when that friend clicks the link, the deferred deep link would take them to the app store, and then directly to a personalized screen deep within the app with the specific offer, for example, "Hi Kate! Jack has referred you to Free Trade. Sign up for free and you'll both receive a FREE $25 share".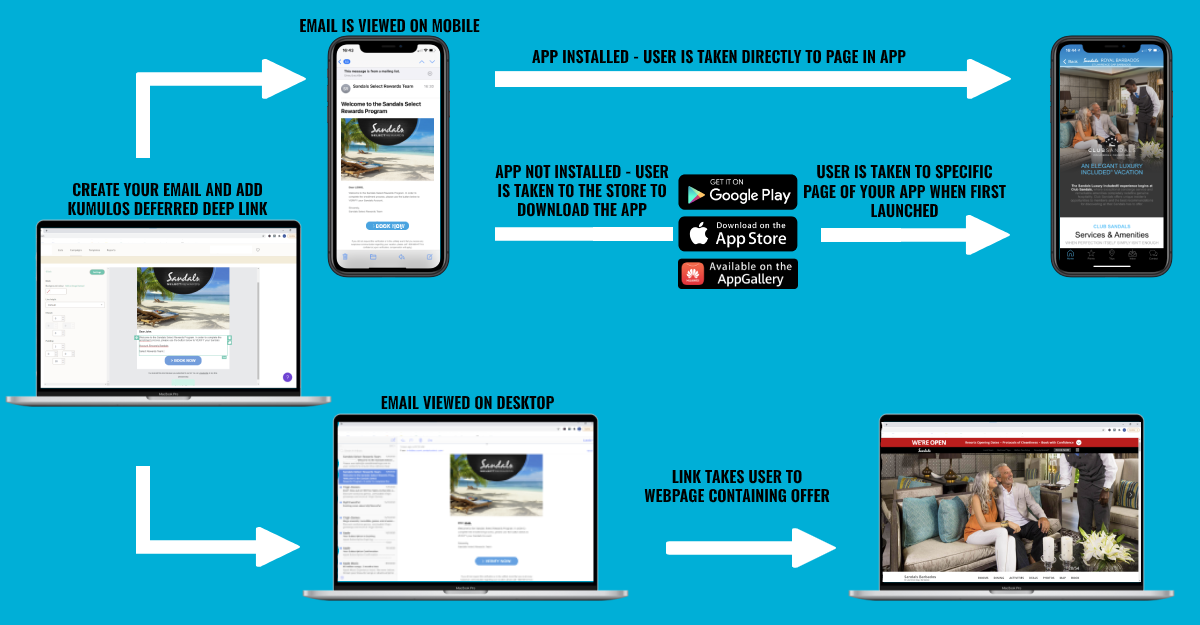 Travel: An app offering flight deals might run a paid search campaign. When a user searches for "flights to Boston" they'll see an ad for the flight app. After clicking on the CTA the deferred deep link directs the user to the relevant app store. Once the user has installed the app, they're then automatically sent deep within the app to the specific screen that features flight deals to Boston.
Sports: A sports app might run an ad on Facebook for tickets to a big summer game. When the user clicks on the link and installs the app, the deferred deep link sends them directly to the screen in the app where they can book seats and purchase tickets. 
The benefits of deferred deep linking
Minimizes friction

. Creating a smooth, fuss-free path to conversion is every marketer's goal. Deferred deep linking does this by minimizing user friction. By taking first-time users

directly

to the relevant screen within an app and enabling them to quickly and easily do what they came to do – purchase an item, sign up for a subscription, set up a free trial etc – they get an optimum user experience, and the app marketers boost their conversion rates.

Improving the user's first-time experience:

A favorable first-time app experience often influences the likelihood of a user returning to your app a second time or engaging with future campaigns. 

Increases the likelihood of conversion:

With friction removed and a faster, easier, more streamlined app experience, users are far more likely to convert.
Sorry, your browser doesn't support embedded videos.

How can I use deferred deep links?
Links on your website and on banner ads that bring users to your mobile app

You can also send deferred deep links by email and take users directly into your app

You can engage users by sending links by SMS or Push Notifications

And acquire new users via social media and create incentivized referral programs.
Conclusion
A seamless, valuable customer experience is the key to success in any business. Today, with e-commerce sales at an all-time high, your business might well be struggling to deliver an optimum CX, increase engagement and boost those retention figures.  Deferred deep linking allows you to deliver a superb user experience – one that can create loyal, life-long customers. If you'd like to find out how Kumulos can support you to reach these goals, talk to us!