For business leaders and marketers, accurately predicting mobile trends in 2022 in an increasingly uncertain world has become immensely challenging and isn't going to make these predictions any easier. Over the last 18 months, we've seen mobile trends emerge faster and bigger than any of us could have imagined. From the exponential growth of eCommerce and on-demand services to the sharp drop in smartphone sales, our brave new world is making the art of being radically agile a key element of the successful marketing strategy.
As businesses continue to navigate a rapidly and constantly shifting landscape, and attempt to navigate the impact of the continuing pandemic, cautious planning and nimble responsiveness will be critical in building stability and minimizing uncertainty. Planning ahead efficiently, enterprise needs to understand both how the mobile development space is shifting, and how consumers needs are evolving. Here's our take on what we're seeing for the mobile trends in 2022.
The continuing rise of 5G
From helping reduce the number of road traffic accidents to predicting the needs of production lines, the lag-free connectivity offered by 5G is set to deliver a cornucopia of benefits that are hard for most of us to envisage right now, particularly at the consumer level. Up to 100 times faster than 4G and allowing an enriching mobile experience, enterprise has the opportunity of a lifetime to engage with their audience in ways that will benefit everyone.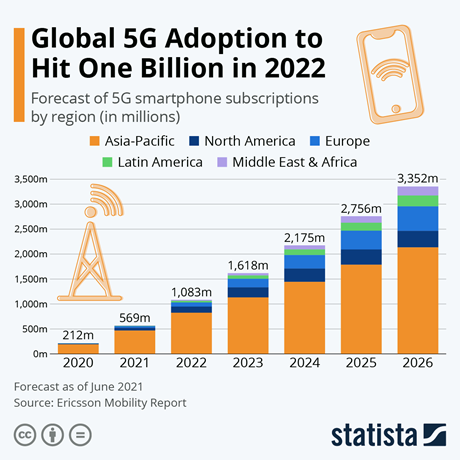 5G will boost app monetization opportunities as users download more apps, spend more time in them, and, by default, spend more. It's also being widely tipped to power a new wave in video advertising as enterprise looks to leverage 5Gs rapid streaming capabilities. 
Video ads will be able to shift their storylines mid-flow in response to users reactions, making the experience utterly personal. Kind of goes without saying that both engagement and retention rates should see increases as the CX becomes more relevant, valuable and personalized than it's ever been. 
How will your business adapt to the emerging opportunities offered by 5G? In what ways would you be modifying your mobile strategy if your users were already enjoying super-fast download speeds and ultra-low latency? How would you integrate AR/VR into your marketing strategies? In what ways would you leverage user data to deliver the optimum 5G user experience? These are just a few of the questions you'll need to be thinking about right now as 5G makes its long-awaited move into all of our lives …
A rise in wearable devices
Wearables didn't experience much of anything last year –  hardly surprising given most of us were indoors doing as little exercise as possible. But this year, and over the coming months, we can expect to see this change with the market starting to pick up again as we emerge from indoors, hungry to get moving and ready to boost our fitness to pre-pandemic levels.
Wearables with features designed to help us 'stay safe' and monitor our health are likely to remain a top priority throughout 2022. Many smartwatch makers are already adding blood oxygen sensors to their devices as standard, with features like ECG monitors providing users with early warnings around the state of our health alongside the ability to analyze our data and make useful suggestions about how we might look to improve our health, like Fitbit's Sense Advanced smartwatch and  Koogeek' Smart Watch Fitness Tracker Body Temperature Monitor – gaining in the popularity stakes because even slight fluctuations in our temperature can indicate infection. 
We could also start to see the rise of the 'smart mask' – LG first unveiled its new smart mask last year, with interest growing as we continue to figure out how best to live with the pandemic going forward.  Their PuriCare is essentially a personal air purifier fitted using two HEPA filters built into the mask, which, LG says, captures 99.97% of particles as small as 0.3 microns in size … it's also rechargeable for up to eight hours use and even comes with a smart case that uses UV light to sanitize the mask. Expect more of these to appear during the next 24 months – and beyond – as we start mixing again, and look to protect our health whilst we do so.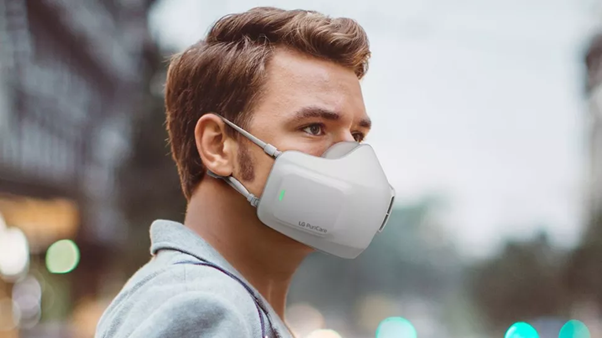 But it's not all about health when it comes to wearables. A surprise driver of the increased interest in wearables is remote working, likely to continue for many of us regardless of the big 'opening up'. Ear-worn devices and smartwatches have seen particularly strong growth over the last 18 months as we rely on them to help us work better and smarter. Spending on ear-worn devices rose an impressive 124% last year to total $32.7 billion – and it's forecast to reach $39.2 billion by the close of this year. 
Bottom line? Wearables will continue their market growth into 2022 and beyond as our habits change, we adapt to new ways of living and working, and looking after our health. We think there's a lot more to say on the matter, particularly with the advance of 5G and IoT – so watch this space for a more detailed dive into the future of wearables! 
AI continues its bid for world domination
The use of AI in the world of mobile isn't by any stretch of the imagination a new or emerging trend, but as the technology develops and its uses become ever more sophisticated, we're likely to see AI appearing in every yearly trends list for a long time yet. 
And as we continue to ride the 'pandemic years', AI deserves a special mention – smart machines and their self-learning algorithms will likely play a big part in the ongoing fight against COVID, as well as any other health threats that might – though hopefully not – rear their heads.
But the reason we're particularly interested in AI at KHQ is the part it plays in mobile data analytics, and what this means for enterprise – as well as their audience – well into the future.  With new AI tools emerging on a staggeringly regular basis, we're seeing more and more this technology being used to turbocharge data analysis and identify new – and previously hidden – insights amongst the increasingly vast amounts of data that mobile marketing teams are working with. 
Businesses that keep their focus on their customers can expect gains ranging from 20 to 50 per cent – which kind of makes this customer-centric approach a no-brainer. The road to that success is paved with data – and the last 18 months, in particular, have seen the use of AI accelerate as ever more businesses recognise this fact and explore ever more innovative and profitable ways to deliver the optimum customer experience via their mobile apps.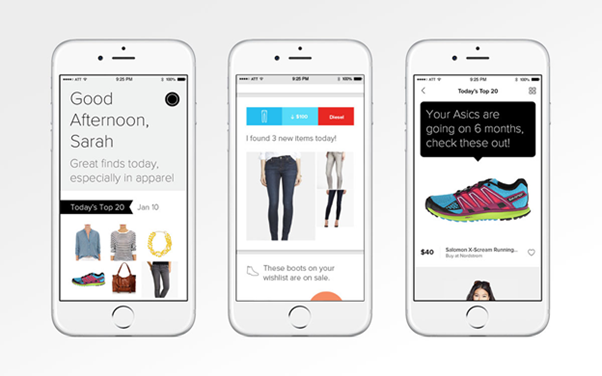 And it's not just the data newbies – even those businesses that have been working with data for years to streamline their products and services understand the potential of AI-powered knowledge and how it can deliver what their customers are really looking for, and helping nudge them ahead of their competition.
Data combined with AI is the fuel that drives better, faster decisions: successful businesses are three times more likely than their less profitable competition to say their data and analytics initiatives have boosted revenues by at least 20%. The companies you're going to see 'nail it' in the mobile space over the coming years are already a good way down the road of adopting and deploying AI within their business, and at the heart of their mobile strategy. Leveraging AI and predictive analytics to reveal smarter and more sustainable ways to connect with their audience is the future – and present – of the successful marketing team.
With Low-code app development seeing increasing interest
The term 'low-code', used to describe development platforms that focus on ease of use and development simplicity, was coined back in 2014 by analyst group Forrester. Since then, we know the adoption of low-code development has been on the increase, it's just that it's not really been 'visible' to the rest of us until the pandemic hit. When it did, companies everywhere found themselves having to react very quickly to rapidly changing circumstances – and all these new services, products, and apps that were in the pipeline? They were shelved while businesses focused on survival. It's in these unprecedented circumstances that low-code development started to flourish … and it remains on a strong growth trajectory as we head into 2022.
So what gives, and why would you want to consider low-code development? In short, low-code app builds help developers by enabling the re-use of existing components and templates to speed up app delivery, negating the need for the standard ultra labor-intensive method of having to write every line of code needed for their app. And whilst that might sound fairly innocuous, the benefits that a low-code approach can deliver means that developers are turning to it in droves.
For starters, low-code means more apps can be developed in less time, which means increased productivity, and decreased development costs. It also means that enterprise can be far more agile, reacting quickly to new and emerging customer needs, driving innovation and adapting to market changes. So as new business practices and strategies evolve 'post'-pandemic, it'll be increasingly important for marketers to understand these soon-to-be essential capabilities that will speed up app build and allow far greater agility around responding to user – and business – needs.
… and the rise of Progressive Web Apps
A hybrid between web pages and apps, PWAs may be about to enjoy their moment in the spotlight after a very sluggish start. Progressive web applications – or software that's delivered via a website but which works as a native app – offers businesses a ton of advantages, but have seen slow uptake since their appearance in 2019, mostly due to the preference for native apps. But whilst we continue to languish in COVID territory and business uncertainty drives the need for faster, more affordable ways to gain traction online, word is that they're about to take off:
PWAs are, generally speaking, easier and faster to develop – which means they cost less to build and ship.  

They're 'progressive' – meaning they work on every browser, for every user, every time.

And they use just a small percentage of memory space across supported devices and web browsers.

They're fast; they fit every screen size, and they're super-secure.

They can be easily shared/linked to via social, marketing campaigns etc.

They are, to a greater extent, far more responsive than their native app counterparts – they're simple, lightweight, and can be accessed easily on both mobile and desktop

They work even when your smartphone or computer is offline.

And updates are instant. Because PWAs are served through a web browser, there's no requirement from the user to update manually through the app store so enhancements to the UX are quick.

They're also indexed by search engines, so they're easily discoverable.

And they're immersive, just like a native app: once a user adds a PWA to their home screen, they're indistinguishable from a native app.
Convinced yet? There's more – businesses using PWAs have seen up to a 36% increase in conversion rates and up to a 50% increase in user engagement. Users get an optimum app experience with reduced data usage and shorter loading times, and brands get to deliver a superior UX- keeping customers close and cementing loyalty. Starbucks, Twitter and Uber are just a very few of the brands using PWAs to optimize their customer experience, and as more businesses continue to explore ways to increase visibility and reach a wider audience, in our opinion they're going to dominate the app space in 2022.
Conclusion
The costs facing businesses as they adapt to COVID-19 and the extensive changes impacting all our lives have been extensive, but this new landscape has also accelerated innovations that were already starting to make waves. There are many unknowns in the months ahead, but the mobile marketplace has shown its ability to adapt quickly and meet new consumer needs, even in highly uncertain times. If you'd like to find out more about where to focus your mobile marketing efforts in the coming months, and how Kumulos can help get you there, talk to us!