Businesses tend to work pretty hard these days to ensure that the data of their customers is robustly protected, and the endless data regulations that appear on a regular basis are testament to the importance of ensuring they keep in line.  Most companies understand that we – the consumer – value our privacy, and to this end, many have begun making the necessary moves to demonstrate their commitment to our needs. It was only a matter of time before the mighty push notification came under scrutiny – and with Apple's iOS15 landing today, things are about to change if you're a business using iOS push notifications to drive growth. 
iOS15 – a quick overview
In Apple's own words, iOS 15 is "packed with new features that help you connect with others, be more present and in the moment, explore the world, and use powerful intelligence to do more with iPhone than ever before". So far, so great – for users! But spot the copy aimed at mobile marketers, 'more present and in the moment' . In marketing speak, that means, 'you won't be interrupted every 2 minutes with a push notification'. For those already in the know (and if you're not, this piece is unequivocally for you) it's not these great new features, but the changes that iOS 15 brings to the sending and delivery of push notifications that are causing lengthy watercooler discussions. 
Most of us love the fact that there are some pretty impressive improvements to the look and feel of notifications on iOS 15. But as many again are concerned that the changes around push are going to result in some pretty embarrassing Monday morning meetings as we run through what we imagine is going to be engagement and retention metrics sorely lacking in clout. At least that's how it feels. Truth is, all we really need are a few best practices to keep our stats looking healthy ….
Over the last few years, iOS push notifications have become one of mobile marketing's key strategies to drive engagement, boost retention and increase sales. When deployed optimally as part of a robust push strategy, push notifications can be extremely effective – but when they're mismanaged, they can have devastating effects on the success of an app. It's figures like the ones in this graph below that highlight the long-overdue need for someone, somewhere to come up with a way to put the power back into the hands of users: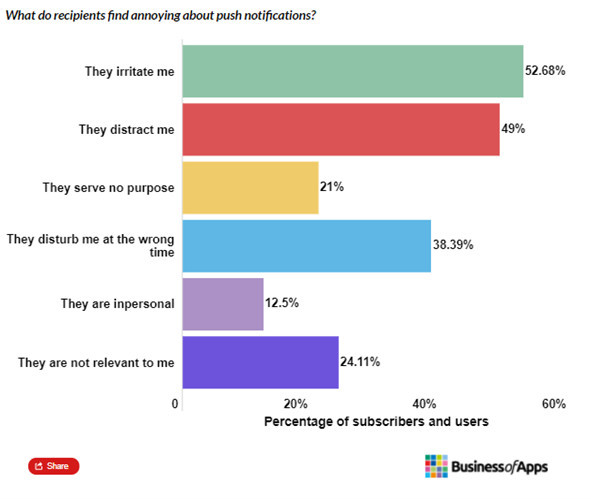 … and of course, it had to be Apple. Their answer? The Focus feature on iOS 15:
'Focus' allows users to control which apps & contacts can alert them with notifications.

Users can apply 'relevance scores' to different apps …

… and define multiple Focuses – so if they find value in the notifications from one app and not another, they can adjust their settings to reflect their preferences.

Focus can be applied based on time intervals, location triggers – or on-demand

… or they can simply turn notifications off for good. 
… but let's not forget, users have always had the freedom to say no to iOS push notifications, so this isn't the death knell that many think it is. The fundamental aim of iOS 15 when it comes to push is to make the whole process less intrusive and more helpful – and to give users more control over how they receive notifications. iOS 15 gives users the option to receive push notification summaries at scheduled times throughout the day. This means that instead of being pinged at 3 am with a book recommendation, or at 11 am when you're in the middle of an important call, or at any other disruptive time, users can opt to receive a 'notifications summary' at a convenient time so they can browse the full list of notifications in one go and read the ones that they're interested in. Significantly, the order in which notifications are seen by the user is determined by how often they interact with the app (hopefully they've already got a good relationship with you. No? Then now's the time to nurture it!), and notifications with media attached will push them higher up the list. Notifications can also be sent with a 'relevancy score' tag – Active; Passive; Time Sensitive and Critical. 
Sounds complicated? It's not, it's just new. Below are the K-Team's recommendations for best practice.
Best practice with push notifications in iOS 15
Really get to know your users.

Not really best practice per se, more plain common sense,  and key to every marketer's push strategy.. iOS 15 gives users more options to customize their notification preferences using 3 modes: Work; Sleep, and Personal. Essentially, this means that users can now select the apps they'd like to receive notifications from according to these modes. If I want to receive Personal notifications only, anything I've tagged as Work or Sleep will have to wait. Take heed, however – users can also select the apps and app features to

block,

either temporarily or permanently. What's more, users can now configure their device home screen to align with these preferences … so if a user has their home screen configured for Personal mode, they'll only see the apps they've tagged as Personal, such as Instagram, Facebook, Twitter, etc. For Work, it might be LinkedIn, Trello, Drive, etc. The takeaway here is that if a user is at work, and you're sending them notifications that probably belong in their Personal category, is your strategy really working as hard as it could? Get to know your users and when they're interacting with your app. If you're shipping notifications that you know they're probably going to look at later, make them relevant to stand a better chance of engagement.

Let users choose the notifications they're happy to receive.

Again, this really is mobile marketing 101 – if you're not paying attention to what your users want from you at this stage in the game, it's not a good sign.  Users download your app for a reason, so let them opt-in for the content that's going to meet their interests, make them happy, and encourage engagement. 

Master your users' Notification Schedules –

and establish the best time of day to send notifications (see above re notification preferences)

.

Although you won't have direct access to your users' Notification Schedules, you can set up and run a series of A/B tests that focus on sending push notifications during different time periods and assess how users are engaging with notifications at different times. You'll find this a lot easier to do if you're already segmenting your audience (and if you're not, now's a very good time to start).

Segment Your Audience!

Your goal is to deliver notifications that are going to stand out amongst the other 41 push messages that the average app user receives every day (though likely to drop when they're introduced to iOS 15). This means making notifications

relevant

and

personal

, and the only way you can do that is through laser-focused audience segmentation. This part is more science than guesswork, and there's plenty of guidance out there to keep you on track (or talk to one of our team). In the first instance, you'll want to track users in-app and purchasing behavior, establish audience segments by interests and preferences, attribute Tags, and ensure that they're updated in real-time. When you're got your segmentation in shape, you'll be able to reach your customers with content that they

want

to engage with – and the rest, rumor has it, will follow. 

Become an expert on the Notification Summary.

With your push notifications heading for what could be a long list in a user's Notification Summary, sending out a dozen messages a day (or more, as many companies for some reason are wont to do!) frequency may prove a fruitless pursuit if these notification aren't going to reach your intended user. In fact, such high-frequency delivery could work against you because iOS 15 means that your messages will be lumped together in the Notification Summary – if you're sending 20 messages a day, and users are made aware of this in their Notification Summary, they may well exclude you entirely. Our advice? A/B test to ascertain user behavior sending the normal number of push notifications to one group of users and a reduced number to another group to establish engagement. Take a deep dive into the results and identify any patterns – are users engaging more on fewer notifications, or is there little or no difference? Whatever you discover, use it to fine-tune your push strategy.

Use Time-Sensitive notifications responsibly.

Remember Active; Passive; Time Sensitive and Critical? As a marketer, you'll

never

need to send a Critical notification – Critical – this particular interruption level is restricted for special security, health, and government-related apps and requires special approval from Apple. Your time-sensitive pizza offer doesn't count. You want to avoid shipping all of your push notifications as Time-Sensitive too – not only would you be likely to alienate 90% of your audience, but you're unlikely to be able to even if you wanted to. The first time a user receives a Time-Sensitive notification from you, they're required to confirm your right to send that notification. If they don't? It's all over – you'll never get to send a Time-Sensitive notification to that user again – you have been warned! Of course, there

wil

l be instances when users

need

and expect Time-Sensitive notifications. If you're Uber and you're sending a push notification to let a customer know that their cab's waiting outside, using a Time-Sensitive notification is clearly OK. As you learn more about your user behavior and the intricacies of Focus, you'll have more clarity around which levels are appropriate for different audiences.
The key takeaway here is that users can now choose to place non-critical push messages into a group to review at a time that suits them. If there are multiple messages within a group, it's highly likely that a user will focus on those at the top of the list so make 'em relevant and only send what you really need to. Less is more!
Fine-tune message personalization.

Your audience

will

share their data with you –

if

you can demonstrate what's in it for them. No value, no personal details. How will your audience benefit by sharing their location with you? What value are you bringing to the table when you ask users to participate in a survey? What's in it for me if I spend time reviewing your products? By ensuring your relationship with your audience is a two-way street, you'll stand way more chance of engaging them with personal, relevant, valuable content. Once they're happy they're in a mutually beneficial relationship, you won't have to bombard them with a spray and pray push approach. 

Include rich media with your push notifications.

In iOS 15, push icons and images are larger than in previous versions. Rich media is generally considered to be a good way to engage users, and when it comes to iOS 15, including such content with your push notifications will bump them further up the aforementioned Notifications Summary. As is

always

the case with push, relevancy is key – don't go adding rich media purely for the sake of ensuring you're at the top of a summary. Your audience will catch on as they too get the hang of the new iOS 15 and the techniques marketers are using to make it work for them.
Conclusion
Apple's intent with the iOS 15 is clear and your goal must be to focus on the needs of your audience in order to fine-tune your iOS push notifications strategy and give your app the best chance of continued, long-term success. If your focus has always been on the delivery of relevant, personalized notifications with valuable rich media content – sent at the right time in the right place – then iOS 15 is going to be a breeze! If you'd like to find out more about how you can engage your Apple users with push notifications after the launch of iOS 15, get in touch and we'd love to help you.