As a mobile marketer for your eCommerce enterprise – indeed, as any type of marketer – you're very likely to be spending most of your time making decisions about where your focus needs to be when it comes to driving sales across your digital platforms. Here's some food for thought that might help; with a considerable number of turning to our smartphones to manage our lives over the last 18 months – to eat, drink, sleep, keep fit, and entertain ourselves – we also created a tsunami of activity across the eCommerce sector, driving an eye-watering $111 billion in sales – an increase of 30% on the previous year. Come 2022, just a very few short weeks away, we're about to see an even bigger climb – 90% to be exact – in consumer spending across mobile apps. But there's more:
82

billion

hours were spent in shopping apps in 2020

77% of mobile window-shoppers end up making a purchase

61% of Millennials now use retail apps, with 58% preferring to make a purchase through an app.

We view over

four

times more products per session within apps, compared to mobile sites.

…. and 40.4% of all users buy more of a brand's goods after downloading its e-commerce app.
Reader, the message is clear – users will spend more in your eCommerce app than they will on your website. Why?
Apps deliver more relevant,

personal

content – which means a far more impactful CX
… and they benefit from the use of push notifications, which help drive better engagement and more purchases
The result? More often than not, a user experience that trumps the web by a country mile – and all the good stuff that comes off the back of that great CX. How do you drive more customers to your app? Step up to the plate 'Deep Linking'.
OK – so what exactly
is
deep linking – and why should I use it?
A straightforward deep link is simply a link that takes a user to a specific page or content within your app rather than the app opening up with the previous screen visited, or on the default home screen. The use of these links throughout your marketing efforts helps lessen user friction by helping deliver a seamless CX and by default, helping keep your customers close to you:
Using deep links across your campaigns helps to streamline the user experience. The less you ask of your customers, the easier you make it for them to stay close to you, and not your competition.
Deep links help to increase conversions. For every extra step that your users are asked to take in order to do what they want to do, the likelihood of them converting drops. Deep links allow you to take your users straight to your in-app point of sale – even after install.
Deep links elevate the CX, driving user engagement and retention. Deep links can carry contextual information across the entire installation journey, which allows you and your team to deliver a personalized welcome message and onboarding journey. This responsive CX means more of these 'a-ha' moments, which in turn means elevated retention rates.
COMPARED TO REGULAR ATTRIBUTION LINKS, CONVERSIONS ENJOY A 2.5X HIGHER RATE WHEN THEY COME FROM DEEP LINKS.
Deep links will lift your key user metrics. Used efficiently, deep linking deployed across marketing campaigns can – and often does – result in improved activation rates, higher retention rates, and a greater number of app visits.
Deep linking provides the opportunity to reengage users who haven't made a purchase for some time. It's easy to persuade people to try something new when a compelling offer is sent to them via a retargeting campaign.
Deep links help boost your position in search results. When done correctly, deep linking can help your app and your site rank higher in search results, driving users to your content and increasing your domain authority.
Deep links will increase your revenues. Users who click on deep links are 2X more likely to spend money in-app – and they'll spend up to 2.7X more. Deep links also have higher intent, which means a much greater increase in revenue; research tells us that deep linking offers a massive 148% lift in average revenue per user (ARPU).
Deep links provide a goldmine of data. If you're using a mobile analytics platform, the attribution and click data from the deep links you deploy across your campaigns will be pulled into one place where it's much easier for your team to analyze – then act on the results.
Convinced yet? You should be! But – using traditional deep links to take a user to content within your app can be risky if you're deploying these links as part of an SMS or email campaign; what if the recipient hasn't downloaded your app, or opens the link on their desktop? That's where the very clever 'deferred' deep link comes in …
A quick word about
deferred
deep linking
Imagine you have an outdoor clothing app and want to run a new campaign about an upcoming sale across your various touchpoints – SMS, Google, banner ads, Emails, and push – and which will include links to certain items in the sale. Wherever a user clicks on the deep link in your campaign, your app will open and your user will land on the relevant item in-app – so far so good, if they have the app installed. If you're using traditional deep link and the recipient doesn't have your app installed, they'll simply get an error message. The chances of them making it beyond that point are poor, at best.
On the other hand, when a recipient clicks on a deferred deep link and doesn't have the app installed, rather than getting the dreaded error message, they'll be taken to the appropriate App Store where they can download your app. But that's not where DDLs genius lies … the cleverness of deferred deep links is that once the user has installed and opened the app, they'll be taken directly to the location contained in the link they originally clicked on. The result? An optimum onboarding experience, a frictionless customer experience, and a far greater probability of a sale: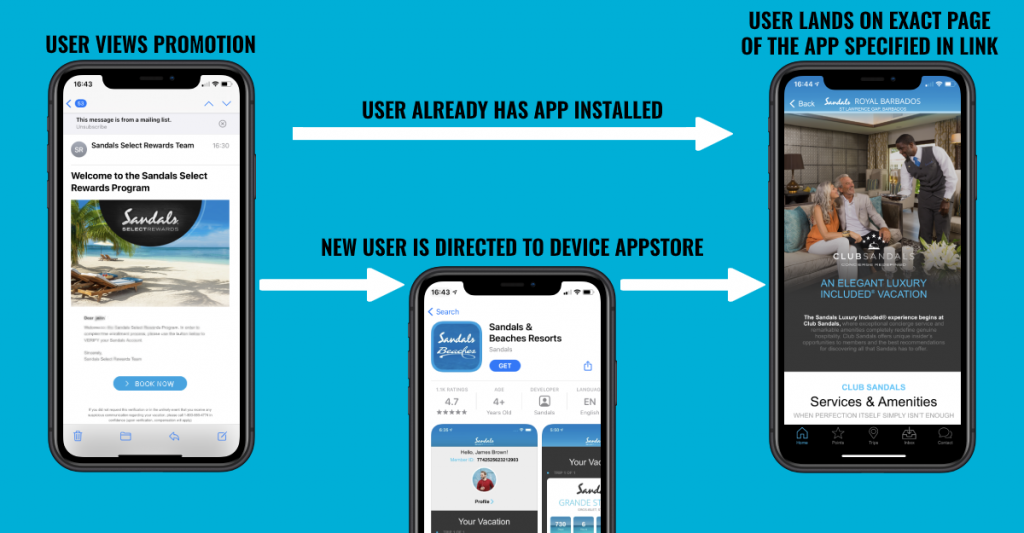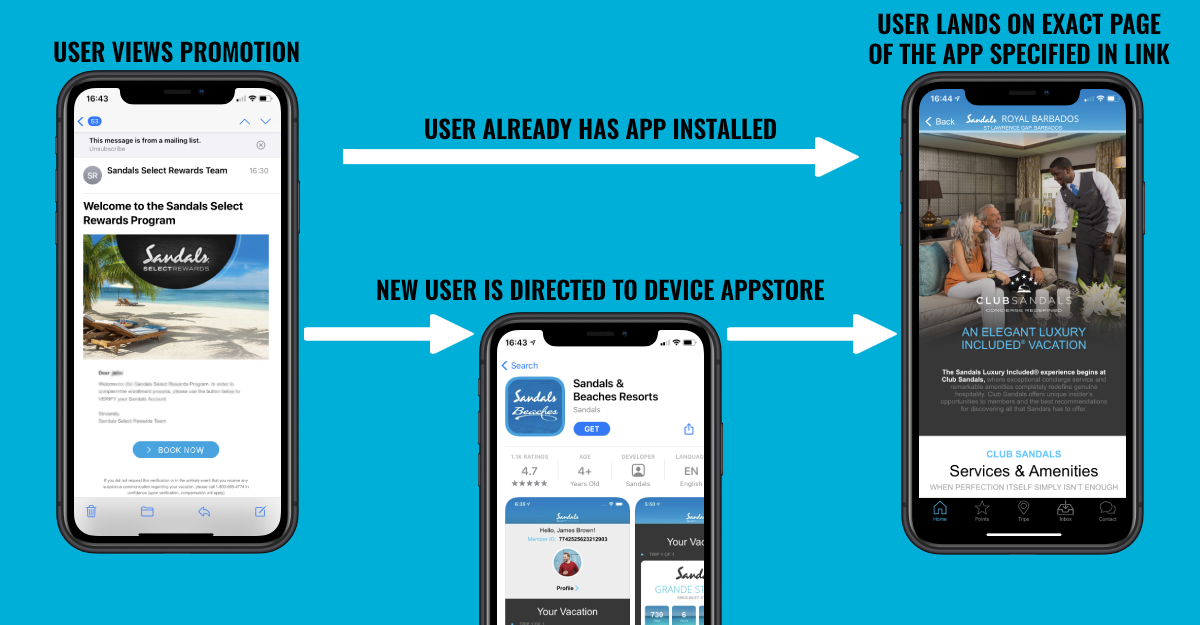 1. Acquire
new,
deeply engaged users
When users click on deferred deep links, the link will identify whether or not that user has the app installed – if not, your link should take them to a landing page with a link to the relevant app store where they can download your app. Once downloaded and launched for the first time, the deferred deep link will then take the user straight to the screen that was specified in the link they originally clicked on. No searching required – just an easy, seamless experience that allows you to engage new users quickly.
2. Re-engage lapsed users
If a user has previously used your app but since gone on to uninstall it, deferred deep linking provides the opportunity to reconnect with these lost customers by deploying a campaign that utilizes, for example, their phone number (SMS), or email address and which includes a deferred deep link to encourage them back to your app to take advantage of your unmissable campaign offer.
3. Run efficient, more effective campaigns
Deferred deep linking is the only way to run campaigns across external digital channels that will bring users straight to your app on the exact page you're looking to showcase. Think:
SMS messaging.

SMS still trumps every other digital platform when it comes to marketing:

On average, 75% of us want to receive brand offers via SMS

The CTR rate for SMS campaigns is around 9.18% higher c

ompared to any other digital channel

SMS enjoys almost a 2x open rate compared to email

60% of customers read SMS messages within 5 minutes of receiving them

Use deep links in your SMS campaigns to send timely, relevant and personalize offers, reengage lost users, launch referral campaigns – and see higher than average conversion rates.

Email.

Traditional email service providers enable marketing teams to measure clicks on campaign links, but they don't usually have the ability to direct users to the app store or the app. Deep linking is your way around this, taking users straight to the content you want them to see. And for referrals and sharing, deferred deep links will help boost your campaign results as new users are seamlessly connected to your brand.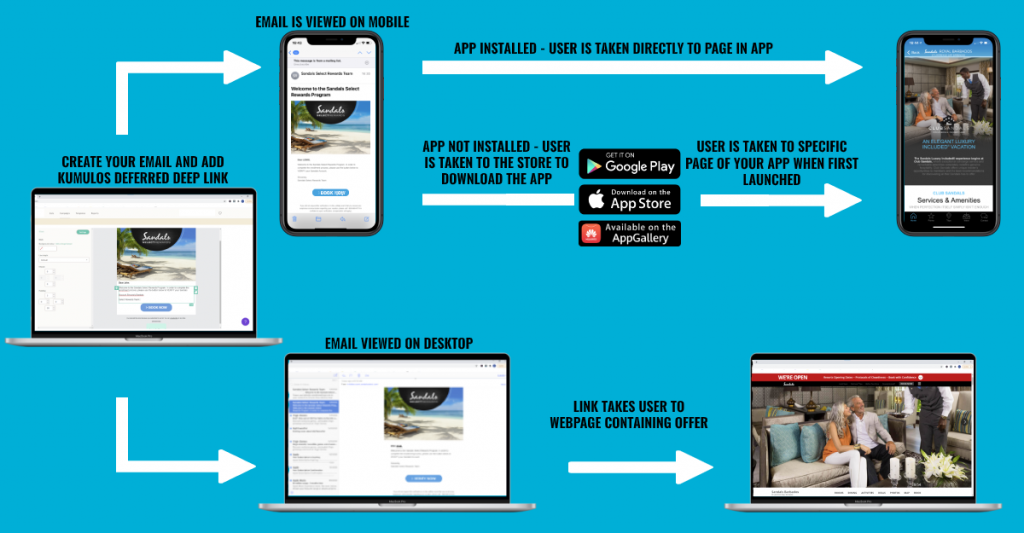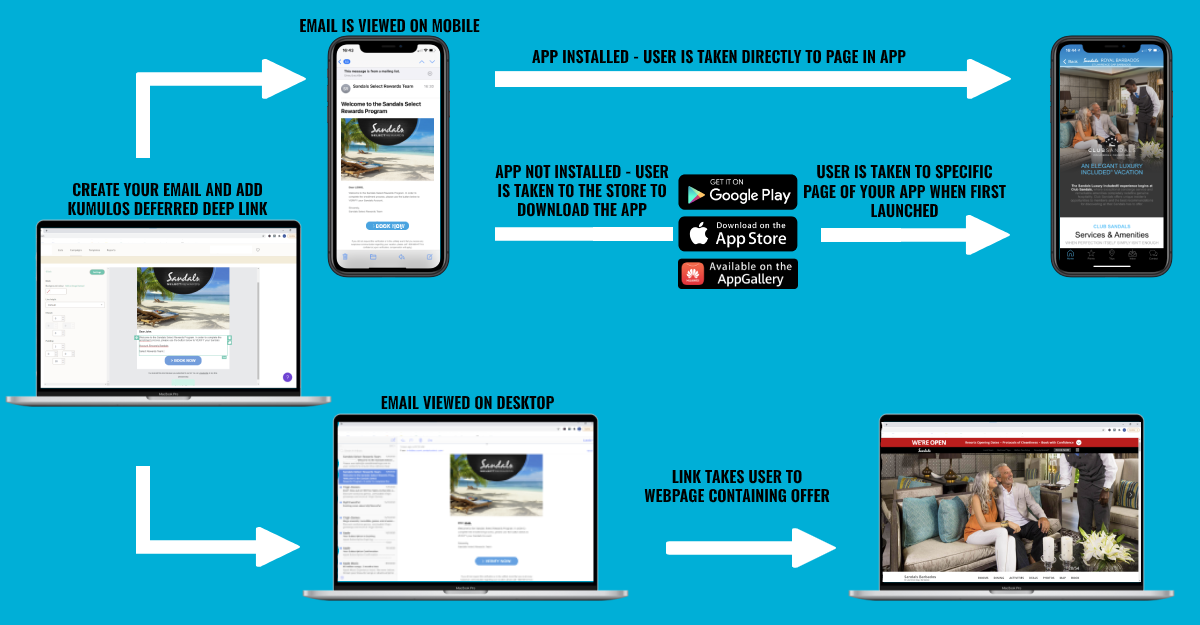 Social Media.

We're all familiar with the efficacy of social media as a highly effective marketing channel; it also happens to be the most common use cases for leveraging deep links. Deploying deep links across social campaigns improves a brand's organic growth by providing the control to direct consumers where they want to go – regardless of the platform. It also enables your campaign to reach a far wider audience who'll be introduced to your brand in a far more personalized, relevant way than a campaign that isn't using deep linking.
Conclusion
Deep linking is one of the most effective methods of improving key metrics such as conversions engagement and retention rates. By providing a clear path for your audience to navigate between the web and your app, deep links deliver a seamless, frictionless CX by optimizing the user journey, and making it as easy as possible. To find out more about how you can get started with deep linking, head over here and grab our Ultimate Guide to Deep Linking where we cover the basics and discuss how you can get the most out of these little lines of code that can make a big difference to your bottom line. If you'd like to ask us a question contact us or if you'd like a demonstration of our Deferred Deep Links feature click here!