As a mobile marketer, you're constantly considering where to hone your focus when it comes to driving sales across your digital real estate, so here's some food for thought: while mobile websites account for an impressive 50% of global web traffic, research tells us that a mammoth 90% of the time we spend on our smartphones is spent on mobile apps, with 200 of these minutes spent shopping (and generating around $50 billion in sales). And there's more:
85% of shoppers favor apps over mobile websites when it comes to online shopping.

A 5% increase in customer retention rates in your app can deliver an increase in profits of between 25-95%; ergo, increasing the number of app users is, for any marketer, a no-brainer.

61% of Millennials download retail apps and 58% of millennials said that they prefer purchasing through apps.

Consumers view over 4 times as many products per session within apps, compared to mobile websites, resulting in higher spend.
Apps have a 3x higher conversion rate compared to mobile sites.

40.4% of users purchase more products after downloading an eCommerce app. Interestingly, 45.9% end up visiting the brick-and-mortar store more regularly.
Does all this compelling intel mean you need to ditch your website? No! But what it does mean is that your site now has a key part to play in your app growth strategy as it becomes your golden ticket to successful app discovery; in this article, we'll take a look at how you can do just that,
1. Direct website visitors to your app

App discovery is

key

. Feature an app banner on your website so that when visitors are on your website, they know that you've also got an app.

Social proofing works. If your app is lucky enough to have garnered great reviews, include them on your website.

Where possible, include screenshots of your app to give people an idea of the app experience.

Make sure your site includes the relevant app store icons so that visitors know exactly where they can download your app; place them above the fold so that they're visible, regardless of what visitors are doing.

If you've got the real estate on your site, add a separate "app" page that takes a deep dive into your app and includes all of the above. Make sure you include a punchy Call To Action and make it

as easy as possible

for potential users to link to it.
2. Drive web search traffic to your app
Knowing how your customers search for your business, your site, and your app is critical in delivering an optimal user experience; so when a potential user enters your search funnel, you've established the optimum point at which to direct them to your app.
Leverage Google Adwords: identify relevant keywords, optimize your ad copy, and monitor campaigns and funnel traffic to your app store page. As you continue to fine-tune your efforts, your app should start appearing in the trending category and you should start seeing an increase in downloads.

If relevant (and it should be), ensure that your funnel includes insights into any benefits or features that customers can find in your app but not on your website – think personalized, relevant discounts, multi-buy offers, new product drops, early bird Sales entry, loyalty points, refer-a-friend schemes etc.
3. Use deep linking to send users to your app
Let's tarry on the subject of deep linking in a bit of detail because despite being a great tool for marketers to drive web users to an app, they're still vastly underused.
Deep links are links that send users straight to an app instead of to a website – and more often than not, to a specific location in the app. By default, this saves customers – and of course potential customers, a whole lot of time, energy, and frustration simply by taking them to the app page that includes the product that they want to purchase, the subscription they want to sign up for, or the product they'd like to trial – you get the idea:
Using deep links can help massively when it comes to boosting conversions because it enables you to point users straight to the point-of-sale in-app.

Deep linking increases retention rates because they contain contextual information that enables marketing teams to deliver a personalized, relevant experience before, during, and after the onboarding process.

Using deep links helps to boost sales. Users are

twice

as likely to make a purchase in-app as they are on your mobile site, and when they

do

make that purchase, they tend to spend more – 2.5X more.
But there's another kind of deep link which you should know about; the 'deferred' deep link. While deep linking is the perfect tool in your marketing arsenal to engage users who already have your app installed, deep links have limited use when a potential customer hasn't yet downloaded your app. If they click on your standard deep link and don't have your app installed, they'll get an error message.
If the user clicks on your deferred deep link and doesn't have the app installed, rather than getting served the error message, they'll get deferred to the appropriate App Store page where they can download the app. Once installed, the user will be directed to the location of the link they originally clicked on, minimizing friction and increasing the likelihood of a successful sale.
How to use deferred deep links:
Add deferred deep links on your website and on banner ads to drive users to your app

Send deferred deep links by email and SMS to take users directly into your app to complete your identified goals

Use deferred deep links across your social media terrain and create incentivized referral programs.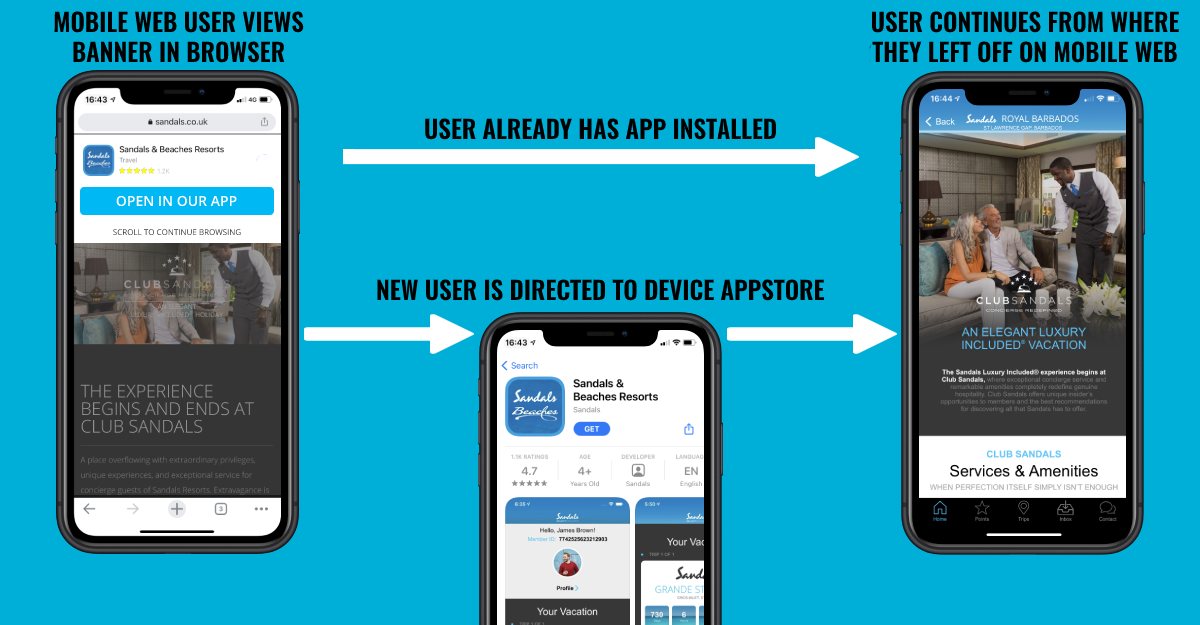 4. Drive web buyers to your app
When your customers make a purchase on your website, if you're doing things right, they should end up on a confirmation page. Instead of stopping there, here's your next opportunity to drive these customers to your app. How? Again, think about showcasing the benefits they can enjoy when they download your app; "Next time, get 10% off when you shop via our app", or, "Sign up for our app and we'll send you a 15% code for your next purchase" … you get the idea …

Try including a "Top Tip" box on your purchase confirmation page. For example, you could mention that "83% of Acme customers who purchased this item enjoyed 10% off by using our app", or "Join the 80% of Acme customers who enjoy personalized offers on purchases just like this when they shop via our app".

Along with your confirmation page, your customers also very likely get a purchase confirmation email, giving you another opportunity to send a link to your app page on your website, or directly to the relevant app store where customers can download your app.

Don't forget to include your App and Play Store app icons on the confirmation page, along with download links/buttons!
Conclusion
We understand – funnelling users to your mobile app is easier said than done, but if you've got a website (and let's face it, most businesses do), and you're utilizing email and SMS campaigns (and if you don't, it's a good time to start!) you've already got the building blocks to start strategically driving a lot of the traffic to your mobile app so that your audience can start reaping the benefits you're offering them for doing so. The strategies outlined above will help you to start generating more app downloads but if you'd like to know more get in touch and we'd be happy to help with any questions!