With the last 24 months seeing most of us, in some form or another, reconsidering our priorities and reevaluating how and where we live and work, we've inadvertently powered a huge surge in house buying and renting. 
From an app point of view, this shift has seen 17.7 million downloads of real-estate apps like Zillow, Realtor and Trulia, slowly but surely redefining an entire industry as at the same time as Millennials now enter prime home-buying age, the largest demographic buying property today. This meeting of seismic shifts is advancing changes that are expected to be long-lasting, far-reaching and irreversible. The question is, are you ready?
Mobile & Real Estate
As a mobile marketer for your Real Estate enterprise, knowing exactly where your focus needs to be when it comes to attracting new customers is critical. Last year, 81% of Millennials initiated the purchase of their new homes through a mobile app, what's more:
come 2025, the global real estate market is expected to be tipping revenues of $4,263.7

billion
real estate apps are expected to retain two times more users than those using web

around 70% of users of real estate mobile apps use it a minimum of 3 times a week

around 70% of home buyers and renters prefer using apps to search for agents
Bottom line? If you're not actively driving new customers to your app every which way you can, you're facing a long and very steep uphill battle…
The next question is, how do you start driving traffic to your real estate app? In this blog, we're going to look at the part that Deep Linking has to play in increasing app visibility, driving up your app's traffic, and by default (assuming you're doing everything else right), increasing these sales numbers  by up to 30% based on our internal data.
Deep Linking and the Customer Experience
With stiff competition in the real estate industry, and technology automating services each way you turn, what's going to make you stand head and shoulders above your competitors? Providing an exceptional customer experience that delivers value and leaves a lasting impression. 
Almost every brand across industry is courting Millennials and Gen Z consumers; Real Estate is  no exception. At 73 million strong in the US alone, Millennials make up a whopping 50% of the total global workforce. How do the successful brands do their courting of that colossal workforce? By delivering a brilliant customer experience; even loyal brand advocates will ditch a brand after a run of less-than-optimum app experiences, with almost one in three saying goodbye for good after just one wrong move:
Companies with a mindset focused on customer experience enjoy revenues 4-8% higher than those who don't

Companies that lead in customer experience outperform the ostriches by almost 80%

84% of the companies working to improve their customer experience report increased revenues

96% of customers say customer service is important in their choice of loyalty to a brand

83% of companies that believe it's important to make customers happy also experience growing revenues
Nearly 80% of Millennials who used their smartphone to look at properties ended up finding their future home on their device. – 2020 NAR Home Buyer and Seller Generational Trends report. 
So where does deep linking come into a great CX? 
With deep links  carrying

contextual information across the entire installation journey

, your team has the tools to deliver a personalized welcome message and onboarding journey on your real estate app. This responsive CX means more of these 'a-ha' moments that everyone – not just Millennials and Gen Z's – loves, keeping your audience close to you rather than your competitors.

Using deep links across your brand's marketing campaigns helps streamline the user experience.

If experience isn't your strategy, you're doing it wrong; looking for a property is stressful enough, so the less you ask of your audience, the easier you make it for them to hang around. The payoff for personalized, valuable experiences are tangible: up to a 16% price premium on products and services, not forgetting increased loyalty. 

63% of consumers say that they'd be more open to sharing their data with a brand for a product or service they truly value. For every extra step that your users are asked to take in order to do what they want to do, the likelihood of them valuing what you're offering drops. Deep links allow you to take your users straight to your app's point of sale even

after

install, so you stand a far better chance of driving up conversions.
OK – I'm interested, but what exactly
are
deep links?
It used to be that linking to an app from, say, an email, SMS or mobile website, would send users to the home screen of the app. Once there, users had the joy of searching, scrolling, and eventually locating the page which they were originally hoping to find – a certain product, service, or information for example. The onus, dear reader, was on the user, which never makes for an optimum customer experience …
When deep links made their appearance and changed all that, life on the marketing campaign trail became much much easier – and more profitable. Why? Deep links send users straight to a specific location in an app … that page where your Property of the Week is, or your new app feature, or that unmissable offer. By default, deep linking saves users time, energy, and friction; they land on the screen that they expect to land on, and they get a great customer experience:
Used strategically across your marketing campaigns, deep linking can – and often does – result in increased activation rates, elevated retention rates, and a far greater number of app visits. 

It's easy to entice people to your real estate app when a compelling offer is sent to them via a retargeting campaign.  Deep linking makes it easy for you to both reach and re-engage lapsed users, making it simple for them to reconnect with your brand and take advantage of what you're offering.

When deployed efficiently, deep links will help your real estate app –

and

your website – rank higher in search results, guiding users to content they're looking for and enhancing your domain authority. 

Users who click on deep links are twice as likely to spend money in your app – they'll also spend up to 2.7X more when they're there; research has told us that a robust deep linking strategy can deliver a more-than-impressive 148% lift in average revenue per user (ARPU).

And they'' give your team a veritable  goldmine of insightful data. If you're using a mobile analytics platform, the data from the deep links you include as part of your marketing campaigns will be funnelled into one place where your team can analyze then act on the findings. . 
So far, so "I need these in my campaigns!". But although deploying regular deep links works when it comes to users who have already downloaded your app, deep linking can be risky if you're including them as a key element of an email or SMS campaign; but what if the intended recipient of your killer campaign hasn't downloaded your app, or if they open it on their desktop? Enter Deferred Deep Linking.
Deploying deferred deep links – the what and the why
OK, you want to run a new campaign across your various touchpoints – SMS, Google, banner ads, Emails, and push – for an unbeatable offer that will include links to a few premium properties that you're looking to close on over the coming weeks. Wherever the recipient clicks on the deep link in your campaign, your app will open and your potential customer will arrive on the relevant page in your app if they have the app installed. If you're using regular deep links and the recipient doesn't have your app installed, they'll get an irritating error message. The chances of true love blossoming are, well, non-existent.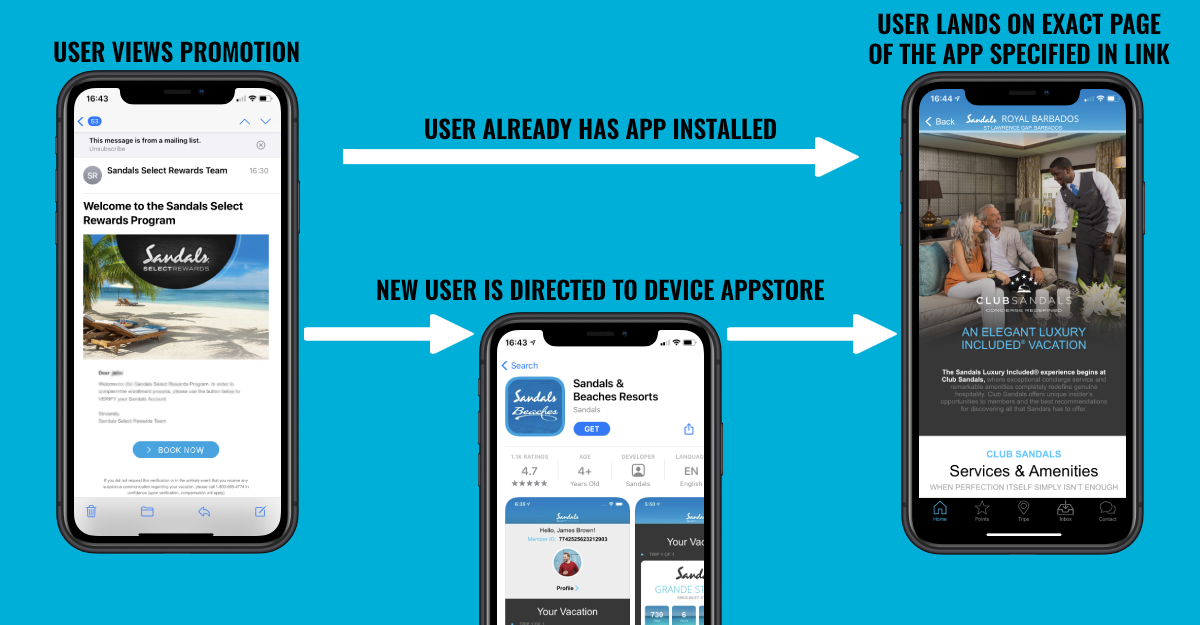 When a recipient who doesn't have your app installed clicks on a deferred deep link, they'll be taken straight to the relevant App Store where they can download your app. But that's not where DDLs genius lies … the cleverness of deferred deep links is that once the user has installed and opened the app, they'll be taken directly to the location contained in the link they originally clicked on. The result? An optimum onboarding experience, a frictionless customer experience, and a far greater probability of campaign success:
1. Capture a
new,
deeply engaged audience
When recipients click on deferred deep links in your campaigns,  each link identifies whether or not the user has your app installed; if they don't, your link should take them directly to a landing page that includes a link to the appropriate app store where they can then download your app. Once downloaded and then launched, the deferred deep link will take your user directly to the screen that was defined in the link they originally clicked on. No scrolling, no endless searching, no friction – just a painless, seamless experience that engages new users fast.
2. Re-engage lost users
If a user previously enjoyed your app but has since uninstalled it, using deferred deep links gives you the opportunity to reconnect with through targeted campaigns that utilize their phone number (SMS), or email address, using deferred deep links that drive them back to your app so they can take advantage of your tantalizing campaign offer. 
3. Run effective, more successful marketing campaigns
Using deferred deep links across your campaigns is the only way to run successful campaigns when you're utilizing your external digital channels to drive users directly to your app:
SMS campaigns.

Despite the gargantuan advances in technology over the last decade, SMS still beats every other digital tool when it comes to marketing:

CTRs for campaigns using SMS is almost  9.18% higher c

ompared to any other digital channel

SMS has an almost 2x open rate compared to email

On average, 75% of us want to receive brand offers via SMS

60% of customers open SMS messages within 5 minutes of receipt
Utilize deep links across your SMS marketing campaigns to send relevant, personalized offers, and re-engage lapsed users, and run referral campaigns.
Email.

  Although many email service providers allow you to measure clicks across campaign links, most don't have the ability to direct recipients to either the app store or your app. Deep linking on the other hand takes users straight to the content you're promoting. For referral campaigns, deferred deep links will help elevate campaign results as referrals seamlessly connect to your brand.

Social Media.

Most of us enjoy the efficiency of social media as a lucrative marketing channel … today, it also happens to be the single most common use case for deep linking. Utilizing deep links across your social media campaigns will help improve your organic growth by giving you the ability to direct users where they want to go. You'll also reach a far wider audience; users who'll connect for the first time with your brand in a frictionless, personalized way, increasing the likelihood of them sticking around.
Conclusion
Today's homebuyers and renters fully expect – and want – their search for a home to include digital. Deep linking ensures that you're encouraging potential and existing clients to seamlessly connect with you and make their home-buying journey a smooth one. A great user experience – one that deep linking provides – will ensure your clients feel like part of the process, rather than a disconnected, inconsequential onlooker during the search for their dream home. What's more, by providing a clear friction-free route for your audience to navigate between email, social media, SMS, web and your app, deep links mean you can deliver the optimum user journey, keeping existing and new customers closer to you, and not your competition.
To find out more about how you can get started with deep linking, head over here to grab your copy of the  Ultimate Guide to Deep Linking where we cover deep linking basics and outline how you can get started with these little lines of code that can make a big difference to your app's success. If you'd like to discuss how Kumulos Deferred Deep Linking can help your Real Estate app, please get in touch!