If you were to take a sneaky peak at the average traveler's smartphone, chances are that you'd find several travel and hotel loyalty apps lurking around onscreen. From Sandals to Criton, AmericanAirlines to Hotels.com,  every major travel and hospitality brand worth its salt runs its own rewards program, with the most die-hard travelers amongst us belonging to more than one (in my case, several).  Standing out in the loyalty space is challenging – but doing nothing isn't going to earn you brownie points either.
The return of travel – and perhaps even a travel boom – as we emerge from what's been a crushingly difficult period, is within touching distance. This means it's time for travel and hospitality enterprises to lay the groundwork for glory in what's gearing up to be a new dawn for travelers and travel brands. 
What does that mean? In this case, delivering the ultimate traveller and guest experience, a key part of which is the humble loyalty app.
Loyalty and rewards apps in the travel industry – indeed any industry –  are about so much more than straightforward user acquisition; we all know there's little point in record-breaking download numbers if these users aren't engaged. This is, after all, about loyalty.
Loyal customers convert more (and more often) with brands they like rather than the brands they're impartial about

They also

spend

more than those of us who aren't particularly loyal to any brand

And brand loyalists will tell anyone and everyone about their positive – and especially negative – brand experiences … 
Mastercard's recent research report, "Recovery Insights: The Shift to Digital," told us that travel is one of the top three activities that we've missed most during COVID. What's more, a similar report by Airbnb tells us that 54% of travellers say they've either booked a trip already, are currently planning to travel, or are expecting to travel at some point this year. As travel begins to bounce back, brands need to be reevaluating the new and emerging priorities of travellers in a post-pandemic climate and build their offerings accordingly.
So who's nailing it when it comes to loyalty apps in travel and hospitality? Which brands are smashing engagement, staying focused on personalizing customer experiences – what the new traveller is looking for from a brand when they start travelling again? 
The best of the travel & hospitality apps
From nailing the competitive advantage to enjoying higher return rates, ensuring you've got digitally engaged guests means happier, more loyal guests – and the smart hoteliers are smashing it, ready to make 2022 a year to remember. 
From the straightforward simplicity of being able to order room service via your app to accessing your hotel suite with digital door keys, redeeming on-site offers to real-time concierge chat, innovative hotel engagement apps can deliver a truly 21st-century travel experience that promises to keep guests close. 
The best travel brands mix a robust understanding of customer behavior, a seamless brand experience across each touchpoint they find users, and valuable, relevant rewards that give travellers a reason to stick around. The benefits speak for themselves:
You'll find it easier – a lot easier – to retain and engage your customer base. Functionality such as gamification through points and rewards will give customers reasons to keep coming back fpr more. It's not all about the purchase – engaging your customers beyond the transaction is the name of the game. 

You'll save money – we all know it costs business far more to acquire new customers (five – twenty-five times more)  than it does to sell to an existing one. 

Over time, you'll find you can stop competing on price – instead, this new playing field will see you enhancing the customer experience of your brand by connecting with them on far more meaningful, value-add terms. 

And you'll enhance your CLV – or customer lifetime value. The data gleaned from your rewards program will mean that over time you'll be able to calculate the CLV for each and every one of your customers and build out a business model which focuses on strategies to engage and retain them over the long-haul. No pun intended!
Our favourites? The Hilton Honors and the Hyatt apps, who have made it their mission to put their brand firmly at the centre of the guest experience by delivering a veritable cornucopia of guest-focused benefits- from easy mobile check-in to digital keys, tips on local must-sees to real-time chat with the hotel concierge…
Hilton Honors
With two-thirds of frequent travellers staying with the same hotel brand for over half their stays, (regardless of location), it's often up for debate exactly how or why reward programs win customers. Convenience? Habit? Genuinely rewarding features? I'm plumping for the latter. But once customers are actually on board with their preferred brand, and that brand is providing real value, then sporadic, passive decision-making makes way for loyalty and fans are born.
Millennial business travellers are willing to pay $41/night
more
to stay at a hotel in his or her loyalty program.
Earning the accolade of the "most rewarding" app in the sector, and with over 5 million downloads, Hilton know what they're doing when it comes to keeping their customers close:
Beach view? Street view? Near the elevator? Guests can pick the perfect room direct via the app, just as you can do when booking your flights …

View and manage your reservations in one place

Use your device as your room key and check in out from the app
World of Hyatt
For loyalty programs to find a covetable level of success, there are a few factors that need to be considered. Most of us are generally happier with a rewards app when as little as possible is required from us to accrue and activate our rewards. We also like 'em quick, and we like 'em relevant – non-negotiable standard elements of any app worth its salt. No one, after all, wants to be spending more time than they need to when it comes to being rewarded for their loyalty to your brand.
18 per cent of us choose to become actively loyal to a brand based on their loyalty program, including the benefits and "perks" it provides.
One brand that's been doing everything right and subsequently making big noise in the loyalty stakes is Hyatt. Their World of Hyatt app makes it ultra-easy for travellers to manage and enjoy their escapades with one of the world's most recognisable brands. Here are just a few of the app's features that keep its customers coming back:
The ability to use World of Hyatt points to book stays

Check-In/Express Checkout means users can bypass the front desk when they arrive and depart – my favourite!

The ability to view room charges during your stay so you can keep on top of your spending

Being able to request items for delivery to your room such as towels and toothpaste

Their digital key feature – aka your smartphone as your room key – no fumbling around!

The super-popular Google Chromecast feature so guests can stream their favourite shows straight to their room's TV

The ability to track and spend rewards points – from earning extra nights and airmiles to bagging discounted car rentals and dining experiences.
… all the little (and big) things that keep their loyal fans coming back for more. Again and again.
American Airlines
A satisfying, engaging brand experience that meets all of the demands of the digital customer demands a personalized app experience – one that can both reduce spend and increase ROI for the brand, and cultivate long-term loyalty at the customer side. Not many get it right, but when they do, we're all ears. That's why we love the American Airlines app. 
American adults between ages 18 and 34 numbers 80 million and spends $600 bn each year. Come 2025, they'll make up
three-quarters
of the workforce—which is to say, they'll be f
requent
business travelers.
With the American Airlines app, you're covered with the information you need exactly when you need it. Curious about traffic to the airport? Need a mobile boarding pass? Wondering where the closest Admirals Club® lounge is located? All of this info, and more, is available at your fingertips:
Mobile boarding pass: Check in for your trip and retrieve your mobile boarding pass. No need to print, and it's updated along the way.

Interactive terminal maps: Navigating airports is a breeze with interactive terminal maps. Find the closest bar or get directions to your connecting gate. (I need this!)

Request and purchase upgrades and get eyes on the standby list to see what your chances are

Travellers can change their flight seat on the spot within the app

Track luggage from the time it leaves your hands to when you're ready to grab it from the carousel at the other side.

And the app even integrates with the Apple watch so travellers have access to the most important info.
And that's just the very tiny tip of the AA app iceberg. Not app-related, but part of their loyalty program, these guys have even got their own Chrome extension which delivers notifications to users while shopping online so they can earn miles "with the push of a button". 
The feature automatically applies coupons at checkout, locates new stores that offer 'miles per dollar' and makes sure shoppers grab the lowest price possible with a price comparison feature. I'd call this smashing it when it comes to the customer experience. We LOVE this feature because it makes things so damned easy for the customer –  as every great app should.
Marriot Bonvoy
One of the largest hotel chains in the world, the Marriot Bonvoy loyalty app just also happens to be the industry's No1, and for good reason.
75% of millennials would stay with a valued hotel loyalty program even if they lost all their points and status. (Deloitte)
Launched in February 2019,, members can earn and exchange points when they stay at one of Marriott's thirty hotel brands across nearly 7,000 locations in over 150 countries. Divided into five different categories: Luxury, Premium, Select, Longer Stays, and Collections, travellers are rewarded for their loyalty with an ever-growing bounty of benefits, not just for their customers, but for the world at large – see the feature that allows users to donate rewards points that go towards providing support to communities severely affected by the pandemic.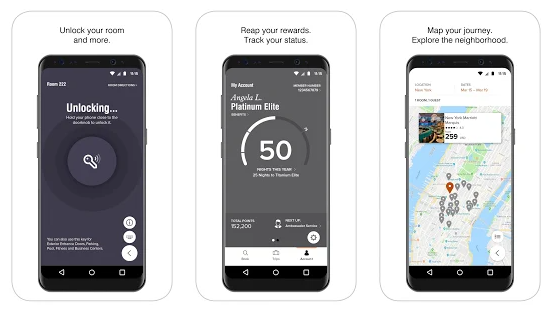 There's the usual digital check-in, room service and customisation, and dining rewards, but the reason the MB sits at the top of the charts when it comes to loyalty apps in the travel and hospitality industry is the sheer breadth of benefits that users can expect, and which are working hard to earn the loyalty of their ever-expanding fanbase:
The Mobile Dining feature means guests can order food for delivery at any location on the property – poolside, room, spa, restaurant, gardens, beach … you'll never be hungry at the Marriot!

Shuttle Tracker means when guests land in their holiday location, they can track in real-time where their hotel shuttle bus is, and how long it will take to reach them. 

Mobile Chat allows guests to find out the hotel information they need – gym equipment, pool size, spa opening hours, restaurant availability … you name it.

Mobile key functionality opens your room, gives entry to the spa, parking and more … 

Guests can even opt-out for housekeeping via the app –  keeping their stay green, and earning points for doing so.
Sandals
To win the loyalty race, your brand must stand out. That means knowing your customers, understanding what they really value, and giving them the rewards that provide value to them.
Travellers favourite Sandals nails it with their app that delivers all kinds of bookings functionality, from booking vacation extras to restaurants to butler services (fancy!) – and putting mobile firmly at the heart of their customers' vacation experience.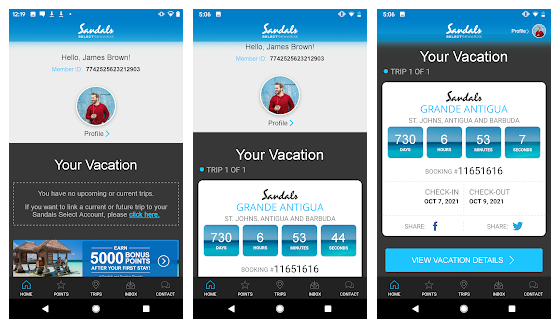 And of course, that's not all – as you'd expect from a brand like Sandals:
Stay up to date with the latest Sandals news, exclusive member events and special offers only available to program members

See at a glance your booking number, resort name, and travel dates for both future and past Sandals vacations

Guests can share vacation information through social media channels direct via the app

After the trip, guests can provide valuable feedback via the app by submitting a survey post travel and earn points into the bargain.
The best loyalty programs and apps successfully create value and meaning for their users – a satisfying, seamless, engaging experience that meets individual demands and stands out. For travel and hospitality brands in the mobile marketplace, the rewards are there. No two travelers are alike. If you're successful in getting a customer to sign up for your loyalty program, it's really just the start of your journey together. The ability to understand that customer's motivation and deliver valuable, relevant, personal rewards that really matter, and then walk them from passive participation to active loyalty, is about building benefits for everyone.
What next?
To offer users a better experience on your app, create loyalty and see results like these brands there needs to be a focus on retention and engagement after customer acquisition. Kumulos gives you the tools to understand user behavior and send relevant, highly targeted, personalized content. Connect with users, create loyalty and boost retention. Book your free demo.