When it comes to sport, fan engagement is changing. Our appetite for content as we spend more and more time online consuming our sport of choice means that we're starving for ever more engaging, ever more innovative fan experiences, and we've turned to our phones to deliver them:
95% of fans interact in some way with their favorite team or league off-season.
Over 60% of fans say that a great year-round experience would make them more likely to be more engaged with their team in future seasons, with 55% more likely to purchase a ticket at some point in the future.
Avid, regular content consumption delivers almost 20% higher spend from fans than general news consumption.
The best of the sports fan apps
Mobile apps are incredibly versatile and, with the right data in play, they also deliver huge potential when it comes to serving up the highly valuable, relevant content that today's sports fans demand. It's also the key reason they're so popular amongst Gen Z and Millennial fans, the fastest growing fan demographic.
Manchester United, for example, has a global fanbase touching 120 million – yet Old Trafford seats a mere 76,000 (or 0.06% of their fanbase).
For fans, the top apps provide a single touchpoint to grab exclusive news, and personalized offers, experiences and updates. And for the teams and the clubs, they provide rich, profitable data that helps them to better understand their fans so that they can serve up that highly engaging content that keeps them coming back time and again. It's a win-win for everyone.

Fans affect how teams brand themselves, how they perform and how they grow their revenue streams. When something so integral to success can have such an impact, it becomes clear how critical it is to maintain and boost fan engagement efforts. Loyalty shouldn't be taken for granted – treating fans as welcome, valuable guests that are choosing to interact with your brand will go a long way. The best sports apps do this by mixing a robust understanding of fan behavior, a seamless brand experience across each touchpoint, and by delivering valuable, innovative content across these touchpoints … the kind of stuff that gives fans reasons to hang around long after the final whistle.
So who's nailing it when it comes to the brightest and best apps in sports? Which trailblazers are hell-bent on personalizing the fan experience and smashing engagement? Here's KHQ's pick of the bunch:
Chelsea Football Club
Over 60% of fans say that a great year-round experience would make them more likely to be more engaged with the team throughout the coming season.
Chelsea Football Club can accommodate just over 40,000 fans at their Stamford Bridge stadium – a mere fraction of the 100 million Chelsea fans found across the world, so how to keep the other 99.96 million fans close to the club year-round? The more fans are engaged throughout the year, the more likely they are to spend money on tickets and merchandise during the season. Step up to the plate, The 5th Stand mobile app, built to deliver the ultimate mobile football experience to fans wherever they are, powering engagement and driving the kind of loyalty coveted by sports teams the world over:
The Match Centre – a feature delivering live match updates, line-ups, game analysis and live audio commentary for every game played in the Champions League, Premier League, FA Cup and any other you can think of.
Match Chat allows fans to connect and chat with each other before, during and after the game.
Fans can stay up to date with breaking club news and check in on official interviews with the club manager and players.
Games are streamed live, including extended highlights, post-match analysis and reason from the dugout, live press conferences and behind-the-scenes footage.
The app allows fans to watch exclusive box-sets featuring the club's greatest moments.
And fans can even find other fan forums around the world, fantasy league tips, exclusive content quizzes and polls.

ATP Tour
One of the most important elements in fan engagement is creating personalized content for members and fans. This means looking at ways to leverage the valuable user data at your fingertips to help create a detailed, holistic view of who your audience is, what content most resonates with them, then creating a strategy that personalizes the fan experience through that content. 
Entertaining over one billion global fans, and showcasing the world's greatest players at the more popular tournaments (not to mention inspiring the next generation of tennis fans and players) the ATP has its work cut out for it when it comes to fan engagement. Their ATP Tour app smashes it on all fronts …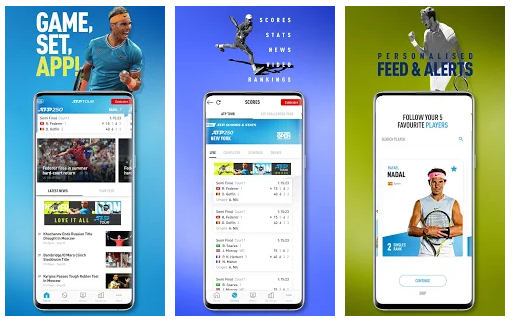 Get the latest news, videos, and features on the game's best players, tournaments, and news

Daily schedules, draws, and results from all ATP Tour and Challenger Tour draws, schedules and results

Get the low-down on your favorite player stats and bios

A customized news feed that gives users immediate access to the latest news and views of favorite players and tournaments

Live streaming of ATP and Challenger tournaments

Real-time scores and updates of ATP Tour and Challenger Tour tournaments
… everything fans need to know to enhance their experience of the ATP, the game, and its players – and helping inspire the next generation of the great game's advocates.
NBA
Whoever you are, a robust fan engagement strategy can be the catalyst for nurturing long-term fan loyalty. Get it right, and there are rewards for all, not least the super-engaged fan.
That's why we had to include the National Basketball Association's app because the organization have been smashed the digital innovation route to deliver exceptional fan experiences across the board – and we love what they're doing.
The NBA AR app is the first AR app from any professional sports enterprise. Built using Apple's ARKit, the app lets users shoot hoops anytime, anywhere, by superimposing their NBA backboard and court onto whatever environment the fan's phone camera can see. The app then leverages the users' device accelerometer to shoot hoops for 30 seconds. Fans get to choose their favorite team to play as, compete with their mates for top spots on the Game Center Leaderboard, deploy audio to hear the crowd cheering for you and share best scores and replays of their successes (or failures!) across social media. Pretty smart, right? There's more …
Just a couple of years ago, the NBA launched their mixed-reality app for the Magic Leap One headset so that they could deliver a truly immersive, ultra-engaging fan experience. Fans with the mixed-reality headset can now watch live NBA games, enjoy game replays and highlights across a number of virtual "screens, and check in on team and player stats. And we're not done yet …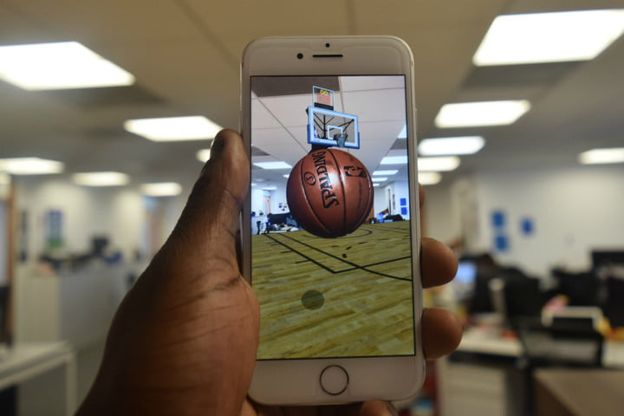 Their "AR Portals" allow fans to "step onto the court and behind the scenes of the NBA and some of its biggest events. Place the portal door in front of you, then walk inside to immerse yourself in a 360-degree video of your favorite NBA players and teams." And it's not same-old-same-old either – new portals are available to fans to enjoy every week so they'll never get bored … Are these guys the most tech-savvy sports enterprise in the world? Probably! (Although German football team Bayern Munich also launched their own AR app which gives fans the opportunity to take a selfie with current Bayern players.) Expect more AR action across the sports space as these innovations become the norm …
Mercedes-Benz Stadium & The Atlanta Falcons
Home to the Atlanta Falcons (along with Atlanta United) the Mercedes-Benz Stadium has been delighting fans and reeling in the accolades since it opened its many doors in 2017, and for good reason.
Built on top of thousands of miles of cables and with the fan experience at its very heart, technology stalwarts IBM were not only a key player in the design and build process from the get-go, they also oversaw the design of the accompanying fan app that's been busy playing a fundamental role in delivering that ultimate stadium experience to the fans of the teams that call the stadium 'home'. Here's our pick of the features:
'To Be Journeys', roadmaps for fans going to an event at Mercedes-Benz, as well as delivering relevant and important information before and after their visit.
Turn-by-turn navigation to your parking space – in real-time, so you'll never be stuck in traffic after kick-off.
In-venue navigation – whatever you're after, and wherever you'll find it, the MBS app will get you there.
The app includes the ticket, so no more rummaging around for paper tickets.
Users also get access to stadium maps, parking booking, a 24/7 virtual concierge, a range of stadium food & beverage menus, and …
Those non-negotiable exclusive rewards and discounts
Wherever fans are, having the right conversations with them at the right times means that every moment matters – and why fan engagement strategies now sit at the very heart of the savvy sports enterprise. The most engaging sports apps successfully create value and meaning for fans, extending the game experience way beyond the stadium and matchday.
Wrapping up
Using mobile to continuously engage, entertain, and cater to fans in ways that are personal and valuable means building stronger connections with fans, which in turn powers growth. It's a no-brainer! But how to do it? Watch this space for our upcoming article on building user engagement and retention in sports and fan engagement apps!
Like what you see, then why not subscribe to receive notifications each time we post new interesting content?