Long gone are the days of infatuation with quick wins and endless growth hacking to overcome challenges. Increasing competition, declining confidence, and an industry on the cusp of a new golden age, keeping customers close to your travel app in 2022 is about to become the holy grail for travel marketers literally the world over. During the next 5-10 years, the most successful travel apps will be heavily focused on user loyalty and retention rather than seeking out new audiences,  paving the way to sustainability, profitability, and long-term success.
Travel apps – where we're at and what's next
We love our travel apps –  they boast some of the app industry's lowest churn rates, with an impressive 47% of users returning to their travel apps, and just 53% churning one month after their first session (the average being 80%) – that's good enough for me, But why so popular? 
Like any app, for a whole host of reasons, but it's the sheer numbers of travelers driving these impressive rates. Pre-pandemic, around 1.3 million of us in the US traveled for business every day, with non-business travel reaching a stratospheric 1.4 billion international tourist arrivals, both fueling an industry worth almost $1.7 trillion. And whilst we need to approach future predictions around travel with a healthy dose of uncertainty there's little doubt that we can expect travel – for whatever reason – to enter a golden age now that we're getting back on our feet.
How travel apps can successfully engage and retain
More than 80% of new users stop using travel apps within 90 days. It makes sense – travel isn't something we do every day, so once we're back on terra firma, the apps are put into hibernation, sometimes permanently. But hibernation or not, letting your travel app languish post-trip, never to be used again is a wasted opportunity. Let's take a quick recap on why engagement and retention are so darned important:
Selling to an existing user has a success rate of around 60-70%, compared with a measly 5-20% success rate of selling to a new customer

Increasing customer retention by just 5% can boost profits by between 25% and

95% 

And companies that put customer experience at the heart of their growth strategy enjoy engagement and retention revenues 4-8% higher than those who don't
Bottom line – travel apps need to provide an experience that's so engaging, and so valuable that when users are ready to travel again, they pick up their phone and log back into your app, however long you've been apart. Here are our top tips on how to do it:
1. Make onboarding flawless
Onboarding is the art of delivering the optimum 'a-ha!' moment to new users … the point at which they understand the value of your travel product or service and are convinced enough to let your app live on their phone.  Think of onboarding like a first date. The first time your user meets you, it pays to make an impression – a flawless onboarding experience has the potential to increase your travel app engagement figures by up to 400%. 
Must-do's when it comes to onboarding? 
Don't force sign-up

Minimize effort and friction – make it as easy as you can

Help new users to understand

quickly

what your travel app's about. Being able to quickly demonstrate your product or service in ways that engage from first touch-down will pay dividends

And highlight your travel app's best features and showcase how they should be used – video is particularly good for this.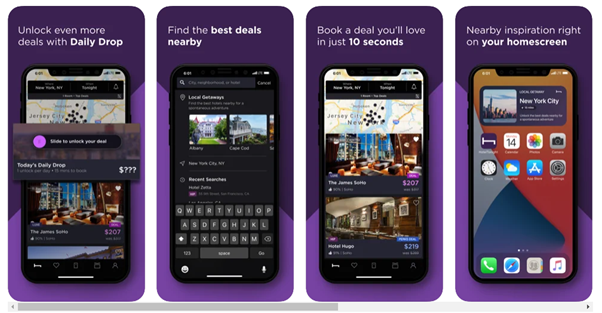 Hotel bookings giant HotelTonight are particularly good at this. Their app gives users brilliant last-minute hotel deals based on their location and does it quickly and easily – "three taps, one swipe, and you're booked!" 
No sign-up required – bonus!

The app simply asks for the user's location and delivers the relevant content immediately

If users do decide to sign-up, it's the super-simple Google account or Facebook sign-in – no endless keyboard tapping required.

New users can invite friends, giving them £20 off of their first booking – and bagging £20 off for themselves, and can earn extra discounts and credits as they level up. 
Retention rates increase by up to 50% with effective app onboarding.
2. Tell a great story
Being able to tell a great story is critical, whatever industry you're in. Stories engage us, connect us with each other, and allow us to dream of futures as yet unrealised. 
Destination storytelling gives users reasons to open an app rather than just searching or booking a trip. And one travel brand that consistently nails destination storytelling, captivating their audience way beyond the mere act of booking, is Airbnb. Engaging users with enchanting stories and postcard-perfect images of breathtaking locations for each of their offerings, the Airbnb app gives users the perfect excuse to dream of far off adventures – and to keep coming back for more … stories like this one:
"Join me on a virtual interactive South African safari experience that is great for groups and corporate team building events We will take a look at the beautiful world of some of the most amazing animals on earth by exploring footage of the great savannas, grasslands, and wetlands of Southern Africa and virtually encounter my favorite animals that we would normally encounter on an outdoor Safari. I will guide you, as if on safari, and discuss the animal's behaviors, habitats, and appearances to learn why they are so special and essential pieces to the ecosystem. "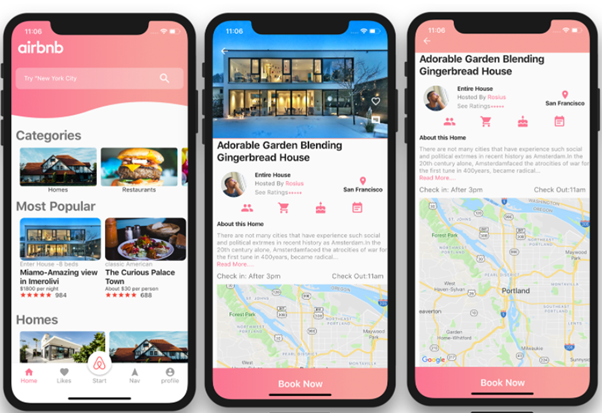 I don't know about you, but I'm sold – and there's plenty more to whet the curious travellers appetite, ensuring they return to the app time and again. 
Takeaway? Create a powerful story around travel deals – one that fires the imagination and gives users a reason to book other than cost. Make the effort to really understand who your users are and what inspires them to seek out new places and experiences – then find creative ways to show them that your destination has what they're looking for (and more!). 
3. Enrich the travel experience
From nailing the competitive advantage to enjoying higher return rates, travel brands with digitally engaged users mean happier, more loyal users – and the smart travel brands are smashing it, ready to make 2022 a year to remember and elevating retention rates at the same time.
Delivering the enriching, valuable travel experience is a big part of engaging and retaining users – but what does that look like? For some, it's delivering a straightforward stand-alone experience that can make or break a great trip, like LoungeBuddy. If like me you travel a lot, you'll spend a significant amount of time pacing about in airports, sometimes for way longer than expected. LoungeBuddy has come to the rescue, giving users the facility to purchase lounge time at almost any airport in the world, and enabling holidaymakers to skip the crowds, and relax and recharge in an oasis of calm before jetting off.
Or how about HotelTonight, which allows users wherever they are to book hotel rooms at the very last minute. If you're out exploring for the day and are having way too much fun to even think about getting on the train home, you can book a hotel room at a heavily discounted rate and party into the night.
But when it comes to enriching the traveller's experience through mobile, it's the big hotel brands that smash it. Kumulos favorite, the World of Hyatt app, provides a guest experience that truly excels, making it super-easy for travellers to get the most out of their vacation with one of the world's most distinguished travel brands:: 
View room charges during your stay so guests can keep on top of spending

Back in your room after a day out and missing something? Request fresh towels, the all-important hairdryer, room service, and more, direct via the app.

Get access to your room without fumbling around in your bag on pockets with your phone as a room key.

Or how about the ability to stream your favorite movies direct via the Chromecast feature?  

Use the app to ask the concierge anything, doing away with the need to trek all the way down to the lobby
… lots of small, but highly-valuable features that keep loyal guests happy during their stay, and returning year after year. 
4. Reward users
Loyalty and rewards in the travel industry – indeed any industry –  are about so much more than points for purchases. With 90% of travelers expect a personalized digital experience when they book their travel, any savvy travel marketing knows the benefits of nurturing a two-way relationship with their users:
Loyal customers convert more (and more often) with brands they like rather than the brands they're impartial about 

They also spend more than those of us who aren't particularly loyal to any brand

And perhaps best of all, they'll tell anyone and everyone about their positive – and especially negative – experiences with the brands they interact with.
The best of the travel brands out there mix a rich understanding of user behavior, a seamless brand experience, and relevant, tangible rewards that give travelers a reason to resist the uninstall.  
4 out of 5 people are more likely to engage with a brand that offers incentives (Loyalty360)
One of the most popular rewards programs in travel comes from Hotels.com – and with over 10 million downloads, they might just be on to something …
For starters, when a customer books 10 nights with Hotels.com, they'll get one night free – and if you're a regular traveler, these free nights soon add up. But of course, there's way more to the success of their program than free nights:
Customers can bag plenty of these a-ha moments – like free breakfast or spa vouchers, and even more  at VIP Access properties
They get complimentary room upgrades 

And enjoy early check-in and late check-out at their super-popular VIP Access properties – ideal for guests who tend to arrive early to get the most out of the day – and leave late to savor the experience! 
Rewarding customers pays off. Once users are actually on board with their preferred brand, and that brand is providing real, tangible value, then the sporadic, passive decision-making that's so prevalent in the travel industry eventually makes way for loyalty – and long-term advocates are born.
5. And ask for feedback!
The best way for an app to succeed – heck, the best way for any business to succeed is by listening to customers. Feedback will help steer your roadmap, underpin your marketing and sales strategies, help you shape your value proposition and most importantly, ensure you're delivering what they're really looking for. 
By using audience segmentation and pinpointing specific user pain points around your app, service or product, you'll have valuable insights that will help you to enhance the user experience in ways that provide the most value to them — and thereby boost your retention rates.
There are loads of ways to get user feedback for your travel app:
In-app messages

are a great way for users to engage with you in real-time quickly and directly – with the added advantage of catching any negative feedback

before

it hits the app stores. These two-way conversations are also the perfect way to build relationships with your audience

while they're using your app

, negating the need for these awkward emails and irritating phone calls.

Social media

is perfect for travel brands, engaging travelers through storytelling, trip-sharing, and rewards incentives and competitions. It's also the place where travelers l

ove

to leave feedback – like this one for luxury hoteliers, Four Seasons. 

Not only is this kind of feedback the holy grail for every travel brand, posts like these have the potential to be seen by

thousands

. The key to success? Being present to respond quickly and engage with customers who have taken the time to feed back. 

Surveys

are one of the most effective ways to get customer feedback on your app, providing the opportunity to drill down and ask the questions that are going to deliver the most value to you – and eventually your users. Who are they, what were they looking for today when they opened your app, did they find what they came for, and what could you have done better? By drilling down with short, easy questions, you'll have nuggets of gold at your fingertips that will help you deliver the app your customers really want.

User Data.

How users interact with your app is often the most effective way to glean insights on what they

really

think of it. How often are they using the app? How long does a typical session last? What are they

doing

in-app? Once you've got a handle on how your app is being used, you can deliver the optimum experience – one that engages and retains your audience and builds loyalty over the long term.
At the end of the day, gathering user feedback is about gaining a deeper understanding of why and how your audience uses your app. With these insights, you'll be able to exceed expectations and turn casual users into loyal customers and brand advocates.
Conclusion
Driving engagement through an exceptional app experience is – and will continue to be – the key element of every successful app, regardless of what industry you're in. Building meaningful, valuable connections through easy onboarding, storytelling, rewards programs, and more, means that you'll be in a really strong position to nurture loyalty in a space where everyone is about to start vying for your users' attention. To find out more about how Kumulos can help your travel app outrun the competition and stay relevant, talk to us!