Complete visibility of your app and its audience to increase the impact of your messaging campaigns with Kumulos Mobile App Analytics.
BEHAVIORAL MOBILE APP ANALYTICS TO INFORM YOUR MESSAGING STRATEGY
Leaving no stone unturned, the Kumulos platform's comprehensive, built-in mobile app analytics goes beyond the reaches of other stand-alone behavioral analytics packages. From discoverability in the store through acquisition, retention and engagement to conversion and even user experience.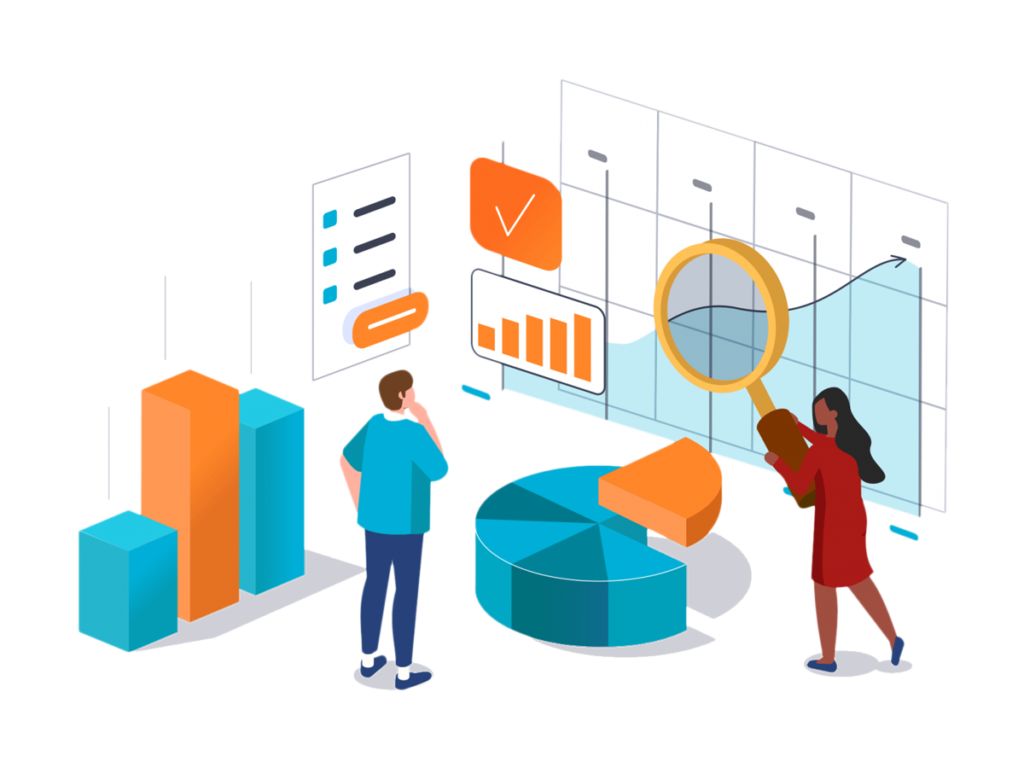 EASY-TO-UNDERSTAND, COMPREHENSIVE BEHAVIORAL ANALYTICS
Get to know your new audience, where they are and where they have come from. Deliver a personalized on-boarding experience just for them.
Monitor how well your app on-boards new users in those all-important first few days. See how timely, automated messages can retain users for longer.
Understand when your app is used, how often and for how long. Use this to time your campaigns to bring users back and keep them in the app longer.
Map the key user journeys through your app. Monitor and optimize time through the funnel, with a helping hand along the way, to increase conversion.
ACQUIRE, RETAIN & ENGAGE YOUR AUDIENCE
Easy-to-understand acquisition, retention and engagement mobile app analytics help you get to know your audience and measure the impact of your messaging campaigns. Real, actionable insights – what works and what doesn't – so you are making data-driven decisions when you plan and schedule your messaging campaigns. Get the right message, to the right user in the right place at the right time and bring your customers back to you.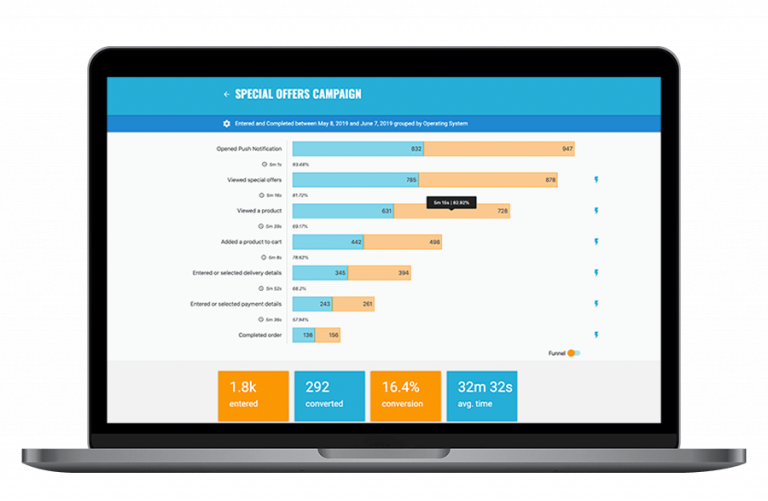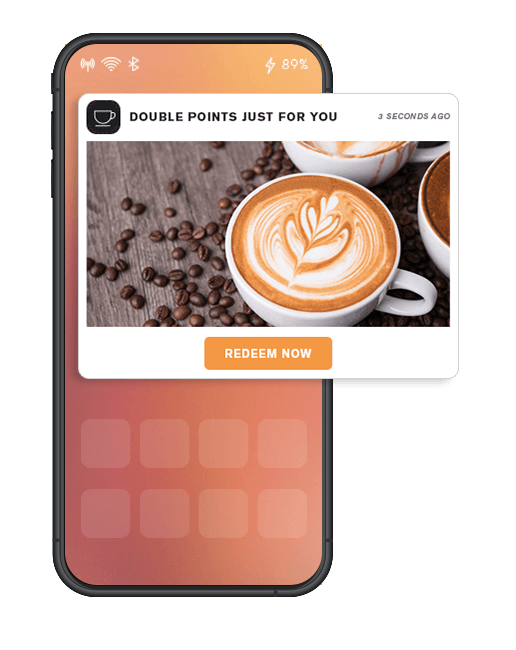 AUTOMATE TIMELY INTERACTIONS THAT CONVERT.
Track all in-app behaviour and combine with user attributes, preferences and even location to trigger automated, personalized messages that will increase conversion. Proactively reach out to each user when they are ready to hear from you.
USER EXPERIENCE MONITORING
Leave nothing to chance. Your hard-won audience will have no hesitation uninstalling your app if it crashes, has bugs or is slow. Stay on the front foot by monitoring the technical performance of both your app and all the services it depends on to function so your team can pro-actively minimize the impact of any problems retaining on your audience.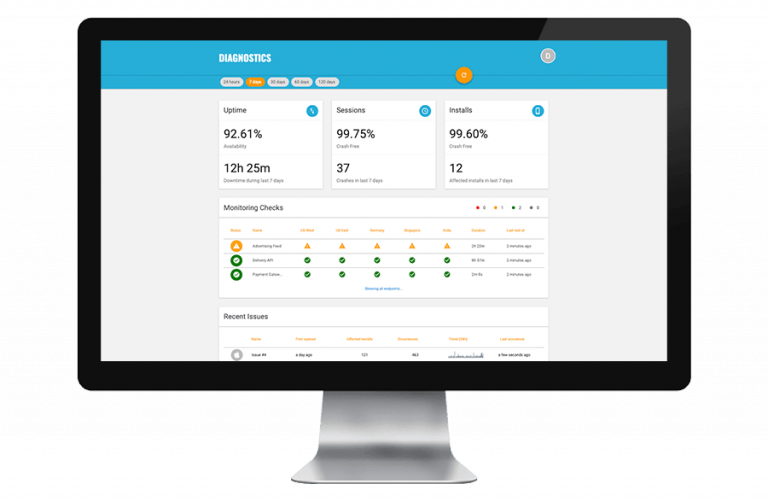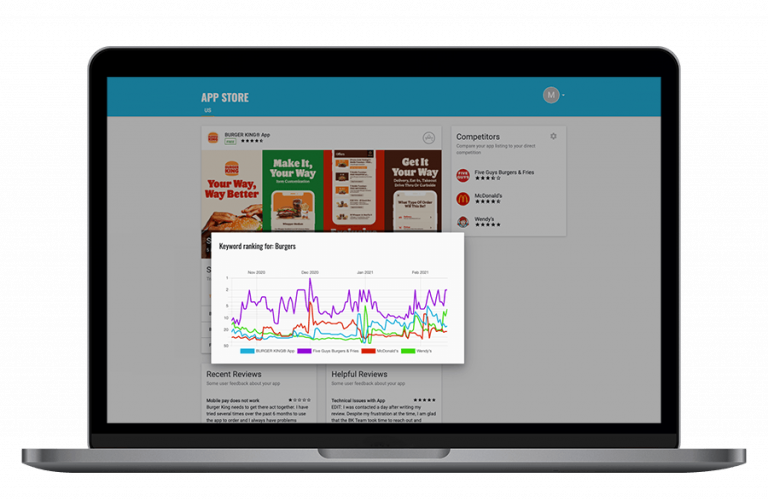 Close the loop. Kumulos is the only platform that gives you complete visibility of how your app is performing in the stores against the competition. From search rankings for different keywords to star ratings and reviews, spot any trends before they impact user acquisition and make the right, data-driven decisions to maximize discoverability in the stores.
EASY TO INTEGRATE. BY DEVELOPERS. FOR DEVELOPERS.
Open-source SDKs make it easy to add GDPR compliant analytics to your mobile app. White-label our console or use one of our pre-built integrations, RESTful APIs or our extensible scripting engine to export, in real-time, mobile app behavioral analytics and campaign performance into your own systems, and enrich your own customer data.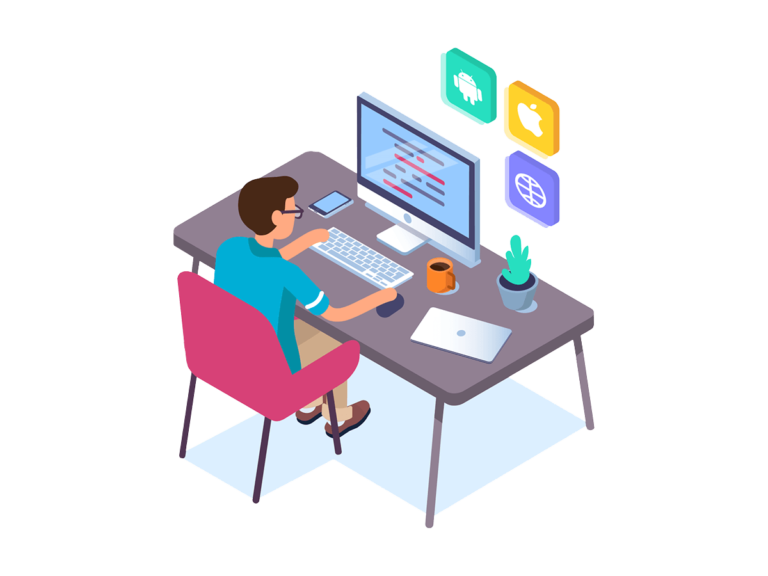 User and behavior-based segmentation to create highly receptive audiences for targeted messaging campaigns.
Automate timely interactions triggered by in-app behavior and events. Convert more users into loyal customers.
Pre-built integrations and RESTful APIs plugin to your martech stack. Enrich your customer data with real-time app analytics and campaign performance.
Easily integrate Kumulos into your app
Open-source SDKs for every major platform and language that you can add to your project in minutes
Export app analytics and/or raw in-app events to enrich your own customer data in real-time.
Easy-to-use, transactional messaging API allows you to send messages from your own systems.