Kumulos Deferred Deep Links adds pure magic to how you market your mobile app,  providing you with optimized user experiences and perfect conversion paths, every time.
How Deferred Deep Links help you:
Create smooth, seamless onboarding flows to bring new users into your app.
Effectively re-engage users in digital channels outside your app.
Win back lapsed users who no longer have your app on their smartphone.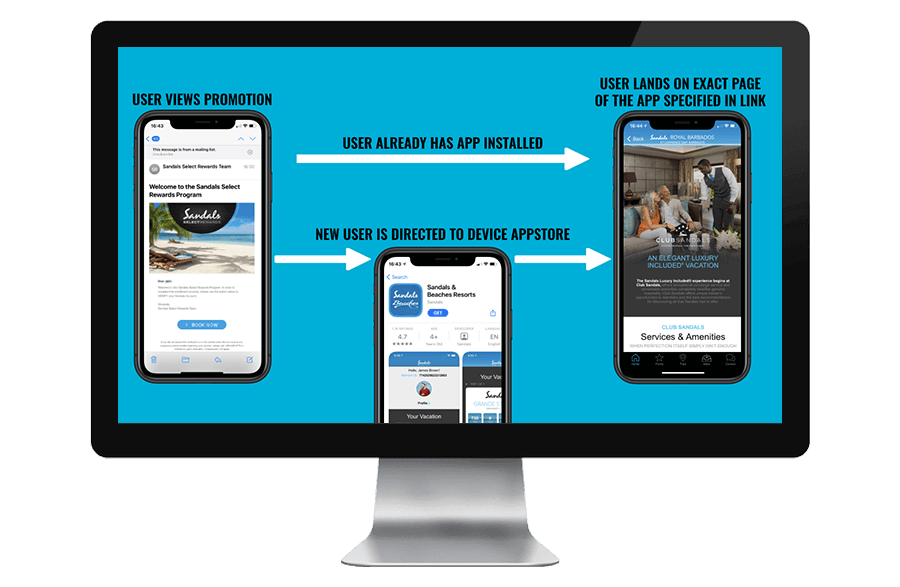 DEFERRED DEEP LINK CHANNELS
Links on your website and on banner ads to bring users to your mobile app.
Send Deferred Deep Links by email and take users directly into your mobile app.
Engage users by sending links by SMS or Push Notifications.
Social Media & Referrals to App
Acquire new users from social media and create incentivized referral programs.
Deferred Deep Links are one of the most effective ways for you to grow new highly motivated app users.
Acquire new users across a broad range of digital channels. Use Kumulos Deferred Deep Links to engage new users in your promotions and then seamlessly bring them into your app. Because Kumulos' intelligent technology knows whether they already have the app installed it takes them directly to the section in the app where they can buy. And if they don't have the app then we direct them through the App Store before taking them to the offer page.
Because you have caught their attention with a promotional offer they'll be 80% more likely to convert to purchase than users acquired through other sources
Include custom information in the link to pre-populate sign-in forms and apply discount promotions to shopping carts.
Whether your promotion gets viewed on a desktop computer or smart phone, Kumulos gets them to the right place to buy.
You create one link and we work out how to handle users engaging on different platforms.
Text me a link
Scan QR Code
Text me a link
Enter your mobile number and we'll send you a link to download the free app
Country calling code
+44
Scan QR Code
For Illustrative Purposes Only
Use your website or landing pages to acquire more users for your app.
Let your visitors download your app from deferred deep links on your website. Let them scan a smart QR code deferred deep link or enter a cell number to receive a deferred deep link in an SMS. Take them directly to your app download. Promote special offers, and include them in the link for a seamless onboarding experience.
Win-back lapsed mobile app users. Get them back to your app easily.
Using digital channels like social media, email, web advertising or referral networks to re-engage lapsed users is easy with Kumulos Deferred Deep Links. One link handles past customers who still have the app on their phone, but haven't used it for a while, or those who have deleted your app.
Communicate effectively with users that haven't given you permission to send Push Notifications and In-App Messaging and still give them a rich, highly contextual user experience.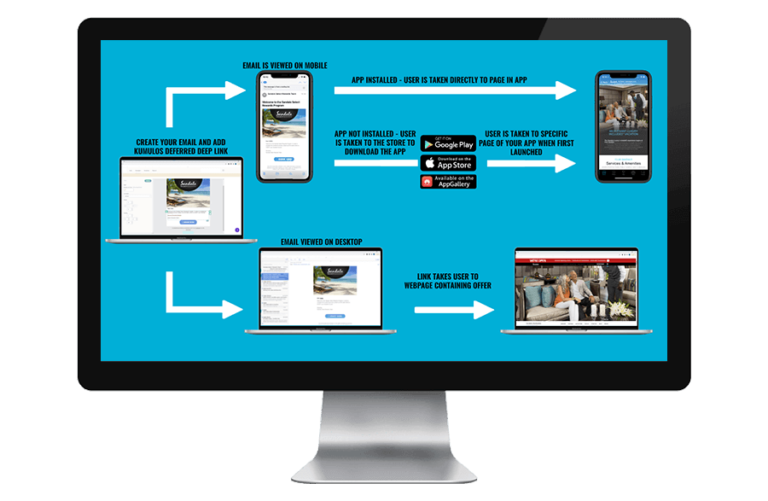 DEFERRED DEEP LINKS HELP YOU ACQUIRE, ENGAGE AND CONVERT YOUR MOBILE AUDIENCE
Know where the download originated from, so you can focus user acquisition marketing on your best sources.
Attribute all user purchases back to the lead source that brought the app user to you, so you can understand ROI on media sources.
Include rich user data within the Deferred Deep Link to deliver highly contextual personalized experiences.