MOBILE PUSH NOTIFICATIONS
Make your brand easy to love with relevant, impactful Mobile Push Notifications. Reach every user how and when they want to hear from you.
CREATE RICH, INTERACTIVE MOBILE PUSH NOTIFICATIONS & EXPERIENCES
Mobile Push Notifications – the single, most effective way to retain your hard-won mobile audience. Reach and re-engage them with relevant and impactful messages. Onboard, guide, educate and inspire so your app becomes an irresistible and indispensable part of their lives.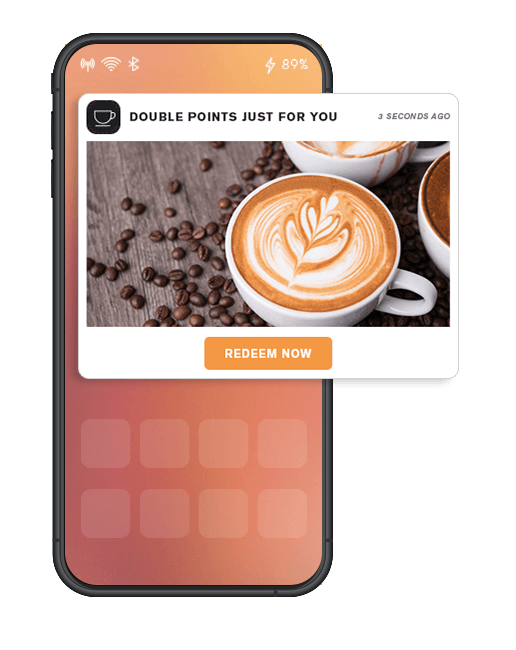 EASY-TO-USE, OMNI-CHANNEL MOBILE USER ENGAGEMENT
Increase your customer value with intelligent, relevant, rich media messages. Mobile Push Notifications, In-App Messages, Web Push Notifications & Deferred Deep Links.
Increase the impact of your campaigns and re-enforce your brand with images, videos and templates saved in your own media library.
Map customer journeys and use automated messaging to guide your users along the way.
Offer a seamless user experience from the word go with contextual, interactive messages and deep links that instantly take the user where they want to go.
CCPA and GDPR compliant messaging with the option of hosting data within the European Union.
RIGHT MESSAGE. RIGHT USER. RIGHT PLACE. RIGHT TIME.
User, behavior and location-based segmentation and targeting ensure you deliver a meaningful, personalized experience to a highly targeted audience. Trigger location-aware experiences with Geofences and Beacons to enhance the customer experience. Advanced-scheduling, preferred and intelligent delivery, help you reach each user at exactly the right time.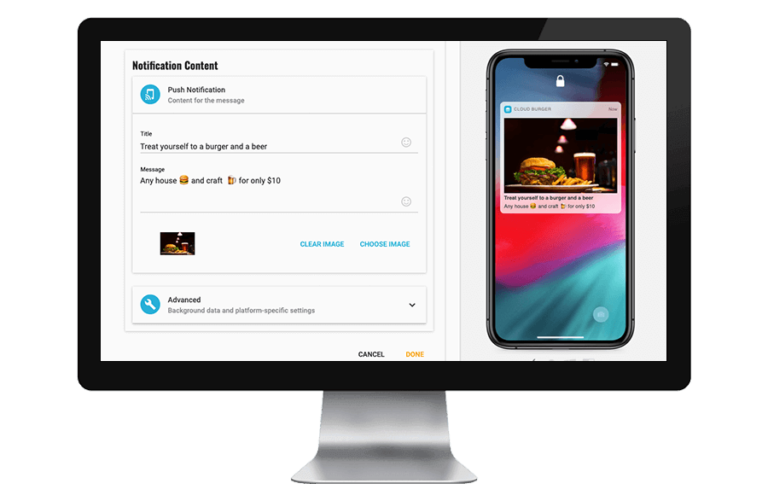 AUTOMATE TIMELY INTERACTIONS THAT CONVERT
Proactively reach out to each user when they are ready to hear from you. Combine in-app behavior and events with user attributes, preferences and location to trigger automated, personalized Mobile Push Notifications that will bring users back to your app and increase conversion.
Combine with In-App Messaging to boost your engagement channels or Web Push Notifications to reach users on desktop and PWA.
USE ANALYTICS TO INCREASE IMPACT OF YOUR MOBILE PUSH NOTIFICATION CAMPAIGNS
Built-in audience, engagement, retention and conversion analytics gives you complete visibility of campaign performance. Real, actionable insights to make data-driven decisions and increase the impact of your campaigns.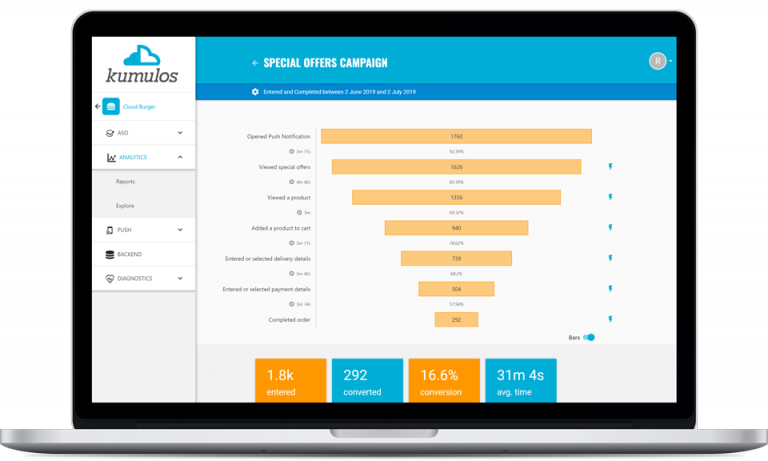 Advanced-scheduling, preferred and intelligent delivery will all help you reach each user at exactly the right time.
Track every screen view and button press. Trigger relevant actions based on users' in-app behavior.
Intelligent, Timely Interventions
When necessary, help each user get back on track. Eliminate drop-offs and increase conversion.
Easily integrate Kumulos into your app
Open-source SDKs for every major platform and language that you can add to your project in minutes.
Easy-to-use, transactional messaging API allows you to send messages from your own systems.
Export app analytics and/or raw in-app events to enrich your own customer data in real-time.
Talk to us about Driving
Hyper-Personalized Campaigns
Empower your marketing team to drive results