Kumulos, the multi-award winning push notifications solution provider, has augmented its mobile marketing automation platform with the addition of rich in-app messaging.
MOBILE MARKETING AUTOMATION PLATFORM
With the addition of in-app messaging, Kumulos now provides customers with the world's most advanced mobile marketing automation platform. It's the only fully integrated platform which lets you manage the technical and commercial performance of mobile apps, all from one platform.
IN-APP MESSAGING & PUSH NOTIFICATIONS
In-app messaging allows you to deliver rich content to users whilst they are in the app. Mobile marketers use in-app messaging to boost conversion through the on-boarding journey, highlight special offers, ask users to rate an app, subscribe to receive push notifications and much more.
In fact, industry statistics reveal that those who use in-app messaging see around a 30% increase in uptake of app launches and a massive 4 times increase in app retention.
For maximum effect, push notifications and in-app messaging can be combined. With Kumulos, once configured, you can send unlimited push notifications and in-app messages to app users on both iOS and Android devices. You can use segments, channels, geofences and beacons to target your audience, trigger automations and schedule campaigns.
GET STARTED WITH IN-APP MESSAGING
Getting started with Kumulos in-app messaging couldn't be easier! Once you've integrated an SDK and one or more users has opted in to receive in-app messages, you can send in-app messages from Kumulos console. Your client can also send in-app messages from their client portal if you have enabled this for them.
To send an in-app message from Kumulos console, users just need to follow the Compose Message wizard which walks you through five simple steps to sending an in-app message. From selecting an audience right through to a final review, the wizard makes it easy!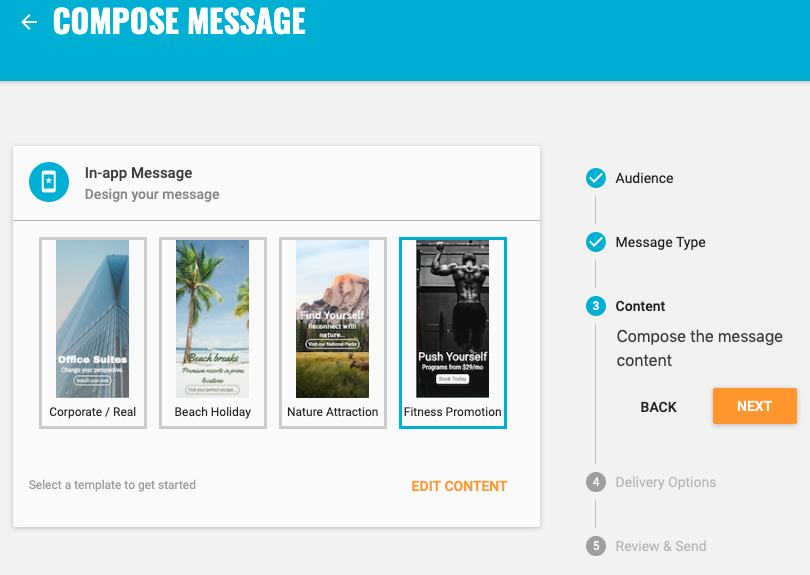 When it comes to selecting an audience, you can send a broadcast to all users – who have opted-in to receive in-app messages. Or, you can target a specific segment, channel and/or geofence. What's more, as you select a segment, a channel and/or geofence(s), the wizard will tell you how many users will be targeted.
CREATING THE PERFECT IN-APP MESSAGE
Next, for the actual message, you can select from various templates, layouts, frames, colours, fonts, images and change the gradient and more! Headings, sub headings and buttons can all be added too. When you've perfected your message, you then decide when and how to deliver the message to the user.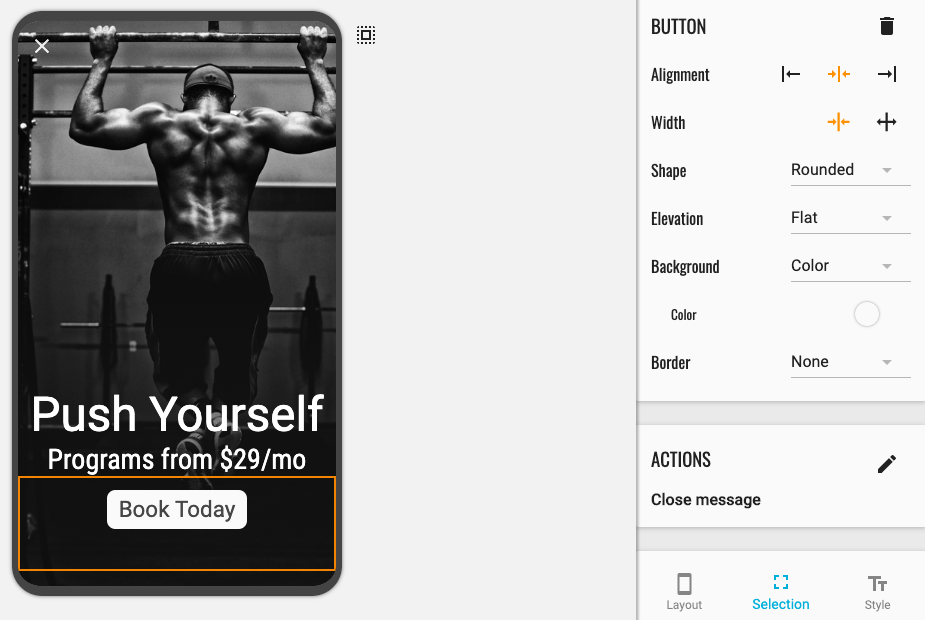 By default, the message will be shown to the user on 'Next Open' of the app.
However, if you want any users who have the app open – at the time the message is received – to see the message 'Immediately', select this from the drop-down. Alternatively, if you only want the message to be shown if the user clicks the push notification (if one is also being sent) or opens the App Inbox, select 'Push/Inbox Only'.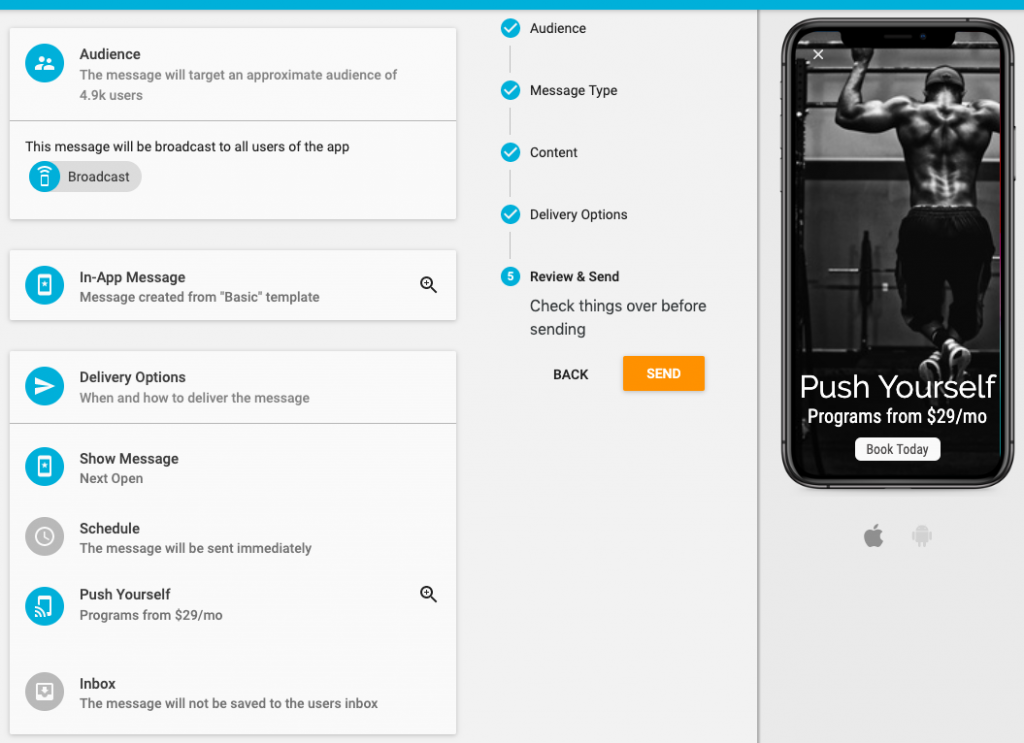 With the final step of the wizard, you can review your message. Then, make any final edits before launching your in-app messaging campaign.
THE ENTIRE MOBILE MARKETING SOLUTION
Kumulos comes with a comprehensive range of services covering the entire life cycle of the app. Its 5 integrated services include app store optimization (ASO), app analytics & reporting, backend hosting (mBaaS), crash reporting & API endpoint monitoring and in addition to in-app messaging, its award winning push notifications service, which received awards from Business of Apps, Mobile App Daily and The Tool.
It provides a management console that delivers comprehensive visibility on how the app is performing technically and commercially. The features, such as push notifications, in-app messaging and app store optimization help to deliver better results from the app. In fact, by adding in-app messaging to the Kumulos platform, app owners and mobile marketers can easily increase app retention and engagement.
TRY IN-APP MESSAGING TODAY!
It's easy to setup. Start sending in-app messages now by signing up for your free trial or book your product tour.  Kumulos' secure, easy to use mobile marketing automation platform is trusted by thousands of mobile app developers in 25 countries across 7 continents – with millions of connected devices managing billions of API calls & push messages a month.