Kumulos Adds Message Confirmed Delivery, to provide the most accurate analysis of Mobile Marketing Campaigns available anywhere today.
We just made it easier for you to know, for sure, whether the Mobile App Push Notifications, In App Messages and Website Notifications, you send are delivered. Message Confirmed Delivery, means you can now accurately analyze campaign performance. Many businesses are using the time out created by the current COVID-19 crisis to look hard at their mobile marketing strategy. Making sure you have the most accurate view of campaign performance is critical. So its never been more important to make sure you are a push notification provider that gives you complete visibility.
Until now, knowing what is really happening when you send messages to your mobile app users has been a challenge. Many Mobile Messaging platforms behave like a black box making it difficult to see notification unsubscribes and app uninstalls that haven't been reported by the message gateways. Its also difficult to see when certificates have expired or bundle mis-matches. All this results in artificially inflated audience figures and suppressed campaign performance. You send a message.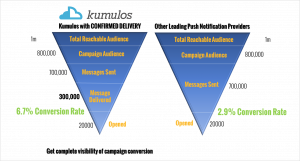 All looks good. Then the next thing you see are (often disappointing) open rates. But maybe the results aren't as bad as they seem. Maybe the message and the campaign is sound and there are other issues impacting campaign results. Perhaps less people actually receive the message than you think. This used to make it impossible to accurately analyze campaign results, but this challenge is now solved by Kumulos Message Confirmed Delivery.

Now when devices receive a notification through Kumulos they send back a Message Confirmed Delivery Receipt, so you know the message made it to the device. Now you can reliably see who is getting your communications and can more accurately analyze campaign funnels. This under-reporting means that campaigns that you thought were showing very low conversions, could in fact have been highly successful. Not the fault of the campaign but the fact that fewer messages made it to the user than you thought, highlighting different problems that need tackled.
Accurate Campaign Reporting has now arrived
Kumulos is now the most accurate analysis of campaign performance from any Mobile App Message Provider. Some don't offer Message Confirmed Delivery at all and those that do have gaps. For example, if a device goes off-line when it tries to send delivery confirmation. With Kumulos, because of the way we handle data in the background, we store the Message Delivery Confirmation locally and then send it the next time the device has a connection. So local network problems won't skew your campaign results.
And we don't just cover mobile apps. We also give you the same view of Web Push Notification Campaigns as well, viewed from the same management console. So, with Kumulos you now have the most accurate AND the most comprehensive Campaign Reporting in the world.
Why is Confirmed Delivery so Important?
To explain, lets first cover how all messages are delivered to your customers mobile devices. In simple terms, delivery to the phone is handled by Apple (with APNS) and Google (with FCM). Message providers, like Kumulos, send notifications to APNS and FCM for onward delivery to the device. Both APNS and FCM are not great at letting you know what happens after the message arrives at their gateway, so there can be big differences be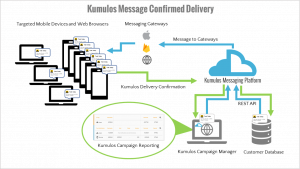 tween who you tried to deliver the message too and who actually received it. With Kumulos Message Confirmed Delivery this problem is removed. Kumulos gets an extra network request direct from the device, confirming the message was delivered so you know it made it to the users' device.
What about Website Notifications?
Yes, we have that covered. Unlike many of the leading push notification providers we also let you know how many notifications were successfully delivered to web browsers as well as mobile devices. This is just as, if not more, important as getting Message Confirmed Delivery from Mobile Devices. While notifications will be received on the desktop or laptop even if the person isn't on your website at the time, it does rely on them having a browser open, at least in the background, for the message to be delivered. So similar to running campaigns to mobile devices, you could easily get skewed results from your campaigns if a high number of your users don't have a web browser running when you send the notification.
How to use Kumulos Message Confirmed Delivery?
Existing Kumulos customers just need to update their SDK to the latest version. All Kumulos SDK's are opensourced and can be found here. We offer Message Confirmed Delivery on native Android Java and Kotlin, iOS Swift & Objective C, React Native, Flutter, Xamarin, Unity, Cordova & Ionic as well as a full range of browser support with our Web Notifications SDK.
Those new to Kumulos simply need to set up their Kumulos account, here and follow the comprehensive on line integration guides or contact us for more information.