Here at Kumulos, we understand that one-size-fits-all doesn't necessarily apply to mobile apps. Each mobile app has been built with a different purpose in mind. There are of course some common metrics, such as crash rates and retention rates that are critical to measure (especially on Android for Google Play Store rankings). However, exactly what success looks like will vary from one app to another. Therefore, Kumulos has expanded its custom analytics features to help you measure and importantly improve the success of your mobile apps.
Custom Analytics Events
You can already use Kumulos to track custom analytics events in your app to understand how the app is being used. These events can have properties (e.g. screen name, article title or product category) and be used to trigger automation rules, such as sending a push notification. Along with the system events that Kumulos records automatically (such as opening the app for the first time), you can add these events as steps in a funnel to measure conversion through different user journeys in the app. For example: what percentage of users complete the onboarding journey, how long on average does this take and is there any difference in conversion between the iOS and Android app?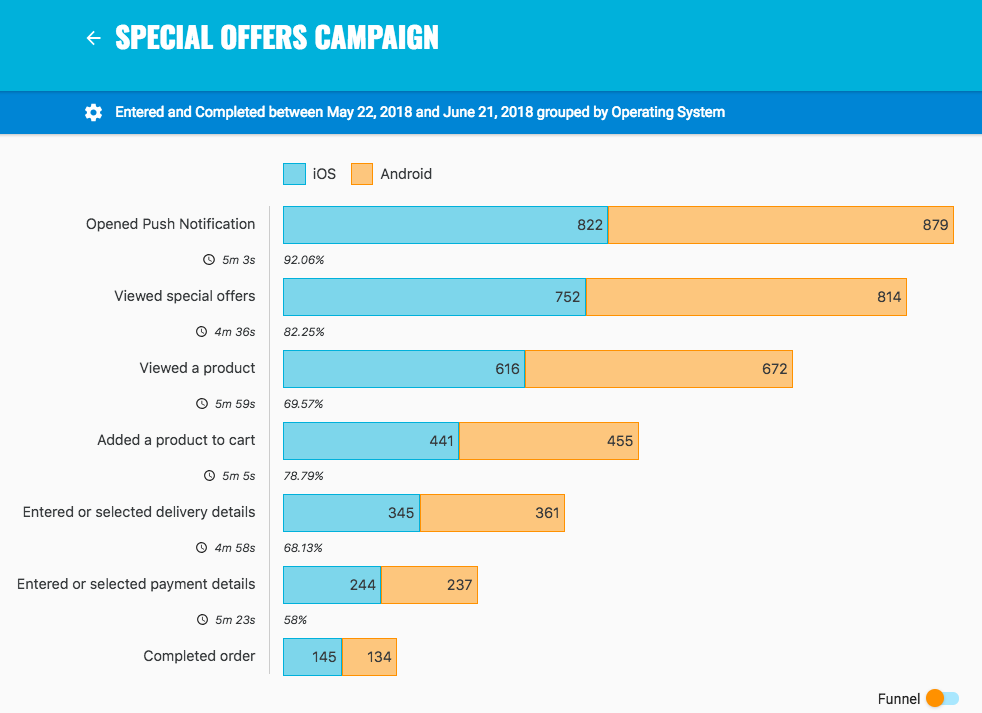 User Attributes
User attributes, on the other hand let you understand who is using your app. You can associate multiple attributes of different types with a user and then use these alongside the out-of-the-box analytics (such as location, operating system, last active, app version) as filters in audience segments to target push notifications based on demographics (such as gender or age range) or usage profile (e.g. lifetime value).

New Analytics Explorer
The new analytics explorer lets you drill down into all custom analytics events and user attributes. You can filter by date and group by different event properties and/or attributes to answer questions on both how the app is being used and by whom. Which product category is most popular? What is the most viewed screen? How does this vary between male and female users? Etc. If you want, you can export this to CSV so you can then pivot until your heart is content!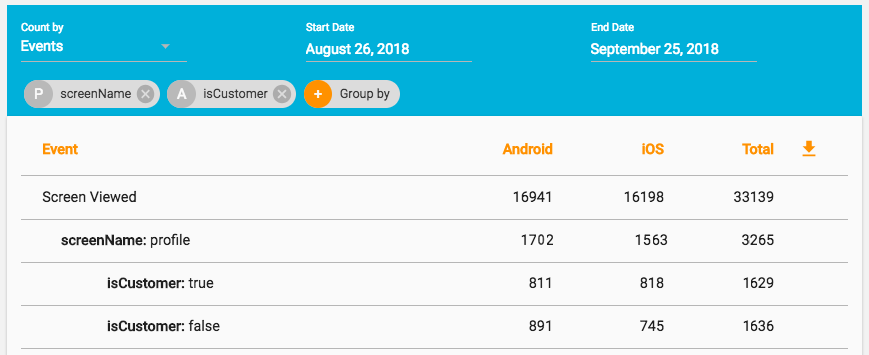 Analytics API
The Kumulos analytics dashboard gives you key insights into who is using your app and how engaged they are, to help you make informed decisions on how to drive more downloads and increase engagement, retention and conversion. You can quickly and easily generate reports, add your logo and brand colors and give your clients a read-only login so they can see all of the good work you are doing to make their app more successful.
If you want to take these insights and embed them in your own systems, you can now query our RESTful API to get the aggregate counts used to generate these visualizations. For even finer grained access (e.g. to create your own aggregations and visualizations), you can use KScript, our Backend Javascript scripting feature, to walk the custom analytics event stream and iterate over the raw analytics events.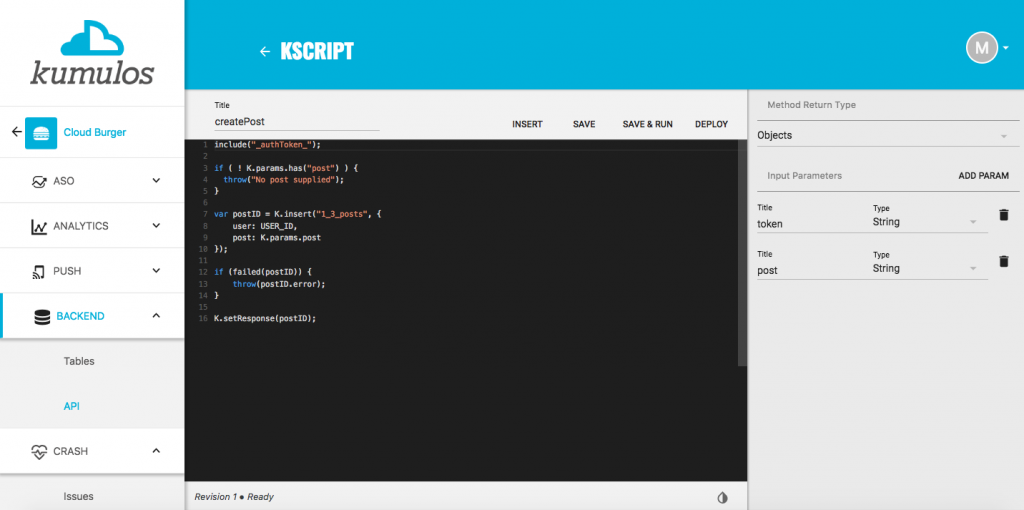 The Kumulos Mobile App Performance Management platform exists to help busy mobile app developers, product managers and marketeers manage the technical and commercial performance of their mobile apps. With these new custom analytics features, Kumulos can now show, for any mobile app, how successful it is, at whatever purpose it may serve or measure of success it may have. But importantly, Kumulos also gives you the insight and the tools to do something about this and increase that success.
Custom analytics events and user attributes are available in our SDKs for Objective-C, Swift, Android, Cordova and Ionic, React Native and Unity.
If you want to see for yourself what all of the fuss is about, Request a Demo or signup for a Free 30 Day Trial.