Mobile Marketing Resources which are a new, free, addition to Kumulos client offering, are being received with much excitement by mobile app development agencies across the globe.
Mobile Marketing Resources
– Free for Kumulos Clients
The launch of Kumulos Marketing Resources gives Kumulos clients free access to an online portal containing a vast range of mobile marketing resources. These resources are designed to help mobile app development agencies win more app development projects and sell additional mobile marketing services.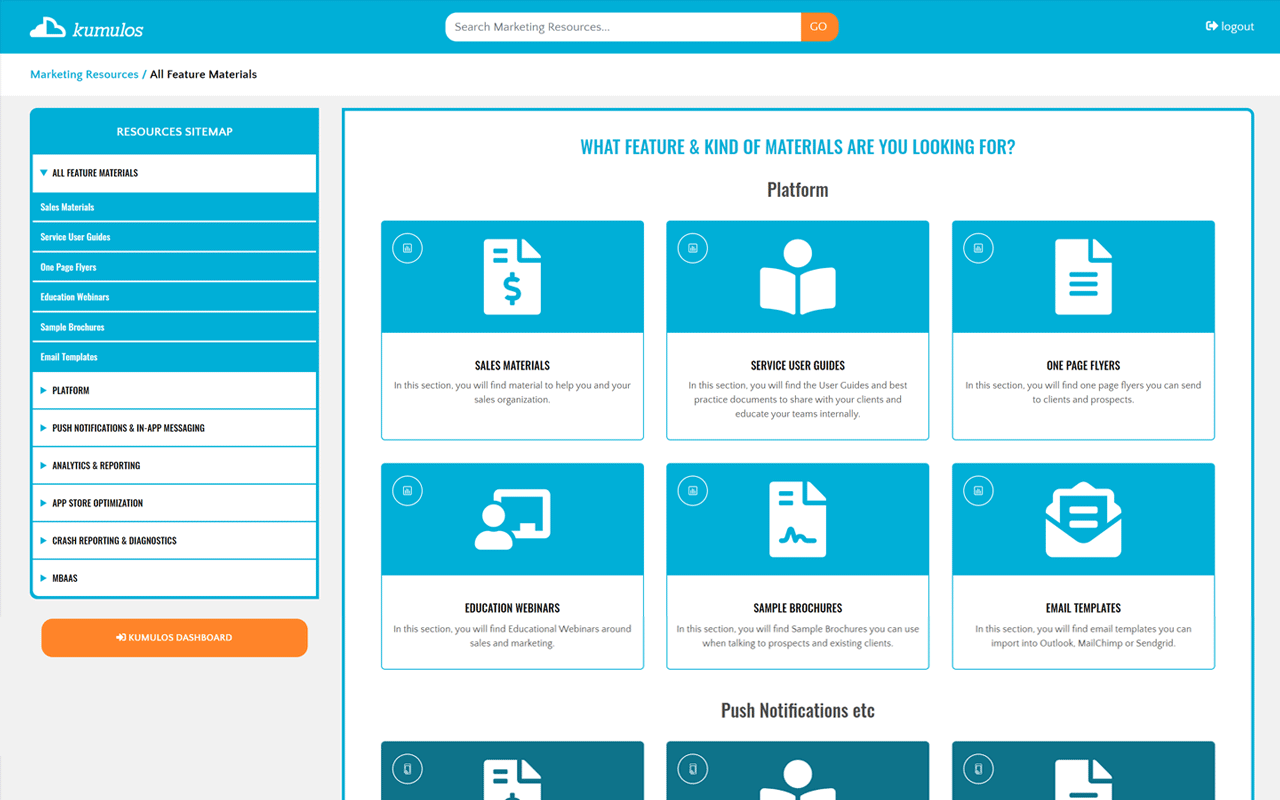 Kumulos Client Solutions Manager, Fraser Macdonald says,
"Kumulos gives mobile app development agencies everything they need to manage the entire life-cycle of apps. By this, we mean, messaging, analytics, ASO, crash reporting and more. However, clients often ask how we can help them to increase their recurring revenue from using Kumulos features."
Fraser continues, "So, we launched Marketing Resources to help our clients sell their services. Now, with Marketing Resources, they have free access to materials including marketing flyers, website templates, brochures and more. Not only are our existing clients excited, we're seeing a lot of interest from those who are currently trialing Kumulos."
Kumulos clients, once logged in, can easily search the range of materials for the feature they wish to promote.  All the materials have a preview image so it's easy to see what's available. To use the material, it's a simple click to download and then each piece of material can be customized with their own branding and contact details.
Promoting Push Notifications & In-App Messaging
From sales materials to service user guides, one page flyers, to educational webinars, sample brochures and email templates, Kumulos clients can find everything they need to run a marketing campaign to advertise their mobile messaging capability.  If you're tempted to find out more, why not start your free trial of Kumulos today and get a glimpse into our award-winning push notifications and in-app messaging platform.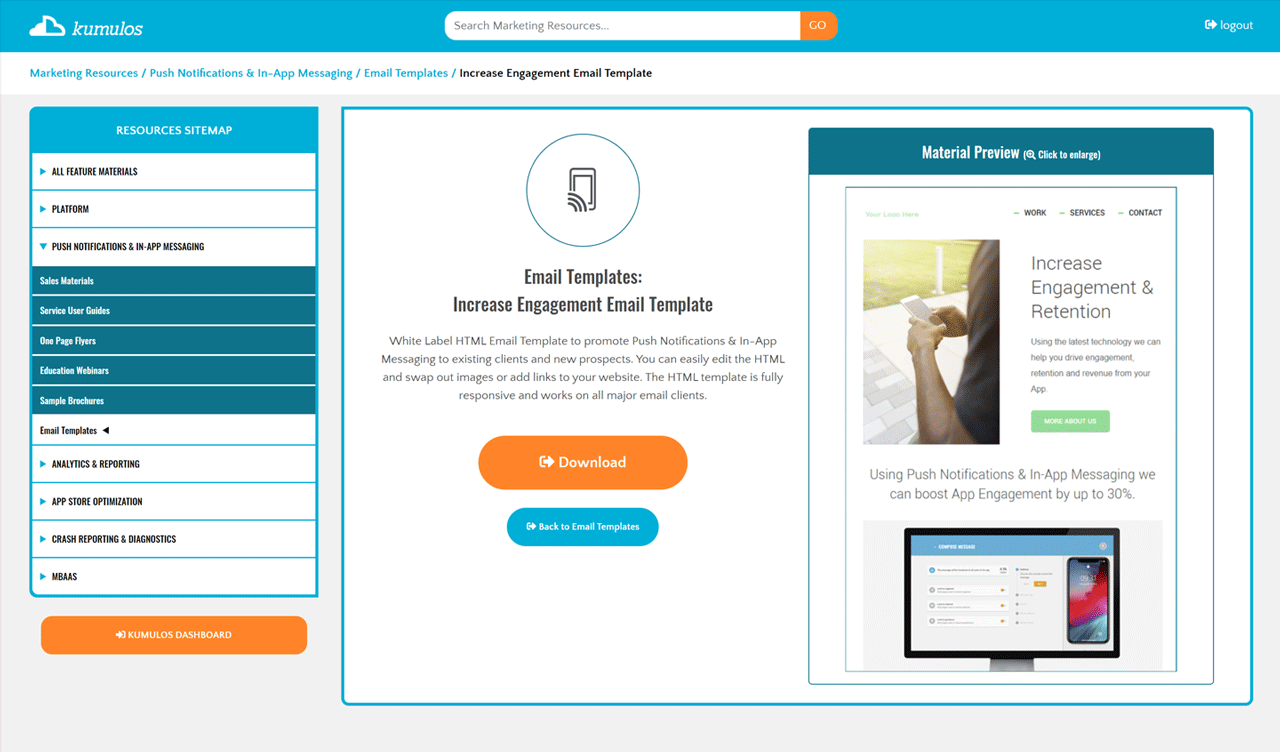 Analytics & Reporting as a Service
The Marketing Resources also help mobile app agencies promote an app analytics and reporting service. From sales materials to service user guides, one page flyers, to educational webinars, sample brochures and email templates, Kumulos clients can find everything they need to prove to customers that they should provide their analytics and regular reporting as a service.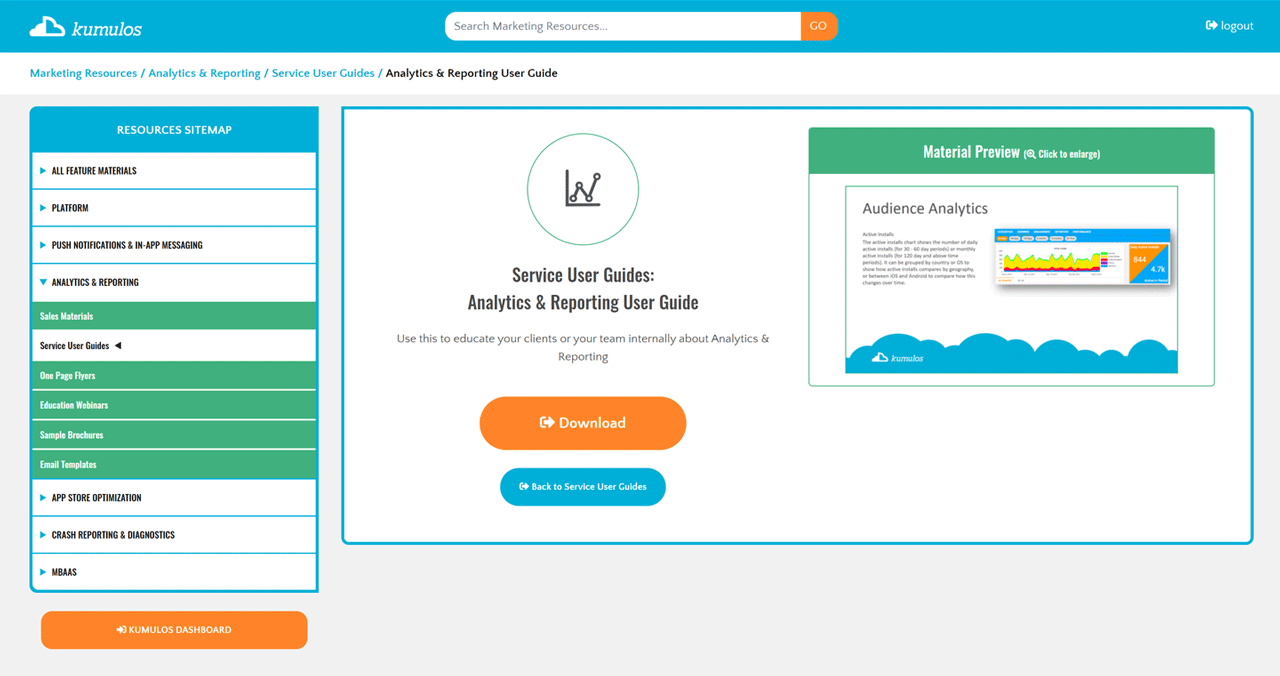 App Store Optimization Made Easy
We know that the hard work doesn't stop after an app is developed. Therefore, Kumulos Marketing Resources provides all the sales and marketing materials to help promote an app store optimization (ASO) service. This is something that many app agencies want to provide to clients in order to increase downloads. Now, they have access to a range of material to help them convince clients to take on an invaluable ASO service.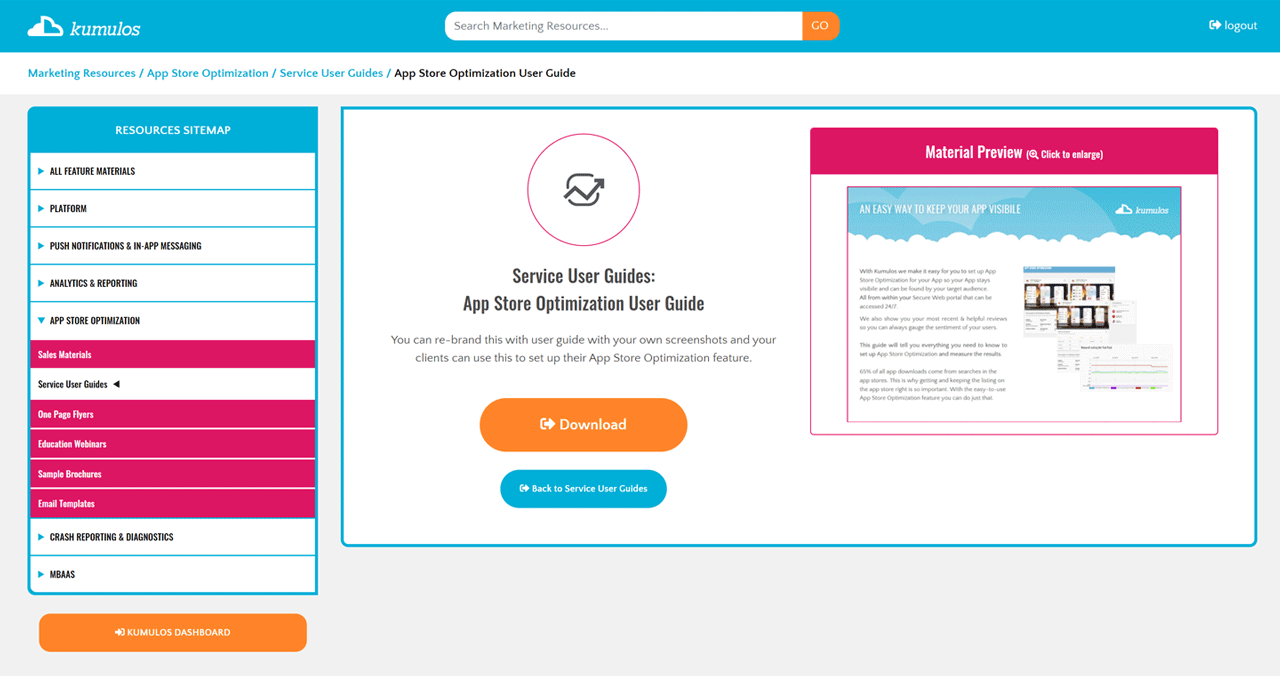 Crash Reporting & Diagnostics Sales Materials
All Mobile App Developers understand the benefits of crash reporting and API endpoint monitoring, but often struggle to encourage their customers to pay for additional reporting and diagnostics. That's where the materials in Kumulos Marketing Resources help to explain the benefits of a crash reporting and diagnostics service.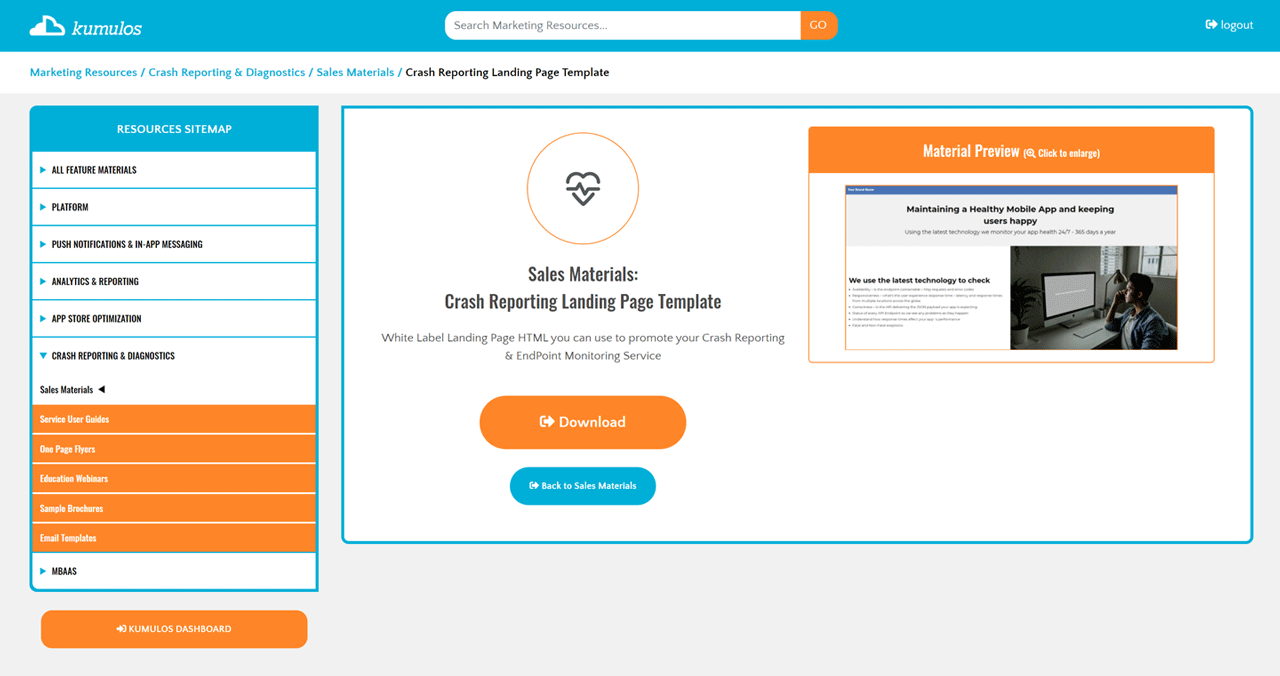 Mobile Backend as a Service
We take the complexity away from building and managing the server side of an app with our industry leading mBaaS. The Marketing Resources are designed to help app agencies explain the benefits to their prospective clients and ultimately help the agency to win more new projects.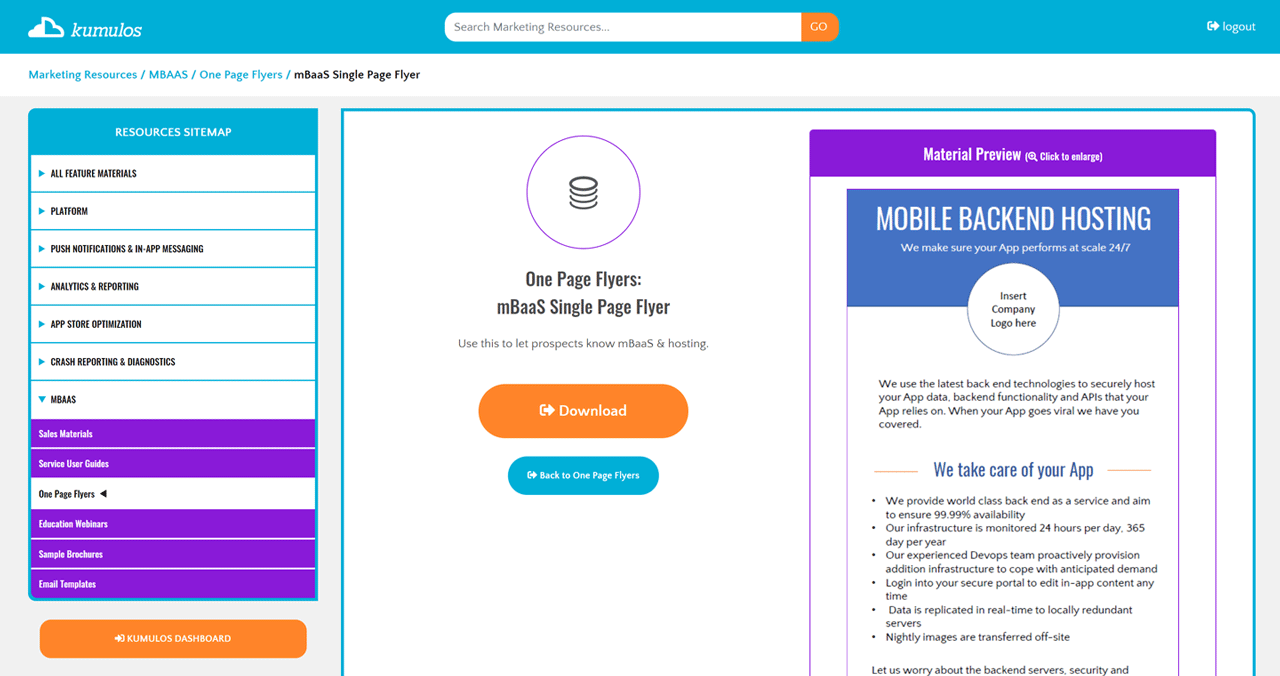 Mobile Marketing Resources – Find Out More!
If you're an existing Kumulos client, you will be receiving a login to Marketing Resources. Contact us if you've any questions.
If you'd like to find out more about Kumulos, start your free trial today and you'll soon see why thousands of mobile app development agencies across the globe use Kumulos to help them win more projects and earn more recurring revenue.