A much-requested feature from our Kumulos users, we're happy to say that Message Throttling is now available to use with all mobile push notifications.
Message throttling can be a powerful tool in the arsenal for any mobile marketing team looking to ease the pressure on their back-end systems that may have resulted from sending a notification to a large audience all in one go.
With throttling applied, you can configure a period from 1 – 24 hours for the notifications to be delivered to your audience in batches, completing at the end of the selected delivery window. This will massively reduce strain on your back-end, and spread out your traffic throughout the time period.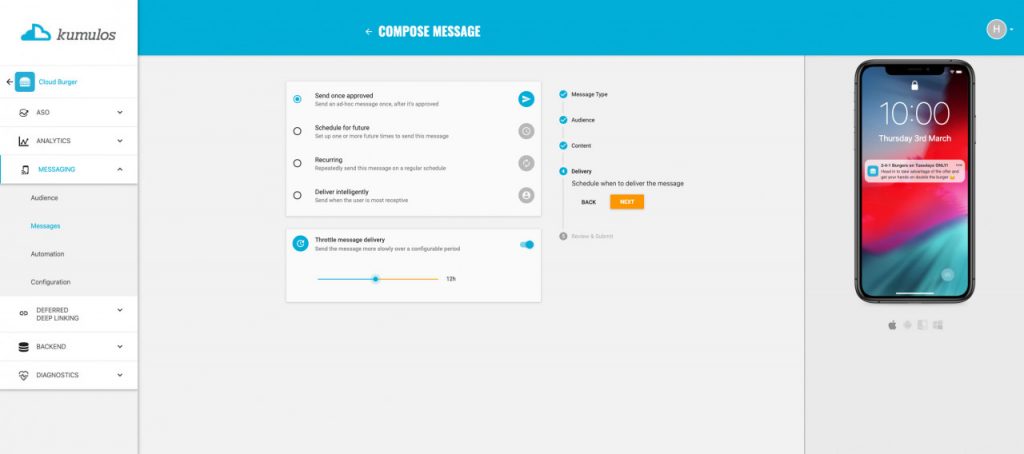 When you've set up your notification and allocated time period, behind the scenes, we will use this to compute a schedule to send the message to the audience in batches evenly across the provided window. For example, for an audience of 3 million across a 24-hour window, we would send the message in 250 batches of 12k users at a time, with an interval of ~6 minutes between batches.
We can also set a default value for you for any of your apps in the database, so you don't have to remember to set it every time you set up a new notification!
If you'd like to learn more about message throttling and how it can be a great addition to your mobile messaging setup, check out our docs or get in touch with our product specialists!