Eliminate Guesswork with Push Notification Confirmed Delivery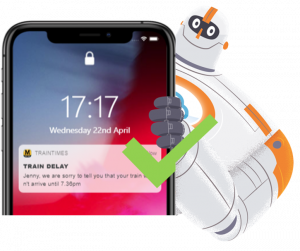 Kumulos' Push Notification Confirmed Delivery means you know what's really going on with your mobile app and website push notification campaigns. We are the ONLY leading Engagement Platform that lets you see the whole picture. In one place create, manage, and then analyze campaign performance for all your website and mobile app users. We make engaging with your customers easy and painless.
If you're not using Kumulos, then chances are you don't have the complete picture and you could be making the wrong decisions. Artificially inflated audience figures suppress campaign performance. Campaigns that you thought were poor, could be working well.  Kumulos takes the guesswork out of campaign analysis. Confirmed Delivery means you know exactly how many people definitely received your message, so you know what's really going on.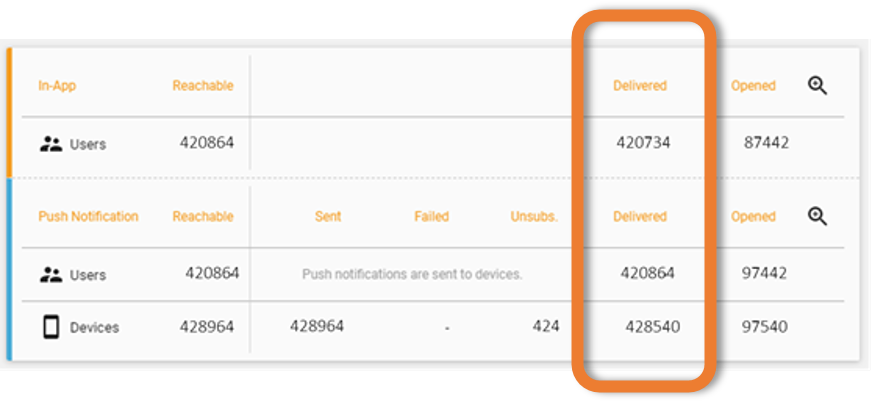 Book your demo to find out how Kumulos can help you deliver real business results from your app.
Why is Push Notification Confirmed Delivery essential?
Kumulos solves one of the biggest problems that Mobile and Web owners face today. Its all well and good having a large database of who you think have signed up to receive notifications. Given the way that the technology works, who you think you can reach, and who actually will receive your message can be very different. Many User Engagement Platforms, even some of the leading vendors don't tell you who received your message. All they can tell you is how many they tried to deliver, and sometimes how many people opened the message. Confirmed Delivery is the critical measure, that you need to know to be able to properly and accurately measure campaign results. Even a small difference between who you sent the message to, and who actually received it, can make a big difference in your campaign conversion rates.
How does Kumulos Push Notification Confirmed Delivery Work?
Unlike some leading Engagement Platforms, we don't just sit back and rely on what the Apple and Android messaging gateways decide to tell us. We get an extra network request, direct from the mobile device itself, confirming that the message reached the target device. Our campaign reporting then lets you see how many of the intended recipients of the message actually received it. Calculating your conversion rates based on Conversion = Opens/Delivered is a much more meaningful measure of campaign success. It also lets you see that there could be other problems that need investigating, so you spend your time solving the right problem and the things that have the biggest impact on driving up campaign conversion.
As the diagram shows we allow you to run messaging campaigns targeting both mobile app users and website users at the same time, saving you a lot of time. Our intelligent platform works out the type of devices the message is to be sent to and formats the rich media message accordingly.

Try it for yourself
Book your demo to find out how Kumulos can help you deliver real business results from your app.
If you are happy to explore Kumulos on your own, set up a trial. We give you 30 days free to try us out.
Book Your Kumulos Demo Now