Push Notification
Kumulos Push Notification is the only push notification service, purpose built, for Mobile App Agencies.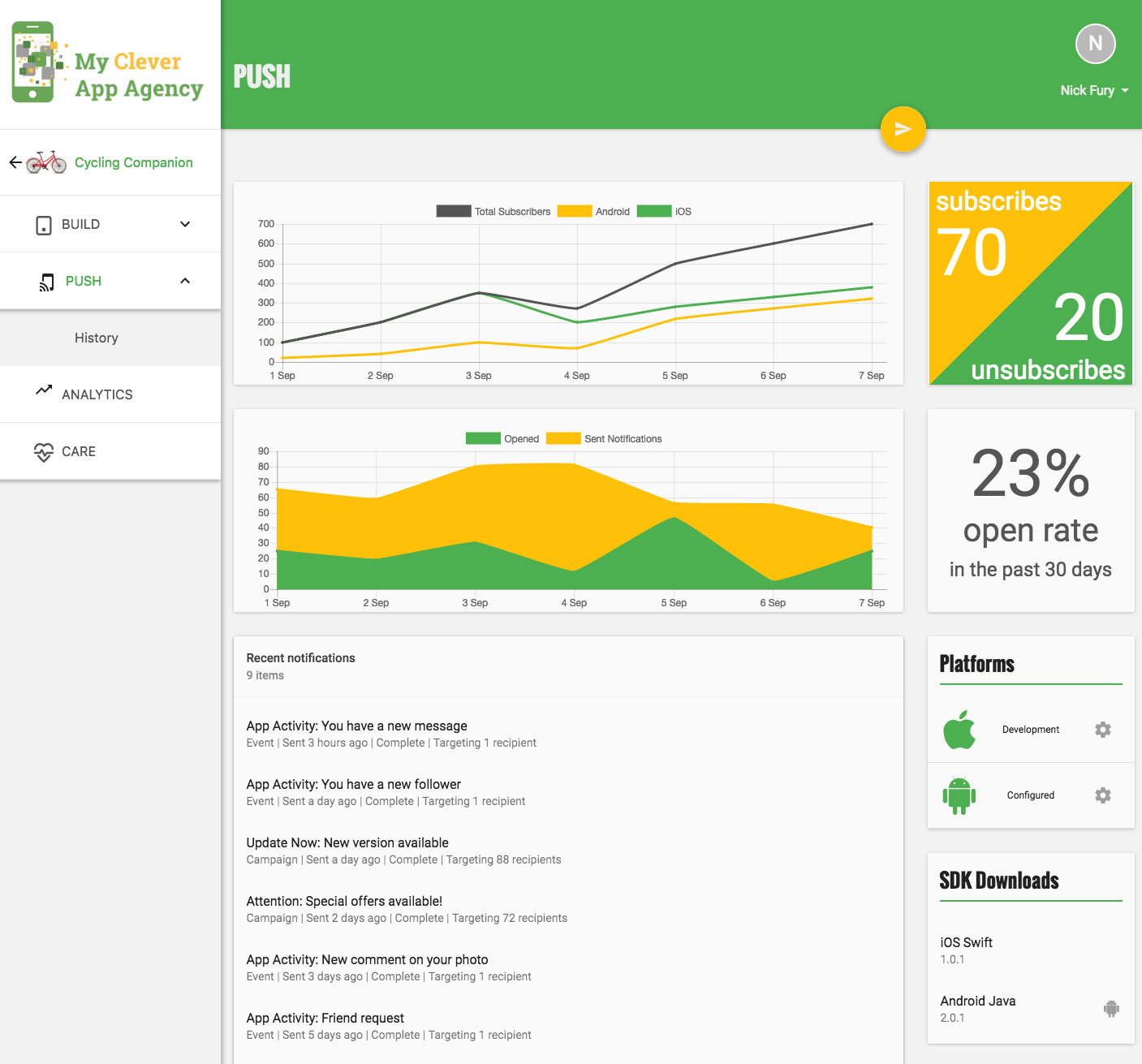 We help you deliver services that builds a highly engaged user base for your customer's apps. They get a better outcome from their app build investment with you. You get customers that keep paying monthly for your service.
Kumulos gives you the tools to offer Push Notification Campaigns-as-a-Service for your customer's app. A service on monthly retainer where you run app engagement programs for your clients apps. Alternatively, give your clients a login to their own Push Portal, branded as yours, where they build and manage push campaigns themselves. Its your choice.
Charge monthly and with our automated monthly report show them the results. A great way to make money monthly and keep the conversation flowing with your clients throughout the life of the app.
How you use Kumulos Push Notification is up to you
Use it with your own backend – works with AWS, Rackspace, Azure, Kinvey, Parse Server or whichever backend you use.
Take full advantage of Kumulos and use it pre-integrated in our powerful & industry leading mBaaS.
Use whichever works for you.
Kumulos Push Notification gives you…
Recurring Revenue Service to offer your clients
Help your clients increase app user engagement by delivering push notification campaigns as a service. Use Kumulos to run Push Notification Campaigns for your clients and charge them a monthly fee.
Your Client Push Notification Dashboard
Give your clients their own Self-Serve Push Notification Dashboard (branded as yours) where they manage their own push notification campaigns and view results themselves.
Insightful, Actionable Analytics
Insightful and actionable summary of how automatic and segmented Push Notifications are performing. With our Automated Monthly Report, let your clients know how their push notification campaigns are doing. Package this up as your own service, with your branding and your margin on top and get your clients on retainer. Stay close to your clients.
Event Driven Push Notifications
Event triggered push notifications that are built into our app and automatically sent when attributes within the app are met.
Campaign Driven Push Notifications
Run segmented and highly targeted push campaigns to grow app engagement. Drive more value and increase active app users or re-connect with wandering users. Provide your clients with their very own Push Dashboard manage and run their own campaigns.
Always on Service
Sends push notifications to the app whether the app is foreground or background on the device.
Benefits of Kumulos Push Notification
Scalable
Unlimited numbers of users and unlimited numbers of push notifications for an easy to plan monthly price. No worries about bursting quotas and eye watering overage charges.
Purpose built
The ONLY purpose built Push Notification Service for App Development Agencies, with a range of features designed for making you money in mind.
Lighting fast
Kumulos Push Notification – up and running within an app in 10 minutes or less.
Flexible
No need to change your backend – use it with your existing backend or use push notification feature integrated with the Kumulos mBaaS. You choose.
Cross Platform
Deliver push notification messages across Android and iOS platforms at the same time.
Automatic Event-Driven Delivery
Set and forget. Respond to in-app events and send relevant push notifications to users programatically within the app.
Segmented Personalization
Build user segments and campaigns to deliver specific messages to specific users, with the right content, at the right time of day.
Location & Time-zone Sensitive
Send geo-location triggered push messages at the time that best suits users.
Insightful Analysis
Easy to understand and actionable insights showing how push notification campaigns are driving user engagement.
Sign up for Kumulos Push Notification Now – its free to try, quick and no payment details needed to get going.
How Kumulos Helps Agencies Grow

Karma

Recent Posts

Follow Us