The holidays are over. Its still cold and dark. Those New Year resolutions have fallen by the wayside.
Welcome to the third week of January 2017! Only 49 more weeks until we do it all again.
Year end statistics for 2016 for mobiles and the app markets are starting to roll in, so we thought it'd be a good chance to do a short roundup of what 2016 left behind so you can get your app agency off to the right start in 2017.
APPS STILL GROWING – KIND OF
Techcrunch made some buzz in the news feeds on January 17, 2017 when it announced in an article that worldwide App downloads were up 15 percent in 2016, according to a report from analytics firm App Annie. A large part of this increase can be attributed to China, which surpassed the U.S. in 2015 to become the top downloader in the iOS store.
What's interesting is that, just a few days previously, on January 12, 2017, Techcrunch ran another article with the banner headline "The mobile app gold rush may be over". The basis for article was a report by the firm Flurry which stated that, for 2016, overall app usage grew by only 11 percent for 2016, compared to a figure of 58 percent for 2015.
So for 2016 overall, downloads are up (kind of) and app usage is growing (kind of). But what does this really mean from an agency point of view?
From all signs, it appears that app growth is starting to stabilise and maturing in the established app markets such as the United States, UK and Europe. To put it in other words – just because you put out a shiny new app for a client, it doesn't mean that users are going to download it. Or, if they do download, and they don't get exactly what they're looking for, they're going to turn right around and toss it in the virtual trash.
"Oh no," we can hear you say. "That would never happen to one of OUR apps. We're the best agency in [insert hip part of your town here]!" Think again – its estimated that up to 94 percent of users uninstall an app within the first 30 days.
LESS APPS, MORE TIME
In another section of their 2016 report, App Annie noted that in 2016, the total Worldwide Time Spent in apps in 2016 was up 25 percent from 2015. These figures, however, only counted Android devices and, interestingly enough, the only country it excluded was the country mentioned above as passing the U.S. in 2015  – you guessed it – China. Flurry's take on the same statistic – they're calling it Mobile App Time Spent – documented 69 percent growth in 2016.
You can check o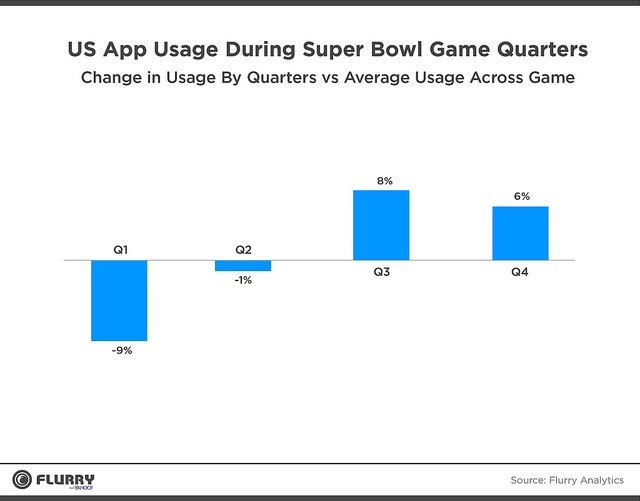 ut the whole report over on Flickr, which also includes interesting stats such as US App Usage During Super Bowl Game Quarters and Top Chinese Mobile Personas.
The biggest app winners, according to Flurry, were messaging and social media apps, which grew an insane 394% over last year – due in no small part to apps such as Snapchat and Facebook Messenger (I'm even using Facebook Messenger now so you know it's achieved market saturation).
This is also tied into the phenomenon of "Communitainment" where users are spending more time using integrated technologies to both generate and consume entertainment from within an app – such as making phone calls from within Whatsapp.
The Price is Right
On the Apple app store front, 9to5mac broke the story this month that prices for apps in the UK, India and Turkey app stores would be rising by as much as 25% to keep up with current price fluctuations in the pound (we're looking at you, Brexit). That means an app that previously sold for £0.79 in the UK app store would rise to £0.99, on par with the $0.99 app price in the U.S. store.
This isn't a factor for a U.S. based agency, but if you're operating elsewhere, you're going to have to start thinking about your pricing model – maybe it's time to bring out the Cost Per Install spreadsheet and update it for 2017.
QUALITY OVER QUANTITY
The takeaway from 2016 going into 2017? Apps are getting more expensive and users are downloading less of them. The apps that users do wind up downloading – if they don't uninstall them after the first few days – they're using more.
So what's all this mean if you're an app agency out there developing apps?
Good luck in 2017 everyone!
Did we miss anything? Leave us a comment below or join the conversation on our LinkedIn,Twitter, Facebook or Community page!