This is big news and a feature in high demand from our customers. They spoke, we listened. With the launch of Deferred Deep Links this means Kumulos can help
Drive highly motivated new users into your mobile app,
Engage your users across multiple digital channels and seamlessly bring them to your app,
Win back lapsed users who have deleted your app,
Communicate with app users that you can't engage with push notifications,
Track download media sources so you know where to focus your marketing effort.
So now, with this new powerful feature added to Kumulos, you can acquire, activate, optimize and monetize your app users. One place to drive downloads and keep your users engaged.
Kumulos Deferred Deep Links let you drive users to your app from Websites, Emails, SMS, Social Media and even Push Notifications from other apps. What's more, because we can let you reliably track the download source, you can build powerful referral programs within your user community and reward users who help your app to grow. And of course, this also means you can easily track the effectiveness of your marketing campaigns by showing the media source that's bringing your most valuable new users into your app.
Using Kumulos Deferred Deep Links is an extremely powerful way to get the attention of customers and direct them to exactly where you want to within your app.
And with a single link, will take existing users and those without your app, to the section in the app you want them to see.
What are Deferred Deep Links?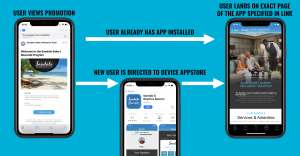 Deferred Deep Links are the smarter, bigger, bolder sibling of Deep Links. As with conventional deep links, that Kumulos has had in the product since the start, they let you take the user directly to specific sections of your mobile app. What makes Kumulos Deferred Deep Links bigger and bolder is the fact that they are intelligent. They know whether the user already has the mobile app on the phone, and if they don't then they are directed to the Appstore/Playstore to download the app, before taking them to the specific section of the app, just like an existing user. But there's more.
Kumulos Deferred Deep Links can contain specific personal information about the user. Not just where the link click originated, but also any specific information you want to include, like a discount code for example. So when the new or existing user arrives on the section of the app you can pre-populate information to make the purchase easier. So you are driving highly motivated users to your app and removing friction, to encourage them to complete a transaction, driving up conversion by between 73% and 82%.
And there's still more. We are not done yet.
How can Kumulos Deferred Deep Links help you?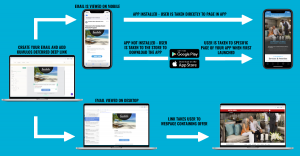 There are a huge number of ways you can use Kumulos Deferred Deep Links to put horsepower into your mobile app marketing.
Have a section on your website where new users add their cell number and receive a link by SMS that takes them to your download page in the app store. And then apply a discount code directly to their first purchase,
Show QR codes on your website where the cellphone camera can be used to download your app, and again if you want, apply a discount code,
Send SMS to customers that contact you by phone. Encouraging them to use the mobile app next time, reducing your administration costs,
Include promotions available through your app into marketing newsletters and email campaigns.
Whichever way you use Kumulos Deferred Deep Links the user journey is optimized to make sure they get a smooth user experience.
Want to find out more?
Interested in finding new customers and bringing back lapsed users, then why not try Kumulos for FREE today. See for yourself how you can better acquire new users, re-engage current ones and deliver greater app success!
Or, if you want us to show you around this new exciting new feature, get in touch to arrange a free demo of Kumulos Deferred Deep Links.